If you're all about breaking boundaries and exploring love beyond racial lines, you're in luck. We've got the ultimate scoop on the best interracial dating sites in the world that are rocking the dating scene. These sites are like Cupid's secret hideouts, exclusively designed to connect people who are open to interracial relationships.
And guess what? Most of them won't cost you a dime. The cherry on the cake is that these sites go the extra mile by offering awesome tips and advice to make your interracial love journey even more epic. So, get ready to swipe, chat, and find that special someone who's ready to mix and match cultures and create a love story that's out of this world. Love knows no boundaries, and these sites are here to prove it.
9 Best Interracial Dating Sites To Find The Perfect Match
Love is in the air, especially for interracial relationships, and the stats are here to back it up. Check this out: According to the Pew Research Center, a whopping 85% of millennials say they would marry someone of a different race. And it gets better. 39% of Americans married since 2010 are happily hitched to someone from a different racial background.
Now, I know what you're thinking. With hundreds of popular interracial dating sites out there, where do you even begin? You could be looking for:
Biracial dating sites in general
Or Black and white dating sites/Black and white chat rooms specifically
Or primarily Hispanic and Black dating site

s
Don't worry, this is where I've got your back. I have handpicked 9 top-notch, mostly free interracial dating sites for all you amazing singles who are ready to have unforgettable hookups, romantic dates, and successful relationships – all in the realm of interracial hookups and relationships.
Related Reading: 10 Online Dating Red Flags That Should Not Be Ignored
1. Interracial Cupid
Looking for apps for interracial dating? Worried there aren't many free mixed-race dating sites? Asian women and Black women face more harassment and discrimination than their white counterparts, and if you're one of them, maybe you're looking for safe and trustworthy dating sites for mixed couples dating. Well, here's your ultimate answer: Interracial Cupid.
It's an online dating platform that focuses specifically on interracial dating and bringing together singles from different racial backgrounds. Sarah (29) from Michigan says, "Wow, where do I even begin? Interracial Cupid has completely transformed my dating life. It has opened up this whole new world of possibilities for me, you know? If you're looking for an international dating platform that celebrates diversity and interracial relationships, I wholeheartedly recommend Interracial Cupid!"
Features
Two types of paid membership are available – Gold and Platinum
Platinum membership allows you to use audio and video chats
It has a two-way messaging feature for seamless communication so that you can send direct and unrestricted messages
Another feature here is Cupid Tags. These are searchable keywords that you can add to your profile to describe your unique traits, hobbies, interests, or appearance. Through these tags, you could meet someone who is looking for similar traits, allowing you to find a great match
Pros
It is focused specifically on interracial dating, thereby creating a targeted community
It's possible to see who is online
You get a free trial membership to explore the platform and its features
It offers advanced search filters to find compatible matches based on preferences. It contains a small box that helps you understand whether you are compatible with a profile owner or not
Platinum membership allows getting the messages translated into your native language
Cons
It requires a premium membership for full access to all features and better matches
It may have a smaller user base compared to mainstream dating apps
Bono rating: 4.8/5
2. EliteSingles
EliteSingles has shared success stories on their website, showcasing couples who have found love and formed relationships through the platform. It has a diverse user base (and with a significant number of educated and professional singles). And you know what this diversity can potentially create? Opportunities for interracial dating and meaningful connections.
Jay (28), a software engineer from San Francisco, shares one of the success stories, "When I joined EliteSingles, I was seeking something special. As fate would have it, I matched with Bella. A simple "hello" sparked a captivating conversation that effortlessly flowed from one topic to another. I remember, our first date was this blend of excitement and nervous anticipation. We decided to meet at a cozy café nestled in the heart of the city – a place that reflected our shared love for art, literature, and a good cup of coffee. We discovered an instant familiarity that felt like reuniting with a long-lost friend. Four years later, we've just tied the knot. And of course, thanks, EliteSingles!"
Features
It has a five-factor personality assessment test
You can like specific sections of a profile
It has partnered with CitySwoon to offer in-person and virtual speed dating events in a few major cities
Users can filter matches based on various criteria, such as age, location, education, and more
Once matched, users can send messages to each other and engage in conversations
EliteSingles prioritizes user privacy and employs measures to ensure a safe online dating experience
It also shows you who visited your page and who 'smiled' at you
Pros
It is available in multiple countries and has a global presence. This international reach can broaden the pool of potential partners from different backgrounds and ethnicities
85% of members have an above-average education or higher-level certification
It is not only for young singles but also one of the most popular dating sites for seniors to find love and companionship
It uses a matching algorithm that takes into account various factors such as personality traits, relationship preferences, and location. This makes it easier to find compatible partners, including potential interracial partners
EliteSingles aims to create an inclusive and supportive environment for all users, including those interested in interracial dating
Cons
It requires a paid membership to view photos of other profiles
Free users have limited access to messaging and may need a paid subscription to fully engage with potential matches
Bono rating: 4.2/5
Related Reading: 15 Best Apps For Couples That Improve Relationships
3. BlackPeopleMeet
Here's a great interracial dating site for Black and white singles. With its user-friendly interface and advanced matchmaking features, BlackPeopleMeet allows you to effortlessly navigate a diverse community of individuals who share a common desire for meaningful connections. It is a popular dating platform, which aims to provide high-quality dating services to its users. It is one of the best BWWM dating sites (for black woman/white man pairing) while also being queer friendly.
Jane (34) from NYC says, "Haley and I found each other on this incredible platform for biracial dating and mixed race dating. And trust me, this happy and healthy relationship has changed our lives! I had faced some challenges in finding acceptance and understanding in the traditional dating scene. But when I discovered BlackPeopleMeet, I think everything changed for the better!"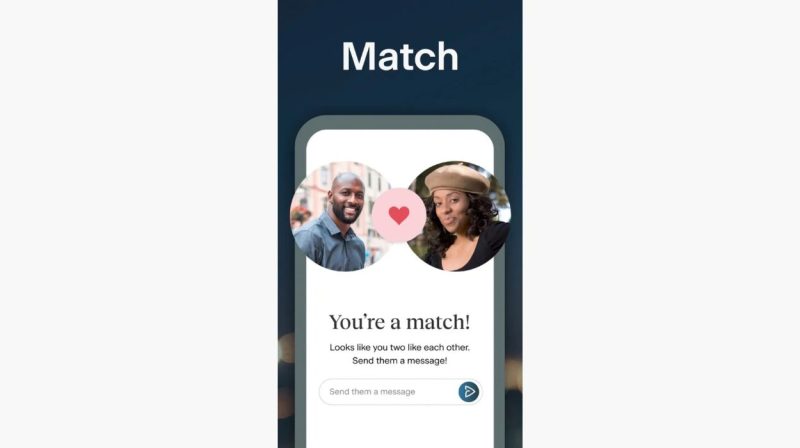 Features
BlackPeopleMeet has a diverse user base, allowing individuals to meet people from different backgrounds and locations
The app features a user-friendly interface, making it easy to navigate and interact with other users
If you want to test BlackPeopleMeet without spending any money, you can use a free trial version of premium membership for seven days
Apart from online messaging and matching, the app also organizes local events and gatherings, providing opportunities for users to meet in person
Pros
You don't have to pay to create a dating profile, upload photos, and browse profiles and photos on this app
Free members can also receive matches and flirt by sending profile likes, making it one of the best apps to flirt and chat
You can add an audio or video clip to your profile to greet the ones who visit you
The site offers advanced search filters, enabling users to find potential matches based on specific criteria such as age, location, interests, and more
Cons
Access to certain features on BlackPeopleMeet may require a subscription
It does not have any personality tests for better and more compatible matches
You can contact the customer support via email only
The app may not be available in all regions or countries, limiting its accessibility to a global user base
Bono rating: 4.2/5
4. Christian Mingle
Picture this: a free dating site that's all about bringing Christian singles together and celebrating love in all colors. Enter Christian Mingle, the ultimate hotspot for faith-driven individuals looking for mature interracial dating sites that work toward diversity. They've been rocking the online dating scene since 2001, making it their mission to connect like-minded Christians for over two decades. This site is also a great option for mature dating among Christians.
Features
They've got a tried-and-true matchmaking process where you fill out a profile, set your preferences, and they'll hook you up with potential matches
With a massive Christian dating community of over 15 million people, it creates opportunities for a wonderful interracial romance
Christian Mingle has got your back, whether you're chilling on their mobile-friendly website or swiping through profiles on their iPhone or Google Play apps
Pros
They have designed a website that is very simple and easy for interracial dating login
You won't have to shell out a single penny to become a member or to enjoy the basic and advanced search features, naturally making it a win-win option among dating apps for college students
During the free trial, you can search for users, read their complete profiles, and look at their pictures
You can respond to paid users for free, even if you don't choose to upgrade your account
Their profiles display the last online date, so you can make sure you're chatting with active members who are just as eager to find love as you are
Cons
They have no dedicated search function
Some people report that certain features may become a tad slower to load during peak times
If you want to cancel your membership, you have to email their customer support team instead of being able to do it on your own
Bono rating: 4/5
Related Related: 31 Funny Ways To Start A Text Conversation And Get Responses!
5. Zoosk
This app does not specifically cater to interracial relationships. It is designed to connect individuals of various backgrounds and preferences, including those seeking interracial relationships. Just choose the right profile picture, set your preferences and search for potential matches based on factors such as ethnicity, location, age, and more. And yes, while Zoosk does not have features or filters exclusively for interracial dating, it provides a super fun platform for people of different races to meet and connect. You can communicate with others through messaging and other interactive features.
Features
It uses algorithms and behavioral matching technology to suggest potential partners that might make your heart flutter
With users from over 80 countries, Zoosk is like a bustling international singles party! You can connect with people from various backgrounds and cultures
It prioritizes user safety by implementing measures such as photo verification, profile moderation, and encryption of personal information
Pros
It offers fun and flirty icebreaker questions and features like sending virtual 'winks' to get the conversation flowing
The app is super easy to navigate, making it simple to create a profile, browse unlimited matches, and engage in conversations
Zoosk offers a premium subscription that unlocks awesome features like sending unlimited messages, seeing who's viewed your profile, and accessing more powerful search options
Cons
There is no requirement to fill out most profile information which leads to some incomplete profiles in the search
While Zoosk offers free registration and basic functionality, some of the coolest features are reserved for premium subscribers
With a large user base, you might find yourself swimming in a sea of potential matches. It can be overwhelming to sift through all the profiles and stand out from the crowd (quick tip: bring your A-game)
Bono rating: 4.8/5
6. Interracial Dating Central
This site calls itself the "world's biggest and best interracial dating site." Chris (27) from Maryland shares his experience, "After a rough divorce, I was casually swiping through profiles on Interracial Dating Central, sipping on my favorite iced coffee, when I stumbled upon a smile that instantly caught my attention. Little did I know that this spontaneous swipe would lead me to the most epic adventure of my life! From the very first message, Twyla and I hit it off. We bonded over our mutual obsession with tacos and binge-watching Netflix shows way past our bedtime. Honestly, we're filled with so much gratitude for that fateful swipe!"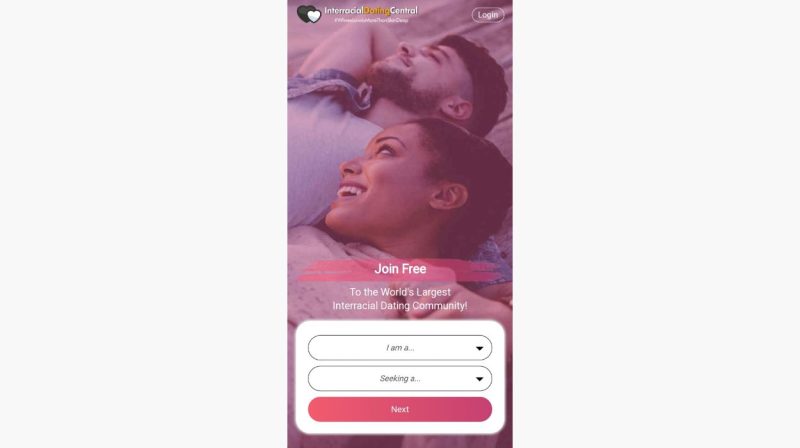 Features
'Flirts' are available to both paid and free members, allowing users to show interest and initiate messages
Anonymous searching feature enables users to browse profiles without being visible to others, perfect for those who are nervous about online dating experiences
Premium members have access to an online dating coach
Pros
This site has an easy-to-use interface with a great design
It has a quick registration process, taking less than five minutes to become a member
Many communication features are available for free members, making it a great option among dating apps for teenagers
It has a diverse user base from all over the world
It is suitable for both casual dating and long-term relationships or serious commitments
It provides a safe and inclusive environment for all singles
Cons
You have to pay an additional fee to use some of the features
There is no algorithm or questionnaire-based matching service on this site
The user base is not as large as compared to mainstream dating apps and sites
There is no app available for the site
Bono rating: 4.5/5
Related Reading: 65 Funny Texts To Get Her Attention And Make Her Text You
7. AfroRomance
Want to enter an interracial chat room that's excited to meet mixed-race singles? Meet AfroRomance. This is one of the most popular and free interracial dating sites for Black women/men to meet people of other backgrounds in a safe manner, whether for serious or casual relationships.
Its headquarters are in Reno (Nevada) and most of its users are from the US and the UK. With a user-friendly interface and a commitment to inclusivity, it redefines the dating game and brings people together across racial lines. So, get ready to embark on an exciting journey of love, diversity, and endless possibilities with AfroRomance.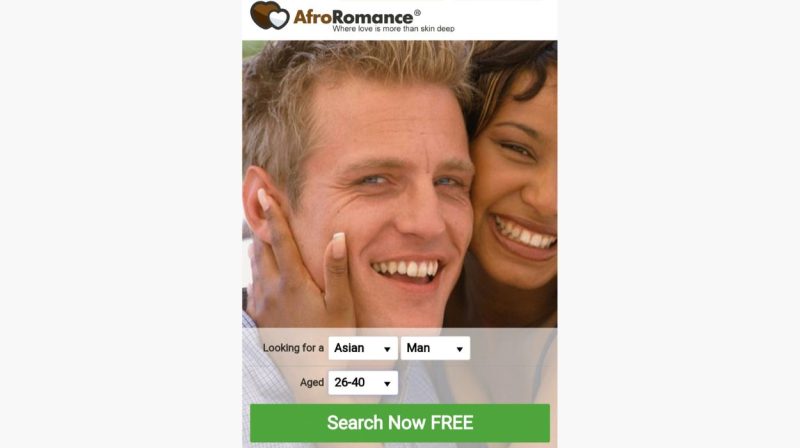 Features
You can register via your Facebook account. The registration is simple and free of charge
There is a profile-boosting tool to make your profile more visible in the search results
You can see who has viewed your profile
You may browse user profiles and find common interests on this dating site
Pros
It's got an easy-to-navigate platform for a seamless user experience and interracial dating login
A 24/7 live chatting service is available. You can talk to the AfroRomance customer support team if you encounter any issues or want to learn how to write a dating profile
There is a site for dating news, success stories, relationship tips and more attached to this dating platform
Cons
The profiles lack description of the members sometimes
It has got less special features as compared to other online dating apps and sites
Bono rating: 4/5
8. InterracialMatch
InterracialMatch is the place to be if you're on the lookout for some wonderful interracial romance! This dating site caters to singles who are eager to connect with someone from a different ethnic background. It's like a beautiful junction of love stories, bringing together Asians, African Americans, Caucasians, Latinos, and more. Whether you're from the United States or Canada, dating in your 50s or 20s, this international interracial dating site has got you covered.
While not nearly the size of the more generic dating services, InterracialMatch does seem to be the most popular site dedicated to interracial matchmaking (after checking several competing sites' traffic patterns). You can also expect all the features of most other dating services on this site.
Features
You can show off your witty side by leaving comments on other members' profiles and blog posts
If you're looking for online dating advice and online safety tips, InterracialMatch's blog is a treasure trove of articles that will guide you through the world of dating with confidence
It has dedicated an entire page to give you awesome first date ideas that will make your date unforgettable
Let your potential matches know you're interested with a cheeky 'wink' – a playful way to break the ice and show your flirty side
'Spark' is a roulette-type matchmaking feature where you can 'like' or 'pass' a profile. If you match by liking each other, you can start messaging one another
Premium membership is available in 3 package durations. You get a bigger discount if you opt for the longer package
Pros
Profiles can be verified for photos, ages, and occupations. Profile verification is very strict here because this site ensures the utmost security and peace of mind for their members
Testimonials from friends and family can be included in profiles. It's like having your own cheering squad, supporting your quest for love
An Android app is available
Suspicious profiles are immediately suspended
Guest members can reply to email messages; this is great way to try the service and get a taste of the InterracialMatch experience
Cons
You won't find any videos showcasing your potential matches' personality
If you're looking for some steamy adventures or one-night stands, InterracialMatch may not be ideal for you
If you and your partner are specifically seeking swinger parties or if you're exploring BDSM dynamics, you may need to look elsewhere as InterracialMatch doesn't cater to those interests
The date of last login is not visible in the search results
Profile verification may take more than 48 hours, which can be a bit inconvenient if you're eager to start connecting quickly
The site's popularity is primarily concentrated in major cities, which could limit your options if you're seeking matches in smaller towns or rural areas
Bono rating: 4.5/5
Related Reading: 9 Worrying Signs A Cyberstalker Likes You And How To Protect Yourself
9. Swirlr
Last on our list of international interracial dating sites, Swirlr encourages its members to embrace diversity and celebrate love without boundaries. It creates a space where people can explore interracial dating opportunities and build meaningful relationships.
Speaking of mature interracial dating sites that work, Andre (31) from Florida says, "I was simply tired of blind dates that do not work. I wanted to go for serious relationships and meet singles interested in finding the right person. I wanted to enter an interracial chat room that is excited to meet mixed race singles like me, you know. I wanted to conduct background checks on the best interracial dating websites before I went for a date in person. That's why Swirlr was the best thing I could ask for!"
Features
It is an online dating platform specifically designed for interracial relationships
There are profile creation and customization options
It has community forums and support for interracial couples
Pros
It offers advanced search filters to enhance match and relationship compatibility
It creates a sense of community for interracial couples
You can report the spam profiles
Cons
Some features may require a premium membership or additional fees
There is no proof of identity verification
User base may vary in size depending on location and demographic
Bono rating: 4.2/5
Key Pointers
If you're looking for popular interracial dating sites that offer both free and premium memberships, you can try InterracialMatch, Swirlr, BlackPeopleMeet, AfroRomance, or Interracial Dating Central
InterracialCupid offers a range of unique features including audio/video chats, Cupid Tags for personalized matches, free trial membership, advanced search filters, compatibility indicators, and message language translation, thereby enhancing the overall experience of finding interracial connections
You may have to navigate cultural differences, familial and societal pressures, and racial discrimination in interracial relationships – so, try to actively engage in open communication, unlearning, and understanding your partner's experiences of racism if they are not white
With these mixed interracial dating apps, your love life and online flirting can be super smooth. However, you may still face some of the common challenges – cultural differences, family and societal pressure, and racial discrimination. But remember, you're not alone in this quest. Together, you and your partner can overcome these challenges and build a rock-solid bond.
So open up about your experiences, values, and traditions. The more you share, the closer you'll become. And don't forget to dive deep into your partner's unique experiences especially if they are not white. Learn, explore, and understand their world and reckon with your white privilege. As you embark on this journey of interracial dating, remember to stick together, keep the communication flowing, and celebrate the uniqueness that brought you together.
FAQ
1. What is interracial dating?
Interracial dating means people from different racial backgrounds come together to meet, mingle, and maybe even fall in love. It's all about connecting with someone who may have a different cultural background from yours and discovering fresh perspectives. The best interracial dating sites in the world make it super easy to find such connections online. They create a fun and inclusive space where you can meet people from all walks of life, and explore the possibilities of casual dating or long-term relationships in a diverse world. So, if you're ready to spice up your dating life and embark on an exciting adventure, interracial dating is where it's at!
Addictive Flirty Texting: 120 Texts That Will Make Him Want You More