You don't really know a person unless you have walked in their shoes? Well, in this 'modern' era, you don't really know a person unless you have lived with them. In India, living-in is on the rise but is still cringed from.
For a woman to have a domestic partnership with a man is something that turns heads and makes the elderly go all 'whaaaaa'.
However, women in a live-in relationship set an example.
1. Complete trust
If a woman moves in with her partner, it shows her complete faith in her man and that she is ready to take this relationship really, really, really seriously. Live-in relationship means the women have developed grounds of trust with their partner.
Related reading: Why lust is important to understand love
2. Intimacy
A woman become more intimate, not just physically but mentally as well when she is in a live-in relationship. Apart from slipping into her sexy lingerie at unusual hours, she is also ready for conversations at 3 in the morning.
3. Teaches you things you have been avoiding
When a man lives with a woman, he is bound to pick up on the things he has been avoiding. Remember Chandler memorising how to arrange stuff from Monica? When living in with a woman, she, with her levels of persuasion and training (and sometimes nagging) will teach him to keep the toilet seat up, hang up the dirty, wet towels, clean the kitchen, clean the bathroom (turnwise obviously) and cook. She teaches the importance of dividing the chores and doing them well.
Related reading: The most incredible live-in relationship story you will ever read
4. Takes responsibilities in all spheres
When a woman lives in with you, she will take care of you when you are sick and when you are at your lowest. She makes you feel cared for and takes up the responsibility to take care of you 'in sickness and in health'. Kind of a preparation before taking the plunge of walking down the aisle. And if you are freaking out about something/anything, she will be there to walk you through it. And that's the beauty of living with your woman.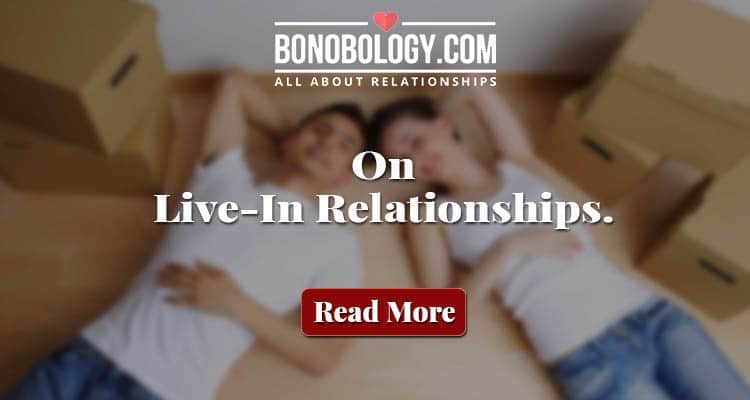 5. Independently social
When a girl lives in with you, she will learn to live more gregariously and explore collective celebrations that may or may not be restricted to family.
Ask Our Expert
You must be Logged in to ask a question.