date night ideas
Sure, going out with your partner to that expensive restaurant with a rustic ambiance sounds great. But do you really want to make the effort of getting ready, fighting traffic, finding a parking spot, and studying the menu? At-home date night ideas could come to your rescue. Most of the time, they're more fun anyway. 
You could be feeling lazy, or the pandemic may have left you no choice when all the good restaurants close before you even get off work! Plus, who even has the energy to try and find a decent restaurant after a tiring day of working from home? 
At-home date ideas can give you all the excitement you need, and more. Remember, the bedroom is just a few feet away *wink*. Running out of ideas for a date night at home? Don't fret, we've got you covered.
20 At-Home Date Night Ideas – Fun Ideas for Couples
Let's be honest, on the drive to the restaurant you picked out, you'll end up bringing up the kids and having an argument about finances. Well, guess what, when there's nowhere to drive to, you eliminate the possibility of ruining the mood before you even get there. 
Plus, if you have kids, let's not even get into how much a babysitter is going to cost you. $100 for the babysitter and a $100 dinner? No thanks, pass me the PB and J sandwich, please! 
Stay at home date ideas will help you avoid burning a hole in your pocket, while romantic date ideas at home might just help you get lucky tonight. To make sure your nights at home don't end up being boring, we've got all the at-home date night ideas you'll need. Let's get right to them
Related Reading: 30 Beautiful Things To Do With Your Boyfriend At Home
1. Date night in the garden
Don't have a garden? Do it on your front porch! Don't have a front porch? Put that terrace to good use! Nothing says love like outdoor seating and a candlelight dinner. For some reason, the world around you at that moment doesn't matter. You'll barely notice all the cars driving by your front porch when you're lost in your partner's eyes, we promise! 
If you were looking for romantic date ideas at home, this is it. To do you one better, try to arrange a nice table and set it up as your favorite restaurants do. Your partner couldn't ask for more. If they do, hand them a bill at the end of the meal. Here's a set of beautiful candle holders to dazzle your dinner table:
Cute glass candle holders in round-shaped jars
A set of 12 holders in sparkling golden design
Can be used as both tealight holders and mini flowers vases
Packed individually in bubble papers to avoid any damage when in transit
2. Take a virtual cooking class together
We doubt there's anything in the world that's yet to adopt the virtual platform. By making use of the technology at hand, you and your spouse can take a cooking class together. You'll make a nice gourmet meal while cooking together and you'll learn something new while doing so. Like, what expensive ingredients you're never going to buy again!
If that wasn't good enough, don't forget, you get to eat it afterward as well. Home date night ideas couldn't get any better. You may want to get your hands on this cookbook to make this date night even more successful!
Features 125 easy recipes that can be prepared with very few ingredients
Includes many vegan and vegetarian options
288-pages, hardcover book
New York Times bestseller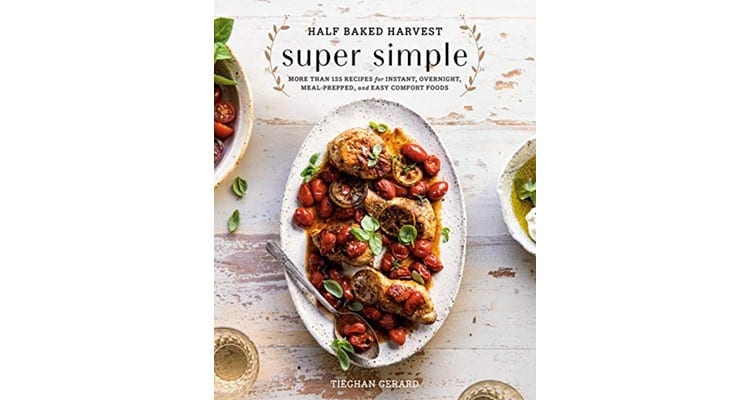 3. Recreate the theater experience
Sure, you could just watch a movie together, but you do that every night anyway. Spice things up by making fake tickets, restricting entrance to the living room, getting popcorn and beverages ready, the whole nine yards! 
Get some nice speakers to cover the room too, for maximum immersion. Fun date ideas at home like these could leave you wondering why you even bother to make the effort to go outside. And, to make the whole experience more real, let's bring this vintage popcorn maker to your notice:
Makes up to 12 cups of crunchy yummy popcorns per batch
Hot air popper that produces oil-free, fat-free healthy popcorn
Ergonomically designed chute to drop the popped kernels directly into the bowl
Compact size, perfect to place on a table for home use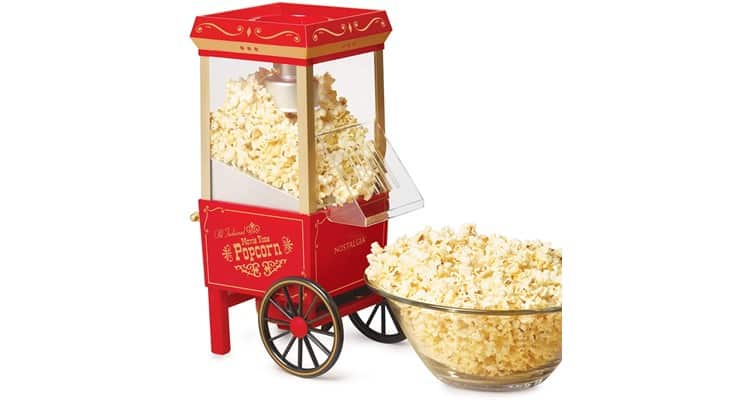 4. Spa day
You can call a professional masseuse to your house if you want, but doing it all yourself will be one of the most intimate moments you've ever had with your spouse. Set up the massage tables, light up the room with scented candles, play the sound of the ocean and give each other massages that soothe your very soul. What more could anybody ever want? Get your partner a basket full of lavender bath and body products to extract the utmost joy from your at-home spa experience!
Made in a natural formula with ingredients like Sunflower seed oil and vitamin E
Contains shower gel, bubble bath, hand and body lotions, bath scrub and salt, and more
Hydrates your skin and keeps it soft and nourished
Beautifully packed in a jute bag for gifting
5. Paint night = date night! 
It doesn't matter if one of you has the dexterity of a toddler when it comes to painting, all that matters is that you share this side of yourself with your partner. Stay at home date ideas for couples don't need to be too complicated. Grab your painting supplies and make it a competition with your spouse, if you want! 
Or better yet, try painting a portrait of each other. Cute date ideas like these can help you discover different sides of each other. Use this opportunity as a way of showing affection and paint your partner as an angel, what could be cuter! This wholesome painting kit is more than enough to get you started and keep you stocked up for such upcoming date nights in the future.
Complete professional painting kit including a total of 148 art supplies
Contains both tabletop and tripod easels and plenty of canvases
All types of paint boxes come with this set such as oil paint, acrylic and water colors
Includes different types of palettes, paintbrushes and paper pads
6. Take an online yoga class
Put your yoga pants on and your yoga mats down, this one's a doozie. Taking a yoga class with your partner can prove to be an exciting experience, especially if you both enjoy it. Even if you've never done it before, the best possible way to make sure you don't embarrass yourself is by not letting anyone but your spouse witnesses your screw-ups, right? 
Date night ideas like these will keep you healthy and happy. The wonders of technology have made sure at-home date night ideas now include things like taking online yoga classes, make sure you make use of it! Here's an exquisite zen garden kit to cleanse your aura and create a calming ambiance for a mindful meditation session.
This zen garden kit features a Buddha statue
Also comes with pebbles, sand, rock candles and incense holder
Resin tray is divided into two compartments two keep sand and pebbles separated
Perfect for using in your home, office, or yoga studio
Related Reading: 6 Ways To Get Romantic With Your Partner This Monsoon
7. Set up your own bar! 
If you're both big on drinking, one of the best at-home date night ideas for you is to make your very own bar at home. One of you could be the designated bartender, or you could both take turns mixing and matching different liqueurs! If you're looking for a way to make your girl laugh, you know what they say, a drunk audience is always a magician's best friend.
Date night at home ideas like these yield multiple benefits. You can both drink up, there's no designated driver tonight! The only place you're going to go after this is the bedroom. If you can get there, that is. Plus, you won't be spending an abhorrent amount of money on each drink, so you've got that going for you as well. Finish the experience with this all-in-one cocktail shaker and bar tools set for your very own home bar!
Includes every essential bar accessory (total of 12 pieces)
Neatly organized in semi-circular bamboo stand
25oz stainless steel cocktail shaker to mix any drink you want
Strainer, ice tong, liquor pourer, wine opener, bottle stopper – these are some of the tools coming with this set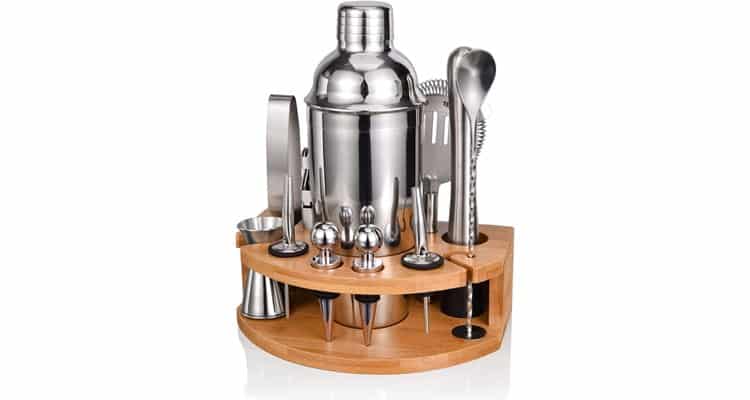 8. At-home date night ideas: Karaoke! 
Singing your favorite songs at the top of your voice with your loved one, fun date ideas at home can't get any better than this. Let's be honest, gathering the courage to go sing in front of a crowd during karaoke night at your local pub isn't really the easiest thing to do in the world. 
At home, you don't have to worry about being judged. Sing with your partner, crack into a duet and reminisce about all the good times while you sing your special song together. Sometimes, romantic date night ideas at home sound a lot better than the traditional ones that involve going out. These super-fancy rose-gold microphones are here to make you feel like a full-fledged pro singer.
Pack of 2 portable karaoke microphones in beautiful sleek design
Can be used as Bluetooth speaker, FM radio and voice changer as well
Features awesome Bluetooth connectivity, HiFi sound quality, deep bass and 3D stereo
The 3000mAh battery runs for up to 10 hours when fully charged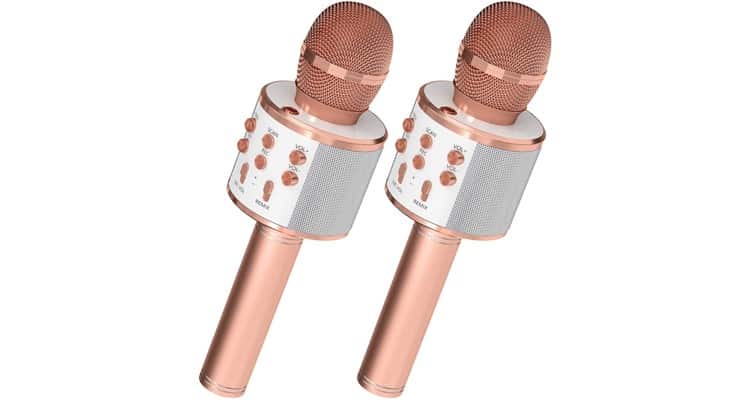 9. Have a cook-off 
Put that cooking class you took to good use and challenge each other to a cook-off if you dare. Home date night ideas like a cook-off will make sure you're both well-fed by the end of the night and you could even propose that the loser must clean all the dishes. If you can both mutually agree on a loser, that is. And while you're taking this cook-off so seriously, maybe you do it right with this Mr. and Mrs. apron set to get into the spirit of things.
Set comes with pair of aprons, oven mitts, pot holder and dish towel
Adjustable neck and waist to fit everyone
Made of durable polyester-blend material
Super cute design with Mr. and Mrs. signs
10. Picnic in the backyard
If you live in an apartment complex, you could always go stargazing on the terrace. Lay down side by side, watch the stars twinkle, and enjoy the time you're spending with your partner. That's the thing about being in love. Sometimes, even sharing silence together is all it takes to make a night special. Date night at home doesn't mean you're confined to the four walls of your home. 
A picnic in your backyard or stargazing on the terrace can be just the calming night off you need. Grab your favorite wine and a few nice kinds of cheese, and you're good to go. We picked this picnic basket to make sure that you get more time to enjoy each other's company and spend less time making arrangements for food and drinks.
Includes all picnic essential items such as plates, knives, forks, spoons, salt, and pepper shaker and more
Features a double zipper to prevent food from falling out
Insulated cooling chamber helps to keep food and drinks hot or cold as it is
Riveted leather strap and handle make it portable
11. Put the bathtub to good use
The beauty of at-home date night ideas is that you get to do things you can't possibly do outside. One of the best date night ideas is to relax in your bathtub together, with calming music playing in the background. 
Add in things like bath bombs, scented candles and a bath caddy, and you'll never feel like getting out. If you're looking for the most romantic ideas for her, a bathtub date might just be it. If you are looking for good-quality bath bombs in the market, take a look at this colorful set from Mineral Me California.
Pack of 24 luxury bath bombs infused with natural essential oils
Perfect combination of scrubbing and moisturizing ingredients like shea butter and sea salt
Handpicked sensual fragrances for relaxing aromatherapy soak
Individually wrapped and packed in gift-worthy box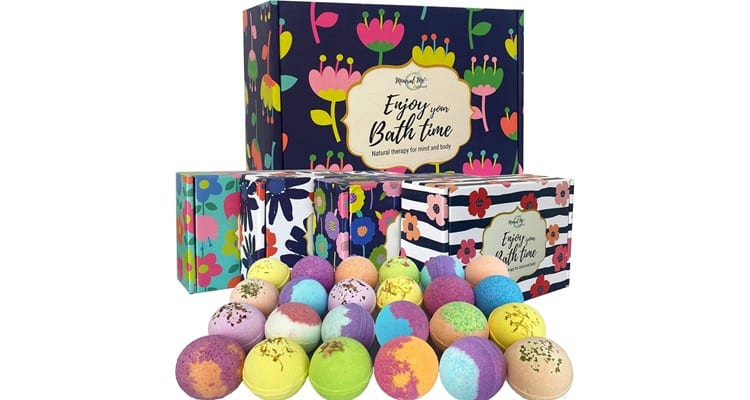 12. Video games can finally be of good use
If you've got yourself a gamer hubby, ask him to turn it into a date night at home for both of you and watch his eyes light up with glee. As one of the most romantic ideas for him, we doubt if there's anything that will make him happier. 
We suggest you give easy multiplayer games like 'Fall Guys' and 'It Takes Two' a try. This at-home date night might just end up becoming a regular occurrence at your house. Take a trip down memory lane with Super Mario, that super fun game that makes up a huge chunk of our childhood.
You can play two Mario adventures – solo or with friends
You get to explore many colorful courses and collect green stars and power-ups on the way
The highest scorer is awarded a crown
Super Mario 3D World version features faster character speed
Related Reading: 50 Things To Talk About With Your Boyfriend And Know Him Better
13. Bring out the photo albums (if those still exist anymore)
Or, you could always just make a folder in your cloud storage space filled with old pictures you took together, or old home videos you wish to share with your partner. The 'remember when' conversations can take you both to a different dimension and you'll be glad you thought of this at-home date idea in the first place. This super-soft throw blanket will keep you warm as you cozy up on the couch with your loved one and go through the pages of old albums.
Crafted from high quality 100% polyester fiber
On one side it has 4in long hair fabric and skin-friendly mink fleece on the other
Soft, fuzzy and extremely durable
Machine wash this blanket on a gentle cycle with cold water and tumble dry it later at a low temperature
14. Turn your house into a nightclub 
For nights when you really miss going out but the lockdown has got you confined within the four walls of your house, you can always set up a club-like environment in your house. Dim the lights, set up the bar and get the techno music playing — fun date ideas at home like these will make you forget about all those overpriced clubs. Hit this party light to relish the real discotheque vibe in your living room.
Can produce up to 60 image combinations, 6 color backgrounds and 3 beam combinations
There are 3 modes – auto, flash effect and sound control mode
Premium aluminum alloy shell and built-in cooling fan for heat dissipation
You can choose any time setting like 1h, 3h, 6h or 8h
15. Try mini golf at your house 
Setting up mini golf really doesn't require too much effort and it could just end up being one of the best at-home date night ideas. If you're both competitive, you know this one's about to turn into a heated tournament with a million dollars on the line. Okay, maybe not a million dollars, but at least you'll get some bragging rights. 
Who needs to go outside, when at-home date ideas can be this much fun? If you ask us, the great outdoors are overrated. Put on your PJs, pour some chilled beer or wine, and have yourself a ball, doing whatever you want. This mini indoor golf kit will make this date night hassle-free for you with a readymade golf mat.
Gives you life-like feel of the field grass and real-time playing experience
Ball rolls back through panel so you don't have to go and collect them every time
Comes with 3 practice balls
Premium quality mat made of imported grass and can be easily rolled up for storage
16. Plant a couple of saplings
Let me guess, you are looking for something that's productive yet is a fun couple activity to do at home for your next date. We have just the perfect suggestion for you – start a mini home garden together. Utilize the empty spaces on the balcony and living room and fill them with pretty indoor plants, maybe keep a few hanging planters here and there.
Trust me, gardening can be addictive. You start with a few succulents and before you know it, there is a balcony full of flowers smiling in your home. Plus, you will have such a nice time with your partner sharing all the planting chores from preparing the soil to watering them. And, the moment when you get to take a picture with your first bloom – that's just so precious! We promise you won't be able to resist the urge to seed many indoor and outdoor plants after ordering these cute planters.
Modern minimalist design with classic matte finish
Round shape, striped body and pastel colors make them look exquisite
Drainage hole and detachable trays at the bottom to let the excess water out
Made of sturdy plastic material that is hard to break
17. Create a travel bucket list
Stay at home date ideas? Can you think of anything more romantic than mapping out an eventful future with the love of your life? I mean, imagine a date night like this where your stay home in your PJs, cozy up on the couch and jot down all the places in the world you wish to travel, holding each other's hands.
Not only traveling, you could also paint many hypothetical situations that you want to turn into reality soon, such as planning your wedding, deciding where you want to send your kids to school, naming your future pets, and so on. This journal, specially designed for couples, will give you a boost to start planning a kickass bucket list for the next five years with your partner.
Beautifully illustrated 126-pages paperback journal
Features 100 inspiring bucket list ideas
Many thought-provoking questions to brainstorm new ideas
Space to list down your plans, write about the journey and save memorabilia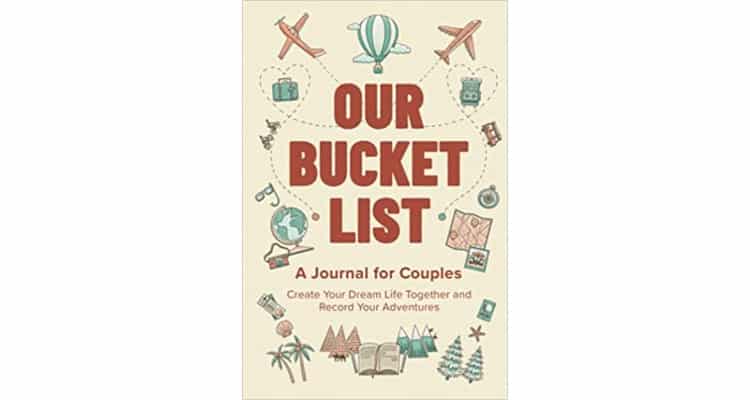 18. How about an hour of pillow talk?
You know, sometimes doing nothing can offer you a lot of time and space to reflect on your thoughts and re-analyze your life choices. And, you could easily turn this into a romantic date idea at home. If it's pouring outside and you are grumpy because the rain spoilt your Saturday night, don't be.
Make the best of this leisure time by talking your heart out with your partner because it's never a waste of time. In fact, we hardly get a chance these days to have a heart-to-heart conversation and share our feelings and struggles with them. So, cuddle up in bed under the blanket with a glass of wine and have the most wonderful evening with your darling. We found a pair of quirky pillowcases just for the occasion. Take a look:
Produced from eco-friendly cotton linen material
18in x 18in pillow cover with hilarious caption on both
Invisible zipper closure to enhance appearance
Good for machine wash — gentle cycle
19. Have a library date at home
Let's take a walk down memory lane for a second. Did you two bookworms first cross paths in the college library? Your eyes met from across the corner tables and at that very moment, you knew you'd fallen for this person behind the big glasses! How about you reignite your love for books once again through a romantic date idea at home?
Pick and dust a couple of your favorite books from the shelf. Settle down indoors for a long weekend with your sweetheart and a lot of coffee. Sounds like a plan? So, why don't you get these nerdy mugs for this special date if you are a sucker for Georgian and Victorian literature and worship novelists like Austen and Dickens?
Features picture of Jane Austen with quotes and excerpts from her work
Made from BPA-free ceramic material
Aesthetically pleasing
Capacity: 14oz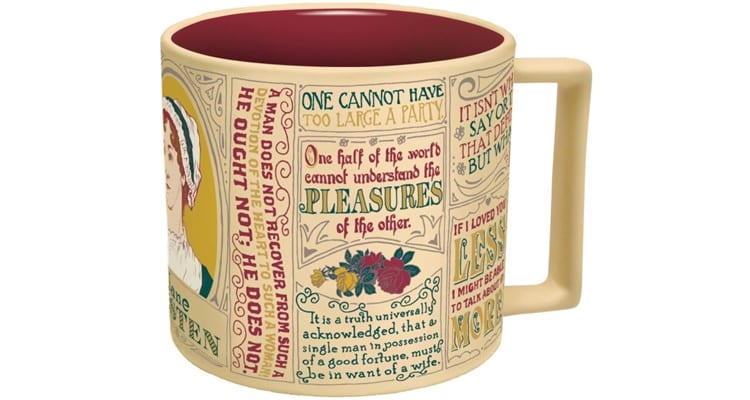 20. Paint each other in neon colors
We saved the most fun and exciting date night idea for the last. Body painting with your partner could be an extremely sensuous experience and there's not much to do to quickly arrange this date. All you are going to need is a sheet and some colors and you are good to go for hours of sheer delight!
Turn down the lights a bit to set the mood right. Cover each other in paints and be as spontaneous as you can. Let yourselves flow with the ambiance and the music. Sit, lie down, do yoga or make love on the sheet. And, afterward take a look at the colorful creation of your love. It's going to be gorgeous. Grab a pack of these glow-in-the-dark body paints and you are all set for this exciting date night with your SO!
Non-toxic fluorescent paint that glows under bright UV light
Pack of 24 neon color tubes in 6 different colors
Paint dries quickly on skin and stays for long time
Easy to wash off with plain water
FAQs
1. What do married couples do for fun at home?
Fun date ideas at home can include a night of karaoke, cooking a fancy meal together, taking a yoga class, treating yourself to an at-home spa day, the list goes on! At-home date night ideas can end up being a lot more fun than your regular dates.
2. How do I spend a romantic night with my boyfriend?
If you're looking for romantic date night ideas, you could go to a nice calm spot and set up a picnic, or you could indulge in something he's interested in like playing a video game with him or even just watching his favorite sports team play. Trust us, it'll mean the world to him.
3. What is the most romantic date?
A night under the stars, a fancy restaurant, a romantic night at home, the most romantic date really depends on what you two find romantic. Talk to your partner about something they might love to do and you'll have your answer. 
#BonoCoupleActivity: couples that cook together, stay together