Sure, going out with your partner to that expensive restaurant with a rustic ambiance sounds great. But do you really want to make the effort of getting ready, fighting traffic, finding a parking spot and studying the menu? At-home date night ideas could come to your rescue. Most of the time, they're more fun anyway. 
You could be feeling lazy, or the pandemic may have left you no choice when all the good restaurants close before you even get off work! Plus, who even has the energy to try and find a decent restaurant after a tiring day of working from home? 
At-home date ideas can give you all the excitement you need, and more. Remember, the bedroom is just a few feet away *wink*. Running out of ideas for a date night at home? Don't fret, we've got you covered.
At-Home Date Night Ideas – 15 Things You Can Try 
Let's be honest, on the drive to the restaurant you picked out, you'll end up bringing up the kids and having an argument about finances. Well, guess what, when there's nowhere to drive to, you eliminate the possibility of ruining the mood before you even get there. 
Plus, if you have kids, let's not even get into how much a babysitter is going to cost you. $100 for the babysitter and a $100 dinner? No thanks, pass me the PB and J sandwich, please! 
Stay at home date ideas will help you avoid burning a hole in your pocket, while romantic date ideas at home might just help you get lucky tonight. To make sure your nights at home don't end up being boring, we've got all the at-home date night ideas you'll need. Let's get right to them
Related Reading: 30 Beautiful Things To Do With Your Boyfriend At Home
1. Date night in the garden! 
Don't have a garden? Do it on your front porch! Don't have a front porch? Put that terrace to good use! Nothing says love like outdoor seating and a candlelight dinner. For some reason, the world around you at that moment doesn't matter. You'll barely notice all the cars driving by your front porch when you're lost in your partner's eyes, we promise! 
If you were looking for romantic date ideas at home, this is it. To do you one better, try to arrange a nice table and set it up like your favorite restaurants do. Your partner couldn't ask for more. If they do, hand them a bill at the end of the meal. 
2. Take a virtual cooking class together
We doubt there's anything in the world that's yet to adopt the virtual platform. By making use of the technology at hand, you and your spouse can take a cooking class together. You'll make a nice gourmet meal while cooking together and you'll learn something new while doing so. Like, what expensive ingredients you're never going to buy again!
If that wasn't good enough, don't forget, you get to eat it afterward as well. Home date night ideas couldn't get any better. 
3. Recreate the theater experience
Sure, you could just watch a movie together, but you do that every night anyway. Spice things up by making fake tickets, restricting entrance to the living room, getting popcorn and beverages ready, the whole nine yards! 
Get some nice speakers to cover the room too, for maximum immersion. Fun date ideas at home like these could leave you wondering why you ever make the effort to go outside. 
4. Spa day
You can call a professional masseuse to your house if you want, but doing it all yourself will be one of the most intimate moments you've ever had with your spouse. Set up the massage tables, light up the room with scented candles, play the sound of the ocean and give each other massages that soothe your very soul. What more could anybody ever want? 
5. Paint night = date night! 
It doesn't matter if one of you has the dexterity of a toddler when it comes to painting, all that matters is that you share this side of yourself with your partner. Stay at home date ideas for couples don't need to be too complicated. Grab your painting supplies and make it a competition with your spouse, if you want! 
Or better yet, try painting a portrait of each other. Cute date ideas like these can help you discover different sides of each other. Use this opportunity as a way of showing affection and paint your partner as an angel, what could be cuter!
6. Take an online yoga class
Put your yoga pants on and your yoga mats down, this one's a doozie. Taking a yoga class with your partner can prove to be an exciting experience, especially if you both enjoy it. Even if you've never done it before, the best possible way to make sure you don't embarrass yourself is by not letting anyone but your spouse witness your screw-ups, right? 
Date night ideas like these will keep you healthy and happy. The wonders of technology have made sure at-home date night ideas now include things like taking online yoga classes, make sure you make use of it! 
Related Reading: 6 Ways To Get Romantic With Your Partner This Monsoon
7. Set up your own bar! 
If you're both big on drinking, one of the best at-home date night ideas for you is to make your very own bar at home. One of you could be the designated bartender, or you could both take turns mixing and matching different liqueurs! If you're looking for a way to make your girl laugh, you know what they say, a drunk audience is always a magician's best friend.
Date night at home ideas like these yield multiple benefits. You can both drink up, there's no designated driver tonight! The only place you're going to go after this is the bedroom. If you can get there, that is. Plus, you won't be spending an abhorrent amount of money on each drink, so you've got that going for you as well. 
8. At-home date night ideas: Karaoke!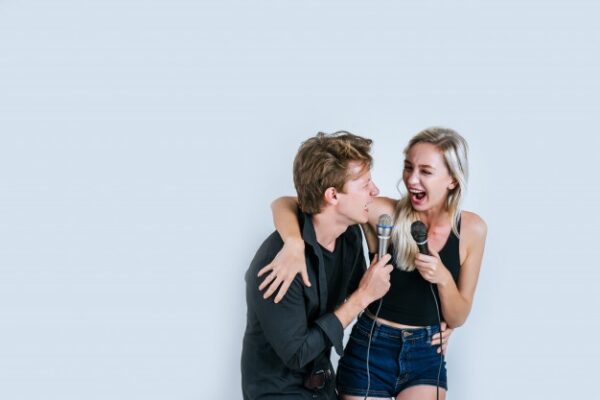 Singing your favorite songs at the top of your voice with your loved one, fun date ideas at home can't get any better than this. Let's be honest, gathering the courage to go sing in front of a crown during karaoke night at your local pub isn't really the easiest thing in the world. 
At home, you don't have to worry about being judged. Sing with your partner, crack into a duet, reminisce about all the good times while you sing your special song together. Sometimes, romantic date night ideas at home sound a lot better than the traditional ones that involve going outside. 
9. Have a cook-off 
Put that cooking class you took to good use and challenge each other to a cook-off if you dare. Home date night ideas like a cook-off will make sure you're both well-fed by the end of the night, and you could even propose that the loser must clean all the dishes. If you can both mutually agree on a loser, that is. 
10. Picnic in the backyard
If you live in an apartment complex, you could always go stargazing on the terrace. Lay down side by side, watch the stars twinkle, and enjoy the time you're spending with your partner. That's the thing about being in love. Sometimes, even sharing silence together is all it takes to make a night special. Date night at home doesn't mean you're confined to the four walls of your home. 
A picnic in your backyard or stargazing on the terrace can be just the calming night off you need. Grab your favorite wine and a few nice kinds of cheese, and you're good to go. 
11. Put the bathtub to good use
The beauty of at-home date night ideas is that you get to do things you can't possibly do outside. One of the best date night ideas is to relax in your bathtub together, with calming music playing in the background. 
Add in things like bath bombs, scented candles, a bath caddy, and you'll never feel like getting out. If you're looking for the most romantic ideas for her, a bathtub date might just be it.
12. Video games can finally be of good use
If you've got yourself a gamer hubby, ask him to turn it into a date night at home for both of you and watch his eyes light up with glee. As one of the most romantic ideas for him, we doubt if there's anything that will make him happier. 
We suggest you give easy multiplayer games like 'fall guys' and 'it takes two' a try. This at-home date night might just end up becoming a regular occurrence at your house. 
Related Reading: 50 Things To Talk About With Your Boyfriend And Know Him Better
13. Bring out the photo albums (if those still exist anymore)
Or, you could always just make a folder in your cloud storage space filled with old pictures you took together, or old home videos you wish to share with your partner. The 'remember when' conversations can take you both to a different dimension and you'll be glad you got this at-home date idea in the first place.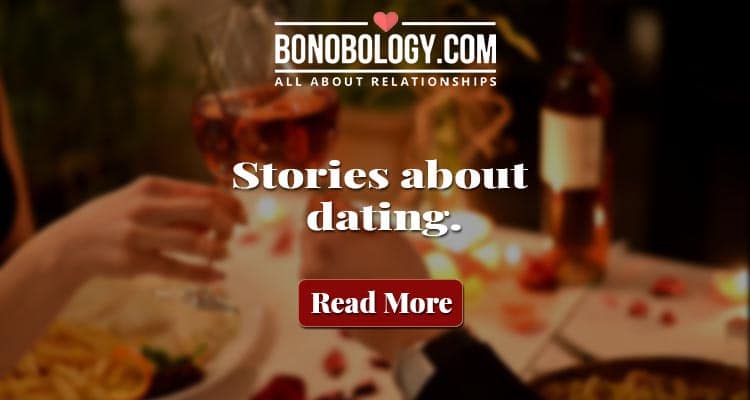 14. Turn your house into a nightclub 
For nights when you really miss going out but the lockdown has got you confined within the four walls of your house, you can always set up a club-like environment in your house. Dim the lights, get the techno music playing and have a bar set up, fun date ideas at home like these will make you forget about all those overpriced clubs. 
15. Try mini golf at your house 
Setting up mini golf really doesn't require too much effort, and it could end up being one of the best at-home date night ideas. If you're both competitive, you know this one's about to turn into a heated tournament with a million dollars on the line. Okay, maybe not a million dollars, but at least you'll get some bragging rights. 
Who needs to go outside, when at-home date ideas can be this much fun? If you ask us, the great outdoors are overrated. Put on your PJs, pull those old photos out and have yourself a ball, doing whatever you want.
FAQs
1. What do married couples do for fun at home?
Fun date ideas at home can include a night of karaoke, cooking a fancy meal together, taking a yoga class, treating yourself to an at-home spa day, the list goes on! At-home date night ideas can end up being a lot more fun than your regular dates.
2. How do I spend a romantic night with my boyfriend?
If you're looking for romantic date night ideas, you could go to a nice calm spot and set up a picnic, or you could indulge in something he's interested in like playing a video game with him or even just watching his favorite sports team play with him. Trust us, it'll mean the world to him.
3. What is the most romantic date?
A night under the stars, a fancy restaurant, a romantic night at home, the most romantic date really depends on what you two find romantic. Talk to your partner about something you two might love to do, and you'll have your answer. 
#BonoCoupleActivity: couples that cook together, stay together