Things to do with your boyfriend at home
If you're tired of having to go out and plan new activities every time you want to spend time with your significant other, we've got some news – you really do not have to! There are so many fun spontaneous things to do with your boyfriend at home if you're feeling like a homebody on some days. I mean, sure, cozying up with Netflix or whipping up a delicious meal is great, but let's kick it up a notch! We're diving headfirst into the realm of awesome activities you can enjoy right in the comfort of your humble abode. Get ready to spice things up because we're here to help you level up your stay-at-home date game.
From artsy adventures to culinary escapades, this list has got something for everyone. Whether you're in the mood to explore uncharted territories or just looking to add a sprinkle of excitement to your routine, these ideas have got you covered. It's time to transform your home into a haven of love and laughter, one unforgettable activity at a time.
36 Beautiful Things To Do With Your Boyfriend At Home 
If you two are home alone or just casually hanging out after work, there are a few ways to spice up your time together and make it interesting. Irrespective of whether you are teenagers or adults, with a little imagination and creativity, you can come up with a long list of cute couple things to do in the comfort of your home. 
Not every date has to be spent in a bar or kayaking in the river or exploring new places. A date night is not always about going for a romantic candle-light dinner. The perfect setting for it can be created at home too. Couple bonding activities at home can be just as good to tackle boredom in your relationship. Here are 36 options to explore the fun: 
1. Play a board game 
No, board games are not just for children. For couples in adult relationships, playing games at home can be a fun way to bring out interesting sides of one's personality. There are so many board games that can be enjoyed at so many ages. From Cards Against Humanity to Game of Thrones Monopoly to The Settlers of Catan – the list does not end! There are also a lot of NSFW board games that you can try if you are feeling it. It's definitely one of the most fun things to do with your boyfriend at home. It may sound old-fashioned, but try to play board games for a fun and enjoyable time with your partner.
Related Reading: 21 Fun Party Games For Couples – Time To Let Your Hair Down!
2. Do a cook-off
Elevate your culinary game by having a sizzling cook-off with your boyfriend. Embark on a grocery store adventure to pick out the ingredients, head back home to don your aprons, and dive into the kitchen showdown. Spice things up by challenging each other to conquer a specific dish within a set time frame, all while channeling your inner MasterChef. Trust me, these are the best things to do when you're bored on a Friday night. Once the timer chimes, sit back and relish the fruits of your labor, turning a simple dinner into an unforgettable at-home date night.
3. Workout together 
Working out together is another answer to your "What to do with boyfriend at home?" question. Say goodbye to mundane workouts and hello to couple gains by breaking a sweat together right at home! Ditch the gym and amp up your fitness routine with your partner. Discover fresh workout routines, groove to upbeat tunes, and keep those "funny workout excuses" at bay. From swapping exercise ideas to lending each other a helping hand, the possibilities are endless. Get ready to unleash those endorphins, embrace the burn, and enjoy an energizing sweat session that not only tightens those muscles but also strengthens your bond.
4. What do couples do when they are alone at home? Try new cocktails!
Making each other cocktails can be one of the coolest things to do with your boyfriend at night. Moreover, being a bartender when at his house is always sexy. So bust out all your fancy glasses and spirits and get a little creative. You can look up recipes online or try some unique combinations yourselves. Everyone enjoys a good drinking session, and it gets super fun and exciting if you've made the drinks yourself.
5. Solve a jigsaw puzzle 
Jigsaw puzzles can be really stimulating for your mind and are one of the best couple bonding activities. If nothing is engaging you, jigsaw puzzles can do just the trick. In fact, doing a puzzle together is a great way to kick off a lazy Sunday morning and it is also the perfect rainy day date idea.
6. Playing video games
"What can me and my boyfriend do as entertainment for couples?" Get some video games while you're hunting for fun things couples should do when at his house. If your boyfriend is a huge video game buff, you can also try them out to give him company. If it is the other way around, you must introduce him to the fantasy world of video games. It can be the perfect thing to do at home when you want to just lie indoors and spend some quality time together. It's a great addition to this list of cute couple things to do.
7. Plan a spa night
Wondering what to do when stuck at home, or what to do when bored at night with boyfriends? For a relaxing night in, a little makeshift spa at home can do wonders. If you've had a long, exhausting day, a spa night at home can be one of the best things to do with your boyfriend at night or after work. Go shopping for some body oils and scented candles to make the spa experience more authentic. Take turns being each other's masseuse and time will just fly as you lose yourself in comforting him and vice versa. It's certainly one of the most romantic things to do with your boyfriend at home.
Related Reading: 15 Best Apps For Couples That Improve Relationships
8. Read to each other 
Effortlessly pass the time with the magic of storytelling – just grab a book from your bucket list, hold him close, and let the words weave their spell. Whether it's classic literature or vintage plays, the act of reading together brings a touch of charm and romance. Sharing the pages, lost in tales old and new, you'll create cherished moments that'll make your bond even stronger.
9. Strip poker – fun things to do with your partner
One of the wildest things to do with your boyfriend at home is to play a few rounds of strip poker with him. The buildup of the game is just too exciting to not lead to a happy ending. If you want to spice up your sex life, strip poker and other sexy games to play with your boyfriend can add a layer of sizzling sexual tension. Explore them to unleash your sexual fantasies and create a homebound adventure that's sure to leave both of you craving more!
10. Indoor picnic or backyard picnic 
When the weather smiles upon you, seize the chance to create a charming date right in your backyard. Lay out a cozy sheet, whip up some delicious sandwiches and refreshing drinks, and let the sun rays play matchmaker. If you're feeling extra festive, an inflatable pool can transform your outdoor space into a hub of laughter and joy, perfect for sharing on your Instagram stories. Elevate the fun by planning a double date with friends. Such things to do with your partner or boyfriend at home not only win the cuteness award but also leave you grinning from ear to ear.
11. Bubble bath 
Tired or not, bubble baths make everything nicer – especially among things to do at home as a couple. You may find a nice bath bomb or use the bubble bath gel you have at home. Pop open a bottle of your favorite wine to add to the sizzle of the experience. There is nothing that a great bath at the end of a long day cannot cure. It is also one of the best ways to spice things up with your partner. During such romantic things to do with your partner, you can talk to each other about your day or just hold each other and lay back to forget all your worries.
12. Bake cookies
Do you love a little bake off game? You do not need to wait for Christmas to bake cookies with your boyfriend. Cookies or brownies or cake, rubbing a little flour on one another and fighting over toppings can make some great memories. Buy some sprinkles or fun flavors to elevate your baking game. You can try multiple recipes to have a variety or stick to a simple one. This is the cutest answer to what to do with your boyfriend at home.
13. Couples' yoga
Ready for some self-care and chill things to do with your boyfriend? Unwind those tension knots as you delve into poses that support each other, fostering a sense of tranquility and muscle ease. Make weekends extra special with this healthy lifestyle practice. As you align your breath and body, you're not only nurturing your physical well-being but also deepening your emotional bond. And here's a delightful twist: yoga is also related to a better sex life. Roll out those mats, embrace the zen vibes, and practice yoga.
14. Do a wine tasting 
And get different cheeses too! Just like you complement your boyfriend perfectly, buy an assortment of cheese that complements your choice of wine. Do a beer tasting or wine tasting at home and entice your senses with this fun exercise. Lay out a gorgeous table with everything you need and transport yourself to a vineyard in France by enjoying the aroma and tastes of different wines.
15. Movie marathon night 
Want a cozy winter date idea? You can each choose a few movies for a marathon night and watch them together. This way, you can also understand each other's tastes much better. Whether it's Home Alone, Pulp Fiction, or Shutter Island – try something new each week and discuss it with each other. You can indulge in binge-watching movies now and then if you've got more time. Isn't it one of the most fun things to do with your boyfriend at home?
Related Reading: 101 Hobbies For Couples – Make Quality Time Count
16. Build a fort in the living room 
Get cozy in your living room by making a fort out of blankets. You can add tons of pillows and lights to add to the aesthetic. Lay out a laptop and watch a movie inside, have a drink, or hold his hand and just talk. You can do whatever you want in your new space. A DIY fort is an intimate setting for a date night at home. Revisit your old-school romance days by getting cozy together in your living room fort. 
17. Paint together 
One of the major activities couples can do together is to get their hands dirty but only in paint. It's a free date idea, and a great one! Bring out your crazy sides by getting artsy. Surrealism, impressionism, or plain stick figures – it does not matter. You do not have to be dating an artist to unleash your creative side. Neither do you have to be a skilled painter to have a good time with your boyfriend. 
18. Breakfast in bed 
To jumpstart your way to a beautiful day, try one of the best couples activity ideas – put a little effort into making a nice breakfast! It can be simple or elaborate, really doesn't matter as long as it's succulent and indulging. And, of course, made with love. Breakfast is already the most important meal of the day. Add an extra drizzle of romance to it, along with maple syrup.
19. Do a photoshoot at home 
You can start by clicking individual pictures of each other and then try couples photographs too. Look up interesting poses, dress to the nines, and click each other's pictures all around the house. This activity can kill a lot of time and is one of the things to do at your boyfriend's house. Moreover, it will amp up your social media feeds like nothing else. Get clicking for a month's worth of posts and have some great fun in the process. You can try some couple's poses for unique selfies as well. Win-win!
20. Watch a game together 
If either you or your boyfriend is into sports, you can have a game night at home. By dressing up in jerseys, and setting your house up like a sports bar, you have yourselves the perfect game night setting. This is one of the happiest things to do with your boyfriend when bored.
21. Play Just Dance 
If you're feeling bored, Just Dance can come to your rescue. You do not need to be a pro; you just need to hold a remote in your hand and sway a little. This practice can also increase physical intimacy in your relationship. With an array of songs and choreographies, you will never run out of choices and a good time.
22. Sing together
No matter how bad or off-key you sound during karaoke nights, singing together is a wonderful bonding activity for couples to do at home when bored. Who cares if you get the lyrics wrong or sing out of tune? It's all well and good as long as you're having fun. Vibe together on your favorite hits, be they classics or raps.
Related Reading: 101 Love Riddles To Tickle Your Romantic Side – With Answers
23. Make some funny videos
With the host of apps available to create content, this is a superb option. Use TikTok or Instagram to make reels, short clips, or vines. You'll have a lot of fun making these, and you'll get some solid material for your social media too. There are so many couples these days that run joint pages online. They have a ridiculous fan base.
24. Binge-watch a TV/web series
Dive into the captivating world of watching TV/web series with your partner. Set your binge-watching hours, snuggle up on the couch, and embark on marathon sessions or revisit favorite episodes. The laughter shared while watching isn't just fun – it's relationship fuel. Moreover, becoming fellow fans creates a bond that's hard to beat. From inside jokes to fandom references, your screen time together will create new memories and a connection that's as strong as your Wi-Fi signal!
25. Take a nap – trust me, it's one of the best things to do for couples
Tired of office hours and karaoke nights? A power nap can be a game-changer for your well-being and relationship. Switch off the lights, snuggle up in bed, and let the coziness wrap around you both. It might just be an unconventional romantic gesture that leaves you in pure bliss. The comfort of each other's arms offers a refreshing escape, leaving you both rejuvenated and ready to conquer whatever comes your way. So, sink into sweet slumber together – it's one of the best cute things to do with your boyfriend at home.
26. Scrapbooking
Capture your beautiful moments together through the art of scrapbooking. Armed with a scrapbook, some old photos, and a sprinkle of creativity, you'll craft a tangible record of your journey. Through this DIY project, unleash your inner artist with sequins, feathers, and glitter galore. This makes for one of the romantic things to do with your boyfriend at home. 
Not feeling crafty while choosing activities to do at home with boyfriends? Opt for simpler yet equally heartwarming photo albums, documenting your special memories for a stroll down nostalgia lane. This creative endeavor adds a touch of romance to your home and creates a keepsake that you'll treasure forever.
27. Do a home décor project
Home improvement project – sounds fun, right? Yes, one of the cute things to do with your boyfriend at home is to redecorate your home! It can mean painting a wall, stringing a few fairy lights, or putting up photo frames. Through such things to do when bored with boyfriends, you may change the interiors of your space from time to time. Personalize the walls with murals or quotes, and add a few mirrors or accent pieces.
28. Take a class
Do you have a vision board or wish list of hobbies for couples? Pick a new hobby from your wish list and learn it with a few classes. Look up things to learn with your partner or activities to do with your significant other. Explore a new skill or a new language with your partner. These are splendid things to do with your boyfriend when bored:
Learn new dance forms like tango and then attend a dance party or karaoke nights to try it out
Take some calligraphy classes through video calls, and then write a love letter to your boyfriend
Learn a new language (Italian is sexy) or a musical instrument to make a romantic playlist
Choose an online course that's academic like literature
Related Reading: 25 Fun Long-Distance Relationship Games For Couples To Grow Closer
29. Play Never Have I Ever
Tired of playing Truth or Dare, and looking for things to do when bored with boyfriends? One of the party favorites, Never Have I Ever can be played by couples too. You can go ahead with the regular version and end up getting drunk or you could try the dirty one and heat things up. This is one of the wildest things to do with your boyfriend at home because a) you'll learn new things about each other, and b) the slow buildup to sex will be GREAT.
30. Go green and try gardening
What are the things to do with your boyfriend when bored? Go green! A sweet (and eco-friendly) activity is getting a few home plants. You could get them from a nursery or plant them yourselves. Paint the pot, get your hands dirty with the soil, and grow some basil or aloe Vera. You'll be surprised how much joy a plant can bring. You won't ever ask what to do with your boyfriend at home again.
31. Candle-making
Craft one-of-a-kind scented candles with your partner, basking in the cozy ambiance they infuse into your space. And hey, here's a sweet bonus of such cheap things for couples to do at home: those extra candles could become a local market hit or even kickstart a cozy couple's business venture. Get ready to light up your home and your heart with this charming and potentially profitable hobby for couples.
32. Virtual museum tour – best stuff to do on the internet when you're bored
Without even stepping outside your home, you can embark on a global adventure of art, history, and culture. Through such fun things for couples to do at home, you can find yourselves in the hallowed halls of renowned museums, exploring priceless artifacts and masterpieces from different eras and places – all with a mere click! From the Louvre in Paris to the British Museum in London, the treasures of the world are at your fingertips. Get ready to broaden your horizons and traverse time and space with your boyfriend, all while comfortably nestled on your couch.
33. DIY care packages – cute stuff to do with your boyfriend
Express your affection in a heartfelt way with DIY care packages for each other. Craft these packages with personalized gifts, handwritten letters, and thoughtful trinkets that hold special meaning. As you exchange these bundles of love, the sweet anticipation of unwrapping each package will create an emotional connection. Get ready to melt each other's hearts with these tangible tokens of your affection.
34. Blindfolded test
Take turns blindfolding each other and using a range of objects like feathers, ice cubes, or even flavored treats to stimulate various parts of the body. The heightened anticipation and electric excitement promise to create unforgettable memories. Moreover, this playful escapade might just lead you to uncover new erogenous zones and deepen your intimate connection. Get ready for an exploration that will leave you both craving more, while strengthening your bond in unimaginable ways.
Related Reading: 160 Ultimate What If Questions About Love For Couples
35. Erotic art
These physical things to do with your boyfriend aren't just about creativity or aesthetics; they help you connect with your partner on a deeper level. So explore a sensual and intimate world of creativity with erotic art. With body-safe paint as your canvas, let your imaginations soar while you adorn each other's skin with meaningful patterns or playful messages.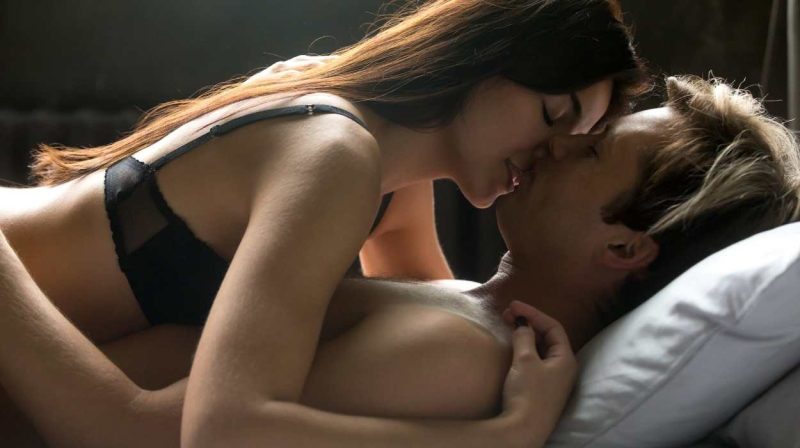 36. Upcycle to save money
Tackle money matters together as part of fun things for couples to do at home. How? By upcycling with your boyfriend! Turn old furniture into treasures or give your wardrobe a fresh twist with DIY fashion hacks. Not only will you save money, but you'll also bond over transforming everyday items into something uniquely your own. Such cheap things for couples to do at home not only revitalize your space but also strengthen your relationship through shared creativity.
Key Pointers
Spice up your relationship through physical things to do with your boyfriend, like taking a bubble bath together or playing strip poker during a romantic evening
If you're bored with everyday life and want to be on the same page with your boyfriend, try an online quiz for couples, take an online personality test, play charades, get some board games, write love letters, or learn a new skill together
You can also read to each other, build a blanket fort, or take a nap at home if you want to feel relaxed with your boyfriend
Scrapbooking, doing a home decor project, and playing Never Have I Ever also make for interesting activities to do with your boyfriend at home
And there you have it! From wild adventures to soothing unwind sessions, these boredom-busting activities cover the spectrum. Whether you're diving into the daring or simply indulging in relaxation, you're bound to discover new layers of love through this list of things to do with your boyfriend at home. So, get ready to create cherished memories, spend quality time, and strengthen your bond in the coziest corners of your home.
This article was updated in August, 2023.
FAQs
1. How can you make your boyfriend happy? 
There are many sweet things you can do to make your boyfriend happy like paying him a compliment, telling him that you appreciate what he does for you, supporting his dreams and goals, understanding his need for space and alone time, buying him gifts, or making things hot and sexy in the bedroom.
2. What do happy couples do together?
Happy couples are attentive to each other's needs. They are generous, compassionate, and respectful toward each other. They respect each other's sense of self and boundaries. They share household chores, celebrate each other's success, and are best friends. They are equal partners in the relationship.