For reasons unknown, monsoons and love have been always linked. So what exactly can couples do this monsoon to make their relationship more romantic? Here are a few tips:
1. Chai and pakoda
If you are blessed enough to be staying in a high-rise and have a balcony or a deck, make the most of it. With some piping-hot tea and spicy pakodas, enjoy each other's company while watching the downpour.
2. Get wet together
Getting wet in the rain with your partner, especially in your backyard or your private terrace can be a very sensual thing. The greenery and the super-sexy wet body of your partner makes it a perfect setting for a gentle kiss. You could also use this opportunity to play games in your private garden while it pours.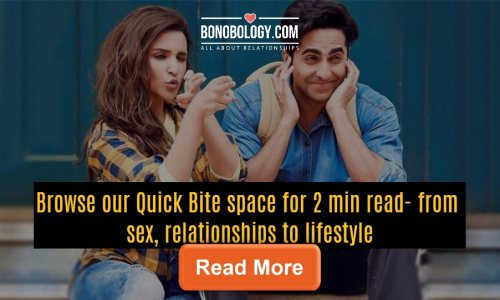 3. On the sofa under a blanket watching a film
While it pours outside, switch the TV on, put on your favorite film or TV series, keep the light dim and sit together on the sofa with one blanket covering the two of you. Caress each other, play with each other's hair and enjoy a quiet, yet romantic evening at home. This is super-sexy when there is a thunderstorm. In India, in some cities, where the power goes off during such weather conditions, you can make it even more romantic by lighting a candle and just lazing on the sofa, close to one another with music playing on your phone.
Read more: Why Bollywood romance is never like the real thing: A married woman's rant
Read more: How to romance your busy partner
4. Long drive with romantic music
Go for a long drive together on a rainy evening, especially away from the hustle bustle of the city, to a place which is full of trees and picturesque landscapes. Couples in Mumbai and Pune can go to Lonavala and stop at any picturesque site to take pictures together. Carry an umbrella and CDs with romantic music. Being sheltered together from the rain will bring you two closer than ever before.
5. Dancing in the rain
I love to dance. So every time, it rains, I go to the terrace of our apartment and I dance with my partner in the rain. We splash water at each other and in the most romantic way, we even wrestle at times. Dance, music and rains have an unbreakable connection when it comes to matters of love.
6. Go out on a candlelight date
Going out for a candlelight dinner date on a rainy evening, has its own charm. Pick a restaurant that will give you the view of the rain pouring outside. Like I said earlier, being safe and dry from the rain under one roof together brings couples closer and makes their bond even stronger. Cook a meal for your lover at home, if you do not wish to step out. Set the table on your balcony or deck with a candle and have soft, romantic music playing in the background. Make sure the lights are dimmed.
Monsoons bring tremendous joy to couples who have newly fallen in love. While for the ones who have spent a good amount of time with their partners, the romance may not come as organically, but worry not, monsoons can help you light up the fire, yet again.
5 Indian destinations you should visit with your partner for a romantic vacation
Five romantic things you can do with your spouse while it is raining outside