It's wedding season and if you're going all Bride-zilla about your attire, you need to take a deep breath and clear your head. Everything around you may seem a little crazy, but this time of preparing for your wedding is never going to come again, so take in all the festivities and enjoy it to the fullest.
And if you're still too worried about your red wedding lehenga, don't worry, we've got you covered. We've compiled a list of some of the most gorgeous royal red bridal lehengas that will definitely spark some ideas and get the excitement going!
10 Royal Red Bridal Lehenga For Wedding
It's gorgeous, it's flattering and it's the color that epitomizes desi weddings. You know what we're talking about, the red bridal lehenga that has the perfect finish and design and sits on your body flawlessly.
Lately, the bridal brigade is experimenting with unconventional colors for their bridal ensemble, but thanks to the internet we here have proof why red is, and will always be, the perfect color to make every bride look stunning on her wedding day.
And since the wedding season is in full swing, some inspiration for your perfect bridal lehenga is going to make your hunt a little easier. Take cues from these dazzling designs and give your tailor a cue on the look you would want for your bridal avatar.
Here are the 10 best red wedding lehenga designs we liked the most.
Related Reading: How To Get The Perfect Bridal Glow? Wedding Skin Care Tips
1. The Indian princess bride
If you are a fashion-forward bride who loves to flaunt embroidery, then this exquisite Tarun Tahiliani lehenga is perfect for you. It's elegant and it's crisp, yet conventional.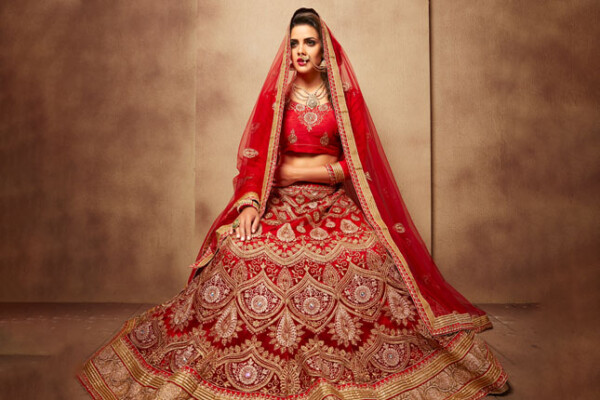 2. Majestic in red
Nobody understands bridal sentiments better than Sabyasachi. This red silk lehenga with floral embroidery all over is proof. It's a stunner all the way, with every stitch and detail standing out to the eye. This royal red bridal lehenga will grab the attention of everyone in the room, and make your big fat Indian wedding all the more special.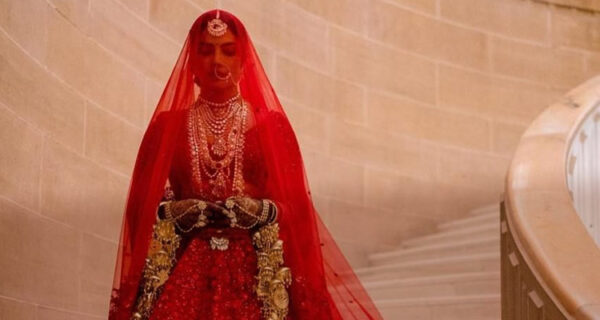 3. That perfect red bridal glow
There is nothing unique about red lehenga and choli with thorough gold embellishments, right? But give this combination to a maestro like Manish Malhotra and he will give it an enchanting twist with something as simple as a soft pink dupatta that creates the perfect contrast with the deep hues of red and elevates your bridal glow.
4. Dazzling in gold booti work
With Sabyasachi, you can't expect anything less than indisputably gorgeous. Gold booti work, flattering neckline, double dupatta and oozing elegance – perfect, isn't it? When all the right elements are in confluence, you get a total stunner that stands out in the crowd of run-of-the-mill red bridal lehengas.
It's snazzy and gorgeous, yet elegant at the same time. The gold married with red makes this the perfect wedding attire for the beautiful bride.
Related Reading: 3 exquisite, jewel-like Bollywood weddings to inspire your own
5. Reshmi dulhan
Everything looks better in resham work. With contrasting blue choli, red raw silk lehenga and intricate resham embroidery, here is a lehenga that will make you look like a dream.
6. For the contemporary bride
Another jewel from Sabyasachi's collection. A red velvet lehenga with statement floral work and deep neck embroidered choli is gorgeous as it is, but the soft mauve net dupatta steals the show and makes the wedding of your dreams a little more special.
7. Red and gold never gets old
Red and gold is such a stunning combination that it never fails to flatter an Indian bride. Take this piece for example. It's pretty, it's royal and it's the perfect embodiment of the desi in this bride.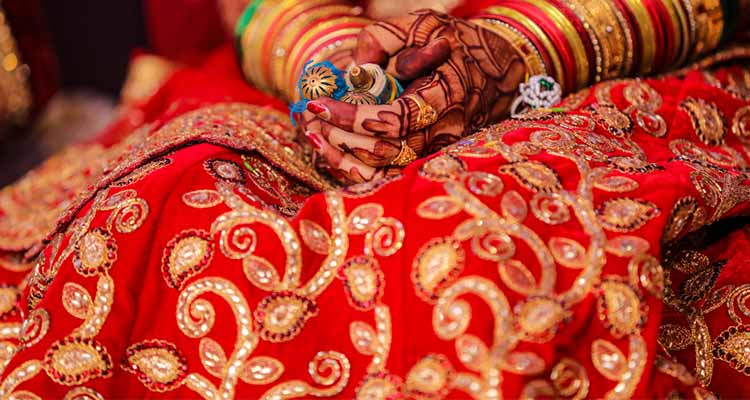 8. Double layered dupatta is the way to go
Such a cute moment and such a pretty wedding red bridal lehenga! Red has always been the bride's favorite but there is something about this piece that feels perfect. Is it the soft green dupatta with a contrasting blue and pink double border? I think it is.
Related Reading: 8 Ways to fight the pre-bridal blues
9. Fusion it up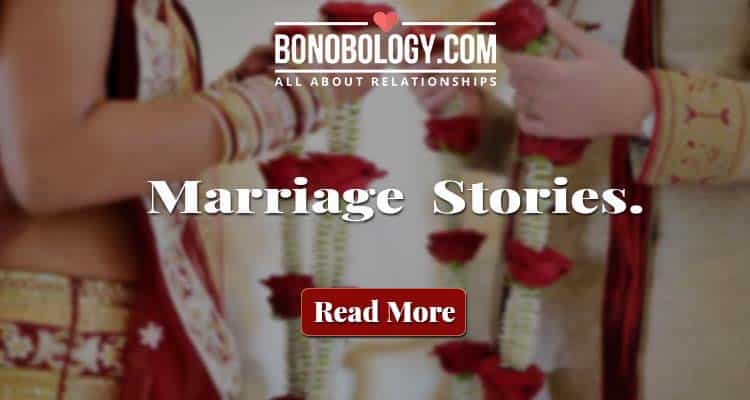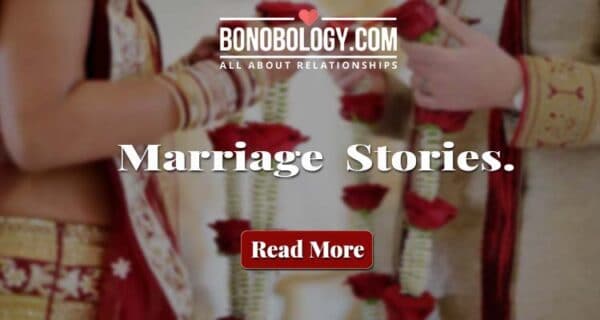 If you are looking for a bridal look that says 'elegance personified', then this is the look you would want. With a closed neckline, full sleeve choli and peach dupatta, this is the way to be a fusion bride.
Check out beautiful lehengas at Jivaana.com now!
10. Picture perfect
The all-red look never disappoints. At a time when brides like to experiment with contrasting colors, even when they choose red to be the color of the day, this bride shows how going all matching could score a perfect 10 on 10 when done right.
Her subtle makeup, kundan jewellery, beautiful elaborate floral embroidery on the lehenga and gold booti for the choli gives us all kinds of bridal fashion goals.
No wonder red will always be the most favorite color for the bridal trousseau. Apart from the fact that red is the color of love and passion, wearing red at an Indian wedding is also synonymous with wealth, opulence and youthfulness. Now, who would say no to that?
FAQs
1. Which color is the best for a bridal lehenga?
The answer is always red! Unless the lehenga has been worked on with great precision and care, nothing beats the traditional red.
2. What do you wear with a red lehenga?
You need to find the perfect jewellery that goes with your color combination- depending on whether your lehenga is gold or green and pink bordered.
3. What jewellery goes with red lehenga?
Gold is the best match for a red bridal lehenga. Diamonds also look good with a royal lehenga.
How To Have A Non-Religious Wedding – Some Awesome Tips!
Life After The Wedding And The Honeymoon – Post Marriage Life
10 bachelorette party ideas for the bride-to-be