It was the Christmas of '91. I was on a mission that could potentially change my life forever. The mission was to find a way to spend my life with the woman I loved dearly. Getting her father's permission to marry was the biggest hurdle to cross, in order to make that a reality. But I was determined to love her and look after her for the rest of our lives. I was ready to go to any lengths to make him understand.
But let's rewind and backtrack a little.
How To Ask A Father-In-Law To Marry His Daughter
I met my wife-to-be whilst I was a Naval officer still under training. She was an art student, working her tuition fee debts off. We fell in love fast, our relationship bloomed and a proposal was made and accepted. So far, so good. Then came the catch in the story. I was from a Hindu Nair household and she was the eldest daughter of a conservative Roman Catholic family. And if that wasn't deterring enough, her father was a cop and that just did not make things easier.
We needed permission to marry
Those were the dark ages when permissions were still sought from the parents before you got married. Those were the days when forgotten sentiments such as decency and courtesy still mattered. So dealing with the in-laws before planning the wedding was a priority.
And so, weighed down by my conscience, I decided to bite the bullet. But how? And when?
Providence and the month of December brought about the Christmas season. The holiest of Christian seasons. Could there be a better time to appeal to the kind, understanding and accepting side of her parents?
How to ask a father to marry his daughter? Pro tip: Do it during the holiday season and bring lots of Christmas gifts.
So, with instructions to my colleagues to send in the Navy if I didn't surface after 5 days, I accompanied my girl to her parents' home. The early morning chill in their hometown in Wisconsin as we arrived was only complementing the warmth of her father's reception. So warm and kind was he in receiving me that I couldn't help but think, "This poor man has no idea what's in store ahead!"
Related Reading: 21 Controversial Relationship Questions On Dating And Marriage
I finally asked her father's permission to marry her
The next couple of days were a frenzy of celebrations, church visits, visits to and from relatives, wining and dining, singing and dancing. It felt like home to me. I was treated like a family member of a happy family. I gelled easily with everyone, could strum a guitar, sing and jive.
Being the life of the party was easy but it was then creeping up on me. How to convince them for marriage? Olivia and I had been dating for marriage for really long and we did not want to put it off any further. So we straightway approached her mom first.
Surprisingly, her mother approved, without much of a fight. Although I still was in doubt if she knew why I was there. With one more day left to go before I returned, I knew I had to pop the question to her father.
As I was prepping myself for the task, I knew this was much tougher than singing and dancing my way through. Getting her father's permission to marry was going to be no cakewalk.
After a very satisfying dinner that night, I stepped outside the house to join her father on a post dinner stroll. Though it might have been premature, since Jesus was just born, I still made a silent sign of the cross as I began to broach the topic.
"You know sir, I haven't come here just to celebrate Christmas…" The silence after that statement seemed heavy and long.
Before I ran out of all the courage that I'd been collecting over the days, I decided to pursue my case.
"I came here to ask for your daughter's hand in marriage."
Related Reading: Relationship with In-Laws: I was Scared of My Father-In-Law because…
He had a few questions for me
These statements coming from a barely 24-year-old boy must have really sounded funny. I can imagine that, now that I have a barely 24-year-old boy myself.
In any case, he wasn't laughing about it. He stopped walking and turned to me. I stopped breathing and controlled my urge to run.
"You do realize we are of different faiths and beliefs, right?" He was honest with me and I appreciated it.
"Will you convert for my daughter?"
"Will your parents agree?"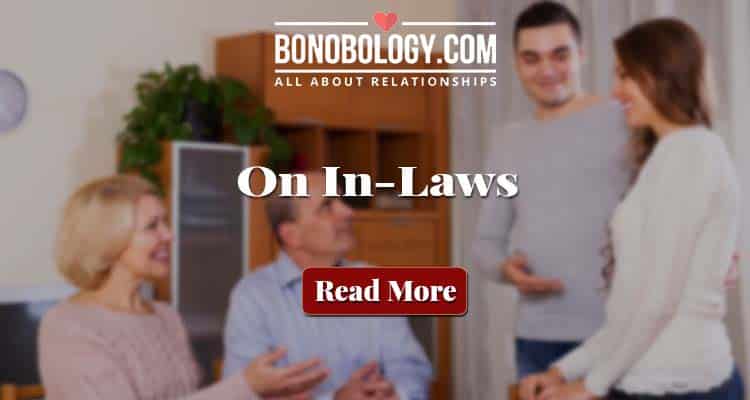 "What religion will your children follow?"
"Have you spoken to your parents about it?"
The questions came out bullets from a machine gun. The slowly wafting cigarette smoke from his lips only added to the image.
"Yes," I replied.
How To Ask A Father To Marry His Daughter To You
How to deal with father-in-law problems lies in simply showing them that you will go to any lengths to make his daughter happy. That's all he really wants to know.
"Yes, what?" he demanded. I instinctively ducked at the intensity of his question. I was trained to survive after all.
"Yes to all," I managed to speak up loud enough for him to hear.
And that was it. I loved Olivia dearly but without her father blessing, marriage was not on the horizon for us. I knew how much she loves her dad and how much this meant to her. It was imperative for me to impress the in laws and only then start planning the wedding.
Was it my earnestness, my stupid-ass courage to come home and figure out how to convince him for marriage or the fact that I thought it necessary to ask for her father's permission to marry her? I don't know what helped him decide, but that night we got his blessings. That's what matters.
FAQs
1. What do you do if your parents don't agree for marriage?
You should do your best to show them why your partner is the right person for you. Your parents only want you to marry someone that they are confident will keep you happy. If you can show them that, getting father's permission to marry should not be that hard.
2. What do you do when you don't like your father in law?
It might be like that first but he is indeed your family or will be, eventually. So try to find something in common that you two can bond over. Don't just let a bad relationship be that way. Spend more time with him and we are sure you will see a part of him that you will love.
12 Signs It's Time To Stop Pursuing The Girl You Like And Back Off
It's Not The Mother-In-Law But The Father-In-Law Who's The Villain In My Story
Ask Our Expert
You must be Logged in to ask a question.