If Mogambo and Gabbar Singh were real life people, even they would be scared of my father-in-law. I didn't know the meaning of the word Soceraphobia till I met him. I didn't know it meant fear of in-laws. Neither did I know that in-laws could cause anxiety till I met my fiance's father.
(As told to Sanjukta Das)
How my in-laws behaved before marriage
When my boyfriend-turned-fiancé invited me to have lunch with his parents, I was, of course, thrilled. I didn't know how my in-laws would treat me before the marriage, but I expected them to be nice and sweet just like my husband.
But his dad turned out to be just his opposite. When I was introduced to him I was greeted by the most stoic-faced person, who peered at me over his thick reading glasses and said a staunch "Hello". My fiancé had told me his parents were chilled-out people, but this greeting just threw me off balance.
I had reached to touch his feet and he shook his head and went for a handshake instead. I could feel my hand go cold and his hands were warm, unlike his expression. It was when my mother-in-law entered and greeted me that I got out of my freeze mode. She ushered me inside and we got talking. The father-in-law came in occasionally to join the conversation, but did not make an effort to start one with me at all. My soon-to-be mother-in-law complained about him being rude. Rude? I found him downright scary.
Tips for building a relationship with my father in-law 
My fiancé understood my feelings and asked how I liked his father. I told him he was a nice man. He smirked and told me a lot of people are scared of him. "But you aren't, are you?" I replied: "No, no. Why would I be scared?"
He explained how his father, being an ex army man, was extremely strict. He never drank, partied or socialised. My father-in-law belonged to the kind who never really smiled or talked much.
But he said his father was not mean, neither did he have an attitude and he had no facade. He was just what he showed himself to be. He loathed small talk.
His relationship-building tips scared me more. I couldn't find a way to make my father-in-law smile.
I wondered how my life would be after marriage 
Of course, over the next few months, I attended my fiance's cousin's wedding and a baptism and I slyly made sure not to make any eye contact with the dreaded father-in-law. I did the necessary 'hi, hello' and that was it. It turned out that most of the children in the family were scared of him. But once after the ceremony, I saw him take a group of cousins to the nearest chocolate shop and buy them some. It was a sweet gesture, but of course his frown was deep seated in his face and he barely smiled.
I was shocked at my in-laws' behaviour
In my early years of my engagement, I remember him once yelling a cuss word while watching a football match. While my mother-in-law chided him to watch his tongue, he looked at me cheekily and smiled ear-to-ear and then bit his tongue in a gesture that he had done something wrong. That was the cutest thing I have ever seen anyone do.
He giggled like a teenager and went back to watching the game. He asked me which team I liked and my answer made him smile even more. Shaking my hands, he said, "Haath milaa lo, beti. Real Madrid all the way." He called me beti.  I was shocked.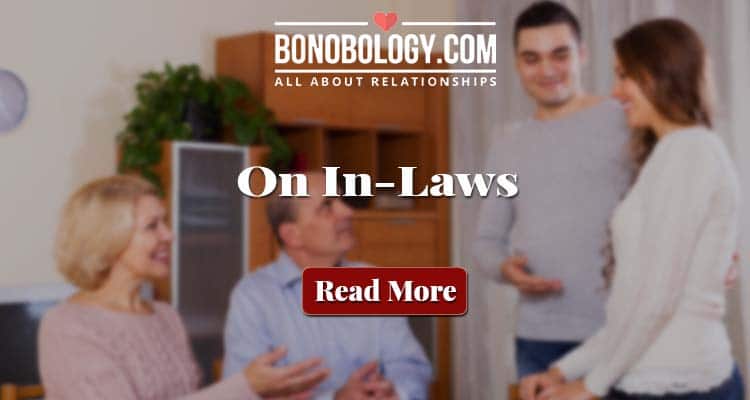 My father-in-law turned out to be the opposite of what I had expected
Of course, my opinion about him changed when I was admitted to the hospital for dengue and he sat outside while my parents and fiancé talked to the doctors and took care of the reports and bills. He refused to leave saying "Ghar ja ke kya karunga mein?" and made sure I got my food and medicines on time. When the nurses were a bit late in checking on me, he would trot about and get a nurse to check my vitals. All the while the stoic expression on his face did not change neither did he utter many words.
But I realised that he didn't need to smile or talk. He was there for me when I needed him most. That was the only important thing.
They are the best in-laws
Six years down the line, I have married my fiancé and we live in Andheri in Mumbai. My in-laws visit me and I am still a bit scared of my father-in-law. But my twin boys love their grandpa and every evening he takes the boys and gets them sweets. No one can dare tell him not to give them too many sweets. Because he would just glare at anyone who dared to do that.
But those who know this scary man well would know his heart is made of gold.