Meeting your prospective in-laws and impressing them in the first meeting can be a daunting task. As they say, you don't marry a person, you marry their entire family. And every family is weird in their own ways, particularly the in-laws. So getting to know your in-laws require a lot of patience on your part and you have to be at the top of your game to avoid disapproving looks. How to impress in-laws? We will tell you the ways.
Meeting in-laws for the first time could make you nervous and you could be thinking in your mind, "How to win mother-in-law's heart?" But you can actually impress your in-laws in the first meeting.
Related Reading: 10 Thoughts That Come To Your Mind When Your Mother-In-Law Visits You
How To Impress Your In-Laws In The First Meeting?
Your man has just told you his mom wants to talk to you and you are jittery thinking, "How to talk to your mother-in-law on phone?" And then when you meet your mother-in-law for the first time you think, "How to win my mother-in-law's heart?" or "What should I gift my mother-in-law in the first meeting
There are way to impress your in-laws in the first meeting and and these top 5 rules will work wonders to dazzle your future family in the first meeting.
1.  Research well, research more
You don't walk into a meeting at your job without knowing enough about the attendees, do you? The same rule applies to your future in-laws as well. Knowing about their hobbies and aversions, including what they thought about your partner's ex, will help you make a great impression.
To impress your in-laws for the first time you can check out what kind of flowers your mother-in-law likes or the cuisine she dotes on. Toss up her favourite recipes, especially some great Thanksgiving recipes and see how she reacts. Maybe find out about the school or college your in-law went to or the profession they are in and you can strike up a great conversation with them.
Related Reading: How to prepare for a first night over at his place
2. Dress to impress
Leave your street-smart style at home. Don't go for high fashion either. We are all for looking chic and fashionable, but when it comes to meeting your future family you should opt for a sophisticated yet toned-down and timeless fashion. Make sure your hair is clean and you smell nice. Looking and feeling confident is the key here.
Your in-laws would appreciated your sophistication and dignity more than anything else.
3. Wear a friendly smile 
No matter how intimidated you feel inside, wearing a friendly (but not too much) smile can help you come out of the meeting as a winner.
Be polite and attentive, show kindness, praise whatever homemade meal they serve you and mind your manners because after all, it's about the family of the person you love. Make sure to show them your best behaviour. Don't talk too much and keep gabbing about yourself. Be a good listener and you will absolutely impress your in-laws.
4. Bring a small, but thoughtful, gift
Bringing a small token of appreciation for your in-laws is a great way to show you care. Especially buy a gift for your mother-in-law in your first meeting.
It doesn't have to be something extravagant but it could be thoughtful and look work good gift ideas. If your future father-in-law likes Cognac, bringing a bottle often does the trick. If your mother-in-law likes to read, bringing her a book is the best choice. But if you are feeling a little crafty, go for a DIY decor piece or bake your best cake recipe for them. It's the best way to show that you care.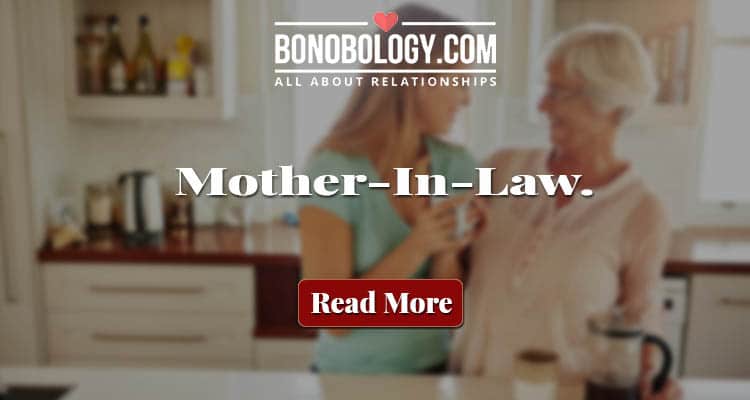 5. To impress in-laws in the first meeting be relaxed
Finally, remind yourself that they are not the in-laws from hell. Of course, meeting them is a big deal and you have done your part to make sure everything goes fine in this department.
But also remind yourself how wonderful a partner you are to their son/daughter. So take a chill pill, be respectful towards your new family, but don't pretend and don't get stressed. To prepare for your in-laws visit all you need to do is be totally chilled out.
Already had your first meet with the in-laws? What were your tricks? Tell us in the comments section below.
6. Don't show possessiveness towards their son/daughter
Being caring and loving towards your man or lady is one thing, but showing too much possessiveness or the fact that you know every little detail about them is not a great idea.
If you really want to impress your in-laws in the first meeting then draw a balance between the love you feel for your partner and the fact that you are also wee bit possessive. In-laws are as such fearful that their ward is not going to be theirs anymore post-marriage and on top of that if you show possessiveness then you have had it.
Related Reading: 7 Things I Felt When I Met My In-Laws For The First Time
7. Be clear about what you want
If your in-laws ask you questions answer those clearly instead of giving fuzzy replies. If they ask you if you plan to move towns after marriage then let them know that you are open to the idea if you get a better job offer.
If they ask you if you are okay living with your in-laws when they grow old just let them know how exactly you feel instead of beating around the bush. They would appreciate your honesty. If you try to impress your in-laws and say you would love to live with them but in your heart you loathe the idea then it will come through. Remember they are as intelligent as you are.
How to impress your in-laws in the first meeting? No need to feel those butterflies in your stomach. Just be confident and you will know come out with flying colours.
15 Clever Ways To Deal With A Manipulative, Scheming Mother-In-Law