I was too busy. So busy that I didn't have the time to look at myself in the mirror, let alone another man. But affairs can find a way into your life in the most strangest possible ways and I got attracted to another man despite being married.
Every day is brimming with the routine monotony. I'm a mother, a wife and a successful professional and all these roles take up most, if not all my time and energy. Right from running the house to meeting deadlines at work, I have it all and unabashedly know that I'm doing a mighty good job of it.
No Me Time For Myself
But when I sit down at the end of each day and look back, I wonder why there's no 'me' in it. Such is the story of my life – not of one specific day but every day.
Somewhere, somehow in the midst of the hullaballoo called Life, I've lost a very precious Me. Come to think of it, there wasn't much amiss but at the same time, there was an aching vacuum that seemed to be deepening by the day. The Me was getting trampled by all the other roles I had been playing for all these days.
I kept grappling with my own self asking who I was really? I was running for one role to another with not a moment for myself. I heard my friends talking about Netflix shows and about the books they were reading. I was so exhausted at the end of the day that I just crashed into the bed and lost myself in the world of dreams. You could say that was my only Me time.
(As told to Dipannita Ghosh Biswas)
Related Reading: I Have A Huge Crush On My Married Boss
I got attracted to another man
Till I met him! Till then I didn't realise what I was missing. Till then I chose to label all my relationships and keep it crystal clear. Till then I chose to express my feelings just the way they were and feel good about having poured my heart out. But not this time. A few encounters, some conversations and I could feel the difference.
I could sense the Me trying to grab the light streaming in from the end of a distant tunnel. There was a noticeable change as well – a spring in my step, a smile lurking around my lips, a lightheartedness and a wish to embrace this new Me.
The wife and mother in me were vying with the woman in me who had gone into hibernation. I was enjoying the attention, the concern and the flutter that was coming my way, it felt pleasantly different.
But should I enjoy these? My head and heart were at loggerheads for once – and I chose to go with my heart. I wanted to feel good about myself after many years. There have been numerous occasions when the right versus wrong debate has waged a war within me.
The scale tips heavy on one end but I love the way I've begun living for myself again. He comes with an irresistible charm of his own and has rubbed some of that on to me. Why else do I feel thrilled at these subtle changes in me?
Related Reading: 6 reasons people give for having affairs
I want to hold on to this feeling
The thrill and purity of such an overpowering feeling comes without a name and I yearn to hold onto them. The passion I feel every time we meet, which is not too often, is indescribable and has a calming, yet unnerving effect on me.
The emotions flooding me are overwhelming and bring with them a feeling of liberation. And all this is buried deep within me. What I feel for him or what his company does to me remains within me.
Unexpressed emotions and unspoken words speak volumes and I do not want to open up – not to him, not to anyone. All I want is to revel in this new-found feeling where Me is all that matters.
We do not wish to label this feeling, just as I'm certain about not taking this to the next level. This, now, is how I like it. I am in love but not sexually attracted. It's emotional gratification I crave for.
What Counts As Cheating In A Relationship?
What began with meetings at the dance class and social media encounters will continue to be so. There have been no dates in this past year, neither have we gone for movie outings nor taken strolls in the park, but the infrequent communication is enough to keep the embers glowing.
Does this count as cheating in a relationship? I really don't know. Every time I think about the way he makes me feel, the goose bumps and butterflies in the stomach come along with the thoughts. It's such a wonderful feeling how can I label this as cheating?
I've never confided in him about my feelings, unlike his confession of being attracted to me. I am attracted to another man despite being married and I do not regret it.
Related Reading: 8 Things Cheating Says About A Person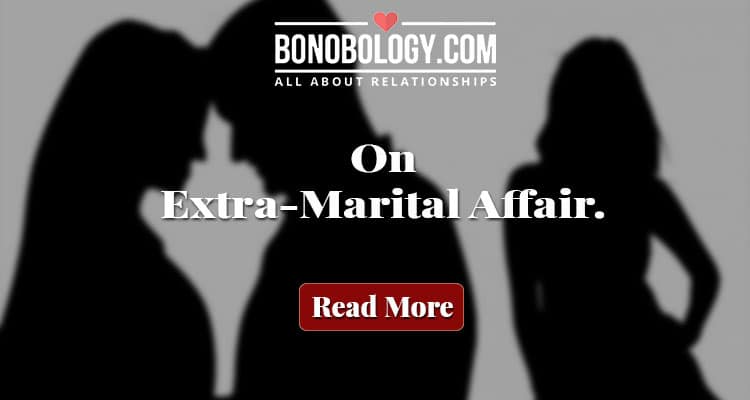 I now know what feel-good is. The 'no strings attached' companionship has helped me re-acquaint myself with my femininity and the feeling of being wanted not for the role I play but the person I am. Right? Wrong? I don't know. To be frank, I don't care. Right now, let me soak in the euphoria!
Yes I am attracted to another man despite being married but heck it makes me feel so awfully good. I have no cheating guilt and I just loved this feeling that I have found myself anew. What's wrong with that? Now don't get judgmental.
We have a long distance marriage and my husband is a man of few words, I feel depressed