A friend is family that you choose. They are the siblings we never had and the pillars who keep us steady through our worst times. There are some friends that you talk to everyday and there are some you might go months without talking to, but when you do, you pick up right where you left off. As we mature and grow, so do our friendships. Sometimes we forget to be grateful for the companion we have in our lives.
So, whether you're looking to tell your best friend how much they mean to you or finding the perfect caption to accompany a picture, these friendship quotes are perfect!
1. "Friendship is the hardest thing in the world to explain. It's not something you learn in school. But if you haven't learned the meaning of friendship, you really haven't learned anything." — Muhammad Ali
2. "The most beautiful discovery true friends make is that they can grow separately without growing apart." — Elisabeth Foley
3. "Life is partly what we make it, and partly what it is made by the friends we choose." — Tennessee Williams
4. "Find a group of people who challenge and inspire you; spend a lot of time with them, and it will change your life." — Amy Poehler
5. "A real friend is one who walks in when the rest of the world walks out." — Walter Winchell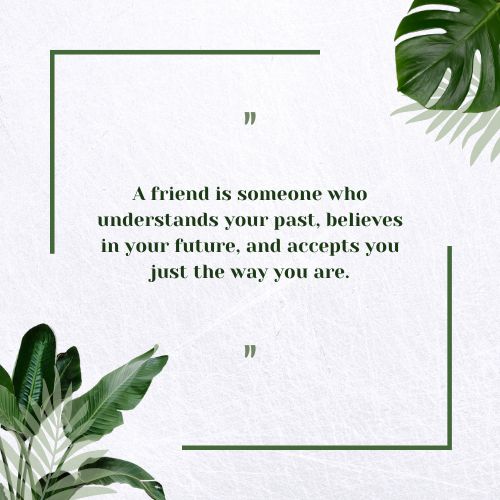 6. "A friend is someone who understands your past, believes in your future, and accepts you just the way you are."
7. "Lots of people want to ride with you in the limo, but what you want is someone who will take the bus with you when the limo breaks down." — Oprah Winfrey
8. "It's not what we have in life, but who we have in our life that matters."
9. A friend is someone who makes it easy to believe in yourself. -Heidi Wills
10. Rare as is true love, true friendship is rarer. -Jean de La Fontaine
11. Good friends are like stars, you don't always see them, but you know they're always there.
12. Many people will walk in and out of your life, but only true friends will leave footprints in your heart. -Eleanor Roosevelt
13. A man's friendships are one of the best measures of his worth. – Charles Darwin
14. Friendship is another word for love.
15. "A friend is one who overlooks your broken fence and admires the flowers in your garden."
16. "A friend who understands your tears is much more valuable than a lot of friends who only know your smile."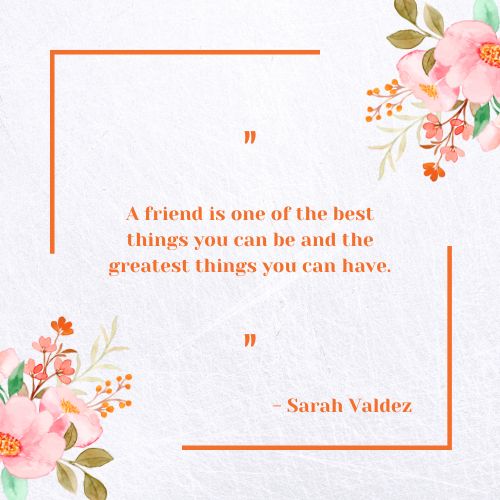 17. "A friend is one of the best things you can be and the greatest things you can have." — Sarah Valdez
18. "Truly great friends are hard to find, difficult to leave, and impossible to forget." — G. Randolf
19. "I would rather walk with a friend in the dark, than alone in the light." — Helen Keller
20. "True friends are like diamonds — bright, beautiful, valuable, and always in style." — Nicole Richie
21. "Friends are the family you choose." — Jess C. Scott
22. "There is nothing better than a friend, unless it is a friend with chocolate." — Linda Grayson
23. "When it hurts to look back and you're afraid to look ahead, you can look beside you and your best friend will be there."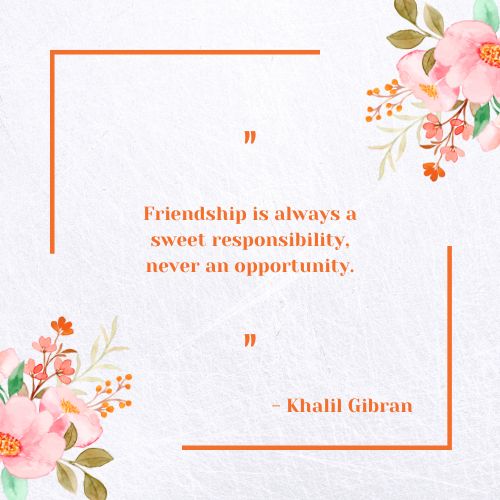 24. "Friendship is always a sweet responsibility, never an opportunity." — Khalil Gibran
25. "The love that comes from friendship is the underlying facet of a happy life." — Chelsea Handler
Ask Our Expert
You must be Logged in to ask a question.