"Have you just had a huge fight your man and now he isn't answering your calls or replying to your messages? You feel frustrated because you can't understand how ignoring someone after a fight could solve the problems? The following questions race through your mind. How do I talk to him about the fight now that he is ignoring me? Is it over between us just because we had a nasty fight? These thoughts may have often crossed your mind and you can't help but wonder why your guy is ignoring you after a fight? Let's figure it out.
Click here to read about how this woman was blocked by her husband. 
Why does a guy ignore you after a fight?
Being ignored by the person you love the most is a difficult thing to deal with. To make matters worse, the silent treatment hurts even more after a nasty argument. However, it is natural that after a fight, he and you both will need time to calm down because the emotional turmoil brewing in your heart and mind causes extreme anger towards the other. It is probably his need for space that is making him ignore you after a fight. He may be taking longer to reply to your texts, or simply may not be answering your calls or messagesat all.
Click here to read about this woman in a long distance relationship who is depressed because her husband is a man of few words. 
At first, it may seem like he is busy, but if its been a day or so and your guy hasn't returned your calls, you are likely to be concerned.
Do not let assumptions like, "Is he going to break up with me?" Or "Is he not bothered about me at all?" hamper your peace of mind. Have you ever thought that your guy might be ignoring you after a fight to ensure that he does not hurt you or is waiting for the right time to approach you to make things right again? A lot of hateful words are often said in fits of anger and he wants to avoid saying something he will not be able to take back. This is an interesting story of how anger can take over and ruin relationships. He is probably dealing with his own emotions and trying to make sense of the issue at hand before he approaches you and tries to sort things out. You can read below for a detailed explanation of the many possible reasons why your husband or boyfriend might be ignoring you.
Click here to read this shocking story about this woman who was dumped because her breasts were too small.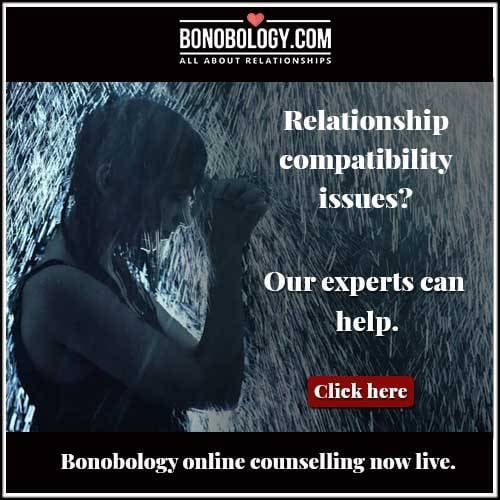 Related reading: Sometimes he treats me well but sometimes he ignores me, does he like me or not?
6 Reasons A Guy Ignores You After A Fight
Once you realize that a sufficient amount of time has passed and your guy is still ignoring you, you must analyze the situation and understand the reasoning behind it. You should use all ways and means to understand, "Why he is ignoring me after the argument?" "What went wrong?" and "How can I normalize the situation?" At times, you may wonder if he is ignoring you for someone else, but that shouldn't generally be the case. Understanding the reason behind his behavior will also give you a better idea of how to approach the situation and mend your relationship.
Following are some practical reasons as to why a guy ignores you after a fight:
1. He is completely preoccupied with other commitments
Understanding the timing of the fight and silent treatment is crucial. It is possible that your fight coincided with an important work deadline or family commitment and your man simply does not have the time to spend hours texting you or talking to you to resolve your right. You may be assuming that his behaviour is due to your fight but that may not be the case.  You just have to be patient and give him some time without jumping to conclusions as it will only upset you in the end.
Click here to read about this married woman who makes out in the office and everyone knows about it. 
2. Need some time to reflect and observe the current situation
After a major fight, it is obvious that you both will be angry with each other and things might take an ugly turn if you both are not careful. In this context, to avoid the nastiness associated with fights among couples, your husband or boyfriend might think that it is necessary to ignore you to cool down and understand the current circumstances better.
We received a story where a man shared details of a massive fight he had had with his long-term girlfriend. They were arguing because she had lied about her whereabouts. He was having a low day and wanted to spend some time with her to better his mood but she said there was a family emergency and would not be able to meet him. He was shocked to see pictures of her partying with her friends when she claimed her father had to be hospitalized. He was extremely furious and blocked her everywhere. For a week she tried to contact him in many different ways but he was unable to see past his anger to even hear her out. He knew that if he spoke to her he would have used harsh language and called her a liar and a selfish human. After a little more time passed he claimed he was feeling calmer and felt like he was emotionally ready to listen to her reasoning. Eventually, they were able to fix their relationship and even began to rebuild the trust in their relationship.
Related reading: 8 Ways to Reconnect After a Big Fight
3. You did something to upset him
No two people can be compatible in every aspect of life. There are bound to be differences amongst a couple and due to this it is possible to dislike your partner's habits and actions. So when you find yourself thinking, "My boyfriend is ignoring me what should I do?" you need to take a step back and reflect on things you said and did during the argument. It is possible that you did unknowingly said something hurtful or behaved in a manner that triggered his existing insecurities. Different people are sensitive about different things and we must be careful of other's feelings during fights.
This is a beautiful story of couple that made their marriage stronger with their differences.
4. Maybe he is clueless about the situation
Women tend to be more attentive and sensitive to matters and it is a possibility that your man has not realized the seriousness of the fight. He might not know what to do or how to tackle such a situation and therefore is choosing to avoid it altogether in the hopes that it will resolve itself.
Click here to read about 6 things men are obsessed with that women don't care about. 
This is often the cases when guys do not have prior experience about what to do after a fight. They do not know if they should make the first move or wait for their partner to approach them and talk about the matter. You need to be patient and understanding and create some guidelines for the future if this is the case.
Click here to read about this man who cheated on his wife after delivery and does not feel guilty. 
5. The lurking fear of making it worse
He is afraid of making things worse than they already are. If he is scared of making the fight prolong even longer, then he might be waiting for both of you to calm down. His reasoning behind this could be that he believes the issue will be only be resolved when you have both had time to reflect on the situation and can collectively sit down and discuss it.
Click here to read about this man who is abused by his wife and daughters but has nowhere to go. 
He might also have a fear of losing you by saying hurtful things unintentionally and this could be fueling his silent treatment towards you.
6. The issues/misunderstandings seem trivial to him
Sometimes, you might be fighting over silly matters and being fully aware of this your guy must be making efforts to ignore you. He will be doing this to ensure that you both do not fight over the same issue over and over again. He probably thinks it is better to keep such trivial matters at bay by ignoring you for the time being.
Related reading: 8 fights every couple will have at some point in their relationship
After knowing the above reasons behind your guy's behaviour, it is high time you devise a plan as to how to get his attention when he ignores you.
5 Things You Can Do When Your Guy Ignores You After A Fight
You need to approach the situation tactfully and ensure that you not only mitigate the fight but also maintain the intimacy in your relationship. Your goal should be to resolve the conflict peacefully while maintaining the trust and love in your relationship. Below are some tips you can use in situations like these.
1. Have an honest conversation with him
Be strategic about giving him time to think things over. When you feel like you are both in the right headspace and are willing to discuss the situation like mature adults, initiate an honest conversation. If you ignore your partner and the fight altogether, it will cause problems in your relationship later. You can start by letting him know what you wish you did differently in the fight.
Click here to read about this couple's unique communication strategy. 
You can then let him know how his actions have hurt you instead of being accusatory. For example, instead of calling him a liar you can let him know that you feel like you are not important to him when he lies to you. No matter how small the misunderstanding might be, it is always important to convey your feelings.
2. Try to accept your fault and apologize, if necessary
Analyse the situation and try to figure out what you might have done wrong. There is no shame in accepting your mistake and apologizing for the same.
Click here to read about real life ways to apologize without saying sorry.
This will make your partner value your maturity and honesty and will prevent the back and forth of the toxic blame game. This does not mean that you apologize for things you didn't do. Your apology must be sincere. Please be honest with yourself.
Related reading: How to make up after a fight
3. Try to rekindle the love with dates and outings
Sometimes it is important to create new happy memories to forget old bad ones. Take this time to initiate plans with him and spend time together. So after an ugly fight, look for ways to plan dates and outings together with your guy to forget about the past fights and enjoy each other's company to the fullest. Rekindling the spark and spicing things up will take both your minds off the fight and hurt caused by it. Spending quality time with one another is the only thing which will keep the relationship going through these testing times.
Related reading: 5 tips for great makeup sex after a nasty fight
4. Do things he likes, for example cooking his favourite food
Do things for him which will make him happy and will help you both forget about the fight. Cooking food for him, buying his favourite piece of clothing, dressing up especially for him or helping him out in any way will make him realize that you are making an effort to mend your relationship. Complimenting him will also show him how much you care about him and appreciate all that he does for you.
Click here to read about this woman who thought she was going on a romantic date but he took her to a vegetable market instead. 
5. Show him the importance he has in your life
If a guy ignores you after a fight, you can choose to not let your ego be hurt and reach out to him daily. Expressing your love without any inhibitions and showing him that he is a top priority will go a long way in mending your relationship after a fight. Eventually, he will realize he has been ignoring you – the one most important person in his life, and he will confront you directly to resolve the matter.
Lastly, do not lose heart when you notice your boyfriend/husband ignoring you after a fight. Instead, be pro-active and try to resolve it. Keep fighting, if you truly believe in your relationship!