Jealousy is an unhealthy emotion that can prove detrimental to even the strongest, most passionate relationships. It obliterates the good and replaces it with an awful, all-consuming sense of negativity. The impact of being with a jealous partner may not become apparent right at the onset, but slowly and surely, it will reduce your bond into a hollow shell of a relationship. Besides, it also adversely impacts your psyche and self-esteem. So, stop passing off apparent jealous partner signs as expressions of love. If you want your relationship to work, your partner has to change at a fundamental level.
Read more: Here's a movie that made us question the meaning of both life and love
11 Jealous Partner Signs You Must Not Ignore
There is no denying that being overly jealous is toxic. Such jealousy can ruin a relationship. The good news is that it is not a situation you're doomed to put up with, with walking out being the only alternative. It is possible to find a solution to this tendency, as long as both the partners are willing to do the work of identifying and weeding out the reasons for jealousy in relationships. More often than not, you have to look for the behavioural signs to ascertain what causes jealousy.
Here are 11 signs of a jealous partner that can be unhealthy for your relationship:
1. Seeds of doubt
When a partner starts to doubt their relationship all the time you know there's trouble in paradise. A fleeting sense of jealousy is only human and we all experience it at some point. However, that's not quite the same as a partner constantly question the other's faithfulness. If you constantly have to reassure your partner that they're the only one for you, you know what does it mean when your partner is jealous.
This is a surefire sign that your partner's jealousy has reached an unhealthy level.
2. Clingy behaviour
Is jealousy a sign of insecurity? Many psychologists agree that it is. When your partner wants to spend all their time with you, this typical clingy behaviour is a sign that they grapple with an unhealthy amount of jealousy owing to their inherent insecurities. Them wanting to spend every waking moment around you can seem cute at first. After a while, it becomes suffocating.
3. Constant surveillance
If being with your partner transports you to those childhood days when you had to report your whereabouts to your parents at all times, you're dealing with one of the most obvious jealous partner signs. The trust that two people will be faithful to each other takes a hit when one of the partners is constantly checking on the other. When a partner keeps tabs on your every move, checks your phone and confirms your whereabouts from others, it is a sign of trust issues and can stifle the bond between you two. In such times, it doesn't matter what causes jealousy in your partner.
Read more: Top three annoying things people do after sex that put off their lovers
4. Your independence is hampered
It is necessary that your partner proactively stop you from doing your own thing but they certainly don't appreciate. When your partner is jealous of you and your independent ways, they are bound to get upset whenever you make plans with friends or family. Or do anything that does not involve them.
A partner preventing the other from pursuing a hobby, a passion or even prioritizing their career is a sign of unhealthy jealousy.
This is an indication that they are too dependant on the idea of the two of you as a team and can't accept you venturing out of those bounds. This is a very primitive way of looking at human connections and can make you feel ashamed for just wanting to do things on your own.
5. Exhibiting stalker tendencies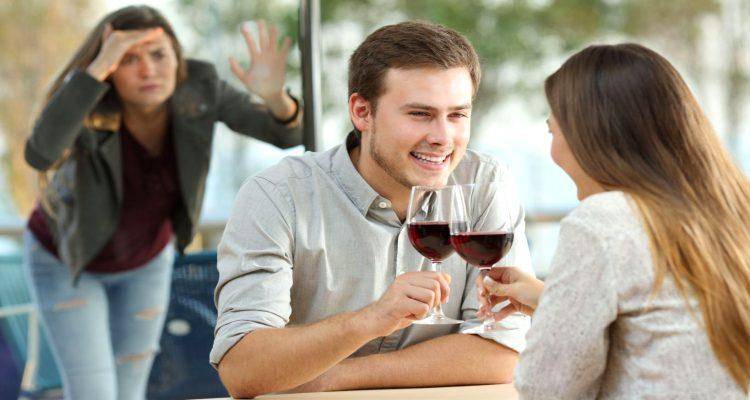 This is when jealousy can ruin a relationship. If your partner starts following you discreetly, then the trust in your relationship has definitely gone down the drain. Showing up at your workplace unannounced, repeatedly. Or insisting on driving you to wherever it is that you're going. Stopping by to say hello if you're out with your friends. These are all manifestations of stalker tendencies in a jealous partner. Don't mistake them for signs of their love for you. If you still want your relationship with this person to work out, you have to take corrective measure now.
Related Reading: 10 Tips To Turn Jealousy Into Motivation
6. They start acting like a control freak
It has been well established that putting up with a controlling partner is not a pleasant experience. Your partner tries to control every aspect of our existence – whom you talk to, what time you get back home, when you can go out to, what you can and cannot wear and so on.
Such behaviour patterns turn your relationship into a cage.
You get no more breathing space and it means your relationship is in dire need of help. Yes, it is possible that your partner is a victim of circumstances, which can become the underlying reasons for jealousy in relationships. However, acknowledging this does not make dealing with a control freak any easier.
7. The incessant mistrust
Jealousy is a bitter pill to swallow. The emotion stems from an inherent lack of trust. You know you're dealing with a jealous partner when trusting you becomes a struggle for them. If you're out on a work trip, they're consumed by the fear that you're sleeping around. If you tell them you have plans with friends, they immediately think you're cheating on them. These jealous partner signs are usually a manifestation of a person's own insecurities and self-doubt. It can drive a wedge between a couple instead of helping them come closer.
Related Reading: How I Turned Into A Jealous Monster
8. They disapprove of your choices
Isolating you from others is a key focus for a jealous partner. After all, they want you all to themselves and would go to any length to eliminate potential romantic or sexual threats to their relationship. To do so, they start disapproving all the little things you enjoy doing. Be it a hobby you pursue, a sport you follow or a social cause you're associated with, all your interests and choices are met with derision.
It is their way of, slowly but surely, shrinking up your world until you have no one left to turn to but them.
9. You don't feel respected
What does it mean when your partner is jealous? Well, for one, you don't feel respected in the relationship. When your partner wants to control every aspect of your life, judges your choices and doubts your every move, it is hard to believe that they respect who you are an individual. That realisation can be immensely stifling. Over time, it can damage your self-esteem and sense of self.
If the tendencies of your jealous partner have started impacting you on this level, it is time to have an honest conversation with them. Reclaim your autonomy and let them know that they must get their act together if they want the relationship to work out. Of course, if your partner wants to make an earnest effort to change, reassure them of your support.
10. You can see it in their body language
Does your partner's face tighten up when you talk about someone else appreciatively or fondly? Have you noticed the smile disappear from their face if you casually mention that a coworker complimented you or your boss praised your work? These are unmistakable jealous partner signs that you must not ignore because they're unhealthy for you, for them and your relationship.
Related Reading: How Jealousy Killed The Love Which No Conspiracy Or Distance Could
11. They scrutinise your social media
A jealous partner will always keep tabs on your social media activity. No, we're not talking about liking your posts and photos or staying up to speed with what you're posting. We're talking stalker-level surveillance where they know who you befriended on social media, whose posts or pictures you liked or commented on, what memes you shared, you left a comment or like on your posts. These are dangerously unhealthy behaviour patterns screaming out you that unhealthy jealousy can ruin a relationship.
Jealousy should have no place in a healthy relationship. If you find yourself dealing with a jealous partner, it is important to acknowledge the problem instead of passing it off as a sign of how much they love you. From here, you can either help your partner get over their jealous streak or walk out. There is no third alternative.