The word "SEX" always sends jitters to your veins. The quest for completion is a roller-coaster ride. So, why make it a monotonous one? Try and un-complicate it to make it pleasurable with some music, unplanned halts, dance and spices. It's not a mere three-letter word for your indulgence or to make babies, it's a connect between two souls filled with lust, desires, sensuality, anger, love and hunger, so why not make it fascinating?
Related reading: 5 types of lingerie for the woman who likes to spice it up
Tips to spice up your sex life
So, if you need some chillis, here are a few tricks and tips to add spice to your sex life. Remember to use these chillis wisely to not burn your tongues.
1. Set up the background
A little hard work to make things harder to get is always fruitful. Set up a sensual song, with some aromatic candles around and dim lights. This will help set up the mood and also help to replicate the setup from the movies you have always fantasised about. This factor will help you give an edge to your play. Remember to lure your partner with your strokes and softness and to not stop even after the music stops.
2. Shower, wet hair and towel
You always take a quick bath for yourself, but have you tried it once for your partner? Fresh and fragrant body, water dripping from wet hair and towel wrapped around would make it easier for your partner to go strong and undress you. Add a little teaser for your partner by your movements, and go easy and slow.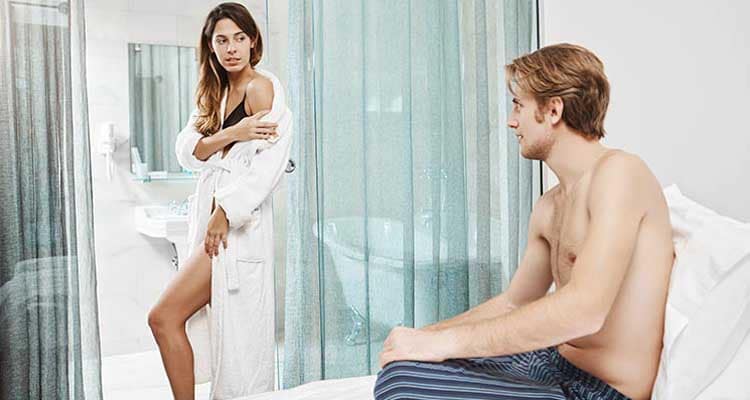 3. Clothes make a difference
Have you ever tried slipping into a black net dress, brushed your eyes smoky, wore a dark shade lipstick and let your hair loose? Well! If you haven't, you could try this out tonight. You would have bought those kinds of clothes for your post-wedding days but forgotten and kept them aside long back. It's time to take them out and try them on. If you don't look sexy, how would you make the play?
Related reading: Oral sex moves you wanted to know about but did not know whom to ask
4. Accessories are not only for your neck

This requires some homework and confidence. Most of us would have seen in videos the use of accessories for the act and would wish to try it, too. So, ladies and gentlemen, don't always be so gentle and try some props and other materials to have the fun element alive while you get pleasure. Things are easily available at a prop shop and to help you further, handcuffing, blindfolding your partner or role playing could add flavour.
5. Have a full course meal
When you go to a fancy restaurant, do you indulge in trying most of the dishes or do you just end up eating the main course or maybe a dessert to save money? Honey, when you don't have to save anything here, why not try all the dishes to satisfy your hunger? Tasting from the appetiser to the soup, to the main course and the dessert will have you satisfied like nothing before. Sure, it would be time consuming, but who is in a hurry? Foreplay is the most important part; give some time to love each other's souls and to then have the main course.
6. Be a massage therapist
You certainly don't have to do a course in it. Play soft instrumental music, light some candles and use aromatic oil for massage. Stroke your hands softly on your partner, teasing the points and lightly massaging. This will help to uplift the mood and give a break from your usual course. Use the barter system for this one. Be careful not to massage so much as to make your partner sleep.
It's a subject which is talked less and even less worked upon. Sex is a beautiful gift, so it should be beautifully packed with all your love when given to your partner and slowly unwrapped to enjoy the most!!
Top Three Annoying Things People Do After Sex That Put Off Their Lovers