In this fast-paced world, couples usually play down the importance of intimacy. We know most couples have a hectic schedule, but including that one part in daily routine can make a huge difference. That sweet little part that we're talking about is showering together.
Couples showering together not only helps them cleanse their body but also works as a stress buster. Then, why not kick-start your day with this romantic moment? Shower intimacy will strengthen your bond and make you ready to take on the world.
If you haven't had shower fun with your partner yet, then this article is for you. It is also for the ones who have had experience because it teaches you to try new things. Here, we will talk about the benefits of taking a bath together, along with romantic shower ideas. So, why do couples shower together? Well, because showering together benefits are unparalleled.
7 Amazing Benefits Of Couples Showering Together
Is it normal for couples to shower together? Oh, yes! While constantly juggling our busy lives, we tend to sideline our relationships. This can have adverse effects. There should be a constant effort to keep that spark alive as we constantly grow with our partners. One effective way to effortlessly boost intimacy is by showering together.
So why not make that daily monotonous job fun while bonding with our loved ones? Shower fun with your partner helps both old and new partners to show love and affection to each other. Enjoying a shower with your partner has several advantages. Just like cooking together, couples showering together also helps them strengthen their relationship and form deep connections. Besides, you can also shower together and save water. Let's see some of the miraculous showering together benefits.
Related Reading: Crazy Things Couples Do When No One Is Watching
1. Enhances intimacy
Why do couples shower together? A simple shower with your partner does wonders. Besides showering intimacy, it allows you both to openly share an intimate moment, thus fostering an emotional bond. You get to see your partner as the one who made you fall and believe in love. Showering is a very private act, and letting your partner into that intimate time signifies that you both are closer than anything else. It is a wonderful moment to see your partner's body in full glory and it helps in keeping that flame burning.
2. Boosts sensuality
Soft kisses, gentle hugs, and caresses give you more pleasure when you take a shower together. It might be the most sensual experience of your entire day. These loving and intimate things form a vital part of any romantic relationship. If you do not have to run to the office, take your time and let it go slow. Shower make-out or shower sex will add jolts of excitement and fun to your relationship. It is one of the biggest benefits of taking a bath together.
3. Provides moments of self-care
Isn't it enjoyable and relaxing when someone massages your scalp with shampoo? When they help you cleanse yourself with body wash, you can feel their fingers on that part of your back where you can never reach properly. When couples shower together, they become habitual to each other's bodies, thus noticing changes such as blemishes, tanning, or unusual growths easily.
4. Acts as a stress reliever
Sharing the shower not just allows you to connect on a deeper level, do sensual things, and conserve water, it also has a calming effect on your mind, thus providing relief from stress. When you return from a tedious day at work, a cold or hot shower with your partner can give you the much-needed relaxation for the day and boost your energy. Both of you can re-energize yourselves after a hectic day by simply showering together.
5. The best ideas pop up under the shower
Making out in the shower or shower sex can trigger a dopamine rush. Dopamine is also known as 'the happy hormone'. It is triggered whenever we experience something good or pleasurable. Most of us come up with quirky ideas while showering. So why not add our partner and do some brainstorming too? You can both share new ideas and re-strategize your future goals sans stress, which you would have otherwise done while sitting on the couch.
Related Reading: How To Love Yourself In A Relationship – 21 Practical Tips
6. You are comfortable with your bodies
Why do people shower together? Taking a shower together might help you overcome your body's insecurities. Most people are conscious about their body image. But interestingly, most of us have a pot belly, stretch marks, or some extra body fat that we want to get rid of. It's completely natural. Besides, in true love, these petty issues are just irrelevant. Romantic baths together might help you feel comfortable in your own skin around your partner.
7. Removes barriers
Bathing together will help both of you come out of the barriers that you have set for yourselves. As showering is a very private act, most of us do not want any sort of intrusion. It is also a great way to know each other if you are in a new relationship and win over your partner's heart. You can establish your influence and impress them by forming connections on a deeper level.
11 Dos And Don'ts For Fostering Shower Intimacy
Shower intimacy can take your relationship up a notch. But only if it is done rightly. While there are no set templates on what pleases one under the shower, one should follow some basic rules topped with a few small romantic gestures for maximum pleasure. If you are wondering how to make showering more fun, here is your guide.
To be under the shower with someone you are passionate about is quite tempting. However, there is much to keep in mind between two bodies under the shower — slippery shower floor, limited space, naughty thoughts, and awkwardness. Well, it can't be all sexy if you ignore some crucial dos and don'ts of bathing together.
Dos
A few basics that can help you make the most of this experience:
1. Massage
Both men and women love messages before or during the shower. It not only allows you to get closer to your partner but also adds to the excitement. If you don't know the pleasure points of your partner, don't be shy to ask them. Massage their pleasure points softly before increasing pleasure up to their comfort. Women love showering with a guy that prioritizes their comfort and that's true for men as well.
For heightened intimacy, areas such as the neck and shoulders require much attention. Use the best massage oils to add passion to your shower session.
Related Reading: Expert Lists 10 Signs Of Intimacy In A Relationship
2. Use essential oils
It is obvious that the bathroom should be clean enough for a shower and that it should not stink. After all the planning and excitement, you don't want a bad odor to wipe out your shower session, right? To keep each other excited enough, one great idea is to use essential oils.
3. Set the right water temperature
You are not going to soak up the sun after a shower, right? In fact, by the time you take a shower with your companion, it could be evening. Also, you won't like your partner to spend time after the shower with a heater instead of you. So make sure they don't have to bathe with cold water. It doesn't mean that it should be boiling hot water. Treat their bodies as your own. Check the warm water before they join you in the shower.
4. Keep shower caps handy
Not all want to wet their hair, especially when they are long. Yes, you can get as wet as you want, but that's a matter of passion. For starters, keep a pair of shower caps handy in case your partner doesn't want to wet their hair.
5. Make sure you are hydrated enough
Alcohol adds fun to the shower session. However, it makes you dehydrated too. If any one of you is low on liquids, a shower after having alcohol will make you feel dizzy and nauseous. Since it's a slippery affair, be cautious that you don't fall down because of dehydration.
Related Reading: 20 Fun Things To Do As A Couple
6. Use clean towels and bathrobes
So, you have had the greatest time together under the shower. But what next? Ensure that your partner doesn't fall sick or catch a cold. Wipe yourself and help them wipe their body with a clean set of towels. Also, keep a clean and soft bathrobe ready for them, as it's not nice to see them parade naked to the bed.
Don'ts
Steer clear of rookie mistakes that can turn showering together into an instant turn off:
7. Use too much soap
Just like massages, you can add intimacy to the shower by helping your partner apply soap to their body. One ground rule is not to put too much soap on your partner's face. You can leave them teary-eyed, annoyed, and no longer in the mood for intimacy. So, don't force them. Apply soap only where they want.
8. Use allergic substances
Make sure you know about your partner's preferences when it comes to soaps, shower gels, shampoos, and oils. In case you don't know what they are allergic to, don't be shy to ask them.
9. Be careless with the placement of candles
Candles add to the excitement and give you an extra light for doing things rightly. However, one has to be careful with the placement of candles. They shouldn't be blown off by water or fall and set fire to the place.
10. Lean on unstable objects
For a perfect shower make out, you can take each other's support. But be careful. Keep your feet firm and don't lean on unstable objects like a bathroom door, buckets, shower curtain, shower glass, or washbasin. It's wise to save yourself and your partner from a dangerous fall.
Related Reading: 21 Exotic Roleplay Ideas To Boost Naughtiness In Your Relationship
11. Try to surprise your partner
While everyone loves a little surprise, it is advised to save them for the out-of-the-bathroom session. In a metro.co.uk article, relationship expert Ness Cooper was quoted saying, "You don't want a slippery accident to happen. While it's a nice pleasant surprise for a partner to join in during a shower, due to the noise, steam, and compact area, it can be a bit of a shock to those not expecting it."
6 Easy Romantic Shower Ideas To Enhance The Experience
After going through the benefits of showering together, are you still asking yourself, "Is it normal for couples to shower together?" Or "Is showering with my wife/husband/partner okay?" Well, here is our answer: Yes, absolutely!
The divine pleasure you both will experience under the shower will be more than the traditional sex you have. You can add foreplay games and other fun activities to make your time more enjoyable. Are you not sure of the things to do in the shower with your girlfriend? Do not rush. Do whatever you both feel like doing to make it one of the best times of your life.
Want to take a shower with your girlfriend or wife but are clueless as to how to make it special for her? Or are you planning to shower with your boyfriend or husband and looking for some ideas to make it more romantic? We are here to help you with some romantic shower ideas. These intimate shower ideas and bath ideas for couples will not only make your time more steamy but will also add extra fun to it:
1. Add bubbles and flowers
Covering yourself and your partner's body with bubbles can be a great idea to tease each other. Play with bubbles, share some laughs, and do fun things with each other's bodies as you both own this time. You can use a large loofah or sponge to softly lather each other.
2. Set the ambiance with candles
Nothing makes the ambiance as romantic as candlelight. You can even opt for battery-operated candles to create a similar mood. If you want a more conventional setting, you can try scented candles. But remember to choose the scent your partner loves.
Harsh lighting can hamper the mood. Use dimmer and lower-wattage bulbs to create a soft, warm glow of intimacy and connection. Setting the right tone before showering together is equally important.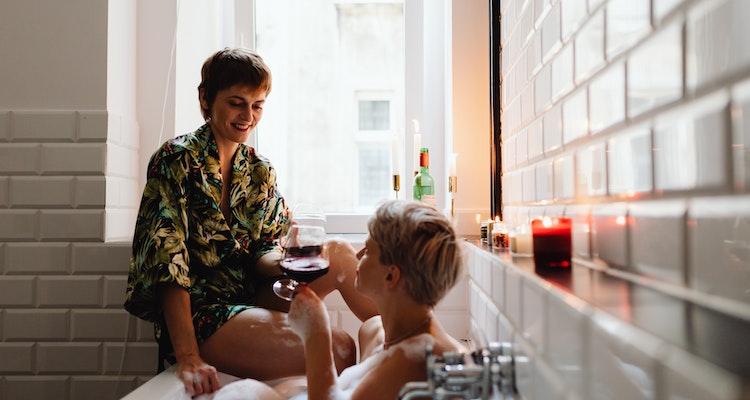 3. Aroma is a must
The importance of scent to set the mood cannot be underplayed. Make your bathroom smell good with a pleasure-inducing aroma. You can use a mix of essential oils to uplift your partner's mood. Oils and extracts from vanilla, lavender, and rose can help you enhance sensuality, besides re-energizing and calming your body.
4. Play the right music
The right music for the right mood is crucial. It has the potential to take your shower moments to the next level. Pick up the kind of music your partner loves. Some passionate tracks can really help you create steamy moments. You can even choose the song you have memories attached to, triggering nostalgia. Or, groove a bit to the track from your favorite band.
Related Reading: What Are The 13 Biggest Turn-Ons For Guys?
5. Make the entry special
Presentation is important when it comes to romance. Besides making sure that you have aesthetically and safely placed all the things needed, plan a special entry for them to enhance physical intimacy. For instance, you can lay out a path of flowers or rose petals leading to the bathtub or shower. Keep some surprise elements intact as you plan shower time with your partner.
6. Cater for delicious refreshments
As you plan to enjoy your shower with your partner, keep some light food, juices or champagne by the side of the bathtub. It will make your time more magical. Feeding each other will add fun and love to the quality time you are spending.
Key Pointers
Nothing feels as good as showering together with your partner
It not only helps you come closer to your 'bae' but also keeps stress at bay
Consent is of utmost importance and you should know the dos and don'ts of showing together
Try to make the session romantic and relaxing for your partner
So, are you bored with the things to do in the shower alone or do you want to spend quality time with your husband or wife after shower? Well, don't wait to get under the shower with your partner. If you plan to renovate your bathroom, fix a bigger shower head for couples shower sessions. And get ready to rejuvenate your relationship.
10 Tips To Develop Emotional Intimacy In Your Marriage – It's Never Too Late
Ask Our Expert
You must be Logged in to ask a question.