"You gotta have style. It helps you get down the stairs. It helps you get up in the morning. It's a way of life. Without it, you're nobody. I'm not talking about lots of clothes," French-American fashion designer Diana Vreeland was once quoted saying. Style is of essence while thinking of dinner date outfit ideas as well. After all, you need to feel confident and beautiful or handsome on your date – you would want to make an impression that finds a permanent place in your special someone's heart.
While mulling impressive dinner date outfit ideas take into consideration the venue, vibe, and time of year. If it is your first date, decide whether you want to put together a confidence-boosting attire or keep it minimal and simple. Romantic outfits are always a good idea while looking for date night dinner outfit ideas. They comprise boxy blazers to bold-shoulder silhouettes and slouchy jeans for women. For men, plain shirts, casual light blazers and scarves together could make for a great dinner date outfit for winter.
Several fashion stylists also suggest putting up an unexpected mix to stand out on a date. For instance, women can pair a dress with a cardigan with patterns. The latter garment can also be used by men, who can pair it with a light tee shirt. 
25 Dinner Date Outfit Ideas To Look Best
There are countless combinations that could make you look spectacular on your intimate dinner date. However, one must not get lost in a sea of ideas and end up picking the wrong outfit for a special occasion. So, we are here to help you look chic and suave. Now, let us look at 25 ideas that could help you dress up impressively.
Trendy Dinner Date Outfit Ideas For Women 
There are plenty of date outfit ideas for women depending on if they want to up the glamor factor or keep it simple-yet-chic. Here are our top picks:

1. Little black dress will never fail a women
As designer Karl Lagerfeld has famously said, "One is never over-dressed or under-dressed with a Little Black Dress". A little black dress will guarantee to make you look good and is an apt summer dinner date outfit. Adding short sleeves can make your little black dress fashion-forward. You could also tailor it to fit your body well and then add flared sleeves.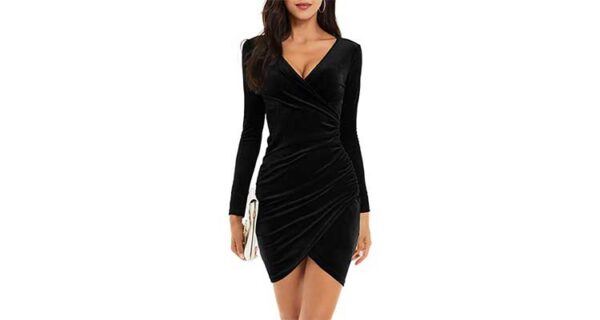 Related Reading: 10 Outfits For First Date – What To Wear On A First Date [Expert Advice]
2. Breezy tops and flared pants are for summer dates
If you are thinking of summer dinner date outfit ideas, keep it light and loose. Wear nice black flared pants, a breezy monochromatic top and sandals. You could also wear tunics if you are not comfortable with short tops.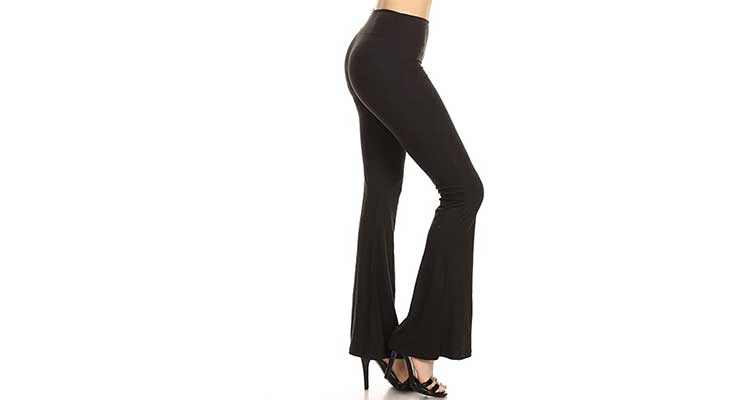 3. A turtleneck will keep women warm on winter dates 
While picking a dinner date outfit for winter, ensure you factor in the warmth. After all, you do not want your teeth clattering at the date – unsexy! Among the many good dinner date outfit ideas for winter, a fitted turtleneck, printed pants, and ankle boots with heels can make you look stellar. 
4. A midi dress and strappy sandals for women is urban chic
Romantic dinner outfit ideas may include a midi dress. It can be dark in color – like a maroon – if the date is at night and breezy light color if the date is in the day. You could opt for strappy sandals and big, bold earrings that make a statement.  
5. Women can wear fitted tops, jeans and strike a pose 
One of the universal dinner date outfit ideas includes a fitted top, jeans and flats. They are A-okay on a dinner date any time of year. White denim with a fitted knit top, a belt and ballet shoes could help you charm your special someone.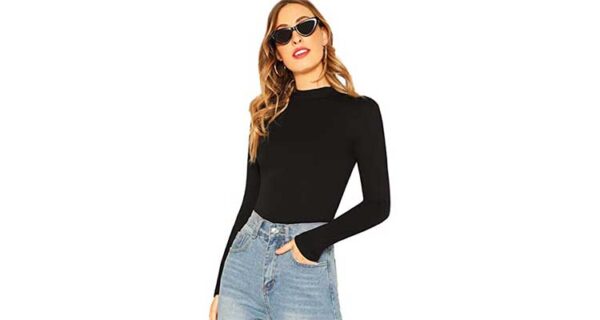 Related Reading: 7 Reasons A Coffee Date Makes A Great First Date Idea And 5 Tips To Ace It
6. A sweater dress and heels will keep the winter at bay
A sweater dress is a great dinner date outfit for winter. You could pair the dress with boots and tights. Dark heels and hoop earrings can complete this stellar outfit meant to win your special someone.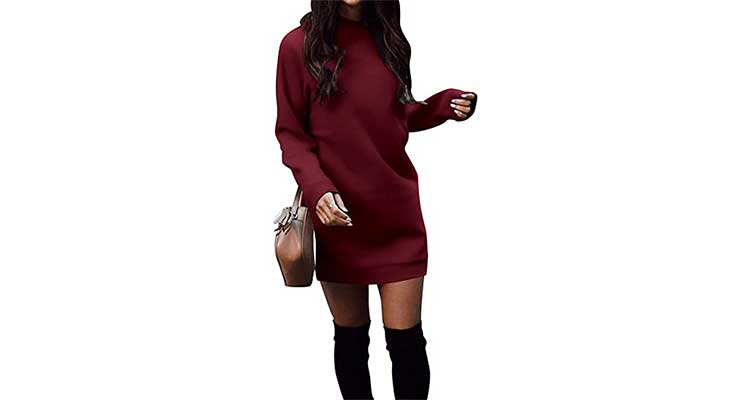 7. A halter bodysuit can make women ready for casual dates
Casual dinner date outfit ideas include a halter bodysuit in a soft color, trousers and a bag that complements the color of your top. You could also choose a bodysuit with a low scoop back.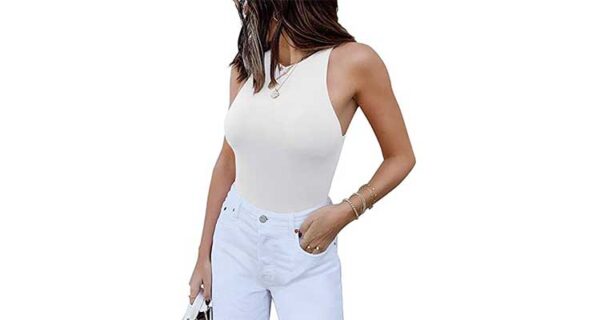 Related reading: What To Wear On A First Date During Winters?
8. Women can make a mark in a white T-shirt and a skirt 
A clean white T-shirt never fails to strike an impression – be it on a date or any social event. To include the white T-shirt in your date night dinner ideas, you could pair it with a slinky slip skirt and wear a minimal necklace. That could be a conversation starter as well.
9. Women in a trench coat, jeans and leather boots can beat the rain
A rainy day should be no reason to cancel the dinner date you have been looking forward to. There are many dinner date outfit ideas for all seasons that can make you look stellar. So, when it is damp outside, you could pick up a voluminous trench coat, your favorite jeans in which you feel the most confident and water-resistant footwear like jelly shoes.
Related Reading: How Should A Woman Dress Up For Her First Date?
10. A tank top, pretty shorts could be women's summer attire
A great summer dinner date outfit includes pleated shorts, a tank top that is tailored to fit you, paired with heels. You will beat the summer by looking hot yourself.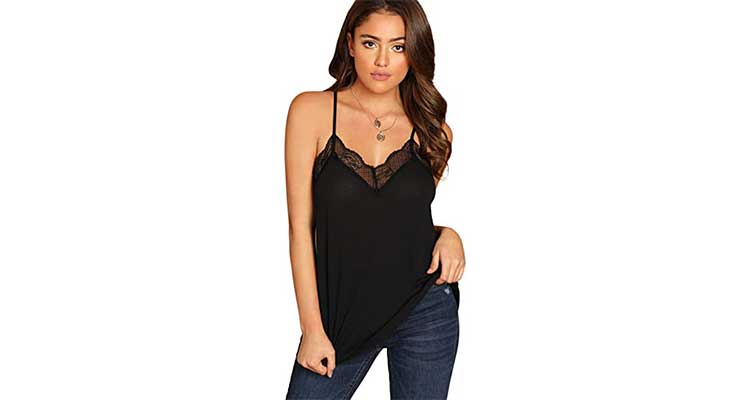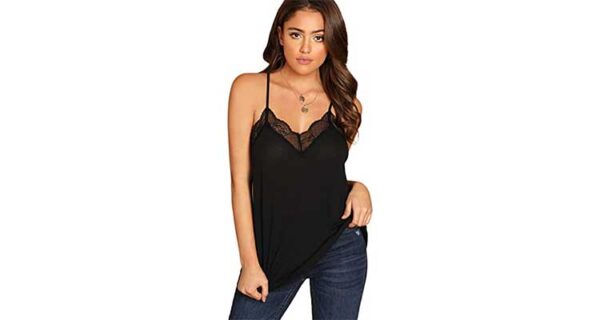 11. A blazer, slouchy jeans and high heels make women look fancy
Blazers make for fancy dinner outfits in winter – a cropped blazer is also among the ongoing trends. You could pair it with jeans and simple heels to let your blazer make all the impression on your special someone.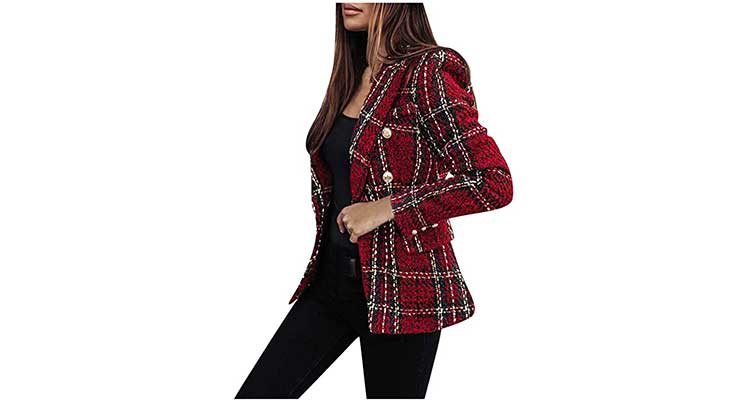 12. A colorful slip dress can highlight a woman's jovial persona
A cool summer date outfit can include a colorful slip dress with warm and bright colors to bring a little life to the party. It should be comfortable enough to make you want to dance throughout the night. The dress can be paired with comfortable ballerinas and simple earrings.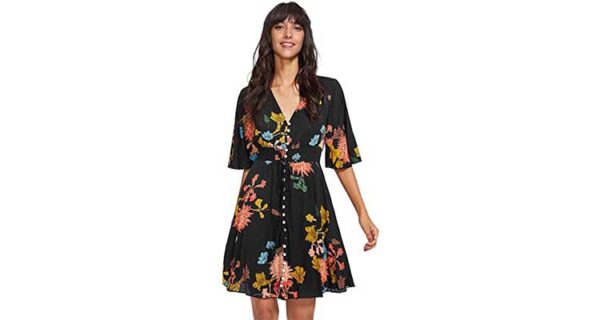 13. A sleeveless top and denim short make a woman look hot
A summer dinner date outfit can include denim shorts and a sleeveless, deep neck top to show your spirited side. Long denim cut-offs and simple slides are a so-cool offset, which you can further enhance with ultra-delicate jewelry.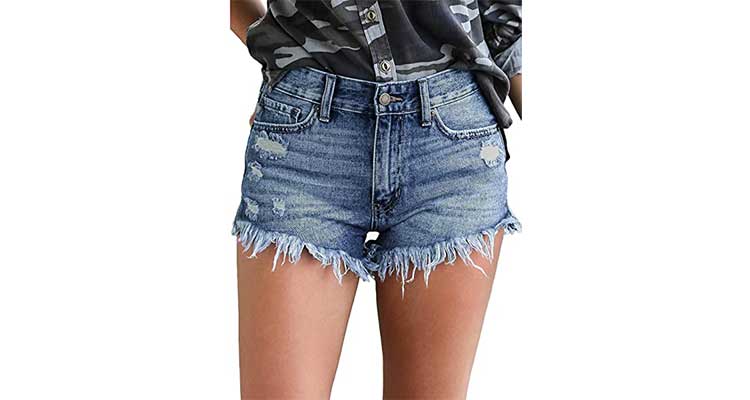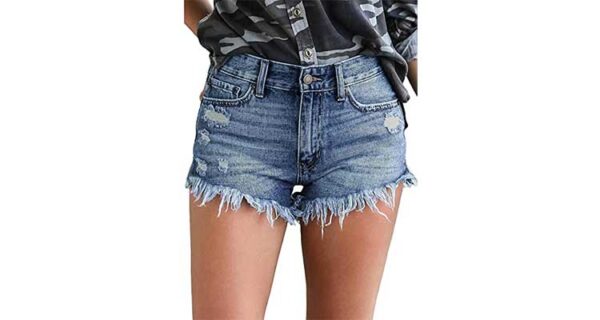 Related Reading: 11 Best Shorts For Wearing Under Dresses and Skirt | Zero To Plus Size
14. A jumpsuit and a bag are perfect for trendsetter women 
A jumpsuit is one of the comfortable dinner date ideas. A necklace and a snazzy bag might just amp your outfit. It could also be a romantic dinner outfit if you pick a jumpsuit with puffed sleeves. It is a contrast and fits well with the mix-and-match trend.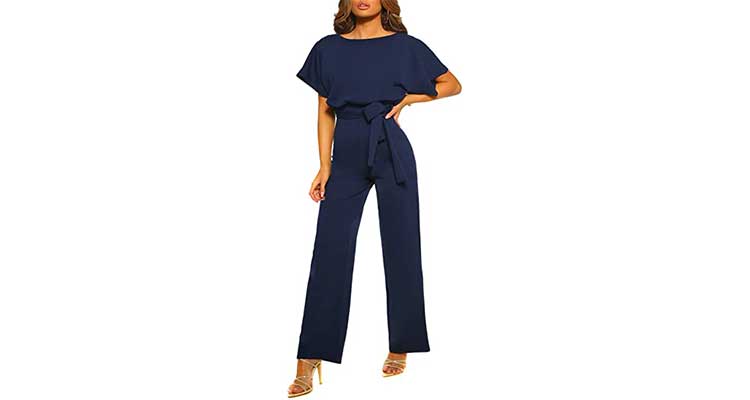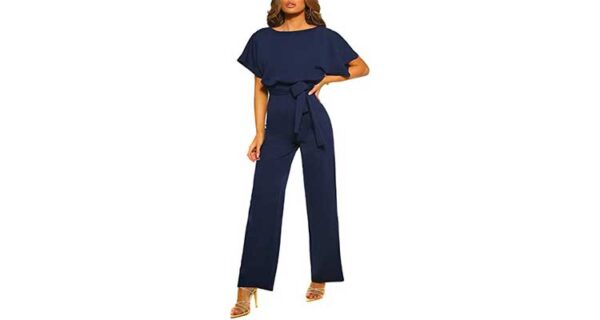 15. Crop top, shirt and pants makes for a pleasant date outfit for women
Pick a white crop top and pair it with a shirt jacket, keep it open. Wide-leg pants may look wonderful with this outfit. Pick footwear that makes you feel comfortable, tall or both.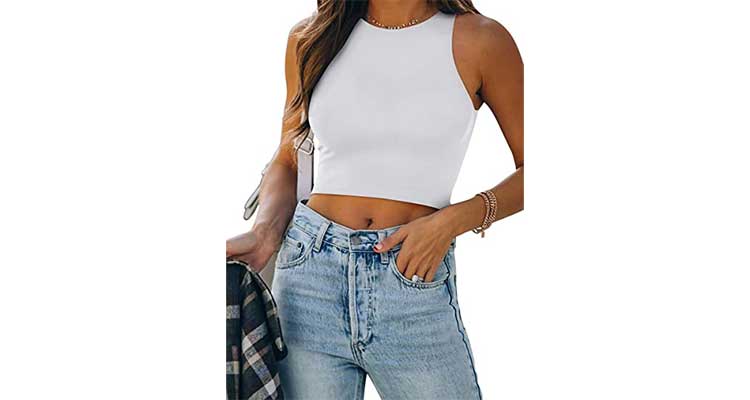 16. Maxi skirt and seasonal top for women is a cute date outfit idea
A maxi skirt with a nice pattern like polka dots or florals can be paired with a top that suits the season. Go for a bandeau top if it is summer and pair the attire with flip-flops. If it is winter, wear a blouse with a denim jacket and pair the ensemble with boots.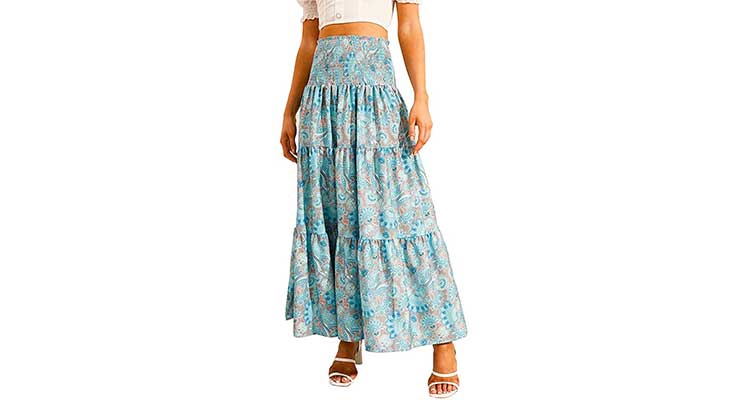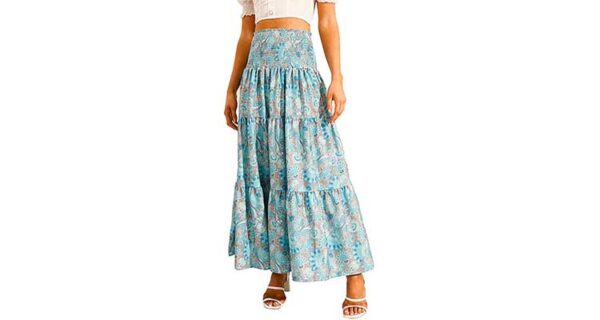 17. Champagne dress and heels for women is a flawless combo
A shimmering champagne dress could never fail as a dinner date outfit idea. It is regal and shimmering – it leaves a solid first impression. Ensure that it fits your body well or else it could end up just being blingy. Pair them with tall shocking heels. For instance, if your dress is golden, wear red heels to contrast.

Trendy Dinner Date Outfit Ideas For Men
Men may want to look dapper or keep it casual-yet-smart for their dates. After all, the first impression is the last, right? Keeping that in mind, here is an array of clothing to choose from:
18. A blue suit makes men look dapper
A blue suit can be a great addition to semi-formal dinner date outfit ideas. A sharp blue suit over a contrasting t-shirt inside can make for a great mix-and-match outfit. If you are not feeling too adventurous, go for pastel colors to wear underneath the blazer. To play it on the safer side, a white t-shirt and white sneakers with the blazer will help you make a stunning impression.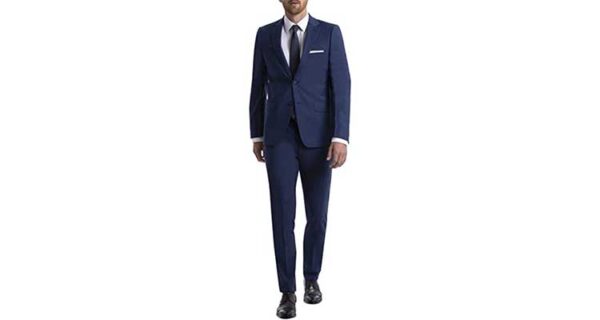 19. Elevated casual for men in winter is a smart idea
A laid back outfit that looks neat is what elevated casual means. It can include a checked button-down t-shirt, and a neutral sweater if it is a winter date. Pair it with a slide-on shoe or a polished sneaker. You could also replace your sweater with a sleek leather jacket. Use a nice cologne. 
Related Reading: What To Wear On A First Date? (For Men)
20. Men in the right printed shirts can dazzle
A nice printed shirt can work well for a dinner date. However, there is some art involved in differentiating the suave shirt from the gaudy one. If you are picking up a summer dinner date outfit, and if you have planned to take her to the beach, you can pick floral prints. Otherwise, avoid pop colors and baggy shirts. For other occasions, you could pick a half-sleeved printed shirt – with polka dots – tucked into a pair of chinos and finished with brogues.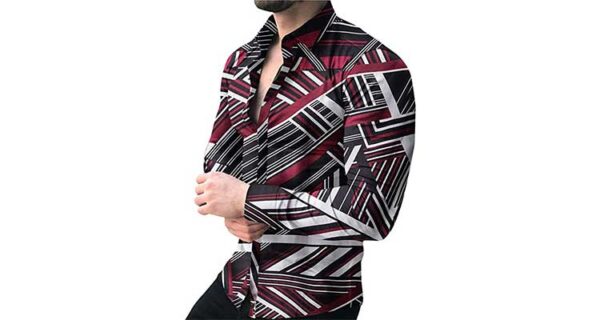 21. Men can woo their date in a crisp white shirt
A white shirt is among the sharp classic dinner date outfit ideas. White shirts for men are what the little black dress is for women – it is a staple that makes men look suave. It can be teamed with distressed jeans. However, ensure that it does not look too tattered. The look can be finished with white sneakers.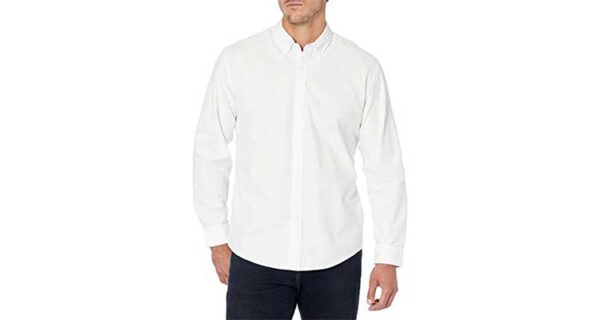 22. Men who want to layer must pick the right winter jacket 
If you are looking for fancy dinner outfits for winter, you must know how to layer them. A cardigan over a loose t-shirt might help you look chic. A sweater or a long coat can also help you look smart. If you have light eyes, pick a sweater that highlights their smoldering quality. You could team the outfit with jeans and sneakers.
23. Polo T-shirts highlight men's bravado 
Polo T-shirts are fashion-forward, you can wear them every day and even to really posh occasions, like a derby. Polo T-shirts have become a part of the universal dinner date outfit ideas. You could team them with a pair of dad jeans or ankle-length skinny jeans. Pastel loafers could help you finish the looks.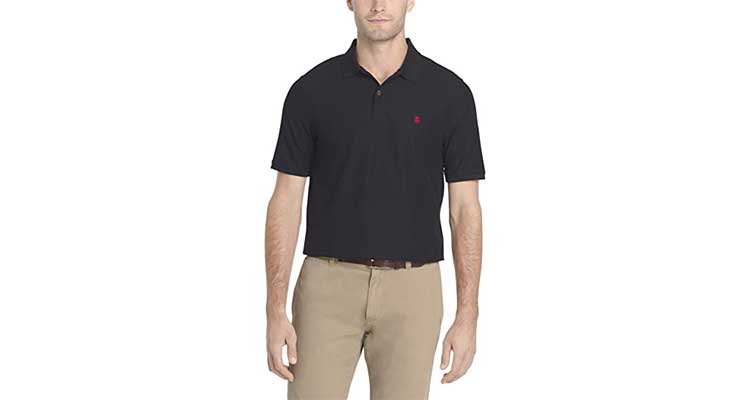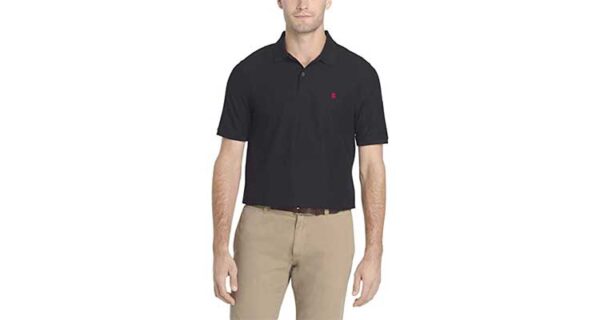 24. Men in skinny ties strike a clean impression
A skinny tie can provide your outfit an extra oomph – if you are opting to wear it with a blazer, it counts among fancy dinner outfits for winter. Pick a skinny tie or a knitted tie to compliment your plain shirt. If you are looking to relax the vibe of your attire, open the top shirt button and do not fasten up the knot of your tie.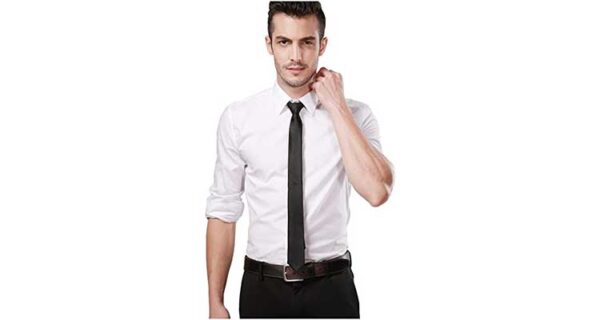 A sweatshirt and biker jacket highlights the boldness in a man
A biker jacket is bold – it makes you look big. Before adding it to the attire ensure that the other elements are earthy in color. You could opt for a beige sweatshirt and combine it with a brown leather biker jacket, denim and chukkas.
While an outfit may determine a large chunk of your look, don't forget your most important accessory –confidence. Walk the talk in any of these dresses, with an assuring smile, and your charm shall melt the toughest hearts. Your stride and your dress will set the tone for the evening. Choose allure and take control – you got this!
FAQs
1. What should a guy wear on a dinner date? 
Comfort should be your priority and dress according to the season. A shirt and a skinny tie with a casual blazer sound like a good idea. However, avoid blazers and jackets for summers and you may sweat and soil your outfit.
2. What should I wear on a date night with my husband? 
The little black dress never fails. If you want to look uber-chic, pick up a dazzling champagne dress and pair them with heels of contrasting colors.
3. What should you not wear on a dinner date?
Fringe, head-to-toe black outfits and Spanx should be avoided at dinner dates.
Ask Our Expert
You must be Logged in to ask a question.