You know, back in college when that cute guy from the Chemistry department finally asked me out for a coffee, I was so nervous. I created a disaster trying out the denim on denim, and if that wasn't enough, I bought a new pair of heels and twisted my leg right in the middle of the date! It was the worst first date in history. Lesson learned – coffee date outfit ideas are as crucial as any other aspect of a date. 
Don't you think there's a loophole in the old saying 'look good, feel good'? You may look ravishing in a tank top and slim-fit low waist jeans and yet feel super uncomfortable if that's not your personal style.
Coffee dates, especially if it's the first date, write the prologue of a relationship as it's all about first impressions. The way you dress, the way you talk and walk, what you order – everything leaves an impact on the person sitting on the opposite side of the table. 
Are you starting to overthink it already? Relax, here's a list of quick-fix ideas. We have gathered plenty of comfy and stylish coffee date outfit ideas to make it easier for you. Scan all our suggestions carefully and mark the ones that align with your personality. So, shall we begin?
Comfy And Stylish Coffee Date Outfit Ideas: Our Top 20
Before you start digging into your wardrobe for the perfect coffee date outfit, make some notes about a few factors. Always plan your outfit in keeping with the season and weather. Think about the ambiance of the café – is it indoor or outdoor, casual or posh? You neither want to overdress nor be too casual. Loud makeup is probably not a wise decision for a coffee date. 
And lastly, all you should care about is comfort, comfort and comfort. Do not break into a brand new dress or pair of shoes for the date. We suggest not to opt for a dress just for the sake of fashion if you can't sit comfortably in it. 
Enough with the dos and don'ts. Now, let's check out the coffee date outfit ideas: 
1. Little black dress 
Let's begin with a classic here. The LBD is definitely a no-fail first coffee date outfit. If you go with this, we can promise a second date soon. This super cute flared black dress is a perfect blend of classy and sexy. You can play with his imagination as it's not overtly revealing. Pair this up with black pumps and a sling bag and you will be the hit of the evening!
2. A flowy pleated skirt
Be it winter or fall, there are so many different ways to style a midi skirt. Take a look at this free-flowing brown pleated skirt. Slip in a short-sleeved white blouse and you can turn it into a casual coffee date outfit. Or, you may layer it with a black turtle neck top and a plaid blazer. Ta-da! You are date-ready for a fall evening. 
Related Reading: 10 Outfit Ideas For Women To Wear On A First Date
3. Sundress in summer
Coffee dates on a breezy summer day – the very thought of it cheers our mind, doesn't it? It's just the right occasion to air a lovely sundress. Make your date sizzle as you enter wearing this elegant floral spaghetti dress. The bright yellow color will lift up the charming spirit of the date. Pick your favorite straw hat and slippers and you are good to go. Tell me, could you find a better choice for a summer coffee date outfit?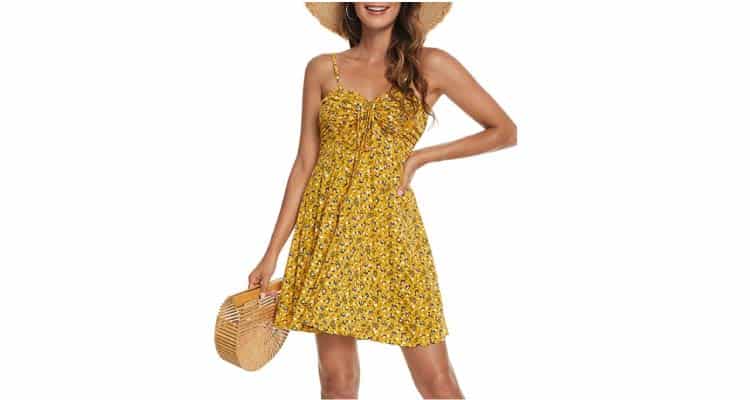 4. Polka dots are always in
Looking for cute coffee date outfits? Polka dots definitely make the top five of our twenty coffee date outfit ideas. Wear this stunning, lantern sleeve blouse tucked into a black leather skirt and you will spill gorgeous all over the place. Multiple finger rings in a golden shade and a chic bracelet will help wrap up the look.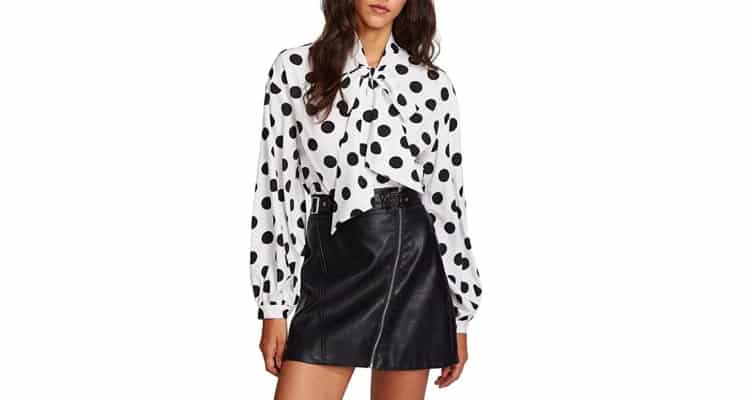 5. Aren't cropped sweatshirts cool?
Sweatshirts are always a rage for both men and women. There are times when you are in a rush and yet want to stick to your stylish self. This pretty peach sweatshirt will be the right fit when you are looking for a casual coffee date outfit. It's comfortable and easy to style. Let me give you three choices – a nice pair of jeans and sneakers, maybe a beautiful high-waist midi skirt, or denim shorts if you are not feeling chilly. You never know it might make him go weak in the knees!
Related Reading: 10 Outfits For First Date – What To Wear On A First Date [Expert Advice]
6. The deep V-neck to give you a sultry look
So did that cute guy from your gym finally ask you out? Girl, you gotta bring your a-game to this date! Don't hesitate to flaunt your lovely curves. This dazzling red summer top with a front knot would go nicely with shorts, mini or midi skirts. It may seem a little too much as a first coffee date outfit, but trust me you are going to nail it. The deep V-neck will flatter your collar bones like nothing else. To complete the look, accessorize. Three-tier necklaces, multiple ring sets and maybe hoop earrings? Sounds good, right?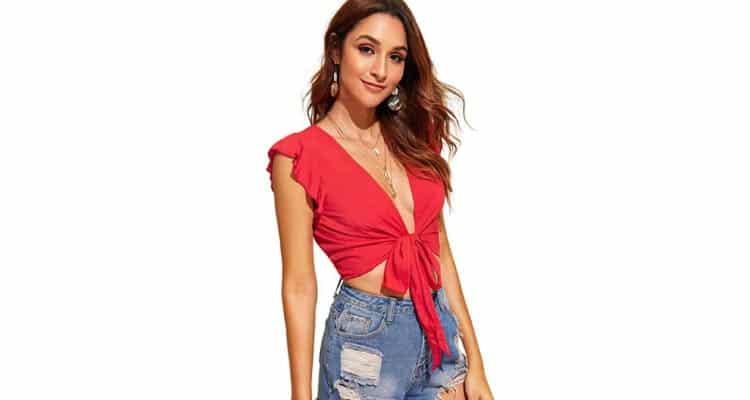 7. Something red for you
As they say, when in doubt, wear red. If you are in two minds about a coffee date outfit for summer evenings, anything in red can come to your rescue. When you enter the cafe in this boho pattern maxi dress, all eyes will be on you. We suggest not overdoing it with the accessories. Strappy heels along with a minimalist necklace should be good to complete the look – just don't forget to carry a jute sling bag while leaving home.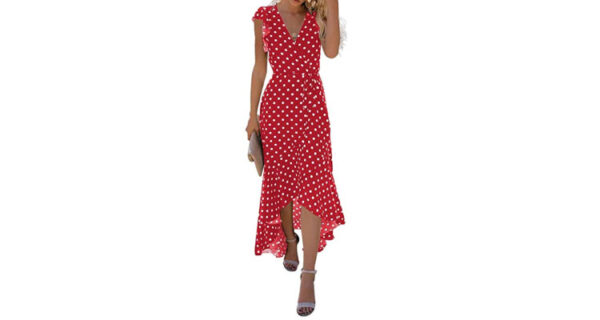 8. Animal print silk top
An exuberant, animal-printed silk top makes for quite an easy pick for any coffee date. You can top it up with high-waist boot-cut pants. Leopard print blouse is one of our favorite coffee date outfit ideas. The cherry on the cake would be a chic belt and black heels to wind up the outfit. Your look will exude class, confidence and a blend of nice and naughty.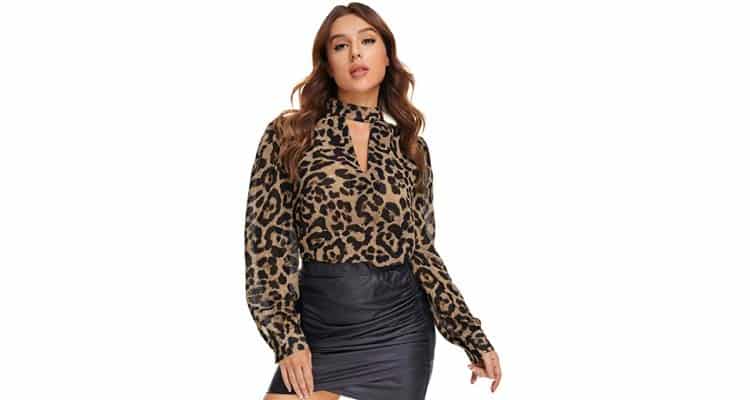 Related Reading: 7 Reasons A Coffee Date Makes A Great First Date Idea And 5 Tips To Ace It
9. Statement black jacket
You can't ignore a black statement jacket while planning a winter coffee date outfit. Black can never go wrong and sets the right tone for a date. A quintessential black jacket would be best paired with a pair of quintessential blue jeans. Oops! Forgot the shoes? You can always rely on your ankle boots for this date night outfit. And now, you're ready for that romantic winter date.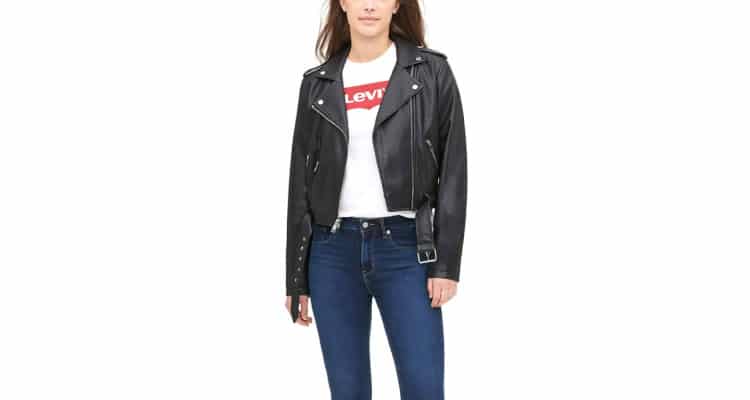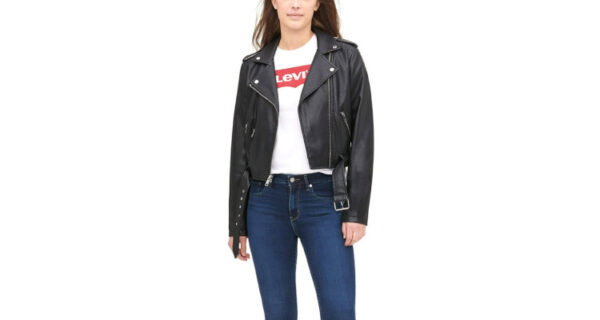 10. Vintage lacey blouse
For bookworms who enjoy a bit of Victorian fashion in their wardrobe, this lacey top with puff sleeves will be an ideal summer coffee date outfit. Talk about class and elegance, you get it all in one shot. A frilly skirt in any pastel shade would perfectly sync with the mood. Complete the look with your favorite envelope clutch.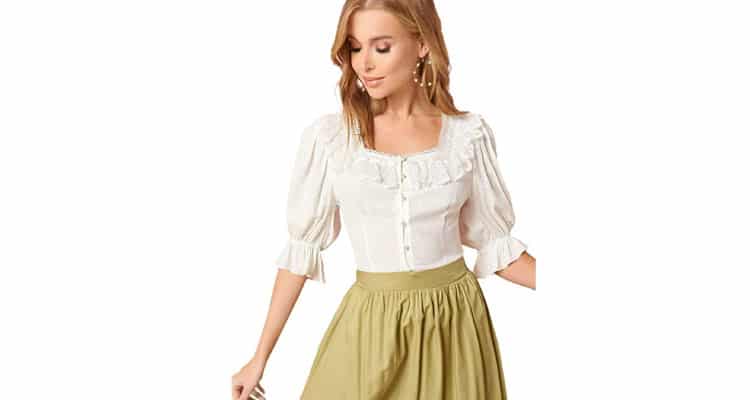 11. Bring out the retro girl in you
Are you going out with a man who's really into old-school movies from the 60s and 70s? Then here's your chance to surprise him with a little Audrey Hepburn vibe. How adorable is this classic, floral, light blue, flared dress? It will make for a flawless coffee date outfit for summer afternoons. And if your intentions are to impress him, might as well do it right. A beehive hairdo with a vintage headband will simply blow his mind. Tell us later how you relished the look on his face!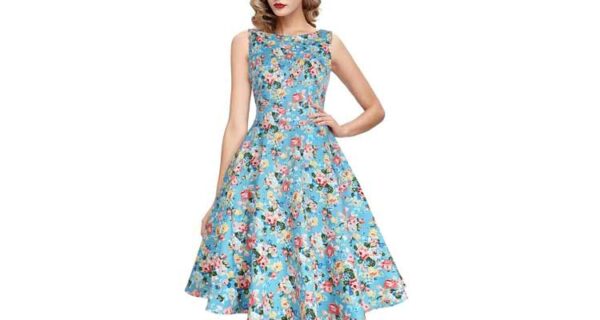 Related Reading: What Your Date's Coffee Order Tells You About Them
12. Cute coffee date outfits? Oversized sweaters
Have you ever noticed how Instagram pictures have kind of stapled into our subconscious that coffee, knit sweaters and socks all go together like vanilla ice cream with chocolate sauce? Let's snatch some inspiration for some coffee date outfit ideas from this cute mélange. Knit sweaters and a pair of jeans are beyond any doubt the most hassle-free yet fashionable winter coffee date outfit. Worth mentioning that it will keep the comfort quotient high as well. You can pull off this oversized bottle green sweater with tan boots (which are a must in every girl's wardrobe) and a bucket bag. Add a cute cap with a fur pom-pom on top and voila! Just how cute are you?
13. Long blazer coat and knee high boots
To set aside the casual look and gear up for a classy and somewhat formal look, you can safely go for a long blazer coat. It is one of the many coffee date outfit ideas which would emit an air of confidence to your date. Layer a body-hugging black dress with this long-sleeved, plaid blazer. Thinking about what else will go with this look? Fishnet stockings will help to maintain that fine balance between classy and sassy and not to miss, block-heel over the knee boots. And yes, there you go! A smart choice for a first coffee date outfit; what do you say?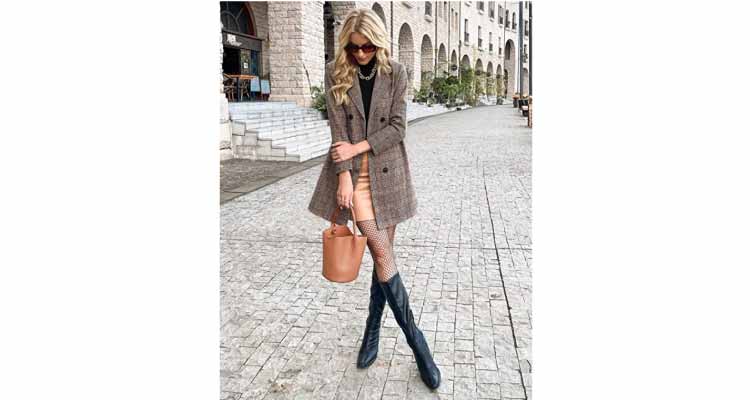 14. Pleated A-line wool skirts never go out-of-fashion
While we're at it, here's another alternative for formal coffee date outfit ideas. Formal doesn't necessarily mean boring all the time, rather you can jazz up the scene with your poise and uniqueness. Save this beautiful khaki pleated wool skirt for your next coffee date outfit in winter. You can style this skirt with a plain black turtle-neck sweater and ankle boots. Wrap it up with a long necklace with a statement pendant. Did someone say ooh la la?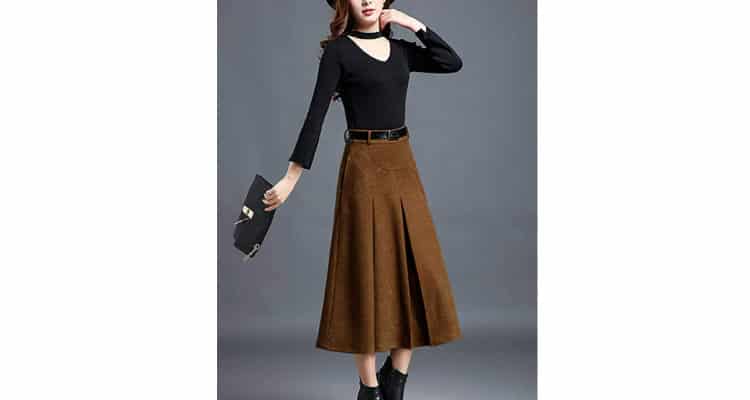 Related Reading: What To Wear On A First Date During Winters?
15. High waist pencil pants and a cute top
An amalgamation of style and comfort, this dress can be your go-to coffee date outfit in summer. As one of the more easy-going coffee date outfit ideas, it brings together both –comfort and confidence. You can pair high-waisted pencil pants aesthetically with a cute top made out of a cool, comfortable fabric. This style statement for a perfect summer date can create a lasting impression.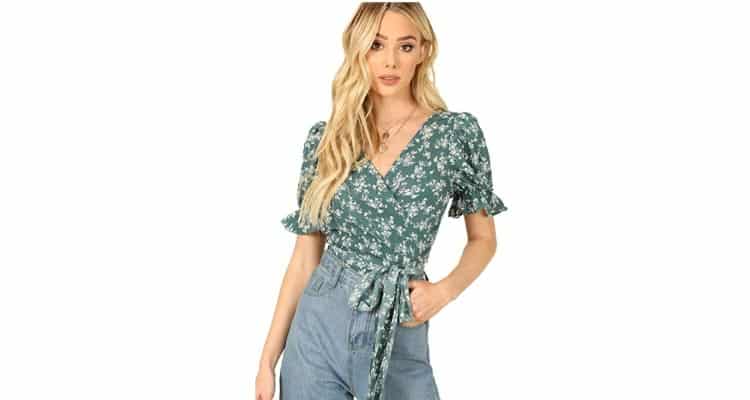 16. Rompers are great summer coffee date outfit
One of the best coffee date outfit ideas we have for summer are rompers. Why? You get to beat the heat and feel light like a feather. Plus, why leave a chance to flaunt your beach body? After all the florals and solid color palettes, let's experiment with some stripes now. Check out this bright, navy blue and white, striped romper. Keep the whole look low-key with a pair of flats, feather earrings and a sling bag.
17. Dress and denim jacket
Here's another idea for cute coffee date outfits – a fancy denim jacket over a dress. This outfit looks very feminine as well as trendy. Pick any of your favorite dresses. Layer it with this awesome, distressed denim jacket. You can just put on the jacket over your shoulders like a throw, in full rock-chic mode. Find matching boots and top it off with a fedora hat and you are ready to hit the roads!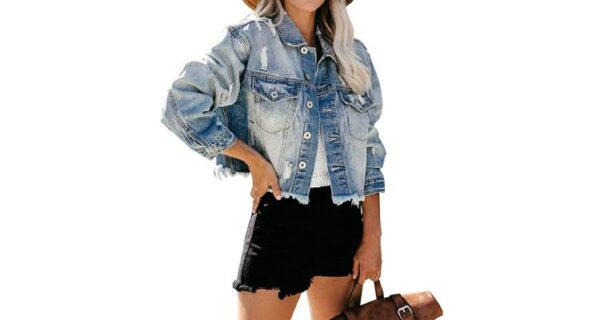 18. Baggy sweatshirt and boyfriend jeans
Do you consider yourself a not-so-girly girl? If putting on makeup or doing your hair doesn't make you happy, we have a quick, casual, coffee date outfit for you. You can choose this long sleeve graphic sweatshirt with your eyes closed. A pair of ripped, boyfriend jeans and white sneakers adds to the style quotient. This pairing is perfect and it also requires zero to minimal effort. Now isn't that great as a coffee date outfit? At the same time, this winter coffee date outfit will keep you warm and cozy. You can be yourself which is most important of all. Do your regular, high, messy bun and you are gonna kill them out there!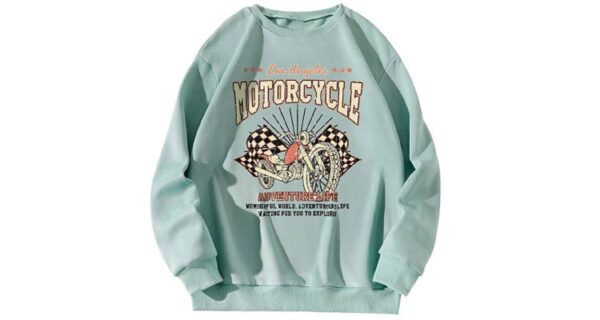 19. Y2k aesthetic top
We saved the best for the last. Since Y2k fashion is so in vogue right now, we just had to plan coffee date outfit ideas around it. You know Y2k is all about metallic clothes, boot cuts, tiny bags, colorful sunglasses and playful accessories. This shiny halter crop top is such a trademark Y2k look. It will look great with a high-rise, mini skirt. It's time to go as you like with hair and accessories. To add an extra dash of glam, however, curl your hair, put on cute butterfly clips, or maybe a bandana. 
20. Ribbed cardigan lookbook
Another signature Y2k trend that you can easily mold into coffee date outfits are ribbed cardigans. You will dazzle the ramp in this radiant green low-cut sweater and wide-legged jeans. Top off the look with a fancy baguette bag and narrow, cat-eye sunglasses. Take the world and paint it red, girl! We know you got this. 
So, ladies, are you all set now for the next date? If you rely on any of our coffee date outfit ideas, he will not be able to take his eyes off of you, all fancy and stunning. That being said, please do realize that all these clothes with all these accessories are just armor that you put on to feel more powerful, more confident in front of the world. If it's not going with your personality traits or you don't feel like yourself in it, then it's not the right outfit. On that note, we send you the best wishes hoping you nail the date leading to many more to come!
How To Impress A Girl On A Date And Make Her Want To Go On More