A breathable, soft, and stretchy pair of shorts will be your best friend whether you're wearing a cute summer dress or an elegant evening gown. Shorts for under dresses will not only make you feel comfortable by NOT letting your thighs rub against each other making your inner area sweat, but they will also safeguard your modesty by ensuring that whenever you bend down you don't feel embarrassed!
You need well-ventilated shorts to wear under dresses that will absorb sweat and see to it that your legs don't get hot and sticky. Now that you know what to look for in a pair of shorts, consider the following options — prepare to be amazed at the myriad styles out there.
Best Shorts To Wear Under Dresses
We understand that a sea of options will open up before you as soon as you visit any online store and it can become super confusing to understand which fabric or style will best suit your requirements. But I assure you, with a little guidance from us, buying yourself the best shorts for under dresses will be a cakewalk.
Whenever you are getting yourself a pair of shorts, make sure that they are soft. For utmost comfort, pick a pair of shorts made of cotton, polyester or nylon. Another important factor to keep in mind while selecting a pair of shorts is stretchiness. You need shorts which will help you relax and have fun instead of restricting your movements. Last but not least, be mindful of the breathability factor.
Keeping these pointers in mind, we have gathered a list of 11 amazing shorts for under dresses for you to choose from. Whether you need them for an intense workout session or to pair with a cute little black dress for date night, you will find a perfect choice for all occasions. What are we waiting for? Let's get started:
Related Reading: 21 Best Real Silk Robes To Add Luxury To Your Morning Routine
1. Amazingjoys seamless slip shorts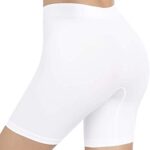 Are you hesitant to wear that cute sundress during summer because you are worried about that annoying friction or thigh chafing while walking? These slip shorts have come to save you from skin damage. These soft, comfy, and seamless shorts for dresses offer ample breathing space and make you feel more confident in that stylish coffee date outfit. As one of the best shorts for under dresses, these get bonus points solely because you can skip the panties if you are wearing these! Keep your thighs cool and dry with this pair of lightweight boy shorts that will completely absorb the moisture.
They are multifunctional – they can be your bike shorts, workout shorts and even yoga shorts. You can also wear these under jeans, tunics and skirts as well.
2. Rene Rofe girls under dress short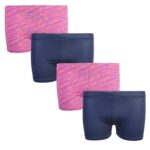 Created with 90% Polyester, and 10% Spandex, these bike shorts for dresses are lightweight and come with an elastic closure. The blend of polyester and spandex makes the athletic wear breathable. It's ideal for children too as they can be easily worn even when the kids grow taller. These shorts can be used in multiple ways – apart from using it in the gym, you can also wear it under dresses or even over leotards for the perfect coverage. If you are looking for a perfect pair of shorts to wear under skirts, they will come to your rescue. The soft and comfortable feel makes it the ideal wear for any little girl who is into dance, gymnastics, cheerleading, volleyball or any kind of fitness-related activity.
The best part is that your little munchkin can take care of her shorts by herself. It just needs a machine wash and tumble-drying.
3. SPANX shapewear for women
Ahoy all plus-sized women! These power shorts from Spanx will make you feel more confident and empowered without having to struggle into tight, uncomfortable inners that dig into you leaving marks on your tummy. All moms and other plus-sized women would love these shorts as these have a tummy control feature and are created keeping overall comfort in mind. These shorts also give your butt a well-defined shape. Say goodbye to all your hesitations while trying out a trendy plus-size date night outfit because these shorts for under dresses have got you covered really well — in every which way!
Moms who are in their 40s and have put on weight around their stomachs can give these a shot and revisit their 20s!
Related Reading: 10 Outfits For First Date – What To Wear On a First Date [Expert Advice]
4. Nebility women waist trainer shapewear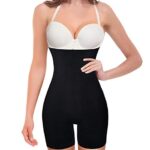 This tummy control body shaper sucks in your tummy and smoothens out everything. Plus-sized women who don't get time to exercise would love these shorts to wear under dresses as their tummies will get flattened thanks to the double-layered fabric around the midsection. This waist training thigh slimmer is a blend of cotton, polyamide and spandex which gives your crotch ample breathing space making it comfortable enough to wear all day long. Be proud to be a curvy girl without hiding yourself anymore as this shapewear will not only accentuate your natural curves but also give your body a lovely, curvy shape overall.
These shorts for dresses are ideal for women who want to have a tight bottom. The butt lifter shorts (both at the front and back) are designed in such a way that it will alleviate any back pain you have and help you maintain the correct posture.
5. Ilusion satin bloomer pettipants short slip
This imported short slip made of nylon is perfect for women who love their undergarments to be as pretty as their garments. Hands down one of the best shorts for under dresses, this short slip with a pretty lace panel trim can also be worn with super short dresses. Just pull them up and make them high-waisted and adjust the slip underneath. It doesn't create any kind of panty lines under your clothes and it can even be worn under leggings. Women who have been complaining about transparency, and the short length of the material sticking to their thighs should consider Illusion's satin bloomer pettipants short slip.
This one is way better than a slip as you have the freedom to wear super short dresses and skirts without worrying about flashing.
6. Maidenform Flexees women's shapewear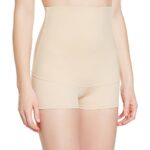 If you have a ton of loose skin around your stomach and haven't been able to lose the weight for some reason, then consider these high-waist boyshorts from Maidenform. This awesome shapewear will ensure that your skin can breathe while it sucks in your tummy and gives you a slimmer look. Now, you will be able to nail a full-body workout at the gym without being distracted by the bouncing belly fat. It's a blend of cotton, elastane and nylon with a pull-on closure. Thanks to the high-waist design, there is an elegant and sleek line created from above the waist to the upper thighs making it the perfect shorts to wear under skirts.
This boy shorts will gently smoothen your belly giving your waist a well-defined look.
Related Reading: 10 Best Lingerie Pieces You Should Pack For Your Honeymoon
7. Riliam slip shorts for women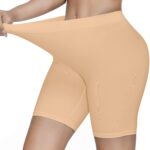 No more worrying about flashing when the wind blows or when you bend down. Riliam's slip shorts made of nylon and spandex give you comfort and make you feel safe while you are outdoors. You can safely use these while wearing slim fitted pants or dresses without being anxious about underwear lines. These shorts for under dresses are multifunctional and can be worn while biking, working out, or doing yoga. They will ensure that you don't end up with sweaty thighs irrespective of the activity you are pursuing.
Women with sensitive skin can purchase this without any hesitation due to its anti-chafing design. The mid-length, lightweight, ultra-soft, seamless fabric can be worn all day long.
8. Anti-chafing cotton underwear boy shorts
Undoubtedly one of the best shorts for under dresses, these imported long-leg boyshorts for women created with cotton and spandex come with a wider and softer waistband for chafe-free comfort. The 8-inch inseam is stretchy and ideal for wearing during a workout. Thanks to the fabric and design, your crotch will feel comfortable and your thighs will not rub against each other or become sweaty. The gusseted crotch gives you freedom of movement and the rich elastic at the waistband ensures maximum comfort. This particular type of lingerie is a must-have for your wardrobe as they are perfect for use during running, biking or any kind of workout.
These shorts fit under your clothes perfectly and are not see-through. So wear these in public with long skirts or dresses without any hesitation.
9. BESTENA slip shorts for underdresses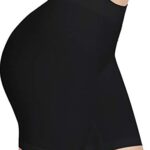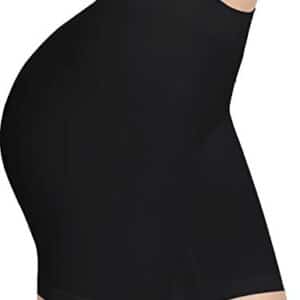 No more thigh misery during summers! These buttery smooth shorts to wear under dresses are perfect for women who have a fascination for short A-line dresses. Made of nylon and spandex, these slip shorts will ensure that your thighs don't sweat even if you run fast or go for that exhausting bicycle ride. These lightweight shorts make your inner areas feel cozy and protected, and prevent thigh chafing. You can team them up with a variety of skirts like pencils and tennis skirts among others.
If you want to use them indoors in the comfort of your home, by all means, do so. Wear these under a long baggy tee shirt and chill at home!
Related Reading: 21 Last-Minute Gift Ideas For Your Wife's Birthday
10. Semi-sheer cotton spandex stretch boyshorts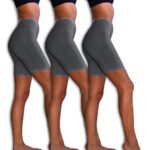 If you wear long skirts and dresses, then opt for these boyshorts which come down a little further on the legs making them perfect for clothes that drop below the knee. To eliminate that irritating thigh rub, wear these under your dresses and skirts to ensure that even if they fly up, you don't end up making yourself blush for all the wrong reasons! Created with cotton and spandex, these boyshorts are also ideal for workouts, yoga or bike riding purposes. You can relax in them during bedtime too if you wish.
Women who face the thigh chafing problem can consider these and you will no longer need to use baby powder or body glide! They are your one-stop solution if you are desperately looking for some good-quality shorts to wear under skirts.
11. Boao lace undershorts for women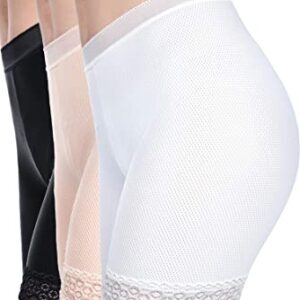 Women who prefer lace style undershorts, can consider this 3-pack option. Made with rayon, spandex and nylon, these are available in 3 color choices – beige, black and white. These undershorts behave well and stay in place without slipping, and also safeguard your abdomen and waist from the cold. You will find the lace trim on the elastic band at the top. The band holds these high-waisted shorts without leaving any unattractive marks. The flowers on the lace at the top and bottom accentuate its pretty look.
These shorts for underdresses are neither too long, too short, nor too thick. Instead, they are thin, lightweight, breathable and fit perfectly with your clothes.
If you had been confused all this while about choosing the right shorts for underdresses, hope you've got some clarity after reading this article. Whether it's for comfort or enhancing your body shape, whatever your reason for wearing a pair of shorts under your dress, we have the best shorts lined up for you.
21 Gift Ideas For Women Over 50 | Amazing Christmas Gift Ideas