(Names changed to protect identities)
I am Divya, a successful HR professional-turned-homemaker and this is my story of how I came to feeling trapped in my marriage. Falling in love with a charming young man named Alok in college happened so efortlessly. He was so attractive and said all the right things. I fell for him too fast and we even decided to get married.
Marrying him was even more thrilling than the coveted job that I secured in a top telecom company. The first few months of marriage made me feel like a queen and within ten months we were blessed with a baby girl. I never thought that one day I'd feel like I'm stuck in an unhappy marriage.
I Feel Trapped In My Marriage
I was overjoyed that I could not only take care of our princess but also made rapid progress in my job. When Alok used to snub me about my day-to-day achievements at work, little did I realize that he was jealous. Subsequently he suggested that I should give up my job and concentrate on the health and happiness of the family. Initially I was reluctant, but I made the sacrifice out of love for him.
Taking care of our daughter compensated for the feeling of loss. I thought it was in all our best interests that I should give my best to our family with no pre-conditions. So I went along with it without any doubts. What I didn't realize was that this was actually turning into a very toxic relationship.
It began with him finding fault in everything I did followed by endless criticism, until I felt I knew nothing. The efficient homemaker and effective professional soon became a person of the past and I started doubting whether I was a good wife and a caring mother at all. I would reassure myself that I was managing perfectly, but Alok's criticism and arrogance would overshadow my rational thinking.
I stopped questioning him
Dependent on him for all my needs, I kept silent even when I wanted to disagree. My tact was taken as timidity and his aggressive behavior increased. If I had a headache I was supposed to stand in the balcony rather than 'disturb' him with my 'morose face' during his phone calls or when he watched TV. After he had his supper I was supposed to be available to him with a smile, and mentioning that I was feeling unwell was not tolerated. I was not a participant in this relationship game anymore, only a mute facilitator and aided him by turning this into a self sabotaging relationship.
I realized that forcing me to quit my flourishing career was to clip my wings and make me completely dependent on him. My parents found him jovial, with great interpersonal skills. They would not allow me to share my opinions about him. He had everybody in the family — friends included — eating from his hand and nobody would believe that he wasn't the best husband on earth. That was all the more reason for me to start feeling trapped in marriage.
Related Reading: We revel in the smallest things: Rakshit Shetty and Rashmika Mandanna
Stuck in a bad marriage, I began to lose myself
From being a brilliant and beautiful girl I was reduced to being a slave. I had to undergo medical termination of pregnancy three times because Alok was not comfortable using protection. My tired body and broken spirit were no more than sleeping pills for him. Emotional suffering soon manifested as migraines and other health problems. The psychiatrist put me on medications, which created more complications, including hormonal imbalance.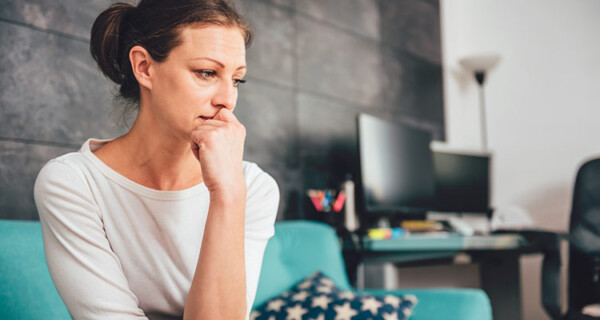 Despite being a mental wreck in an otherwise able and beautiful body, when Shashank met me at a party, I could see a ray of hope in his smile. It was an official gathering of Alok's company and I was both perplexed and scared. I was surprised to see a message from Shashank on my phone the next day. It took me three days to gather courage to reply to that courtesy message.
Since then we are in touch very cautiously and he knows all about my suffering. Shashank is younger, still happily single and madly in love with me. I find him a total contrast to Alok. I am split between my matrimonial status and responsibilities, and the possibilities of a life ahead with a caring, mild mannered and loving individual.
The chances of anyone from my family supporting me in getting a divorce from Alok are zero. I continue to succumb to his demands and feel used. Going to the matrimonial counsellor has not helped, and instead have only made Alok more aggressive. I carry on, hoping for a miracle to happen to ensure my safety and a move towards a situation where all the love and affection that is waiting for me can get showered on me and my daughter.
Related Reading: A dreamy love story that became a real-life nightmare
Expert Input – How To Overcome Feeling Trapped In Marriage
Gaurav Deka is a doctor and psychotherapist based in Delhi. We spoke to him about what it's like feeling stuck in a marriage and how it can take a toll on you. The following was his response:
The reason we choose to remain in a toxic relationship is fear: "What if I walk out and things get worse?" We let ourselves get abused because we are constantly scared of 'change'. We live in an unjust environment where everyday we are insulted, mishandled and castigated – this leads to a marked deficiency of confidence and low self-esteem. Most times, because of repeated exposure to abuse we end up believing that maybe no one will love us.
The most common thought for a person stuck in an emotionally abusive relationship could be, "This person tortures me but at least makes it convenient for me to stay back. This feels like home even if he abuses me, what if I leave him and find no one to love me? What will happen then?" That's the only reason people choose to stay stuck in a bad marriage.
I had a maid who used to come and tell me that her husband beat her constantly. I kept telling her to leave him but she didn't. One day she came and told me that the beating had stopped. I congratulated her, but she cried and said that she's really scared now that her husband doesn't beat her up; which clearly means (to her) that he might be involved with another woman and she had also found some cheating evidence of the same. This is what happens to our self-esteem in such a relationship and this is how it begins – you start feeling trapped in marriage.
Remember, the moment you were born, as a human you were given the gift of 'free will'. And free will only means 'choice'. Exercise that choice and move ahead. The fact that this person abuses you has got nothing to do with you. It's got to do with 'himself' and his skewed notions of power and ego. So don't ever give anyone the power to make you say 'I feel trapped in my marriage'. Walk out and embrace a better life with someone who not only loves you but also lets you make your own choices!
(As told to Sanjeev Trivedi)
FAQs
Domestic Partnership- 4 Ways It Is Different From A Marriage And 6 Benefits It Offers
When To Walk Away From A Sexless Marriage – Know These 11 Signs
Marriage Counseling – 15 Goals That Should Be Addressed Says Therapist