(As told to Saurabh Dalal)
For those of you who are catching up with this series here, my wife Shweta and I are a working couple. We embarked on a new adventure with a close friend couple by going on a weekend vacation to Ooty with them, where we swapped partners for the night. However, we felt guilty and we realised swapping is easier with strangers than with known people. We met a couple who gave us new insights into how couples are using swinging to bring never-ending adventure and spice into their lives. 
Then we encountered an attached couple, who were married to different people, but swung together. This happened a second time and left us disgusted. And now we didn't know that we were heading for group sex of a honeymoon. The story continues…

Our packing was almost complete. The flight to Bangkok left at midnight. We had no clue then that we were about to be a part of the raunchy Bangkok sex stories.

"I feel as if we are going on a second honeymoon," remarked Shweta.
"Me too," I replied.
"Yes, but I hope it doesn't mean we will stay confined in a room for all five days as we did on our first!" She grinned at me. I laughed, remembering how we had forsaken all the sightseeing and instead spent days and nights exploring each other. It was time well spent and built up a solid foundation for the very open and loving relationship we shared.
Off-beat places to visit during the winters
All four of us ended up spending the night together
Feeling like a honeymoon
At Bangkok airport, we were received by our local tour agent who transferred us to a coach with other tourists from India. With the exception of one family of four, all of them seemed like honeymooners. Most of the ladies still had mehndi on their hands. A man sitting on the seat in front of us was whispering something in his partner's ears. She laughed and smacked him in the chest playfully. He responded by stealing a quick kiss. Shweta rolled her eyes at me. Sitting among newly married couples made us feel as if we were on a honeymoon. Seems like the Bangkok sex culture has an impact on everyone.
At Pattaya, the couple in front of us disembarked at the same hotel. We started chatting with them and found that they had got married a month ago but only just found time to go on a honeymoon due to business responsibilities. Pragnesh and Arshi's was a love marriage after a 7-year affair. We found out that we had the same package tour at Pattaya. In spite of an age difference of almost 10 years between them and us, we enjoyed their company. After check-in and a quick wash, we came down for lunch.
Exploring our options
We found our tour guide sitting with Pragnesh and Arshi in the lobby. He was explaining all the inclusions and exclusions in our package and offered us some additional attractions, including a Russian Live Show. Shweta and I booked it without a second thought, as we wanted to see everything sexy and adult that Pattaya could offer. I encouraged Pragnesh too, but Arshi was reluctant.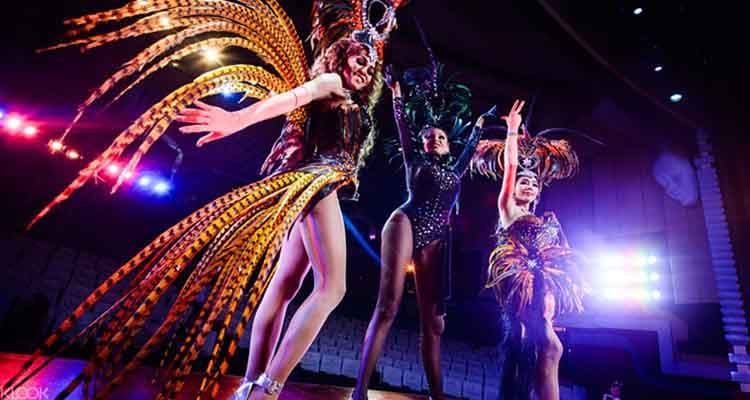 In the evening we left for the Alcazar show. It is a spectacular family show which is performed by transvestites. After Alcazar, we were pleasantly surprised to see Pragnesh and Arshi join us in the coach going to the Russian Live Show. Apparently Arshi was finally convinced! The show had nude ladies and boys simulating sexual acts on a special custom made stage. Back at the hotel, I winked at Pragnesh and he laughed as we said our goodnights and left for our respective rooms for a night of passion.
Next morning, we went to Coral Island. We went parasailing, undersea walking, jet scootering, banana boating, etc. The four of us were now inseparable.
Related reading: Is it healthy to have Casual Sex?
Bonding over live shows
We decided to visit the notorious Walking Street in Pattaya after dinner. True to its reputation, the street boasts of every sinful amorous activity that a person can imagine. Initially, Arshi and Shweta were a bit uncomfortable, but after some time they relaxed and we laughed as we passed nude shows, live sex shows, go-go bars, peep shows and a 100 other varieties of establishments, even as the staff called after us to step in. We didn't dare to. But by the time we got back to the hotel, we were all fully pumped up and double entendres were being exchanged in every sentence. That night, Shweta and I role-played that we were Pragnesh and Arshi in bed.
On the third day, after visiting two more places according to the itinerary we were free to spend our time as we wished. We decided to utilise the time on a Thai massage, followed by visiting Walking Street once again, on this, our last day in Pattaya.

"And let us go to a cabaret this time," chimed Arshi.
"Oh yes, someplace where they have male dancers also," said Shweta enthusiastically.
All four of us laughed.
Related reading: This is the reason why couples are getting into swinging for sex
The final night
As we entered the dimly lit bar, our eyes adjusted to find three topless Caucasian ladies gyrating to loud music on the stage. We sat at a table and ordered drinks. Soon the ladies were replaced by two well-built guys. The dancers followed a fixed pattern of stepping on to the stage fully clothed, stripping, and finally leaving naked. Back at the hotel, we were all reluctant to part in the lobby, as the next day they were flying to Phuket while we had a morning coach to Bangkok.
"Come to our room for a cup of tea," suggested Pragnesh.
"Oh, I really feel like one," said Shweta.
Long after we had tea, we were still chatting and gossiping and exchanging pics about all we did together in the last three days.
I could sense the sexual tension between us but was wary of spoiling our good friendship with them as it had happened with Sharad and Shweta. Seeing that it was getting late, I suggested we retire for the night.
I hugged Pragnesh as Shweta hugged Arshi. Next, it was my turn to hug Arshi as Shweta took the lead in hugging Pragnesh. It felt good holding Arshi close to me, inhaling the scent of her hair. I closed my eyes and tried to freeze the feeling in my memory forever. Suddenly I realised that we had been hugging each other for more time than is considered appropriate. I opened my eyes to find that her eyes were closed too. She looked lovely and without a thought, I kissed her on the cheek.
Getting it on altogether
"Hey, if you don't stop hugging my wife, I won't stop hugging yours either," said Pragnesh.
"Be my guest," I replied. "In fact, I just kissed your wife."
"Like this?" he questioned and smacked Shweta loudly on the lips.
Shweta responded by dragging him down on to the bed.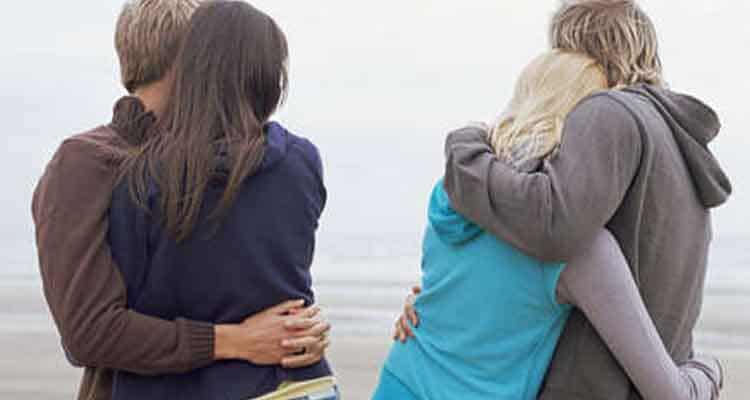 All four of us ended up spending the night together. That night of unplanned passion is one of the best encounters we had with another couple. We realised that swinging if done with a couple of the right wavelength, can increase the pleasure manifold. Our group sex with this honeymoon couple was mind-blowing.