Do you love your wife deeply but don't know how to put how special she is to you into words? This curated list of beautiful love quotes and messages will help you go a step beyond just saying 'I love you, wife'. Show her how much she means to you and how happy you are to be her one and only. 
There comes a time in every marriage when people start taking romance and love for granted. Remind her how much you care for her and that she is always on your mind with these sweet messages and quotes. 
1. "I love you and that's the beginning and end of everything." ― F. Scott Fitzgerald
2. "What I love most about my home is who I share it with." ― Tad Carpenter
3. "Love isn't something you find. Love is something that finds you." ― Loretta Young
4. "My most brilliant achievement was my ability to be able to persuade my wife to marry me." ― Winston Churchill
5. I fall short of words to tell you how much you mean to me. All I can say is that my life revolves around you and nothing else matters.
6. Not a day goes by when your beautiful face does not make my heart beat its sensuous rhythm. I love you, my dear wife!
7. Falling in love with you is the moment I got a cause to fight for and a reason to live for. I love you!
8. You've made my imperfections seem perfect, and all my shortcomings have disappeared. I don't know how I'll ever be able to thank you for everything you've done. I love you.
9. You are the woman that I have always dreamed of. From the first day I met you, I knew you were going to be my happy place.
10. "You don't marry someone you can live with, you marry the person who you cannot live without."― Aleatha Romig
11. "Every love story is beautiful, but ours is my favourite."
12. "Heaven will be no heaven to me if I do not meet my wife there." ―Andrew Jackson
13. "Maybe I don't know that much but I know this much is true, I was blessed because I was loved by you." ― Celine Dion
14. "I dreamt that you were mine, and then I woke up smiling because I realized it was not a dream. You are already mine!"
15.Put your hand in mine, my wife, and we shall explore life together.
16. Eternity isn't enough time to spend with you, my wife.
17. My heart still skips a beat whenever your gaze meets mine, dear wife.
18. My wife holds my heart in her hands, and I know she'll keep it safe.
19. "If I know what love is, it is because of you." ― Herman Hesse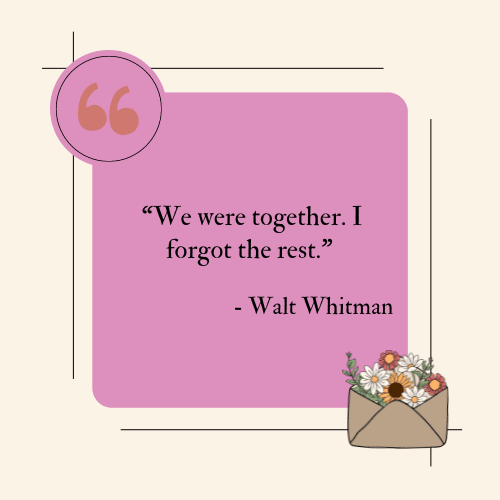 20. "We were together. I forgot the rest." ― Walt Whitman
21. "I may not be your first love, first kiss, first sight, or first date but I just want to be your last everything."
22. "True love stories never have endings." ― Richard Bach
23. "Grow old with me! The best is yet to be." ― Robert Browning
24. Each time I look at your gorgeous face, I feel my heart melt in your love. I just cannot stop thinking about you.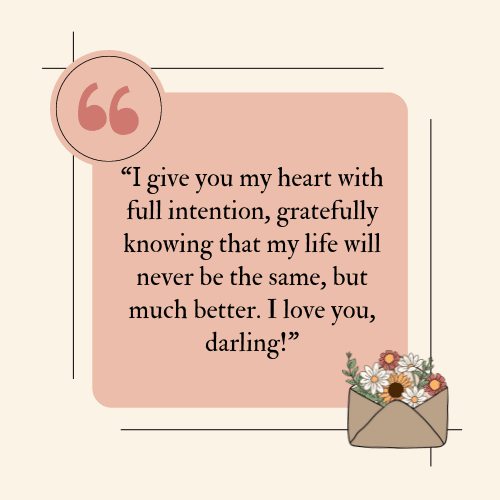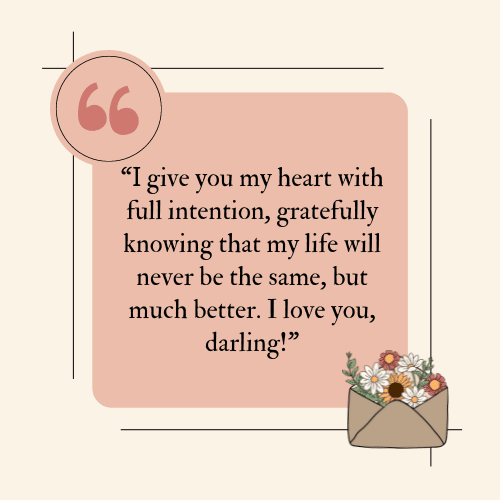 25. Ι give you my heart with full intention, gratefully knowing that my life will never be the same, but much better. I love you, darling!
26. "With you, I can be my silliest best and never worry about being judged because you are my better half in the truest sense. I love you!"
27. "Even the silent moments we share together have the power to drown all of life's chaos. That is why we make a great team."
28. "My permanent relationship status – taken forever by the most gorgeous woman in this universe."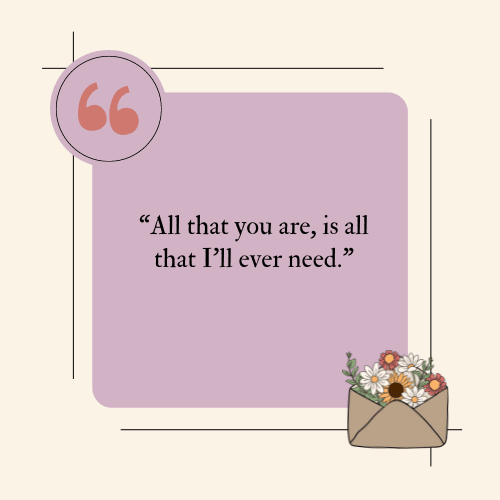 29. "All that you are, is all that I'll ever need."
30. When it comes to you, my heart can feel what my mind can't put into words.
31. All my life I have always done what my heart told me to. I wouldn't have it any other way because it led me to you. I love you.
32. I am a human being so I can't make fake promises that I will never get angry. But I can make a promise that even when I am angry, I will care for you endlessly.
33. I see myself in your eyes and feel your presence deep in my heart. Please remain there, my cherished wife, because you are the only one who fits there perfectly.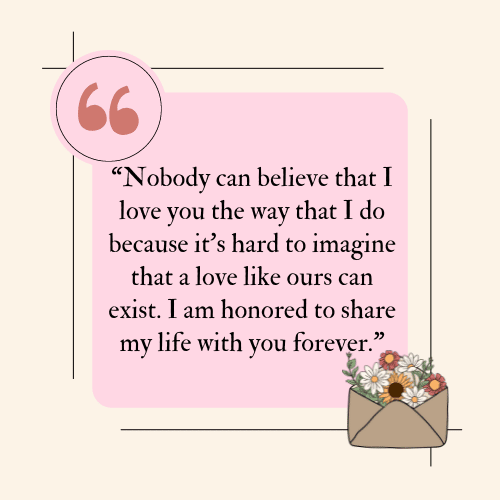 34. Nobody can believe that I love you the way that I do because it's hard to imagine that a love like ours can exist. I am honored to share my life with you forever.
35. There is an ocean in your eyes, and I can see myself inside of it. It's impossible to measure the depths of the love that I feel for you.