The relay baton of the "Evil" mother-in-law has been passed on from one generation to another in our family. It's like a family tradition that a mother-in-law is expected to uphold. And when the bahus of the extended family meet the horrors they have to face in the hands of their moms-in-law are stories that have acquired legendary forms in our family.
For the moms-in-law, it was like a competition at Hogwarts School of Wizardry and Witchcraft to outdo each other in evil tricks. RL Stine could have happily written his Goosebumps series based on our mom-in-law family stories. It was absolutely like unleashing the dormant monster inside.
(As told to Shanaya Agarwal)
I Refused To Be An Evil Mother-In-Law
When I became a mother to a son at the age of 23, I made a promise that I would break this cycle of horror in my family. I promised to myself that I would never become an evil mother-in-law although I knew I would be goaded to keep up the family tradition. For all the wicked reasons in the world, but I was sure I will not be continuing the tradition.
I would not let insecurity and domination in the way of loving my family. I did not want to be the topic of discussion when my daughter-in-law was with her friends. And because I did not I just kept thinking, "How can I be a good mother-in-law?", "What are the good qualities of a mother-in-law I should have?"

My mother-in-law was a monster
I don't blame my mother-in-law to have become the monster I had to deal with. Married at the young age of 16 she landed up in a joint family where she had to deal with not only her own mother-in-law but all the chachi-in-laws, who were no less vicious. Heckling the young bride was the only entertainment they had and they did it with an evil laugh that my mother-in-law also inherited.
From doing all the household work, to looking after the cows in the barn, to cooking, to looking after her own string of offsprings, she had to do everything. Her day started at 4 am and if she went wrong in anything, apart from the jibes and taunts she could be sure of a thick cane landing on her back often.
When I married the beating thankfully stopped
It was an initiative my elder brother-in-law had taken. He convinced the men in the family that times had moved on and beating a daughter-in-law could result in the whole family landing in the lockup under Section 498. This managed to instill some fear into my slap-happy mothers-in-law.
So thankfully I was never physically hit. But that did not mean I was spared the verbal vitriol that could have had my ancestors tossing in their grave.
It's my turn to be the mother-in-law now
In our family a son's marriage does mean the harbinger of sadistic pleasure for the mother-in-law. Like my son was given suhaag-raat tips by his cousins I was given evil mother-in-law tips by my sisters-in-law who were already having a field day with their daughters-in-law.
No matter how educated the bahus are, the fat salaries they bring home or the expensive sarees they purchase for their mothers-in-law, they could never escape the harassment in the hands of the mom-in-law. "In the house you are just the bahu leave the rest of your identity outside the house," I had once heard a sister-in-law roar to her daughter-in-law.
I decided to be my daughter-in-law's protector
For a woman getting married and moving to a new home is a life-changing experience in itself. Then if she is harassed and heckled by a mother-in-law in every step of her existence in the house, life does become a living hell. I have gone through it and I would never let another woman go through it.
I decided that I will be a friend to my daughter-in-law. We did have our fair share of arguments but we also bonded as friends. We were different, of course, but we were also one in the sense that we are a family. I always tried to collaborate and not compete. And I never let respect between us take a back seat.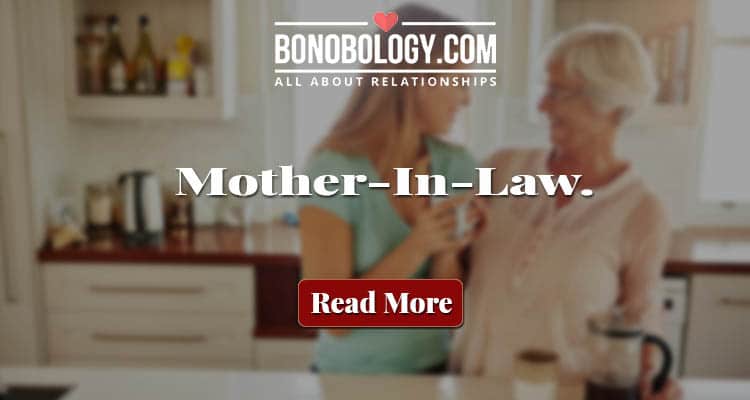 I wouldn't want this to happen to my daughter
It's something like bullying. You can decide to turn into a bully like your perpetrator or you can decide to put an end to this ghastly practise. I chose the latter. I treat my daughter-in-law as my daughter. I ensure she is comfortable in every way in her new home and I make her morning tea and breakfast before she goes to work because I make it for my daughter too. I pack lunch for both of them.
She cooks when she pleases, she can keep her room in a ramshackle state if she wants to. My daughter does the same, doesn't she?
I stand by her when family members raise issues about her modern dressing sense.
She is a modern girl out in the modern world so I cannot expect her to be always in a saree with a ghunghat on her head, something that was expected from me.
I am often told by others that I am a too "lenient" mother-in-law and I will "suffer" in future because I am not "controlling" the DIL enough. I actually like it when they say that. I would have hated it if I had become a toxic, evil and rude mother-in-law, following the family tradition.
I just feel happy I broke the family tradition of being the evil mother-in-law. I hope I can pass on the qualities of a good mother-in-law to my daughter-in-law. I hope I have been able to change the system. I also know if I can love my daughter-in-law, my son will love me more.
8 Signs Of A Poisonous Mother-In-Law And 6 Ways To Beat Her At Her Game

My Mother Keeps Complaining About Her Daughter-in-law For No Good Reason