Divorces are not always about affairs, cheating, infidelity, alcoholism, or abuse. Sometimes two people who are right in their own way can be wrong for each other and can grow apart in a marriage that has survived close to two decades. How to prepare for divorce when there is nothing or no one to blame?
Preparing for divorce is one thing, but to prepare children for divorce is not an easy task. Making them understand all the logistics, and how different their life is going to be now that their parents won't be together is a delicate topic to approach.
How To Prepare Yourself For Divorce?
I could have walked out of my insipid marriage almost a decade ago when I realized how lost I was in this relationship. Everything seemed to be bursting at the seams, but I knew I had to give it all I could or all it needed before calling it dead. That was the only way to come out of it without being broken.
The reasons relationships fail is because we work hard to make them work; they work because they need to flow without being forced. Yes, you need to invest some time and effort into it, but it shouldn't seem like a task. And when you realize this marriage isn't working out, the process of divorce preparation has already begun.
How To Prepare Children For Divorce?
You, as an adult, may know how to prepare for divorce, and are completely ready, but how are you going to break it to the kids? Once you learn to prepare yourself for divorce, you need to be gentle but realistic when you tell your kids that their parents are no longer in love with each other.
We know divorce is difficult to go through, so here we're giving you some steps to take when preparing for divorce that can lighten your burden by just a little bit.
A matter of difference
We were two different people – as distinct as chalk and cheese. The only thread that connected us was our two wonderful kids and THAT is never a good enough reason to stay in an unhappy marriage. It's an illusion most couples feed themselves to hide the truth.
The decision to leave was not hard, the hardest part was how to leave – in other words, how to break a family with minimum collateral damage. I needed to prepare my kids (one a teenager, the other in pre-teens) emotionally and mentally. Having been through that wringer, I have only one piece of advice to offer to anyone in my shoes: you should have a plan figured out about how to talk to your kids about divorce without scaring them.
Preparing them was also a catalytic way of preparing myself (which I only realize in hindsight now). At that point, all I knew was that I had to arm them well to face this upheaval with courage, strength and sensitivity and teach them not to be afraid of being vulnerable.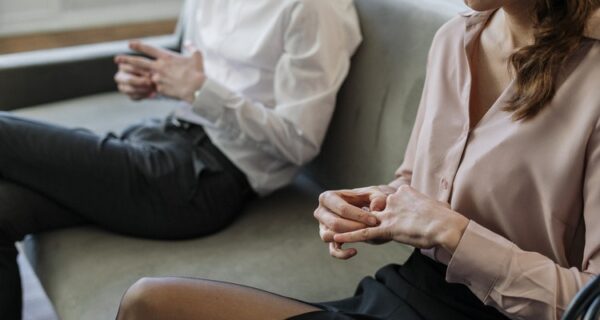 Being open
It was a very subtle preparation. I wouldn't hide my feelings when any tension cropped up between me and their father – I would express myself lucidly and even break down sometimes in front of them and tell them exactly how I felt, how I didn't feel connected to him anymore and how I needed to be away from him in order to survive and remain sane.
My kids tell me now, "It was ingrained in your parenting, Mom. The different layers… the fact that you didn't hide anything from us. It was just our upbringing that made us accept this easily." I did my best to prepare children for divorce, so I was over the moon that they said this to me.
Related Reading: 15 Subtle Yet Strong Signs Your Marriage Will End In Divorce
Healing myself
I also realized I needed to heal myself fully before I stepped out of this marriage. I didn't want to carry any bitterness, hurts, wounds, and grudges as part of my baggage. It had to be buried before I moved on. You need to prepare yourself for divorce much before the legal procedure actually begins.
Hitting the gym daily restored my sanity. I undertook Certification as an NLP Practitioner; became an Angel Card Reader preceded by enrolling for an Archetypal Consultant course to understand my archetypes and delve deeper into my soul to explore who I was at the deepest core and what I was made of as a person.
It was an inner journey that empowered me immensely. Casting one archetype in each astrological house in my natal chart revealed how I felt, thought and behaved. It was fascinating getting to know myself as never before.
The slow and steady disintegration of the marriage revealed greater truths. It helped me understand why it had not worked, what went wrong where, the gaps, the expectations, the disappointments, the fears, the shadows, the darkness and the growing shrinkage of any possibility of a patch-up.
The moment we ceased to be man and wife, the relationship was changed forever. Once the dynamics of sex in a relationship were altered and taken out of the equation, along with ceasing to be a couple, socially and emotionally, the marriage eased and we could help each other heal. Since the physical/mental attraction was on its deathbed, getting back together was off the table as an option.
A blessed release
We were both no longer trying to make it work and wounding each other in the process. Instead, it was all about releasing each other and letting go of the marriage with as much compassion and kindness as possible, although it wasn't easy.
Many wounds were re-visited, many emotions and feelings tangled and de-tangled, many scars glorified and flaunted – it was messy as hell. The divorce preparation is long and hard, but it is something you can't escape.
It took 8 years to reach a point where the kids were comfortable with a separation and mature enough to understand its deeper intricacies. And we as parents were at a place where we wished to be – friends (after spending 24 years of our lives together) and to be there in each other's life – as a presence that won't fade away; someone we could turn to in a crisis.
Related Reading: Divorce is about letting go, not holding on
However, now, separated, life is slowly falling into place for all four of us. The grieving period of losing a life I once had and being someone's wife is gradually coming to a close. And as I pick up the threads of my new life, I'm at peace that I am heading toward a Sacred Divorce – something I had always wished and prayed for.
How to prepare for divorce and what to expect before filing one entails one key component that often gets overlooked – kindness. Be kind to yourself and to your kids as you mentally brace yourself for a new life. Divorce is not easy, but you know at what point in the marriage it is necessary.
FAQs
1. How do stay at home moms prepare for divorce?
Firstly, they need a stable source of income to move out and start life afresh. Secondly, it's vital to figure out the custody arrangements and ensure the life of the kids is impacted as minimally as possible.
2. How should a woman prepare for divorce?
Divorce preparation is mentally and emotionally exhausting, so women should know what they're getting into, and try to separate emotion from logic as much as possible.
3. How do you mentally emotionally prepare for divorce?
Start visualizing your new life, and think of it in a positive way. Think of how ending this marriage will rid you of your misery, and you will finally be able to do all that you wanted, without having to constantly worry about a failing marriage back home.
8 Reasons Why Separate Bedrooms Are Good For Married Couples