If you are thinking about divorce, you could be stuck in a cycle of should I or shouldn't I. Maybe you sing it in your head with some music as well! Contemplating a divorce can bring about a plethora of emotions, ranging from why's to perhaps and maybe's. The ifs are a constant.
You do need a divorce. If you stay in the marriage, you will be unhappy. But what about the kids? Are you hiding behind your kids' happiness for not wanting a divorce? You could be thinking about divorce for years but you are scared. You are finding it hard to gather the courage to divorce.
But do you feel frustrated to even walk into your own house because you do not want to look at your spouse? These are signs divorce is inevitable. Before you get into the ordeal of divorcing your spouse here's a mental note down you would want to make before taking the plunge.
Related Reading: 12 Co-Parenting Rules For Divorced Couples
Not all reasons for divorces need to be thought of carefully but if you are still worrying about whether or not, remember legal battles of a divorce drains you physically, monetarily, mentally and most importantly, emotionally.
Times like when your wife is physically abusing you or your husband has anger issues that lead to violence or when one of the spouses is cheating on the other, are valid enough reasons to end the marriage.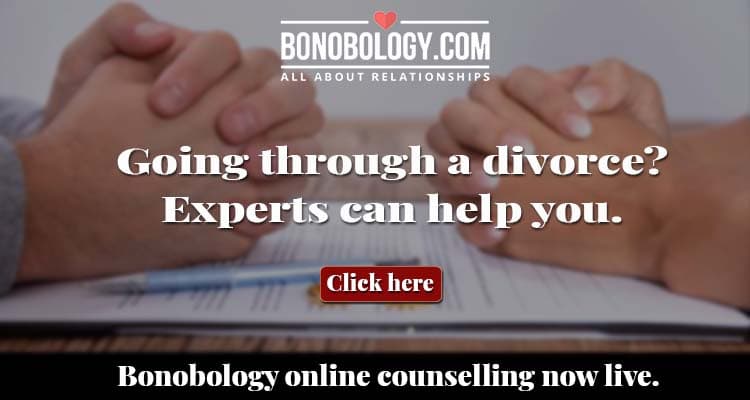 Contemplating a divorce and actually getting one are two different things. Evaluate your marriage and the ways to better it. Take our carefully drafted divorce checklist.
If you have an alcoholic husband who refuses to get help even after you have been requesting him to do so, divorce might be a way out. In such a case, thinking about divorce is completely understood. But are you making empty threats? Are you thinking of divorce without even trying to seek help from a professional?
The question of divorce should not be thrown around carelessly. It is an end of a marriage and before you let the confusion wreck your mental peace, here are a few things to think about. Thinking about divorce without having a real concrete base also indicates your lack of seriousness towards the marriage and the relationship.
Related reading: 15 Warning Signs You Need A Divorce For Sure
10 Things To Do When You Are Thinking About Divorce
Is your marriage abusive? Do you just not like your spouse anymore that has led you to stray from the marriage? Have you realized your wife does not want children? Are you wracked with fear your lineage would end? Whatever the reason ask yourself if small fights or a grave mistake is worth ending your marriage.
Follow these 10 steps before you take the final decision.
1. Is there a way to save the marriage?
Your marriage is in shambles but it did not happen in a day. If you have noticed a pattern of your spouse's financial irresponsibility or infidelity or simply the fact that you don't like each other anymore, is divorce the answer to it?
Before taking the plunge, have you voiced your concerns and mental state to your spouse or spoken to a marriage counselor? Filing for a divorce before trying to fix your marriage will make you feel more guilty and if your life after the divorce does not turn out to be as good as you had thought then you will have to live with that guilt for the rest of your life.
2. Get someone to talk to
Divorce is not a matter of child's play and it's definitely not an easy way to figure out if you want to stay married or get divorced. Even if there have been problems in the marriage, knowing for sure if divorce is the answer is not an easy task.
Try opening up about your problems to someone who can take an unbiased stand. Be careful who you go looking for some advice because not all of them will be without judgment.
In the delicate state you are in you could be thinking about divorce everyday, but you do not need someone telling you it's okay not to think too much and to go with your gut feeling.
That's rubbish advice and just because your friend had a divorce doesn't mean you will end up getting split too. The point being: Find a person who knows exactly the right advice to give and can remain impersonal about it.
Related reading: Divorce Counselling: Considering Divorce and Feeling Lost? Here's help!
3. Think of your children, if you have any
How close are the children with your spouse? A divorce will legally split your family which means if you get custody of the children, your spouse will have to see the children as stipulated by the court. Custody battles are not as big a problem as the emotional and mental trauma a kid will go through if the divorce is finalized.
For a child, divorce means he will be spending time with your parents and aunt as guardians while you are working. It means no mommy-daddy at the dinner table, no going out with mommy and daddy for a movie and every time the child asks questions like, "Why isn't papa living with us anymore?" you will either have to tell them some story or the real story (which might be too much for a kid to understand).
Children are impressionable and highly imaginative. Think how it is going to affect them and how you intend to make them understand about the situation should you choose to go for the split.
Related reading: How I Prepared Myself and My Kids for a Divorce
4. Start saving up
Apart from the legal proceedings and hiring a lawyer- both of which will require quite a lump sum of money- you need to start saving up money if you are contemplating divorce.
Are you intending to move out? Are there signs you need a divorce? If so, start looking for places. Start saving liquid cash. Opening up a savings account just for post-divorce use is a good way to begin.
Considering your spouse still hasn't got any idea of an impending divorce, it might be wise to keep the existence of the account under wraps. You will need all the money you can save if you are thinking of divorce. Your finances will give you the courage to go for one.
5. Start looking for a lawyer
Not all lawyers will offer the same advice. If you have a family lawyer, it's better not to go for that. You haven't even decided if you want a divorce, so hiring a lawyer that's related to your family isn't wise. Exhaust your research and see which lawyer is better suited for your need.
If you want a definite win and don't care if your spouse is hurt at the end of the long haul, choose someone who has majority of wins.
Hiring lawyers who are over-priced might not mean the best decision especially if you are having severe money crunch. It is important to remember that you have to think of your life after divorce. So, spending money on an expensive lawyer will leave you penniless. It's better to choose a good divorce lawyer suited to your financial, legal and emotional needs.
6. Try not to tell everyone that you are thinking of a divorce
This is a marriage ending. Stay away from the temptation to tell your friends and family that you are thinking of a divorce. Most people will try and get the details about your crumbling marriage as a gossip for their Sunday brunch.
Others won't be able to help you make your decision. On top of that, all that "Oh, poor thing" and "You will be fine" and the pity they show is going to mess you in the head even more.
Remember you do not need sympathy from anyone. You need to think straight and take concrete steps. So only a couple of people close to you will be able to show you the right path. So discussing anything with anyone else is futile.
Related reading: Whose Advice Should I Take for My Divorce? 9 Tips to Keep in Mind
7. Read up on all the laws of divorce
You need to read up on the grounds where you can be granted a divorce, since this isn't a mutual divorce. For example, if a wife is treated with cruelty in marriage, she is entitled to maintenance money, considering she has been living separately from her husband.
Learn about custody rights of your child. Is there anything in your past that you have done that can be used against you in the legal battle, something like adultery? While you are still confused whether to get a divorce or not, read up about all divorce laws in your country.
8. Keep away from social media
Cannot stress this enough but lead yourself away from the temptation to rant online for your followers. No one is a divorce expert so seeking advice from anyone apart from a professional will be a fool's move.
Social media is the worst place to let anyone know about the troubles in your marriage and that you are thinking about divorce. Even leaving a cryptic message could lead to people gossiping online, so never ever open yourself for that.
Related reading: 8 Ways Social Media And Divorce Are Interconnected
9. Take care of yourself
It's easy to lose yourself in the mental process. The divorce can wait. In the middle of it, try to keep your sanity at home and at work when going through a divorce.
Going through a  divorce can be harrowing experience so it is important that you keep the routine in your life in place and do the things you enjoy doing. Despite the signs that you need a divorce you need to carry on with life.
If cooking is what you like then you should do that, don't stop hanging out with your friends or taking those yoga classes. Live your life as you would even if you in separation with your spouse.
10. Start imagining life after divorce
This is something many people don't do and end up in shambles after the divorce. Think of how you will afford a new home, will you have support for the child (children), will you be able to bring up the child alone? Can you do the groceries, bills, banking, investments all by yourself?
Would you be able to afford the same lifestyle you have now or would you have to tone it down? Will that make you unhappy or it doesn't matter as long you are free?
It's a good idea to have a notebook and jot down all the things you will have to manage on your own and how you will do that.
Sometimes people decide on divorce on an impulse. It is absolutely right to do so if you are in an abusive marriage or is psychologically abused constantly. Otherwise, divorce is a decision that needs thinking. It's important to plan it out and know your thoughts well before you file for a divorce. Mulling over these 10 points will surely help.
Related Reading: Why Are Divorce Rates So High In Celebrity Marriages?
What would we advise people who are thinking about divorce?
To tell you very frankly if you are thinking about divorce and you have talked to anyone about it, then you would be totally confused by the mind-boggling array of dos and don'ts people will talk about.
To sift out the right advice from that, is not easy. We note a few points we have to tell you to make your divorce a easier process.
1. Divorce mediation
Not all divorces land up in court and are contested. Try to go for divorce mediation or divorce by mutual consent to make the whole process easier for both of you. Contesting would mean regular court appearances and loss of financial resources.
2. Get your papers ready
This is a very important step. Get your financial and legal papers in place if you are thinking about a divorce. Being organised about these things will make things smoother for you.
3. There is no clear winner
Be it a contested divorce or one through mutual consent, none of the spouses are clear winners. One might have to pay less alimony but could get limited visitation rights. You win some you lose some.
4. Keep the children away from the complications
Do not drag the children into the battle, badmouth each other in front of them or keep fighting in front of them. This could have long-term consequences that you will not like.
5. Be honest
Some couples have the tendency to hide or destroy prenuptial agreements or do not disclose their financial investments. It's best to be honest with your attorney and spouse when you are going through a divorce.
Divorce attorney Laura Wasser says, "Prenuptials don't really work if you don't have tons of money. What you need to know is the expectations you have from the divorce and you need to communicate that clearly."
Divorce attorney James Sexton says, "When people buy a house they fill up 50 forms and want to know the legal implications of the loan they are taking, the rights of the property and so on. But when they get married all they want to talk about is the decoration on the wedding cake. Marriage is also a legal binding and you should know every detail about it when you slip on the wedding ring."
We can say this much that divorce laws are different from country to country. While in India living in separation is a must before you file for a divorce, in many states in the US separation before divorce is not necessary and in some places the separation agreement is drawn up only after the divorce is filed. So know your legal rights and take your steps accordingly if you see the signs divorce is inevitable.
How to Tell Your Parents About Your Divorce and Prepare Them For the Future
Couples Therapist Talks About The Pros And Cons Of Open Relationships