(As told to Shahnaaz Khan)
I moved to New Delhi after my father's death. To earn a better life and get away from the pain and grief. My job kept me on my toes 5 to 6 days a week, and weekends were to stay locked up in my tiny one-bedroom apartment. A few months passed and as winter approached, so did loneliness. I did not realize when I crept into the clutch of depression. By the time the new year rolled out, I had become a mechanized robot just going to work and sleeping at home, never smiling or truly happy.
I was never a big people person, but growing up in Bhopal I always had a few close friends. It had been months in Delhi and I had not made a single friend. I was miserable and thought "This is what the rest of my life is going to be like." One weekend sitting staring at the wall, I suddenly found myself creating a Tinder account. I did not really think much of what I hoped to gain. To be honest, I was tired of going to the movies alone! Just wanted a human to talk to about something other than work. I spoke to a few girls. But my small-town charms did not impress them much.
Related reading: How to date on Tinder?
That smile on her photo
After a week or so, I came across the profile of a girl with just one photo, partially blurred. She was four years older (I'm 26), worked in IT, and was just looking for conversation. There was something about her half-smile that intrigued me and I swiped right. Turned out she had swiped right too and we could chat.
A little wary from my earlier conversations, I decided to stick to a simple hi and take it from there. She responded and our conversations began. We were both in IT, so that gave us something in common to talk about. Soon we had shared numbers and moved to WhatsApp and I got to know more about her. She was from Kolkata and had been in Delhi for two years. She had recently come out of a long relationship, when she discovered that he was a serial cheater.
The whole experience had left her shaken and she was not ready to trust anyone again.
Over the course of the weeks, I felt joy return to my life. I'd be excited when work would end and I could chat with her again. She was not always free, as she also did some freelance work, which kept her busy. But I would wait eagerly for her to find the time to reply or return my call. We tried to fix a meeting, but her roommate fell ill.
Related reading: Dating apps: Great to find real fake people?
When we met in real life
We finally met and it was like I had known her all my life. She was so understanding. The years between us did not seem to matter. In fact, she had a maturity and sense girls my age seemed to lack. The meetings were not very frequent. She canceled at the last minute a few times. By our third meeting, I invited her home. After a long time, I had cooked for someone else. After the meal, things got a little heated. We did not go all the way, but it felt amazing. It was not like an infatuation of younger years. This time the connection felt a lot deeper and more meaningful. Was I in love?
I was hoping that now she would take out more time for us, that there was something real here. But for some reason or other, she was mostly caught up with something. However, whenever we did talk, it was the highlight of my day. We managed to meet twice after that and I did try to formally ask her out too, but she turned it down in jest. So I thought it best to enjoy what we have and not rush things, knowing her past.
The phone rang at work
I still remember the phone call. It was during lunch at work. An angry gruff voice asking my name. He then went on to charge me with sleeping with his wife. Initially, I told him it was a wrong number and I did not know any woman by that name. But as he began reading out the texts, my world crashed. He was reading our texts. The ones shared on WhatsApp over the course of months. He said my number was saved under a girl's name on his wife's office mobile, but he was not dumb. She had told me to not have my photo as WhatsApp DP because her family visited and sometimes checked her phone. Suddenly all those times she was unavailable made sense. But a part of me still couldn't believe she had lied. She had never added me on Facebook, so I dropped her a text.
She called, except it was the man again. He had read everything and knew where I worked and was coming there to teach me a lesson for messing around with someone's wife. Needless to say, it was an ugly encounter outside my office. I kept telling him I didn't know she was married, but it fell on deaf ears. My office security stopped things from getting violent. After he left, I knew I had become the joke of the office. Small city boy living his big city dream! What an idiot to think he wouldn't get caught! I eventually changed my job because of this.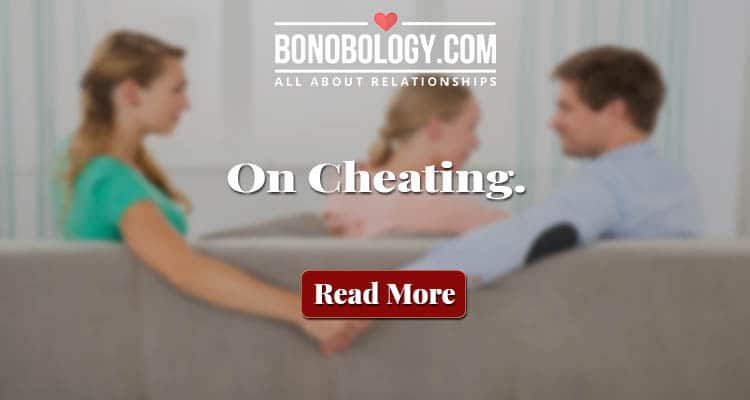 Why did she lie?
I tried to reach her a few times but her phone was always turned off. It was been over 6 months now and I have stopped trying. Though I still have a lot of questions. Why did she lie, play with my feelings?
She knew I was getting serious. Did I even mean anything to her or was I just a distraction? If she wanted she could've contacted me from another number, even if just to say sorry and see if I was okay. Who was she? I thought I was in love, but so much was a lie. I consoled my heart saying that the woman I loved was never a real person, just imaginary. Unfortunately, feelings don't care. Real or imaginary, my heart still broke. I am back to being alone but now I'd rather have nothing than have a lie.
Ask Our Expert
You must be Logged in to ask a question.