Are you ready to take your relationship a step further? Does living together sound exciting to you? If your answer is 'yes', then you are definitely heading in the right direction and could start considering a live-in relationship.  As a couple, you are probably tired of having spent a lot of time over mushy dinner dates and movie outings and trying to maximise your time together. You want to think about living together as it starts getting harder and harder to say by and go back to your home without your signficant other. You want the beautiful moments you spend together to be neverending and living together will also give you a glimpse of what your life would be like together if you decide to tie the knot. The best way to deal with the staying-apart pain is to stay together and enjoy each other's company, by being in a live-in relationship. But there are some rules for a live-in relationship. Are you willing to follow them?
For couples madly in love but fear permanent commitment, live-in seems to be the perfect midway. The two of you, bound by love and not matrimonial rules, can live it up and enjoy the perks of being a serious couple without the commitment. Thankfully, live-in relationships are finally coming out of the closet in India and our experts say it's legal. Young working couples can now opt for cohabitation and build their professional careers. The debate between live-in relationship and marriage will always continue but it's up to you to choose what you want.
We know of a couple that was practically spending all their time together as they worked together, ate all their meals together and attended social gatherings together. They just went to their respective homes to sleep. They were spending twice as much on rent and realized it made sense for them to lower their costs by moving in. However, this didn't work out for them as the woman was a neat freak and couldn't handle any dishes lying around the house even for a few hours and the man was lazy and a bit of a slob and had a system where he did 'deep clwaning' once a week. This helped them realize their incompatibility issues and they eventually called it quits.
The Pros and Cons Of Live-in Relationships
The bottom line is that the two of you are in a relationship. So just like any married couple, as a live-in couple, you too will have your set of challenges. Though the two of you are not married, when two people live together there are differences too.
Let's look at the pros of living together
No more goodbyes, as you get to sleep together after dinner or movie dates
Share the first cup of tea or coffee and watch the sunrise together
Cook each other meals and throw in surprises to show that you care for each other
Live like couples without the tag of being married and committed
Freedom to do things without anyone invading your privacy
In case you plan to get married in future you get to know what life would be like post marriage
Living together will truly test your compatibility both mentally and physically.
Related Reading: While Living In With My Partner I Realised I Could Never Marry Her…
Now let's look at the cons of living together
After a breakup, there are fewer chances of coming together, as there was no bond or commitment
Either of you may cheat on one another, which might lead to heartache
Families don't stand by in case of a fight or argument
Very little support from society per se, especially for women
The stigma of being labelled for life
In case of pregnancy, the guy can easily walk out, leaving the woman to deal with it all alone
You cannot inherit each other's property unless everything is legally put down in a will
In case of a serious illness or death family can take over and ask the partner to move aside if they please. He or she would have no legal claim to stay by a partner
As is evident, live-in relationships have their own set of challenges and advantages. It is up to the couples to make it work to enjoy the benefit and minimise the issues. That is where it becomes important to plan and agree on some rules so that neither partner feels taken for granted.
7 Rules for a live-in relationship
In order to avoid being treated like a doormat, couples who decide to live together should follow a few live-in relationship rules. This will ensure that either of you doesn't burn your fingers while taking the risk of a living-in relationship. Moreover, these carefully set live-in relationship rules ensure that your relationship stays happy and amiable and you enjoy the most of it.
1. Decide the fine print on finances
The two of you will now be running a house together. Before you move in, sit, and design a plan for financial management. Decide who will take care of which expenses in order to avoid any confusion or chaos once you live together. The rules for a live-in relationship should be put down the moment you move in together.
2. Divide the chores too
From doing the laundry to tidying up the house, both of you should divide the tasks to delegate equal responsibilities. Even figure out maids for cleaning and cooking to make things easier. With this sorted, the two of you can live peacefully, avoiding fights.
Related Reading: Survival Guide: Dos And Don'ts Of Being In A Live-In Relationship
3. Be clear on why you are taking this plunge
Like marriage, a living-in relationship is a big decision. Take it wisely and not in haste. If you have spent one or more years together, only then think of moving in together. Have clarity on why the two of you want to live in and whether this will lead to marriage at all. This way you don't move in with false promises and expectations. The rules for a live-in relationship will help you further. A lady wrote to us about how she will never regret her live-in relationship.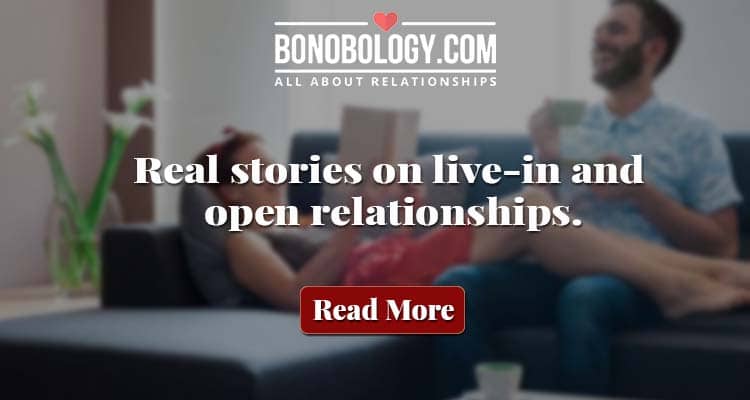 4. In case of pregnancy
Now that the two of you will stay together and share the same bedroom, this would mean sex at any time of day or night. Make sure the guy uses protection or you pop pills to avoid unwanted pregnancy.
In fact, before living in, set guidelines for situations when you accidentally become pregnant and what would be the next course of action.
5. Sorting out troubles together
The initial few months of living in would be nothing less than a honeymoon. But once the charm fades, there would be fights, arguments, and irritations. As a couple, you should know how to deal with them calmly. Do not make the mistake of taking a harsh decision and ending it all for a petty fight or disagreement. Learn to kiss and make up to keep the flame of love burning. You can take this quiz on what you and your partner will fight about here.
6. Give in to desires and fantasies
The sheer joy of living in is the idea of exploring sexual desires and fantasies. Women should make the most of this time by playing into their desires.
Men too should be open to experimenting and spruce up their lovemaking skills. With no bond or rules, couples can go crazy making out and exploring sexual fantasies.
Good sex always helps in keeping you cheerful and happy at work too.
7. Keep a time limit on live-in
Having decided to cohabit, couples must also keep a timeline on the duration of their stay together. You cannot go on living in a relationship if you have marriage on your mind. For those who are comfortable, living in might do, but then be prepared to face raised eyebrows or pestering questions. This is deadline should be the most important live-in relationship rule for you.
Is live-in legal in India?
We have a comprehensive guide for you which has been put together by our legal team.  It will answer all your questions ranging from, whether can a man and woman from separate marriages come together and live in, to do the couples find it hard to rent a flat together, to if it is possible for partners in live-in relationships to lodge formal complaints of domestic abuse? You can read the piece here.
But if you set down the rules for living in as a couple you will have a comfortable system in place. After that who cares about the raised eyebrows.