A marriage is considered a sacred union of two souls, at least in India. But then creeps in the extramarital affair, wrapped in its mystery and secrecy, seducing you towards something new, like the snake towards the forbidden apple. You can't battle your innermost desires anymore and give in to those guilty pleasures, bursting your bubble of a 'happily ever after'. But sometimes an extramarital affair benefits your marriage in more ways than one. You might be wondering can there be any advantages of extramarital affairs? Yes, there can be. We tell you.
12 ways an extramarital affair can help your marriage
What if an extramarital affair was the bump in your marriage that you needed? What if the affair could help you mend your marriage? No marriage is perfect, and as time passes, your entire definition of perfect changes. Life becomes mundane and it's so comfortable that it becomes boring. The craving of being desired passionately by someone keeps rising and you know that it's not your partner you crave.
While experiencing an affair, there are many new revelations, most of which are directly linked to your marriage. Here are 12 surprising benefits of an extramarital affair:
1. It boosts your confidence
The longer your marriage is, the higher is the frequency of your 'dry days'. Your sexual inactivity lowers your morale, giving you the idea that your partner does not desire you. You start to take less care of your looks and you become dull. An affair brings back those feelings and those butterflies. You feel the rush of a new relationship again. The idea of being wanted and desired again boosts your confidence. You become more energetic and confident, and your partner sees a new vibe in you. Your husband/wife sees a new you. This could be one of the main benefits of an extramarital affair.
2. You will be able to revive your marriage
New experiences give you new perspectives and ideas. Some of those ideas can be implemented in your marriage. What you thought was the end could be a new beginning. Having a fresh outlook could make you realise that there is so much that you still haven't done! Bring these new ideas into your marriage. It could help you both get back on track.
3. It can help you identify the problems in your marriage
Most affairs are due to a lack of emotional and sexual intimacy. These could be some of the problems or it could be something that you are not aware of. When you have an affair, you seek to fill the void that you have in your marriage. Once you indulge in an affair, it will help you identify that void and you could work on it to save your marriage from getting doomed. So this is an advantage of an extramarital affair.
4. You own yourself
Whatever was holding you back isn't there any more. You are not only a more confident person but are also comfortable with your personality. The doubts that had made you avoid the limelight aren't there any more and it reflects in your new personality. Your husband/wife will start noticing you more after seeing this positive change in you.
5. There is more breathing space
There could come a time when the monotony of your life will frustrate you and your marriage will not have any breathing space. You will feel suffocated for no reason and negative emotions towards your partner will pile up. The entry of someone new into your life will help keep these negative emotions at bay. These feelings will eventually subside and you will start to see things more clearly. You will be able to breathe again around your partner. This is an advantage of an extramarital affair.
6. You could bring back the spark in your marriage
An affair arouses those inner desires and sexual cravings. You will crave being passionately desired again and this will help you be more forward about your sexual desires with your husband/wife. You will want to try new techniques that you may have learnt. The spark that you thought has vanished could be brought back and all those dry days are going to decrease.
7. Your emotions will direct you towards your partner
There is a reason why cheating is morally wrong. Going behind your partner's back is a sign of weakness. After your fantasy gets boring, your guilt and other emotions will weigh you down and make you realise that it was a big mistake. All these emotions will direct you towards your partner and you will find your way back to him/her. This is a major benefit of an extramarital affair.
8. It will make you contemplate your marriage
People usually tend to ignore the problems of their marriage and continue to go on without even thinking of fixing them. An affair opens the window of contemplation. You think about your marriage more because of the secrecy and guilt and as a result, you take your first step towards fixing your marriage by thinking about it.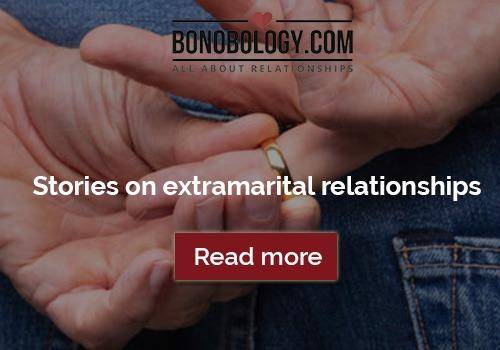 9. You become a happier person
A new relationship makes you a happier person, because of the excitement of new experiences. You are happier even around your partner and stop criticising and bickering with him/her. You have fewer fights, and in turn, your marriage is at peace for a while.
10. You will be more conscious of your actions
Doing something that is against the rules of marriage will make you more aware of your actions. You will start to think about the repercussions, and this will make you want to deal with it before its burden eats you up from inside. You will either stop or want to communicate with your partner about it.
11. You will realise that it is temporary
Most extramarital affairs are an escape from marriages to make one feel better. When you are sick, you go to the doctor to get healed. Once you are up and about, you don't go to the doctor again. Similarly, you indulge in an affair to fill a void. Once that void is filled, you don't feel like continuing the affair. You realise that the affair was just temporary, had an expiry date. Your marriage was the one to stick.
12. You will realise where your marriage stands
Having an extramarital relationship puts your marriage to the test. All those vows and promises of togetherness are at risk here. The emotional rollercoaster that you go through during this time is what makes you realise what your marriage means to you. You will realise whether your marriage is a dead-end or your end game.
In both cases, you will be able to save it.
How to maintain an extramarital relationship?
An affair can stay away from your marriage if you set ground rules. Successful extramarital relationships are the ones that never get caught. If you don't want your affair to come in the way of your marriage, then it is important to set ground rules for affairs. Here are some tips:
Keep your end clear. Express what you want the relationship to be and agree to the mutual terms of the relationship
Ensure that it doesn't get too personal. Once things get too personal, emotions start to creep in and an affair can become a love affair
Be kind. Your fling is not a disposable tissue. You are dealing with a real person here. Treat him/her like one
Ensure that your schedules don't clash with your family time. It will just make your partner more suspicious
Keep track of your messages. Make sure that you have cleared all your chat histories before your phone falls into the hands of your partner
We get married because we want to spend the rest of our lives with the person we love, with the idea that it's going to be forever. But then the reality of monotony creeps in. Your monotonous life makes you feel that your life is going in a loop. Irritation, discontentment and frustration arise and your 'happily ever after' seems to have too many loopholes and you seek something more with someone new. You just want an escape from your present life, want to relive how it felt like to not be tied in the shackles of marriage and give in to an affair.
Lying to your partner can be difficult. You feel that you love your partner but still feel the need to fulfil your desires elsewhere. An extramarital relationship, if exposed, can tear down marriage in the worst possible ways, especially if there are kids. Infidelity, though an enriching and sexually satisfying experience, has a way of coming back to bite you. Be careful when you indulge in an affair and make sure to cover your tracks if you want to keep it under wraps. Because your wife isn't going to like what's under them.