Do you believe that lying is a choice and not a mistake? A healthy relationship is built on the foundation of love, trust, and respect. When you lie to your partner, you drift away from all three of these key cornerstones of a wholesome partnership. In case you are struggling to decipher how to stop lying in a relationship, you should know you are not alone in this. According to the findings of a deception study, people lie to their romantic partners 5 times a week.
None of us can claim to be completely transparent with our partners. We all have our fair share of white lies, told to maintain peace and avoid uncomfortable conversations. But it's important to draw that line between an impromptu prosocial lie and a series of carefully fabricated lies and make it a way of life. 
Studies claim that the lesser you lie, the better your chances of improving mental and physical health. Are you looking for an escape route from a chasing guilty conscience? Do you wonder, "How to deal with lying in a relationship?" or "How to fix a relationship after lying?"
Then, you are just at the right place. We will walk you through five practical ways to help you stop lying to your partner. Stay tuned to discover the secret to building a better, happier future with your significant other.
Effects Of Lying In A Relationship 
We have heard the 'honesty is the best policy' adage enough to know that nothing rewarding comes out of lying. When you lie in your intimate relationships, there ought to be repercussions. Depending on the magnitude of the lie, these can range anywhere from a nasty argument to deep-seated trust issues in the relationship. 
The tricky thing about lies is that they unravel at the most unexpected moments. 
Care to take a look at how lying can backfire and adversely impact your relationship? Let's take a look at some common effects of lying in a relationship to understand: 
1. Breaking the trust
You are single-handedly ruining the truthful bond with your partner. When you lie, you put at stake your authenticity and dignity. Believe you me, trust is not overrated. Once shattered, it's difficult to glue the pieces back and undo the damage caused to your relationship. 
Related Reading: How To Trust Someone Again After They Hurt You – Expert Advice
2. Hurting your significant other
Knowingly or unknowingly, you are hurting your loved one with every lie. Sometimes you may not even be able to fathom the gravity of the wound your lies may cause. What seems like a harmless lie to you may turn out to be a deal-breaker to your partner. 
Even if you get away with lying at the moment, there is no certainty that it won't come back to haunt you. For instance, you may cheat on your partner and get away with infidelity for the time being, but when the truth sees light, it will scar you for life as it will affect every future relationship you will get into.
3. Evident disrespect for your partner
Yes, the truth can be hurtful. But transparency and mutual respect between two partners are non-negotiable. Without these, what is the worth of a partner in a relationship? Once you look at your lack of truthfulness from this prism, you will work harder to discover how to stop lying in a relationship.
4. The weight of guilt and stress
Guilt, shame, unworthiness, stress – it all goes hand in hand with a lie. Let's face it, we are humans after all. Conscience, morals, and ethics are very much alive in our subconscious. The constant guilt trips are undeniably one of the most adverse effects of lying in a relationship. It will eat you up inside and alter your behavior around the person you're deceiving.
5. Lies provoke more lies 
Do you remember Sheldon Cooper weaving a full-fledged storyline to get away with one lie? 
His roommate Leonard lied to their neighbor Penny about attending a symposium on molecular positronium to avoid her showcase. But Sheldon planned an imaginary drug intervention for his non-existent cousin Leopold because he thought Leonard's lie was 'laughably transparent'. 
We resort to more lies to cover up one. Before you know it, you are tucked under a pile of lies and there is no coming back from it.
Related Reading: What To Do When Someone Lies In A Relationship
How Do I Stop Lying In A Relationship?
Still reading? That suggests you are aware of your habitual lies and ready to put an end to them. Congratulations! Recognizing the problem is a huge step in the right direction. You are willing to mend your relationship and build a strong foundation based on honesty and truth. 
But old habits die hard, right? You cannot expect to wake up one fine morning and magically smudge off the damage that's been done. So, how to stop lying in a relationship? Accept that growth is supposed to be organic. Commit to changing your patterns, one day at a time. At the same time, gather the courage to face both the positives and negatives that come along your way.
Here are five tips to help you in your journey of figuring out how to stop lying in a relationship: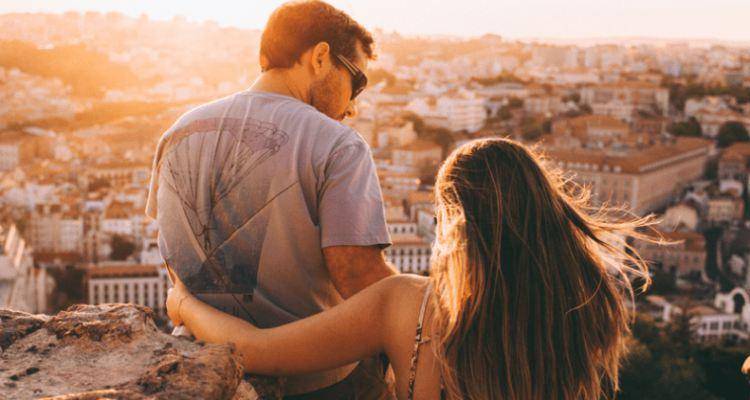 1. How to stop lying in a relationship? Trace the root 
To solve something, you have to first get to the root of it. Try to analyze the frequency, the circumstances and people around you who act as a catalyst. Watch closely when you are on the verge of another lapse. Are you ashamed to admit the truth? Do you get a kick out of getting away with your mischievous secret? 
Do you believe you are protecting your partner from a major breakdown by hiding the real facts? And most importantly, is it necessary to lie? Is it at all justifiable?
A research paper by Bella DePaulo, one of the world's leading experts in the psychology of deception, records 5 categories of lies: (1) their feelings and opinions; (2) their actions, plans, and whereabouts; (3) their knowledge, achievements, and failings; (4) explanations for their behaviors; and (5) facts and personal possessions. 
Once you identify the triggers, you can mold your narrative into a more honest and acceptable one. For instance, a wife making more money than her husband can become a classic trigger for marital discord. 
That doesn't mean you have to tiptoe around your husband with a big fat job offer. Communicate honestly and openly. Make him see how you can make both your lives more secure and convenient by accepting a better-paying job.
2. Do not hesitate to say no
"Yes honey, I absolutely love this vase."
"I would love to go shopping with you and Rachel."
"You were right! This vegan cheese is delicious."
Did you really like that vase or was it too tacky for your taste? 
Did you want to spend your Saturday night holding a purse in the store?
Was going vegan your choice or agreeing with your partner seemed a lot easier than admitting you enjoy dairy and meat?
This is where you are going south, my friend! These adjustments may not look like a big deal at the moment. But if you keep using lies as a crutch to avoid confrontations over small matters, ten years into the marriage, you will find it difficult to recognize yourself.
Well, then how to stop lying in a relationship? You have to voice your preferences equally. No, it will not hurt your partner if you rationalize your argument and do not belittle their opinions. 
Related Reading: How To Say No To Sex Without Hurting Him?
3. Learn to deal with the consequences 
Candor may bring out unpleasant reactions. If you do want to know how to stop lying to your partner, you have to understand it will always not be a smooth sail. There are possibilities of shouting, crying, breaking things, depending on the intensity of your truth.
Worse, you may lose your partner in the process. But, it will be a wiser choice rather than living together with a lie between you two. Or, it may so happen that a soothing candle-light dinner would be enough to toss over the negativity and move on. 
You have to be mentally prepared to face whatever comes and deal with it like a mature adult. Life has a tinge of both bitter and sweet, doesn't it?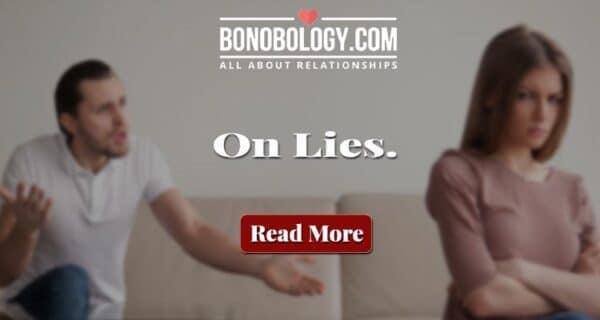 4. Quit justifying a lie 
Although it's apples and oranges, I can't resist dragging in Joe Goldberg from You. He had the delusional idea that it is up to him to protect the girl he is obsessed with. He was convinced that every eerie thing he did, including killing the girls, was a favor to them.
I am not comparing lying to serial killing here but the perception of self-justification. Your altruistic lies are not safeguarding your partner from reality rather just manipulating their feelings and emotions.
Be compassionate enough to think from your partner's point of view. How would you feel if you were the victim of constant lying in a relationship? Won't you have chosen the truth over manipulation?
5. Confess and communicate 
Finally, it's time for a clean slate. If you want a genuine relationship, lay all your secrets on the table. Value your partner's response and offer them space and time to deal with the facts. 
There is no one right answer to how to stop lying in a relationship. On your part, you could be patient and explain your thought process. Make them realize how you are putting your relationship first and making an honest effort. We wish you a happily-ever-after!
Related Reading: Happily Ever After – Myth Vs Reality: Sustaining After The Firsts
Dealing With Lying In A Relationship 
We do not suggest being an open book. Personal space should be respected. But the importance of healthy communication can't be stressed enough. The effects of lying in a relationship could be long-lasting. Couples therapy is a good option in case you are wondering how to fix a relationship after lying. 
Sometimes the triggers behind your tendency to lie may be hard to identify on your own. For instance, mythomania or pathological lying is a compulsive behavior where it's hard to control lying. There are multiple theories to trace the reasons for such disorders including childhood abuse, low self-esteem, depression and genetic issues.
If you find yourself lying for no apparent reason or motive, it can be helpful to talk to a professional.
So, we hope this article threw some light on how to stop lying in a relationship. It's not a walk in the park to deal with lying in a relationship. Seek help to stop lying even if it's from your close friends or kin. Whatever the consequences are, you will emerge stronger on the other side, experienced and wise.
FAQs
1. Can a relationship survive lies?
Strong bonding between two partners can survive a little white lie here and there as long as they are harmless. Covering up for forgetting to pick up the dry cleaning is acceptable. But it's advisable not to stretch the truth to hide an affair in the name of an office party. Truth somehow manages to be unveiled and you will not like the grim aftermath once it does. 
2. What does constant lying do to a relationship?
Constant lying will make your partner suspicious of your every move. And honestly, can you blame them? They will try to find falsity in your truths. It will be difficult for them to ever trust you completely. Your intimacy with your partner, both mental and physical, will be affected. 
If you want to keep this lying game on, you will always have to stay on your toes. Chances of getting caught are high because remembering every made-up story you have shared is no joke. Think about it, is it worth putting all the effort in?
3. Is lying forgivable in a relationship?
It depends on a lot of factors and varies from person to person because our narratives and perspectives are unique. The short answer is if the lie causes your partner pain, hurts their self-respect, tampers their self-image, it's not forgivable. At least, it should not be. 
But factors like financial independence, societal pressure, family issues, a child's future play major roles in a relationship. Not to mention, love and affection can lead people to forgive their partners even after a major setback. 
4. Is lying cheating in a relationship?
No, lying is not necessarily cheating. But it is cheating if your partner is lying about an affair. Using you for financial benefits or secrecy over financial matters borders on cheating as well. White lies are harmless as long as they are not very frequent and don't bug your mental peace. 
Healthy Flirting Isn't Damaging But Are You Crossing The Line?