A divorce brings tough times for both the partners, mentally and emotionally. Such stress and emotional torment can be dealt with peacefully with a stable support system. Apart from the family, friends and relatives, the list also includes a qualified divorce lawyer. Once you have decided to get a divorce, the next step is to find a good divorce lawyer.
Now this may prove to be a big challenge, as finding a good divorce lawyer in India may seem a daunting task. There are many reasons for it. First, the term 'divorce' itself is a big taboo in India and couples in the emotional mayhem do lack basic knowledge of divorce laws in our country. Due to no proper counselling at the right time, many of them end up visiting the offices of different family court lawyers and are vulnerable and experience tough, stressful times. They may even choose the wrong lawyer in the end.
But did you know, if you don't find the right lawyer, you could possibly lose a lot of money and time and complicate the process further. Even if both partners decide to settle their divorce issues, including child custody and division of assets, it is a good idea to consult a good divorce lawyer. The ideal way out of this tricky situation is to find the right divorce attorney in India, right in the beginning. So now you must be wondering what things you need to keep in mind for hiring a divorce lawyer. Let's scrutinise the procedure point by point.
Prepare for your divorce case
When choosing a lawyer, first understand the basics. Undergoing a divorce is your own decision, and a lawyer will just support you in this process. If you think he will take a lead in dissolving the marriage, then you are wrong. A lawyer will just support your decisions with his able acumen and practical legal wisdom.
Before hiring any lawyer, first analyse the situation in hand, including the severity of the differences in marriage.
Did you stay separate for a minimum of 6 months?
Did you try to reconcile your differences with your partner?
If "yes" is your answer, then keep these details ready in hand. Research about your case online, including the divorce laws under which the relevant legal 'Marriage Acts', which are mentioned below:
Hindu Marriage Act 1955
Special Marriage Act 1954
Muslim Personal Law in India
Points to consider when choosing a lawyer for a divorce case
There are plenty of factors to consider when choosing a lawyer. Sometimes all a couple needs is someone who will guide and support them through the process. Since you have already prepared for your case, 'your clear expectations from the case' may make things easy while choosing the right lawyer. If you simply want steadfast dissolution without contesting any case, then a lawyer who can facilitate mediation and arbitration is the best resource.
However, if both the partners are not able to reach a mutual consensus on the divorce, then contesting the case is the only solution left. Trivial issues like division of property, alimony or child custody may require you to choose someone who is really good with complicated financial matters.
Related reading: 15 most common reasons for divorce
Prior research, analysis and contemplation of divorce may help you present your case to the lawyer with much clarity and smartness.
Search in the right places
Start with referrals from family, friends, and colleagues. This will be a good way to generate a list of potential attorneys. Do your research, and find someone that you can both trust and afford. You may even 'Google' your way while searching for the right attorney lawyer in your area and check their online reviews or ratings. Nowadays, some mobile applications (Divorcekart) are also trying to clear the haze around divorces in India with a list of divorce attorneys in your area. Once you have your list of potential divorce lawyers, start with the interviews.
Know what questions to ask when choosing a divorce lawyer
A proper perspective of your case gives you much clarity while approaching the lawyers in your vicinity. In your head, you know your expectations from the divorce and need expert legal support in the form of your divorce attorney. So, choosing a divorce lawyer is a very important decision. That is why you need to know the right questions to ask. You can ask about experience, including actual trial experience. The below-mentioned questions can also help you understand the lawyer's expertise:
How many years have you been working as a divorce attorney?
What is your success rate, that is, track record in handling divorces?
How many cases have you contested/mediated/arbitrated till date?
As an attorney, how many years of actual trial experience do you have contesting cases in the courtroom?
Do you have a team who is into bulk paperwork? Or you will be handling the bulk paperwork alone?
How fast can you resolve the case? How will you handle the situation, if there are any unwanted complications from the other side?
Look for attentiveness
If you have a chance to meet your lawyer in person, before you hire him/her, look for signs that may seem like possible red flags. Note whether they are dismissive of other divorce lawyers, divulge confidential information about other clients, or are easily distracted. If they reflect negative influences in the beginning, then avoid hiring them.
Check out the fees of the lawyer
Did you know? Divorce cases in India can linger on for years and years. The stretched out procedures may put a dent in your pocket in terms of divorce lawyer's fees. So before hiring a lawyer, find out more about his/her initial consultation and recurrent fees. Don't miss out on seeking information about the additional paperwork. Usually, the more experienced attorneys have fat pay cheques. So, before hiring a divorce lawyer, determine the 'fee' structure for a seamless divorce procedure.
Related reading: Financial assistance for divorced moms
Dynamically adapts according to divorce case requirements
When you are hiring a divorce lawyer, you need to look for someone who is professional and doesn't try to be your therapist or counsellor to rack up your bill. Based on the above-mentioned questions, you can select a lawyer who is pragmatic and adaptable according to the needs of the case. There might be unwanted situations, in the case of a contested divorce. Therefore, while selecting the best lawyer in your area, you must be able to 'trust him/her' completely.
Don't hire a lawyer who is acting too pricey
Select a lawyer who is conveniently accessible and is a great listener. Don't just hire a lawyer who has the impressive success record, but has very less time to listen to you. Such lawyers might delegate the case to juniors of their firm. As a result, you may complain that he/she is not giving your case enough attention.
Be transparent with the divorce lawyer
Don't hide anything from your lawyer. Be open about the problems you had in the marriage, including verbal, emotional or physical abuse. This clarity will help you and your lawyer present the nitty-gritty of the contested case in the court strategically. It may also strengthen your divorce case against your husband/wife.
Be comfortable in discussing your case
A divorce lawyer is not your friend, but you must be at ease with him/her while discussing the intricate details of your personal life. Empathetic lawyers who are great listeners can understand the problems you are going through and can support you with their practical legal advice. But if you feel that the lawyer is too professional and rough in conduct and you are not comfortable in his company, then don't go with him/her. This may make you feel hesitant all the time, and your case may suffer badly.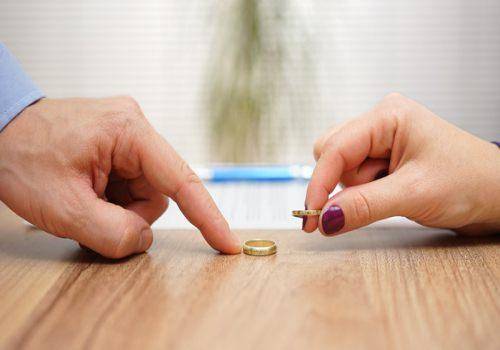 Related reading: When can I remarry after divorce in India?
A good divorce lawyer layers out a seamless divorce procedure for the couples. But the decision to select the best lawyer solely lies on you. Our Bonobology relationship experts feel that divorces can be tough on any individual, and a wrong lawyer could mess up the entire divorce proceedings. Ideally, you should follow your intuition and the above-mentioned steps for smooth divorce proceedings ahead. If you have any doubts, you can connect with our relationship experts for personalised guidance on divorce laws in India.
Here's How Women Can Stand On Their Own Feet After the Marriage Ends