Nobody gets into a marriage thinking it would end in a divorce. But if the marriage crumbles and you decide that it is not working anymore, here are some divorce advice for women that could be useful.
There are plenty of people ready with post-divorce advice when you are starting life afresh. But very few people can come up with the right divorce advice for women when they are contemplating a divorce and planning to tell their husbands that they would want to go for one.
Even before revealing your divorce plans to your husband, to the children and to your parents you need to be prepared and that is why we have come up with this article to help you out.
Related Reading: 15 Things Divorced People Should Know When Getting Into New Relationships
How Should A Woman Prepare For A Divorce?
When you decide it's time for a divorce you have to make certain preparations before you take the leap. And these preparations do not happen in a day. You need at least 6 months for the preparations.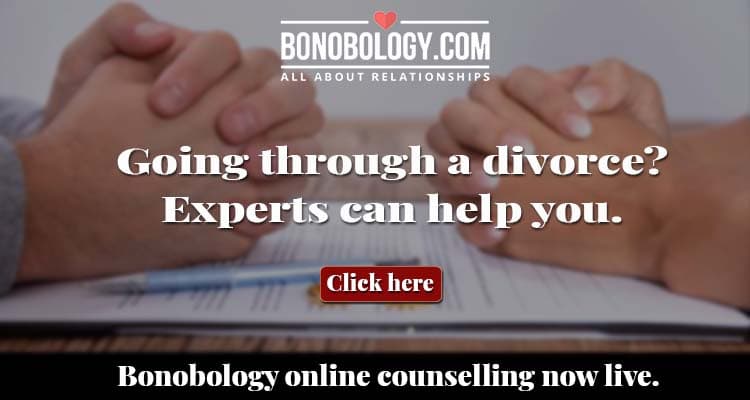 The first and foremost thing that you should focus on is your financial stability post divorce. You have to think of how to leave your husband with money when you are secretly preparing for a divorce. The money could come from a settlement or your own savings and earnings but our divorce advice to women is to be financially settled after a divorce.
When you are preparing for a divorce here are a few things you should look into.
1. It's a long battle ahead
Whether you go for a mutual settlement or have to go through a court battle you have to be mentally prepared for the daunting task ahead.
A divorce procedure is a long-drawn process that needs a lot of legal paperwork and there will be hurdles in the way that you have to overcome.
2. Keep a to-do diary
If you are sure you need a divorce our most important divorce advice for women is to keep a to-do diary.
You need to jot down all the things that you have to do on a daily basis to prepare for the divorce. Tick it when the job is done.
3. Start a divorce file
You can have a physical file where you keep all the documents that you would need at the time of divorce. This is very important to streamline the documentation process.
Also maintain a folder on your laptop, or create a Google Doc file, or use apps where you can have access to your documents online.
Related Reading: 15 Signs Your Marriage Is On The Rocks And Almost Over
4. Make a budget
Keep accounts of your earnings and spending for at least six months to get an idea of the budget you will need to survive when you are on your own. You might be already dealing with financial stress, your focus should be how to get out of it.
If you plan to be with your children then take their expenditure into account. Once the budget is in place you will know what kind of financial help you will need from your husband and this is one of the most important divorce advice to women.
5. Be careful of your e-trail
What you post on social media, message your friends on WhatsApp or who you send emails to, be careful of that.
The data you share on social media can be used against you in the divorce proceedings. Beware of data cloning on your phone. Many husbands going through a divorce use spyware to keep track of their wives movements.
6. Build a support system
The first step in leaving your husband is to build a support system. There will be plenty of people who will come and give you unwanted advice when you are planning for a divorce but there will be very few 2 am friends.
Weed out the nosy, parasitic people from your life and only focus on those people to whom you will be able to turn for support – be it financial or mental.
Related Reading: Here is why you can't fix bad relationships with fake smiles
What are the rights of a woman when taking a divorce?
Divorce in the US is under state law rather than federal law. So some of the rules and rights differ from state to state but here we put together the basic rights a woman has when she is filing for a divorce.
She can opt for a no-fault divorce when the dissolution of the marriage can take place because of incompatibility or irreconcilable differences and there are no allegations or faults involved
She can opt for an at-fault divorce when allegations are involved and you need a defense lawyer
Many women are going for collaborative divorce where with the help of an attorney and a divorce coach she can take informed decisions about the divorce with her spouse
Some women also opt for mediation divorce or summary divorce
States require you to be a resident of the state for a time frame of at least six weeks to six months to be able to file for a divorce from that state
What kind of property rights you will have depends on the state you are in. Some American states ascribe to the community property system where in case of a divorce the property is divided equally among spouses
She has a right to alimony if she is not financially sound or gave up her career to look after the family
She can opt for sole custody of the child or decide on joint custody
8 Important Divorce Advice To Women
When you decide it is time for a divorce the first step to leaving your husband is preparing for a divorce checklist. This is our most important divorce advice to women. If you are going for mediation divorce then you can also work on a divorce mediation checklist.
If you prepare a divorce checklist carefully then you are very clear in your head what you want, what steps you need to take and what are your weak or strong points in case of a contested divorce.
Here are out 10 very important divorce advice to women.
1. Get a good attorney
Paying through your nose for your attorney's fees does not assure that you get the best.
A good idea would be to ask around and find out from people how satisfied they are with their attorney's efforts during the divorce proceedings and then make your choice.
2. Look at your finances
Whatever may be the reason for your divorce our divorce advice to women is to do this in three steps. Save, budget and allot.
If you are secretly planning for a divorce then it is important that you start saving from a year back. Create a survival budget after the divorce and allocate your savings according to the budget. You will need to take into account attorney's fees and legal procedure fees. Also keep your financial statements ready.
3. Have your own bank account and invest
Most married people have joint accounts and shared expenses. The first step should be to have your own account and you can take out your portion of the money from the joint account and put it in your savings account. You can close or freeze your joint account if you wish.
You can also try some sensible investments to make your money grow.
Related Reading: 6 Relationship Problems Millennials Bring Up The Most In Therapy
4. Have your own credit card
Sometimes couples have joint credit cards where they spend and pay back from their joint accounts. So if your spouse is over spending you are paying for it. Money issues could have ruined your relationship. 
Having your own credit card would help you find out your own credit score and that will be also helpful in case you need to produce it in court. You should resolve issues on the credit report and you can also appoint a credit monitoring service for that.
5. Appoint a decision maker
In case something happens to you in the run up to the divorce or even after that, you can appoint someone to take the decisions for you. Suppose you go into a coma after an accident, someone has to have the authority to decide to take you off life support.
Also in case after the divorce anything happens to you and you are the sole custodian of the children you have to appoint someone to have the authority on them till they are 18.
Related Reading: An agreement before marriage is not a bad idea. Here's why!
6. Beneficiary of insurance policy and Will
Usually the spouse is the beneficiary of the insurance policy. But when you are going for a divorce you would want to change that. Make sure you do it to avoid complications later. But in case you had a prenup done then a lot of things have been taken care of already.
Create a Will too for your assets and savings especially for the period when the divorce proceedings are on. During this time you are still legally married to your husband, although mentally you have moved on.
7. Keep a divorce calendar
This is very important. Date wise jot down court appointments, mention when your husband did not make an appearance or violated an agreement. Write down conversations, mediation meetings, minutes of meetings with attorneys, every single detail.
Also keep track of your children's school events, doctor appointments and everything. When produced in the court this can show how organized, involved and focused you are.
Keeping a divorce calendar is our best divorce advice to women.
8. Research the law
Divorce laws differ from one state to another in the US. Researching the law in the state that you belong to will help you understand where you stand.
Knowledge is power and it will help you immensely when you talk to your attorney and navigate the courts.
Fact remains it is easier to get married than to dissolve a marriage. But when the situation demands and you want to secretly prepare for a divorce our divorce advice to women is to follow the points written above.
Even if she is in an abusive marriage which she is dying to escape from, what divorce does to a woman is it leaves her drained mentally. But if she prepares in advance she can deal far better with the trauma of a divorce.