In the realm of online dating, there is another dating website which has become quite well-known and popular owing to its features and personality based algorithm. OkCupid is for the youth who are bored of swiping and don't want the burden of serious relationships and kids. It's for millennials who want to have a good dating experience.
This article is packed with info about the site, such as OkCupid subscription cost, its features, an Ok Cupid review and many other interesting things you need to know before signing up on the website.
This site is available in more than 110 countries and has users worldwide. If you are fed up with catfishing and being stood up on dates thanks to fake profiles on dating apps, then OkCupid might change your mind about online dating. If you are asking questions like, "What is OkCupid?", or, "Is Ok Cupid good and how does okcupid work?", then you've come to the right place. Read below to find out the answers. 
What Is OkCupid?
The OkCupid dating site was launched in 2004 by the founders who also own Match.com, Tinder, Hinge and other popular dating websites. In 2018, the site got a fresh makeover. They revamped their site and rebranded their slogan to, 'Dating deserves better.' The majority age group in Ok Cupid dating site is between 25 and 34. If you are a beginner on dating apps, then learn a few dating tips for beginners.
What is OkCupid? In simple terms, it is a dating site which uses a mutual like system that matches people based on their dating preference and personality. Considered one of the most popular dating websites, our Ok Cupid review is mostly positive; mainly because it offers a space for more than 20 sexual orientations and 12 gender identities for users to choose from. If you are single and looking for affordable dating options, then OkCupid is the one for you.
Related Reading: Things Guys Do On Dating Apps That Instantly Creep Women Out
How To Signup On OkCupid?
This is one of the rare dating websites which is available in more than one language. Ok Cupid reviews are thriving because of its multilingual facets. The languages include – English, Turkish, German and French. If you are wondering how to sign up on OkCupid, then the pointers given below will be very helpful. Once you signup on the app and want to meet someone, find out first date mistakes to avoid in order to make the right impression.
1. Create an account
The answer to 'how to sign up on OkCupid' is pretty simple. You have to go to their website and enter your sexual orientation and gender. Enter all the necessary details such as age, location and your date of birth. Choose a username and password. Your username is important as that's how other users on this site will see and identify you.
2. Upload a picture
You are also given the option of uploading a profile picture. Your picture plays an important role as it will increase the chances of other matches viewing your account. Upload a variety of photos to make your profile seem more interesting and exciting. One of the unique qualities which benefits OkCupid reviews is its captioning. You can caption your photos which will boost your chances of appearing in OkCupid searches.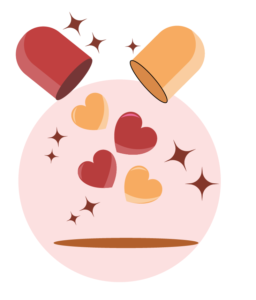 Get your dose of relationship advice from Bonobology right in your inbox
3. Answer yes or no questions
Fill the 'About Me' section. If you want, you can write a long paragraph or finish it in just one sentence. It will give other users an idea of what you are like and what you are looking for. To help you match with others, the Ok Cupid dating site will ask you seven yes or no questions. Answer the questions honestly to find the matches that you are looking for.
4. Like 3 other users
The final step of signing up on the OkCupid dating site is that you will be asked to like 3 other profiles. This will help the site understand and determine what kind of match you are interested in. To like someone, all you have to do is click on the faded star icon under their name. Turn the faded gray star into a yellow one if you find them attractive.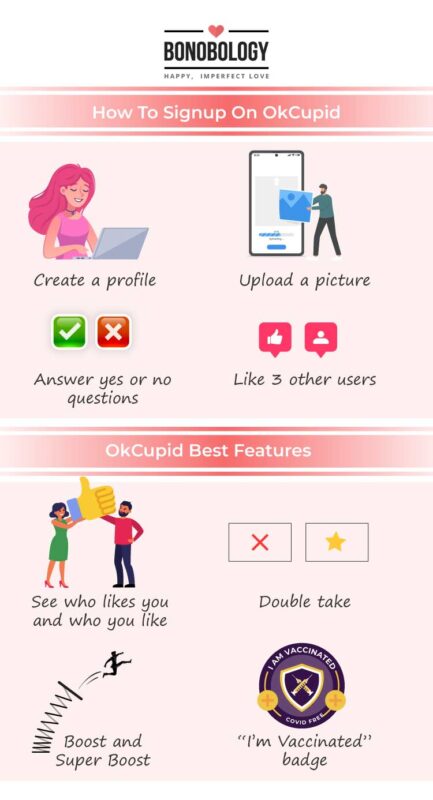 Pros And Cons Of OkCupid
OkCupid is famous between the age group of 30s and 40s. If you are serious about finding matches, then make sure you know all the pros and cons before signing up on the dating app.
| | |
| --- | --- |
| Pros | Cons |
| It is inclusive. It has people from the entire sexual spectrum and all genders | Has a negative OkCupid review of leaking data |
| Asks good questions to help with compatible matches | Has some fake profiles which operators seem to be negligent toward |
| Can use this site without the need to subscribe or upgrade membership | Even after rebranding, most people only want to meet for hookups |
Quality Of Profiles And Success Rate In OkCupid
The OkCupid website is famous for singles who are looking for dates which might eventually lead to serious relationships. It has a bad reputation of not being able to keep the scammers away. Once you've decided to meet someone, learn some tips for first date after meeting online and impress them. According to OkCupid reviews found on sitejabber, one user complained, "That dating company does not have a system in place to verify members! It is full of scammers and fake profiles!" 
Before you go on a date, proper screening of the profiles is an absolute necessity. If you are looking for one-night-stands and erotic adventures, then Ok Cupid isn't the right dating website for you. OkCupid profiles are of very good quality as they are very detailed and informative. Their profile pictures are visible for everyone on the website.  
One of the good Ok Cupid reviews on the site is truly heartwarming. A user shared, "I only used the free service. Went on a few dates with guys who claimed to want to build a proper relationship but seems they would have been more suited to other apps for random one nighters style of things.
"But then a real, genuine, kind and funny man found me on OkCupid and literally swept me off my feet. OkCupid gave us a match score of 92%. I can't believe how much we have in common. Despite very different personalities, we compliment each other so well in every aspect.
"We have been inseparable since our first date. He moved in with me in a month, and helped me to care for my dying dad. We have also been on holidays together. We have shared every moment of joy and sadness together in the past year. May we have many more together."  
The quality of profiles may sometimes be questionable, but its success rate speaks volumes. If you are wondering, "Is ok cupid worth it?", then the answer is in its statistics – the site is responsible for 91 million love connections per year!
One Reddit user shared, "My dating history with OkCupid spans 12 years or so. In that time I've had great success (one 3 year relationship, several casual relationships, a 6mth relationship, many first date flops, and a new one going on 9 months. We're moving in together in September. In case you're doing math, I had a 6 year relationship from a meet cute). 
"I think the key is to screen well and have an accurate and serious profile. And believe me, I'm not particularly attractive, just nerdy. If you get a whiff of unease, don't meet that person, don't go on another date, say 'thanks but no thanks'." 
Related Reading: 10 Basic Netiquette Rules Everyone Should Follow
Best Features
To provide you with a full dating experience, Ok Cupid website has many diverse features. OkCupid also has an app which you can download from the App Store or Play Store. The free features on it includes visibility of all your potential matches, the ability to send and receive messages as well as the ability to send and receive likes. The features listed below, however, are for premium subscribers.
1. See who likes you and who you like
When you like many matches, you might forget to keep a tab on the number of profiles you have clicked. To help you keep track of those profiles, ok cupid has a 'likes' section where you can visit and see all the profiles you have shown an interest in. You can even message them if you want to make a move. Similarly you can view those who have liked you by clicking on the same 'likes' tab.
2. Double take
This is the 'match' feature on the OkCupid website. This feature is like roulette – if you like someone, then swipe right. If you don't like someone, then swipe left.
3. Boost and super boost
Boost is the feature which will help your profile get highlighted. This will show your profile more frequently than other profiles. Super boost increases your chances of getting likes more than usual. This extended boost is available for a certain number of hours, for example 12 hours, 6 hours and 3 hours. The OkCupid cost for this feature is quite affordable as well. 
4. "I'm Vaccinated" badge
It's the post-covid era and this badge makes it an essential feature for those who are extra concerned about health and safety. This badge is shown on the profiles of those who are vaccinated. 
Along with all these unique features, the site also has blogs which share dating tips and advice. It also has 60 new identity options for LGBTQ users. This is where the OkCupid reviews get better. No other platform offers such diversity and inclusivity. From 'Twink' to 'Drag Queen', there are many options you can choose from.
Related Reading: Online Dating Advice – 23 Important Tips
Subscription And Pricing
The Ok Cupid cost is quite low compared to others in the market. If you're asking, "Is OkCupid premium worth it?", then it depends on what you are looking for. It is known to be one of the most affordable online dating sites.
If you are in a rush to get married and settle down, then this is not the right app for you. If you are looking for hookups, this still isn't the right dating app for you. But if you are looking to date someone and get to know someone, then it is worth it. 
| | | |
| --- | --- | --- |
| Membership Type | Membership Length | Membership Cost |
| Basic | 1 Month | $11.99 |
| Basic | 3 Months | $7.99 monthly |
| Basic | 6 Months | $5.99 monthly |
| Premium | 1 Month | $39.99 |
| Premium | 3 Months | $26.66 monthly |
| Premium | 6 Months | $19.99 monthly |
| Add On – Boost | 1 Credit | $6.99 |
| Add On – Boost | 5 Credits | $5.99 each |
| Add On – Boost | 10 Credits | $4.99 each |
Is the subscription worth it?
If you are asking is Ok Cupid premium worth it while living in a place where this app isn't used by a lot of people, then the answer is 'No'. You can try the app for free or upgrade it to a basic version if you are genuinely interested in meeting people through this app or if you've found someone you actually like. 
If you want to instantly match with someone rather than scroll the feed, then you might as well update it to the Premium version of the Ok Cupid dating site. The subscription is definitely worth it if you love meeting people online. If you want to date someone and aren't in a rush to get married, then there's no harm in upgrading.
If you are still asking, "Is OkCupid legit?", the answer is 'Yes'. It's a combination of classic dating sites and the swiping app category. So yes, the answer to, "Is OkCupid worth it?", is a big 'Yes!' 
One Reddit user shared, "I met my wife on OkCupid (admittedly 5 years ago), so in my opinion definitely worth it! I had also tried Tinder and Match.com, but found that the more detailed profiles on OkCupid made it easier to work out who I would enjoy getting to know more." 
One more user shared, "I liked it better than the other paid sites. I've used ChristianMingle, Match, and eHarmony. OkCupid was the best and I found my current boyfriend there. I answered many questions and tried matching with guys who were in the 'green' 90% match…worked out great for me!" 
OkCupid Alternatives
If you are still not sure about the Ok Cupid profile reviews, then there are many alternative dating sites which you can try signing up on. If you want swipe apps, then try Tinder, Bumble or Hinge. If you are looking for something more serious and traditional, then eHarmony and match.com will serve that purpose for you.
Our Verdict
There are an umpteen number of dating platforms out there but only a few like OkCupid which stand apart. It is extremely organized in the way it runs. The way the Ok Cupid website breaks suggestions down by categories makes everything more organized and helps the users to have an idea of what might or might not work with a possible interest. Now that's an interesting quality to have in a dating app. 
If you want to date someone and not indulge in only sexual adventures, then this is the perfect app for you. Overall, the OkCupid review is quite positive; the site just gets some critique regarding the scammers and fake profiles, but to be fair, that's a problem on many dating apps and sites. All in all, OkCupid is affordable, has unique features and should be a must-try for those who love to meet new people and make new connections. It definitely gets our vote.
FAQs
1. Is OkCupid better than eHarmony?
They are both two different apps for different purposes. If you are desperately looking to get married, eHarmony is the right choice. But if you are bored of swiping and want to try the dating scene for a while, then OkCupid is the right option to go with. 
2. OkCupid vs eHarmony, which should you choose from?
They are both well known apps. OkCupid offers free service, but if you want to use the upgraded features, only then you'll need to pay. But Match.com is a paid app. Match is famous only in the USA whereas Cupid is legit and has users all over the world.
3. Is OkCupid safe?
There are some security flaws and data leaks which spread like fire which resulted in bad OkCupid reviews. You need to scan the match properly before going on a date with them.
4. Does OkCupid have fake profiles?
There are some security flaws and data leaks which spread like fire which resulted in bad OkCupid reviews. You need to scan the match properly before going on a date with them.
5. What is the safest dating app?
eHarmony is known to be the safest dating website.
6. Does OkCupid have an app?
Yes. It has an iOS app and an Android app.
7. Does OkCupid have a free trial?
It is free and has many features in the free trial such as view profile, send and receive likes as well as messages.
Zoosk Reviews: A Balanced Analysis Of The Popular Dating App