Are you looking for some no-strings-attached fun? Instead of coffee and movie dates, do you want incredible one-night stands where there is no pressure of calling that person again? Then you should go through this HUD app review – the hookup app that helps you match with potential partners whose bedroom interests are just like yours.
From 'forever and ever' relationships to casual dating – everyone has their own version of love that they find on dating apps. The only problem, however, is the number of dating apps that exist. Reading so many dating site reviews confuses you even more. Which one is not a scam? Are hookup apps safe? Which one will not make you feel like practicing celibacy for the rest of your life?
We have performed a HUD dating app review for all you hopeful singles out there, in order to make this process a little less mind-numbing for you. HUD dating site has been the talk of the market for a while, and it is natural for you to want to give in to the hype. But if you find yourself wondering – "Is HUD app legit?", "Does HUD dating work?", "Are HUD dating app scams real?", "How to cancel HUD subscription after I've found what I'm looking for?" – continue reading. You will have all of these and many more of your questions answered. 
How Does HUD Work?
Before we answer that, do you know what does HUD stand for? It's an acronym for hookup dating. So, before you go ahead and download the app or pay for a premium membership, we should remind you that it's an out-and-out hookup app, a very safe space for real hookups. Just in case you are expecting to meet your Prince Charming after one right swipe, this dating site would be a huge disappointment.
Now that we are clear on "What is HUD dating app?" and what we are looking for through it, let's move on to the "How does HUD work?" part. Well, the shorter version of it is that the HUD hookup process is simple to understand, time-saving, and easy on your pocket. Unlike many other dating sites, HUD is inclusive of all gender and sexual orientations. And HUD dating reviews on the internet will tell you that they are sworn to make online dating a risk-free experience for you.
The signup process is really quick and accessible to both iOS and Android users. You can get the ball rolling with a free account and pay a monthly fee later to unlock more features.
HUD app can be easily downloaded on mobile devices from the App Store or the Google Play Store
You can sign up using any of the three options: Google, Facebook, or Apple ID
Once you choose one of these options, you will be sent an OTP on your mobile number for confirmation. Email verification is not required
The next step entails filling out basic information like your birthday, gender identity, and what you are looking for on HUD 
Afterward, it is time to upload a profile picture. It goes through a photo verification process to make sure it meets HUD dating site guidelines, like your face is clearly visible and there's no minor in the picture
Later, the app asks you for personal information such as height, zodiac signs, sexuality, smoking, etc.
The last step is to link your Instagram or Spotify to your profile if you'd like to
Related Reading: Top 12 Best LGBTQ Dating Apps – UPDATED LIST 2022
Key Features
Is HUD a good app? It is one of the most popular choices and you know what makes it even better? It declares and promotes itself as a flirting and hookup app and maintains complete transparency with its users. In fact, its major features are designed keeping in mind the concept of casual dating.
Knowing the features of an app is crucial for a new user. You need to decide whether an experience is worth spending your precious time, energy, and money on. Keep reading as we have managed to gather all the best features of the HUD app, and see what appeals to you the most.
1. No endless scrolling
Unlike Bumble and Tinder where you need to swipe left and right to see the list of matches available for you, HUD shows them to you in one go. Our HUD app review promises that the users will not feel disappointed swipe after swipe. They will instead be able to view the bigger picture and act on exactly what pleases their eye. 
2. The Bedroom
We believe that HUD wants their users to be honest about who they are and what they want sexually, hence they have introduced a feature called The Bedroom. This feature lets you mention everything that you like to do or be done to you in the bedroom, such as bondage, dirty talk, or blindfold. Or maybe you prefer a vanilla relationship in bed. Mentioning this on your profile prevents you from wasting time, energy, and effort talking to someone whose interests are widely different from yours. This particular feature is fun, innovative, and might just ensure you a very good time. 
3. Inclusivity
What is HUD dating app like for the LGBTQIA+ community? If there is one thing that will catch your eye in many HUD reviews, it is the inclusivity of genders. A lot of apps try to be more gender-inclusive and all they do is add 'transgender' to their standard gender list of men or women. HUD, on the other hand, has 37 genders apart from men and women for their users to choose from. Not only does this feature promote acceptance and awareness, it also promotes the normalization of multiple genders. 
4. Safely badges
Safely, a company that promotes STI/STD testing, education, and treatment, has collaborated with HUD. Those who pass the Safely exam will receive a special badge on their HUD profile, indicating that they are safe from sexually transmitted diseases and infections. This feature not only raises awareness about STIs and STDs in the dating community but also destigmatizes conversations around sexual health. It ensures that users connect with only those people who are equally concerned about their sexual health journey. 
5. Boost feature
This feature is unavailable to users who have a basic membership. During the review process, we found that users need to pay for a membership if they desire to access the Boost feature. Boost puts your profile on top of all the other users to increase your chances of finding better matches faster. 
6. Customer support
A major letdown while conducting the HUD hookup app review was the lack of customer support. HUD continues the unfortunate trend of the casual dating industry's lack of customer service. The support options available to an existing user are to either try and find their issue in a list of FAQs or to fill out a generic feedback form if they are still not content. There are no phone numbers or email addresses for users to hold the app accountable, or to even communicate with their staff. 
Related Reading: 10 Online Dating Red Flags That Should Not Be Ignored
Pros And Cons Of This App You Need To Know
We have reached the most exciting part of our HUD dating app review. It's pros and cons time! It'll help you answer: Is HUD a good dating app? You will now have a clear picture of everything that's good about this hookup site, and also the aspects it is lacking in. Below, we have curated a list of its merits and demerits so you can make a sound decision for yourself. Weigh the pros and the cons and see if HUD is the dating app that you have been waiting for all along.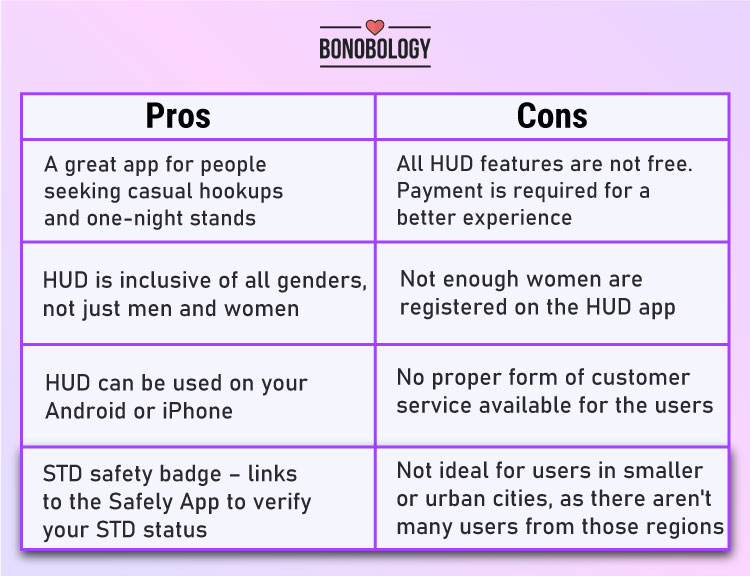 Pricing Of The HUD App
After thorough research and an intensive HUD app review, we found that it offers various membership plans and features. The basic membership for HUD is free with unlimited matches, basic search filters, and up to 60 potential matches on your feed. If you want access to all the features of this hookup dating app, you can sign up for a premium subscription.
What you'd get with a premium subscription: Unrestricted messages, powerful search criteria, unlocked 'Viewed me,' infinite location-altering, unlimited potential matches, unlimited 'Rewinds,' and read receipts on all messages. For even better HUD features, it offers a Diamond membership for the users who want their profile to be seen worldwide.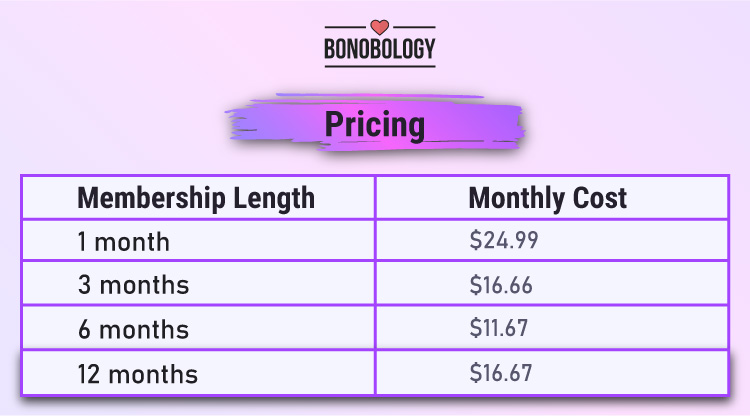 Success Rate Of HUD App
How are you enjoying this HUD hookup app review so far? Stick till the end because we still have a lot of information to share that will certainly clear your doubt if you're wondering, "Is HUD app legit?" More and more users seem to be warming up to this dating app. We've compiled data about what makes HUD a success. Here it is:
Does HUD dating work? You bet! Otherwise, it won't be able to build a user base of over 10 million people
The swipe-free, no-strings-attached nature of the dating app has made HUD one of the fastest-growing hookup apps in the App Store
The HUD app was first released in 2015, and by 2016, it made its place in the top 20 most downloaded apps in the lifestyle category on iOS
HUD reviews show that it has a 4-star rating on Google Play and a 4.1-star rating with over 100,00 reviews on the App Store
HUD App Alternatives
People have different preferences when it comes to online dating. Are you looking for something long-term? Are you tired of the cheesy hookup messages and want a steady partner now? After going through several HUD dating reviews, you may realize that hookup dating is not your thing.
If, for some reason, you find yourself searching for other options, make sure they check all the standards and goals you have in your mind. Below are the 5 best alternatives to the HUD app:
Related Reading: Top 15 Best Alternatives To Tinder – It's 2022!!
Tinder
Grindr
Hinge
eharmony
Coffee Meets Bagel
Where is the HUD app available – PC, iOS, Android?
The HUD app can easily be downloaded from Google Play if you are an Android user, or from the App Store for all iOS users. But is HUD a good dating app to download on your PC? Well, HUD app is currently not available to use or download from a PC unless you use the help of external emulators to run Android applications on your computer. However, we suggest that you stick to the phone version of the app in order to use it whenever you want. 
And this concludes our detailed HUD app review. We believe if you are looking for a relationship, then the HUD app might not be what you need. However, if you believe that this app is exactly what you've been looking for, do not waste any more time and get yourself registered.
Our Verdict On HUD App
Now that we have cleared all your queries regarding the app, it's time for a final verdict from team Bonobology. Here's the summary of our balanced analysis:
One of the many eye-catching elements of HUD, unlike other dating apps, is that it's honest with the users about what it is offering
The app is clear about what it advocates: casual dating, not serious relationships
The app shows no bias or differentiation based on one's gender. It is a place where everyone can find someone to cherish and hold – for a night
On HUD, users can finally be honest about what turns them on sexually, and most importantly, what doesn't. A sexual encounter that is consensual and honest will give you a night to remember
The app also allows two people to log in as a couple, as WE, who are looking to gain meaningful sexual experiences individually, and with each other
HUD is breaking all existing stereotypes regarding dating and hookups, by becoming more receptive to the needs of its user base
However, HUD is a dating app for only those single people who don't mind paying a little extra to find their potential match. Most people would shift to hookup sites that are accessible without payment, especially after seeing how restrictive the free version of HUD is. The free version hardly gives the user an idea of the potential experiences they can have, causing them to feel uninterested and unsatisfied. 
Related Reading: How to Make An Effective Online Dating Profile
Before we conclude this review, here's a piece of advice for our readers since your safety is our only concern. Despite the STD badges and other security measures, HUD dating app scams are still happening. Users are being blackmailed for money after sending nude content and these crooks hide behind fake profiles. For the sake of your safety, be cautious about whom you are revealing your private affairs to, and don't trust people immediately.
After conducting the HUD app review, we believe that this dating platform is definitely worth trying, especially for those who are sexually straightforward in this new age hookup culture. In that case, this app can give you experiences of a lifetime. So, what do you think? Are you ready for a HUD hookup?
This article has been updated in July 2023. 
FAQs
1. Is HUD same as Tinder?
HUD and Tinder are both casual dating apps. However, there are distinct differences between the two. Tinder is accessible for free while HUD requires a fee for its best usage. HUD gives the user all potential matches at once, while Tinder can seem like endless scrolling.
2. Can I use HUD for free?
Yes, users can use HUD for free for a limited period of time but they won't be able to access most of the features.
3. Who owns HUD app?
Edward Chen, the Founder and CEO of C & Z Tech, owns the app.
4. Is HUD a popular app?
HUD is one of the most popular casual dating apps in the market.
5. Is there a free trial for HUD premium?
Yes, the free trial for HUD premium lasts 7 days.
6. How to cancel HUD subscription?
You can turn off the auto-renewal of your subscription from App Store or Play Store settings 24 hours before the end of your current plan.
11 Alternative Dating Sites – Mainstream Is Not For Everybody
Zoosk Reviews: A Balanced Analysis Of The Popular Dating App