What's the best free dating site for serious relationships? In the quest for a meaningful connection with someone special, finding the perfect platform is paramount in today's digital landscape. With many sites vying for attention, it's essential to identify the most reliable and effective options available in 2023. These top-rated dating websites offer various features and tools that cater to those seeking committed partnerships. 
From comprehensive matchmaking algorithms to insightful compatibility tests, the label of the 'best free dating site for serious relationships' has some serious competition. These sites aim to enhance the likelihood of finding a compatible partner with similar long-term goals and values. Whether you're a seasoned dater or just stepping into the world of online romance, these 15 handpicked free dating sites hold the potential to lead you toward a lasting and fulfilling relationship.  
They are rightly considered the most successful dating sites available in the market right now.  Let's dive right in and learn more about the best dating apps for long-term relationships in 2023.
15 Dating Sites to Try When Looking For A Serious Relationship 
You no longer have to think about how to meet people to date seriously. The moment you decide to find a meaningful, long-term relationship, the universe conspires to help you. Welcome to the dating world with many possibilities at a touch or a swipe.  You can choose from personality-based online dating platforms that prioritize compatibility to niche dating sites catering to specific interests.
Today, we have curated a list of the top 15 best free dating sites for serious relationships in 2023, offering options from casual dating to committed relationships. While basic features are free, consider a premium membership for unlimited messaging and advanced filters, supporting the services' sustainability and improvement.
Remember, safety and enjoyment are essential in finding someone special. Explore these apps and choose the one that best fits your requirements. Trust me, there is something for everyone, and your special someone is a screen touch away. So, which dating site is best for serious relationships? Let's find out.
1. Zoosk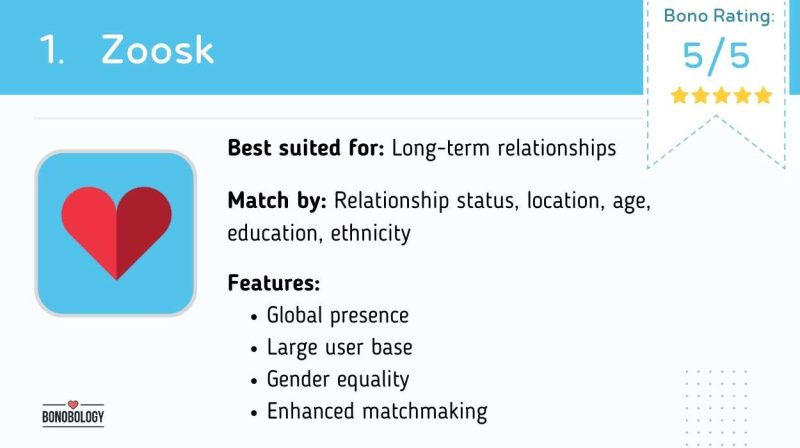 Zoosk has earned its name as the best free dating site for serious relationships and as a user-friendly online dating platform that stands out for its intelligent matching system. It easily tailors potential matches to your preferences.
Features
Some think of Zoosk as the best free dating site. You start with a free membership to make your dating profile and see local singles. But to chat with your matches, you'll need a subscription. When you're a subscriber, you can try the Great Dates feature, which lets you have video dates with potential partners. It's like adding an adventure to your connections. 
If you want extra fun, there are 'Zoosk coins.' These digital coins let you do cool things, like making your profile stand out or sending cool virtual gifts – A little something to make your dating experience even better! Zoosk is available on iOS and Android, and is considered by many as the most effective dating site online.
Pros 
Budget-friendly membership plans
Vast dating pool
Tailored matchmaking 
Cons
No free video chat option 
Paywall for advanced features 
Related Reading: How To Write A Dating Profile – 8 Tips To Make It Stand Out
2. eHarmony
eHarmony is a renowned dating site recognized for its compatibility-based matching system, aiding users in finding deeper and more meaningful relationships. Users favor it as one of the best dating sites for real relationships.
Features
It is easy to create a dating profile on eHarmony and search for singles. The basic version is a free dating site; however, you'll need a subscription to start a conversation. This can be a tiebreaker for people who are hesitant to join the site. But the company offers regular, free communication weekends and discounts to enjoy the full experience without breaking the bank.
Its single premium service, with various subscription lengths, sets it apart from other dating apps. The longer you stay subscribed, the lower your monthly cost.  This gives you more flexibility in your dating journey. Try this site if you are looking for a date, someone who can be your partner in real life. eHarmony is available on iOS and Android.
Pros 
Detailed matchmaking and compatibility algorithm
Good gender ratio (51% men to 49% women)
User-friendly and easy to navigate
Focus is on long-term relationships
Video dating and messaging features available
Cons
3. DateMyAge.com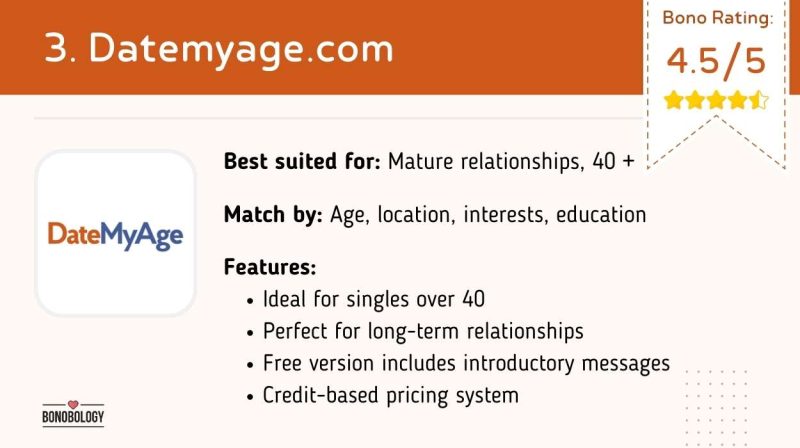 DateMyAge.com is the best free dating site catering to individuals looking to connect with partners in their age group, facilitating matches between potential relationships based on shared life experiences. It is considered a safe matchmaker for mature daters.
Features
If you are looking for the best free dating site for serious relationships, DateMyAge.com is your go-to platform.  It uses a credit-based system, offering monthly subscriptions with three tiers: 50, 600, or 1,500 credits. Most users spend credits on video calls, messaging, gifts, and unique features like multi-messaging and broadcasts. 
The mobile app is a more affordable option with added benefits, including Let's Mingle service and 50% off purchases compared to the browser version. The app is available on Google Play and the Apple Store.  
Pros
Top dating site for singles over 40
Advanced search filters for precise matchmaking
Balanced gender ratio
Offers partial refunds for unused subscription credits
Cons
Intrusive push notifications, possibly spam
Expensive messaging features compared to other sites
Limited matches for queer people
Related Reading: 11 Dating Sites And Apps For Widows – 2022 Updated
4. Match.com
Distinguished in online dating, Match.com boasts a long-standing reputation, drawing from its vast user community and offering a versatile array of features for companionship seekers. Some people consider it as the oldest and the best free dating site for serious relationships.
Features
Match.com is a dating platform with over 25 years of experience, revolutionizing the industry with millions of success stories and genuine dating profiles. Their real-life dating experts and intuitive features are here to guide you through every step, from that first message to your exciting first date. You are in the right hands if you are looking for a serious relationship.  
Is Match a good dating site for most age groups? Yes, it has a diverse community — An attractive age/gender ratio where 19% are 18–29, 44% are 30–49, and 37% are 50+. Also, 80% of them have attended college or hold a college degree. Match.com is the perfect dating platform for single parents as well. The app is available on iOS and Android.
Pros
Established track record for building trust
Well-regarded mobile app experience for iOS
Mutual match features
Cons
Limited profiles
History of fake profiles and messages resulting in a lawsuit
Lack of platform updates
5. Dating.com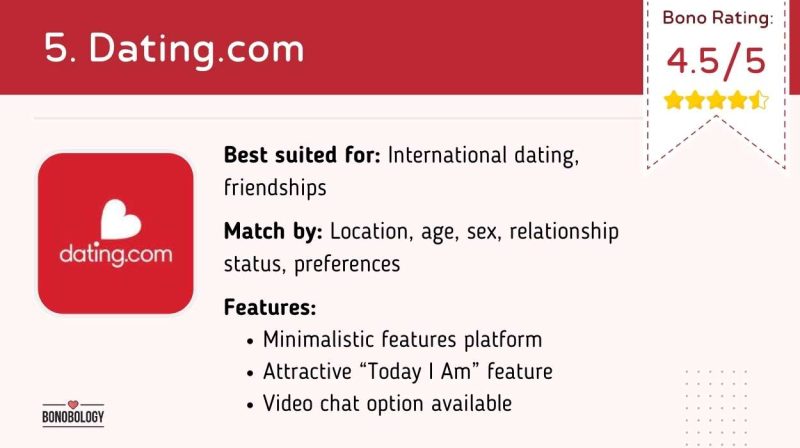 Dating.com is an international dating platform connecting people worldwide, offering a diverse range of profiles and communication tools to foster connections. 
Features
At Dating.com, the focus is on the excitement of meeting new and diverse people without relying heavily on algorithms. The platform's minimalistic design offers a streamlined experience that can be easily adjusted on the go. You can change your dating goals based on your mood without changing your entire profile.  You can also enjoy the added perk of video chat for international dating. If you have been wondering which dating site has the highest success rate, then you are on the right track with Dating.com. This versatile site is available on iOS and Android.
Pros
Large user base
Customized dating experience
Good for variety and flexibility
Diverse dating options for LGBTQ+ people 
Cons
Feature costs can accumulate rapidly
No credit refunds upon leaving the platform
Free version doesn't unlock all Dating.com features
Related Reading: Online Flirting – With These 21 Tips You Will Never Go Wrong!
6. EliteSingles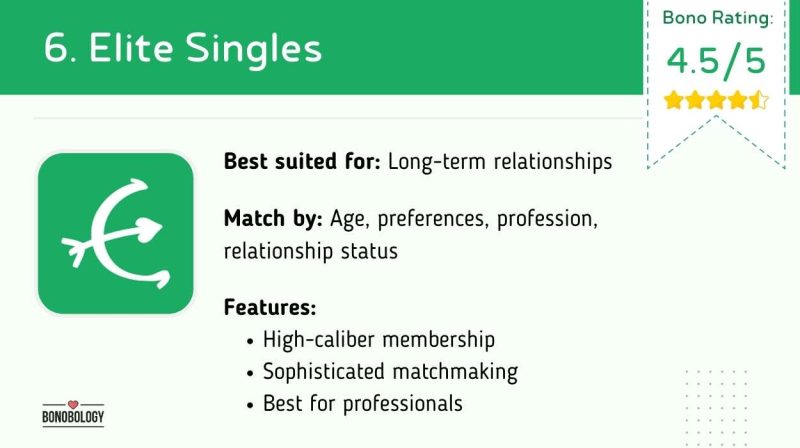 EliteSingles is a dating site tailored for educated and ambitious individuals, emphasizing quality matches and meaningful connections. It is considered the best app for long-term relationships.
Features
EliteSingles is an online, long-term dating app catering to single professionals looking for compatible matches. Their match list includes doctors, lawyers, businesspeople, and other high-profile individuals. Create an account, set up your profile, and search for matches. The robust algorithm and thorough personality test ensure high-quality potential partners. While the platform emphasizes connecting with highly educated individuals, you don't need a college degree to join. EliteSingles is available on Android and iOS.
Pros
Rapidly growing user base in 25 countries
In-person and virtual speed dating events offered
Majority of members hold tertiary degrees or higher-level certifications
Tinder-style 'Have you met' feature includes profile info and photos
Inclusive for PoC and LGBTQ+ individuals
Cons
High subscription fee
Outdated user interface
Smaller user base compared to other dating sites
7. SilverSingles
SilverSingles is a dating site designed for elite singles and relationship seekers over 50, focusing on creating meaningful connections and companionships among mature individuals.
Features
If you're single over 50, SilverSingles is the best dating app for you. Like other top contenders, it offers a comprehensive sign-up process, allowing you to add a personal touch to your profile through a personality test and essay-style questions.  This enables you to find relationships through compatible matches. The diverse member base ensures a range of hobbies, lifestyles, personalities, looks, and interests. It is perfect for finding companionship, friendship, or a serious relationship with that special someone.  This app is available for Android and iOS users.
Pros
Serious online dating
Intelligent matchmaking
Equal gender distribution
Genuine profiles
Average 2,000 new couples each month
Present  in more than 20 countries
500,000 members worldwide
Cons
Cumbersome sign-in and questionnaire
Paid subscription for photos
Related Reading: 10 Best Free Dating Sites In Asia Without Payment
8. ChristianMingle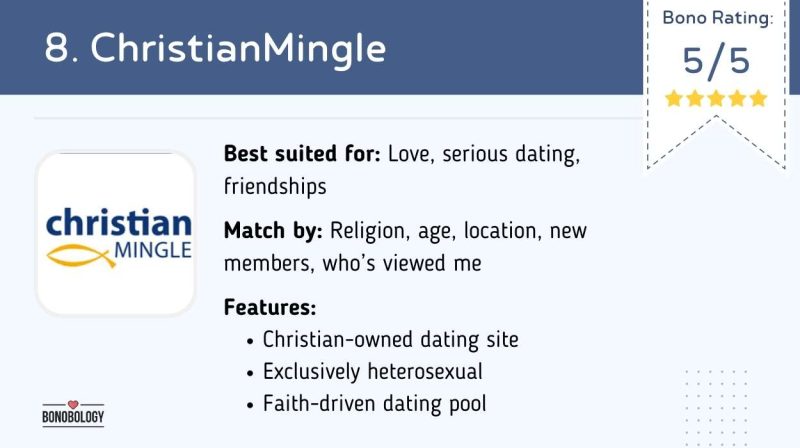 Catering exclusively to Christian singles, ChristianMingle shines as a faith-centered dating site, fostering connections rooted in shared beliefs and values, making it a sanctified space for love to flourish.
Features
ChristianMingle is a Christian dating service. It is considered the best app for long-term relationships and one of the most popular dating sites for marriages within the Christian community. Although it welcomes people of all religious backgrounds and beliefs, about 71% of its members are regular churchgoers. Christian singles join this network because their faith is essential to them, and they seek a partner who shares and understands this important aspect of their life. 
The site is secure, and your personality test data remains protected.  You can join this app for free and connect with like-minded Christians in your area. Mobile option is available for Android and iOS users.
Pros
Safe and niche dating site for Christians 
Stringent monitoring and removal of inactive profiles
Sophisticated security to keep data safe
Cons
Only serious connections are prioritized, not casual dating
Excessive bots on the site
9. Tinder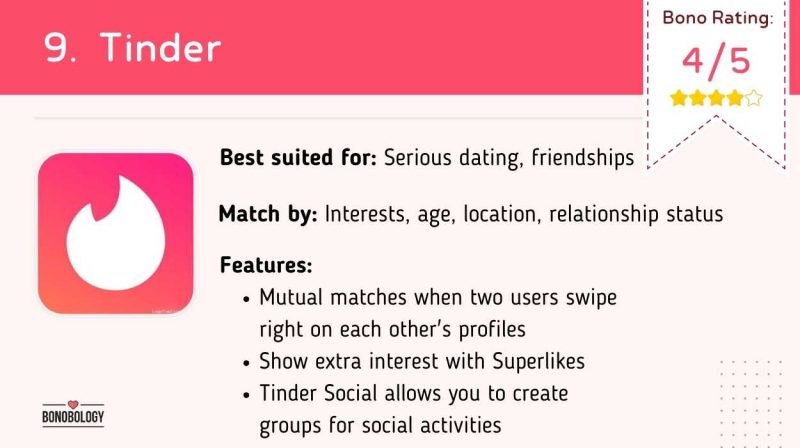 Tinder is a widely used dating app that revolutionized modern dating, allowing users to connect with potential matches based on location and preferences. It employs a swiping interface to make the process engaging and dynamic.
Features
Tinder's signature feature involves swiping right to 'like' and left to 'pass' on user profiles, creating an intuitive and interactive way to find matches. Utilizing location services, Tinder suggests matches in proximity, enhancing the possibility of real-life connections. Users can add photos, a bio, and connect their social media accounts to personalize their profiles. Mutual likes result in a match, enabling direct messaging between users. A noteworthy attractive feature of Tinder is that users can send a Super Like to express heightened interest in a profile, grabbing attention effectively.
Pros
Large user base
Ease of use
Location-based
Mix of text-based chatting, photo sharing, and even GIFs
Cons
Superficiality due to heavy emphasis on photos
Limited information on profiles
High subscription costs for unlimited swipes
Related Reading: The Ultimate Funny Online Dating Questions
10. Plenty Of Fish
Plenty of Fish (POF) is a popular dating site known for its extensive user base and free features. It provides a diverse platform for individuals seeking various types of relationships and connections.
Features
You can enjoy several free version features when you create a profile on Plenty of Fish. These include sending messages to other users, a limited number of First Contacts each day, uploading a limited number of photos to your profile, setting up advanced search filters, viewing a limited number of profiles, and taking the Compatibility Predictor quiz. Plenty of Fish offers these free options to enhance your dating experience. It helps you connect with potential matches more effectively if you are looking for serious relationships. POF mobile app is available for both iPhone and Android users. 
Pros
Huge user database
Relationship chemistry test
Instant messaging
POF login points
Goldfish credits
Interest-based matchmaking
Cons
No video chat option
No ID verification
No chat rooms
Too many advertisements in the free version
11. Happn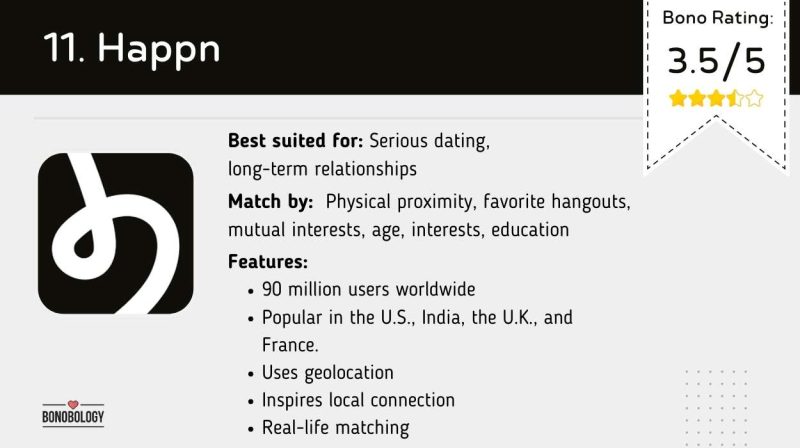 Happn is a unique dating app that connects you with people you've crossed paths with, offering a serendipitous way to meet potential matches based on real-life encounters and shared locations. It is one of the best apps for serious relationships, especially for those who believe in destiny.
Features
Happn uses geolocation to track users and enables them to discover all the people they have crossed paths with. Elite singles like you can enrich your profile by adding your favorite places, categorized into events, bars, restaurants, sports, culture, and outdoors. Most users can easily discover places on other users' profiles or through the Map feature on Happn. The Map allows users to explore various locations and find singles who have 'favorited' them, thus connecting individuals with shared interests. 
This fosters a genuine Happn community, as recommended and certified places become trusted spots for arranging first-time meetups – A perfect recipe for finding your love if you are looking for a serious relationship.  It's available on Android and iOS.
Pros
Unique matching approach
Harder for scammers and bots to make accounts
Chance encounters are thrilling
Cons
Limited dating pool
Small-town singles may quickly exhaust potential matches
Matching is strictly proximity-based
Safety can be an issue
Related Reading: Best Dating App Conversation Starters That Work Like A Charm
12. BlackPeopleMeet
BlackPeopleMeet is an inclusive and empowering platform purposefully crafted to unite Black singles seeking meaningful connections in a place free of racism. With a focus on fostering a supportive community, this niche site provides a welcoming space where individuals can embrace their identity and culture, making it the best free dating site for serious relationships for Black and biracial people.
Features
BlackPeopleMeet is one of the most straightforward and best matchmaking dating sites primarily catering to the Black community, and those interested in dating individuals from this community. It boasts nearly a million members, with around 1,000 new registrations daily, making it the largest dating site for Black singles. It is considered one of the best dating sites for marriage too. 
While its main focus is to enable Black individuals to find love, friendship, and a safe space, the platform also welcomes members of other races. It is LGBTQ+ friendly, promoting equality and inclusivity for all. It is, by popular opinion, one of the top practical dating sites that work efficiently. It is available for Android and iOS users as well.
Pros
Exclusive black community platform
Robust search parameters
A user-friendly interface
Easy navigation
Cons
Limited access for free members
Fake or inactive profiles
User base concentration varies from region to region
Low response rate with free messaging
13. Hinge
Hinge is among the leading legit dating sites that fosters authentic connections, encouraging users to build relationships based on shared interests and conversations.
Features
NYC-based Hinge is the best dating site for serious relationships with its 'Designed to be Deleted' tagline. Operating exclusively on mobile phones, it offers unique biographical categories and a $30 subscription for advanced features. 'Prompts' and 'Standouts' are its highlights, adding flair to profiles and helping users find compatible matches efficiently. It is perfect for those seeking genuine, lasting love.  Hinge is a popular dating app loved by many daters for its fun and entertaining experience. It's available for Android and iOS users.
Pros
For serious relationships
A dating app for minimal effort
Engaging profiles
In-depth matching algorithm
Selfie verification
Cons
No desktop version available
Premium subscription required for access to certain features
Diverse user goals, from serious to casual relationships
Smaller user base
Profiles you've skipped may reappear in your feed
Related Reading: How To Respond To Pick Up Lines On Tinder – 11 Tips
14. Bumble
Bumble is one of the most famous dating sites that actually work with women's empowerment in mind. Here, women initiate conversations, enabling users to make connections within a female-friendly environment, whether for dating, friendships, or professional networking.  You are very likely to find your perfect match on Bumble.
Features
Bumble's UI/UX prominently incorporates a bee theme throughout its design. It's a legit dating app where only women have the power to start conversations with matches. There's a 24-hour time limit for messaging. The app offers video and voice call features too. 
It is one of the best apps for serious relationships, but users can also find friends (Bumble BFF) and professional connections (Bumble Bizz) through the platform. Right swipe to accept a profile and left swipe to reject. Matches are based on user preferences, which ensures meaningful connections. Bumble is considered by many to be the best dating app for long-term relationships. It's available in Android and iOS.
Pros
Woman safety and empowerment
Right-swipe method
Multi-purpose — Also useful for BFF and Bizz
Protection against harassment
Cons
Only a 24-hour window for replying to messages
Limitations for the male users as they can't initiate conversations
15. OkCupid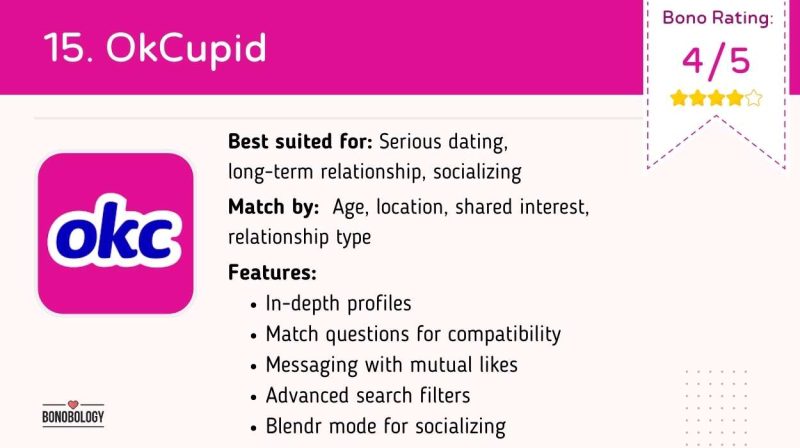 OkCupid is a versatile dating platform that uses personality-based matchmaking, offering users a diverse space to find connections based on compatibility, values, and interests. It facilitates the process of meeting people beyond geographical restrictions.
Features
OkCupid offers a range of distinctive features, including in-depth profiles that allow users to showcase their personalities and interests. This dating app for serious relationships uses match questions to gauge user compatibility. Messaging is enabled only when there is a mutual interest, streamlining the communication process to create dating connections that work for you. 
OkCupid's Double Take acts like a social icebreaker, letting you quickly decide who catches your eye and could be a great chat partner. They have a Super Boost feature that puts your profile at the top of others' searches for a long time. Adding to the charm, their Stacks feature neatly organizes your matches into groups like 'nearby' or 'online,' making finding your kind of connection even easier. Available for Android and iOS.
Pros
20+ sexual orientations, 12 gender identities
Advanced filters to fine-tune search for perfect matches
Many useful features are free of charge
Inclusive of all ages, genders, ethnicities, races, and sexualities
Instagram linking
Messaging is restricted to mutual matches, reducing spam
Cons
Dead profiles and catfishing
No random messaging feature
Limited customer support options
Ultimately, what is the best site for serious relationships? The one that works for YOU. And this list of the top 15 free sites will surely find you your perfect match in 2023. These platforms cater to diverse preferences, offering advanced algorithms to connect like-minded individuals looking for relationships. Take your time, compare dating sites, enjoy meeting people, and find love online – Safely. Ready to take your dating game to a new level?
9 Worrying Signs A Cyberstalker Likes You And How To Protect Yourself