There's nothing better than flirty dares over text to spice things up with someone you've just started to see. Not only is flirting fun, but it also gives you an inkling of what the person you're texting is like. Not everyone will have the same sense of humor as you do, and the sooner you realize it, the better. It's easier to deal with awkwardness on a phone screen than when you're just unzipping your jeans in an unfamiliar apartment. Moreover, you get to know what this person is like when they're not facing the prospect of being all prim and proper.
So, here's a list of 69 dares, with varied levels of craziness, ranging from something absolutely funny to a few that might not be everyone's cup of tea. So, let's have a look at 69 'talk flirt dare' questions.
Naughty Dares To Do Over Text With A Boy
June, a friend, says, "You'd think dares to do over text with a boy should be along the lines of doing a hundred push-ups or cooking a pot-roast. But why not give him tasks that give us a window into his soul and tell us if he has any red flags?" I agree wholeheartedly. So, here are a few good dares over text that will not only spice up your first date but will also give you some insight into this guy's psyche.
1. Dares for your boyfriend over text — Fake an orgasm
Though mostly considered the monopoly of women, men have their own reasons for faking an orgasm. And their expressions may leave both of you in stitches. So, the next time you're texting, ask him to fake an orgasm. Perhaps, he will tell you about some crazy night when he did fake an orgasm.
2. Put ice cubes in your pants over video
Ask him to set up a FaceTime call, and when the phone camera has been set up, ask him to drop an ice cube in his pants. And get ready to laugh together, though he may be squirming more than laughing.
3. Ask him to eat an orange like he would eat a girl
It's said that a great indicator of a guy's skills in bed is how he eats his food. So, have a look at how good he is… at eating an orange. Ask him to take an orange and eat it like he would a girl. There can't be anything as raunchy as this one.
4. Ask him to act as if you two are in bed and he's you
Another great thing you can do is ask him to pretend that you two are in bed and enact his romantic fantasy. Ask him to play his favorite song, dim the lights, set up his camera, and pretend to be in a sexy scenario, either with a pillow or a teddy (if he owns one), as if it's you. It can be incredibly funny, and you can give him cues as you go.
Related Reading: 25 Games To Play With Your Girlfriend – Fun, Flirty, And Exciting
5. Sing a song in an accent and post it online
This can be funny as long as there is no racial stereotyping. You can ask him to sing a song or narrate a monologue in an Irish, Russian, or French accent and post it online. However, this can result in an online backlash if there is a hint of fetishizing or disrespecting a race. So, they should choose their audience wisely.
6. Perform a pole dance with a broomstick
When you think of flirty games to play with your boyfriend, make sure it's something that brings them out of their comfort zone. Perhaps, you can check their dancing skills by making them do a Tango or Waltz with a broomstick. Put on a romantic song and make them play Channing Tatum from Magic Mike.
7. Give a flower to the 11th person you meet
If he's out on an errand while he's talking to you, you could ask him to show some gratitude. Ask him to take a flower with non-romantic connotations (or with romantic connotations, depending on how risqué you want it to be). And give it to the eleventh person he sees or meets. It'll be funny watching him count people only so that he can give a flower to a complete stranger.
8. Ask a guy if they find him attractive
Another flirty dare over text that will result in peals of laughter at both ends is to ask him to turn on his camera while he's out, pick a person, and ask your guy to ask that person if they find him attractive. As the shock of the question registers on the stranger's face, you can nudge him to ask the stranger to kiss him.
9. Ask him to describe his private parts using only flower and fruit analogies
This is a juicy dare for your boyfriend, as most guys are not used to using flower analogies. Sure, many of them will use some funny anecdotes related to eggplants and bananas that will crack you up the next time you eat banana bread. Additionally, if this guy appears to be one of those men who aren't comfortable being associated with anything feminine, you can get him to loosen up by making him think of bell-shaped flowers or flowers that ooze fluid when touched. 
Related Reading: 50 Questions To Ask Your Significant Other To Know Them Better
10. Describe one sex position you hate
One of the most truthful questions to ask your boyfriend is his opinion on the act all men love to harp about. Not all men are good in bed, despite what they assume. And fewer talk about it when it's not fun for them, for fear of not being taken seriously. Asking them to describe their least favorite sex position makes them come out of that shell.
11. Send a seductive picture to a random friend 
This could be funny or even a hard dare (if he has a complicated relationship with his friends). Ask them to click a seductive picture, either posing like Michelangelo's David or a duck-faced Manga heroine and send it to a random friend. Your guy may then choose to offer an explanation or let his friend be bewildered without one. Not only will this tell you how comfortable your guy is in his skin, but it'll also give you an idea of how funny he is.
12. Order a seductive-sounding cocktail at the bar in your loudest voice
Ask him to go to a bar and order, in his loudest voice, dirty-sounding cocktails such as 'Pop My Cherry' or 'The Legs Reader'. Nothing can be more hilarious than hearing him demand 'A Slippery Nipple' at the top of his voice. You can suggest funny punishments for losing as an incentive against backing out.
13. Kinky truths and dirty secrets
How to turn a guy on over text? One of the things you can do to spice up your conversations is to dare him to tell you a dirty little kinky truth — an embarrassing story that no one knows. This guy could choose to tell you about something extremely wild, such as a story about how he jerked off to a picture of his best friend's mother or about how he was a stripper in his college days. Either way, you'll get to see a hidden side of him.
14. Dares for over text — Send a sexy selfie
If you're looking for dares to do over text with a boy, you could ask him to send you a sexy selfie. It's up to him how far he will go. He might send a shot of the top of his body, with his abs all ripped, or he might choose to send you a nude in all his glory.
15. Write my name on your chest with a permanent marker
Athena, a filmmaking student, spoke about her experience with a guy she met on Reddit. "Since both of us were Nolan fans, he asked me to walk like I was going back in time, while I made him write my name on his chest. He used a permanent marker and couldn't get it out the next day. I had a great laugh." Now, that does sound like a great dare to do on a text conversation.
16. Dress yourself using your underwear only
This could be a fun one. Ask him to dress himself, using only his underwear. And see him wearing a range of briefs and boxers on his arms and legs, looking like a one-of-a-kind Jockey model.
Related Reading: 21 Kinky Foreplay Games To Turn Up The Heat
17. Crossdress dares
You could also ask him to crossdress if he lives with a female roommate or with his sister. It will be fun watching him wear padded bras and mini skirts. You could ask him to shave his legs if you want to go the extra mile.
18. Shop for a sex toy
Ask him to shop for a sex toy for you. It could be online. Or if he has the guts, he could go to a store and ask for the most embarrassing gift of his life. If you want to make it more adventurous, make him ask questions such as, "How to clean a vibrator?" or "Can a man use it?" Let's hope he isn't anything like the Bus Rodent from Fleabag, squirming after seeing so many things that might do a better job than him.
19. Wear ladies' underwear
One of the dares for your boyfriend over text could be to ask him to wear ladies' underwear. You can suggest a range of underwear options, such as shorts or hipsters, but it will be even spicier if you ask him to try something that he'd want to see on you, like a crotchless G-string.
20. Send a DM to your crush
You can also ask him to send a DM to his crush. The crush could be a celebrity crush or someone he knows. Be respectful of his boundaries, and don't ask him to write anything he's not comfortable with. But if he's up for it, ask him to express his admiration for them.
21. Shave your chest to form my name
One of the dares for over text for a guy who's up for anything is to ask him to shave his chest on FaceTime so it can form your name. It would be spicier if you could ask him not to shave the rest of his chest for the rest of the week.
Related Reading: 300 This Or That Questions For Couples – Funny, Flirty, Juicy, Deep & Random
22. Send your internet search history for the last two days
Something you can do to get an idea about the guy is to ask him to send his internet search history for the last two days. Be mindful and ask him to send the history of the browser he uses, or he might send you the news bulletin he receives from Edge. 
This is the kind of thing that really is a window to his soul. Not only will you get to learn about his R-rated preferences, but you will also get to know how frequent he is on social media, what kind of politics he believes in, or if you are dating a stalker.
23. Eat the spiciest things in your pantry
If your guy is adventurous, he will lap this one up. Ask him to eat the spiciest thing in his pantry. It could be noodles, hot sauce, or ghost peppers. Be careful while playing these 'dare you to love me' games, as certain food items could be dangerous. So, there may be a need for medical intervention if things go wrong.
Spicy Dares Over Text For A Girl
Anson, a resident doctor from Chicago, told us, "I rarely get time off. But in the little time I get to spend with a girl, I would want it to not be icy or awkward, which happens a lot since I'm an introvert." In such cases, it can be helpful to break the ice using flirty dares over text. Here are some good dares over text that you can ask your girl to do: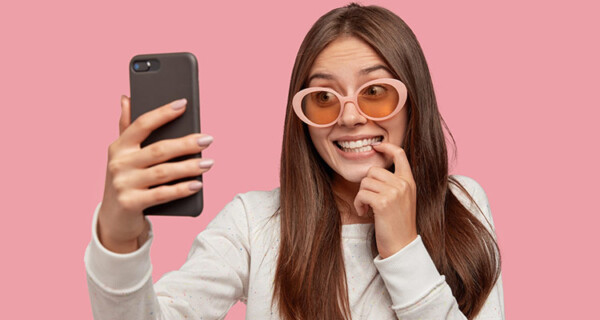 1. Read a random book in a seductive way
Move over the 'what are you wearing' flirty text. If she's a book nerd, you can ask her to take her Austens, Brontes, and Wildes out and read some of them in her most seductive voice. And if you're really into this dare, then I'd suggest The Miller's Tale from Geoffrey Chaucer's The Canterbury Tales.
2. Send a seductive selfie wearing all your clothes
You may observe signs of low self-esteem in your woman for not looking a certain way or not living up to the latest beauty standards. So you can break the ice with her by asking her to ditch her hottest outfit and click a seductive selfie in her baggiest clothes instead. She can also pose wearing all her clothes. To your surprise, you'll find that she looks like a bomb in whatever she wears.
3. Spin an imaginary hula-hoop without a bra
Take it from me: this one is mild but fun. You get to shake your waist like you've got this hula-hoop thingy around you. But while you think you look stupid, he thinks you look amazing, especially with all the action going on underneath that shirt.
4. Spice it up with online strip poker
I know a couple who did an online strip UNO, but that's not important. What's important is that you set up a game that both of you can play online, and the one to lose will have to strip one item of their clothing. And for every item you strip off, you've got to send a picture as evidence. It can get extremely competitive, but that's the point.
5. Talk only in rap songs for the whole night.
Rap or sing in rhyme. This is a fun romantic game for couples, especially if you've only gotten to know her recently. It's not something outlandish that might drive her away, especially if you're not looking for something short-term. But it's also not anything that will make her say you're a boring slob.
6. Ask her to write a love poem
You can ask her to write a love poem or a rap song about you, perhaps using some raunchy words. This love letter doesn't have to be amazing. The point is that the two of you should try new things and enjoy being with each other.
Related Reading: 43 Funny Tinder Questions Your Matches Will Love
7. Twerk to a Doja Cat song
A dare that can be the biggest turn on is to ask her to twerk on Doja Cat's Woman. After all, who wouldn't want to see some sexy moves? Even if she's got two left legs, twerking without an audience can be such a confidence booster for her.
8 Describe yourself using dirty talk
How to seduce a woman over text? Ask her to wear a Halloween mask and describe herself to you in a seductive way. This is one of the things that turns women on. This could also be a role-play if you too want to be in it. The possibilities here are endless, as a person may become anything once they hide behind a mask.
9. Send a voice note of you moaning to your ex 
Ask her to send a voice note of her moaning (as if she's having the best sex of her life) to her ex. She has to send you a screenshot of his reaction afterward. Of course, this means that she must be comfortable enough to send the note to her ex. It's a risky dare, so don't force her to do this if she and her ex ended on bad terms.
10. Do a lap dance on a chair
Another great dare would be to ask her to perform a lap dance on a chair while the camera is set up in front. Ask her to play a song of her choice and do some sexy moves while imagining you in the chair.
11. Pretend to have an orgasm in a public bathroom
You could also ask her to pretend to have an orgasm while she is in a public bathroom. Ask her to call you on FaceTime, and then start making sounds as if she's being ravished in the bathroom. You can offer cues, such as particular words or names.
12. Give a tutorial on how to wear a condom in a serious voice
If she's into the teaching business, perhaps you could ask her to do a sex-ed class for you. Ask her to give a tutorial as she would to a class of 20 teenagers. She can dress up in serious clothes and glasses and give out instructions on the best way to wear a condom on a video call. You can pose as the student and ask stupid questions to cheer her on.
Related Reading: How To Know If You Have A Crush On Someone – 17 Signs
13. Eat the first thing you find in your fridge in a sexy way
Now, this is tricky because she may not be a home cook and may have only condiments in the fridge, or worse, she may have things like half an onion, garlic, or chilies. But the weirder it is, the more fun it is. And you'll also get to know her culinary preferences. Ask her to eat whatever she finds in a sultry way on camera.
14. Write my name on your … with lipstick
Now, you could choose this location or ask her to be creative. All she has to do is write your name with lipstick on a part of her body. This will be fun to watch, especially if she has to look into a mirror and your name is something like Saoirse or Joaquin, both of which sound different than how they're written.
15. Do some wild flirting with your best friend's parents
If your girl has no problem going slightly risqué, then you could ask her to send a naughty message to one of the parents of her best friend and share their reaction with you. Now, this addictive flirty texting could land her in trouble. It could also lead to unsolicited messages. So, she better act with discretion. A wise idea would be to clarify as soon as possible.
16. Do a ramp walk in things that are not clothes
Ask her to put on a fashion show for you, using things like newspapers, cushion covers, bedroom linen, or whatever is available at her place. The point is to create the hottest outfit from things that are not clothes and to parade in it. If she's ok with it, you can suggest doing this walk in the hall, where neighbors might appear any second.
17. Spicy dares over text — Prank call your ex
If she has told you that her ex was an idiot, then perhaps it's time for her to get back at him. Ask her to call him with an imaginative but urgent excuse like "I'm pregnant with your twins." "Your mother asked my hand for you," or "I spat in your ketchup when I left." It can be as imaginative as you like. Let her take the lead on this one and laugh while she talks to him regarding non-existent twin fetuses on speaker.
18. Post a tweet using only the words that start with letter 'W'
Or ask her to use any letter, but she must use only those words that start with that letter. See her go through an online dictionary and struggle to form a tweet that sounds like, 'Peter Piper Picked a Peck of Pickled Peppers'.
19. Type wearing socks as gloves and post it online
Another dare of the same variety is to make her wear gloves, or socks if she doesn't have gloves (this is not the 50s anymore). It is almost impossible to type in gloves, and the sentence thus formed will be so ludicrous that as soon as she posts it, she will get all sorts of replies. Make it fun by asking her to type out her reply while wearing gloves.
20. Text your parents that you knew them before you were born
Mary-Ann, a student, told us, "This girl I was seeing had parents who were crazy Back To The Future fans. So I told her to play Marty McFly and tell her parents that she knew them back when they were dating. She was so enthusiastic about this dare that she meticulously researched the 1990s to shock her parents. Her parents were dumbfounded, and I, who was watching them through the phone camera, could only laugh into my pillow. " Well, that definitely sounds fun.
Related Reading: 201 How Well Do You Know Your Partner Questions To Test Your Intimacy
21. Text your parents that you've been arrested
Why not make your parents realize their worst nightmare? Well, you could suggest this to your girl if she's up to it and she's sure her parents won't kick up a riot. If she's into perfectionism, she could also have you call as an 'officer' and tell them you have arrested their daughter for something embarrassing, such as public urination or flashing her breasts at a protest.
22. Open your window and sing 'Like A Virgin'
'You look like a virgin, I could be your pope' might be the cringiest pick-up line, but singing the hit by Madonna could be fun if you live in an apartment block that's considerably quiet at night. Ask your girl to open her window and sing 'Like A Virgin' at night.
23. Dress like a cartoon character with things you have in your house
Ask her to dress like Bob The Builder or Barbie with the things she has in the house. It doesn't have to be perfect, but it will definitely bring out her creative streak. 
Flirty Dares For Your Crush
Flirty dares over text can also open the way for you to get close with your crush. Perhaps you and your crush have not exchanged anything more than polite 'hellos' or information for the next class, and you're not very brave about talking to them. In such cases, flirty dares for your crush over text conversations can be of great help.
Related Reading: 51 Truth Or Dare Questions To Ask Your Girlfriend – Clean And Dirty
1. Dress like a slutty nerd
This is one of the spicy dares over text for Potter fans. Ask them to dress as a slutty house elf looking for a sock or an angry Bellatrix. Or let them choose for themselves. Let their creative juices run free (pun intended).
2. Tell me a secret fantasy about you and your crush
Ask them to tell you a romantic fantasy (imaginative or not) that features them and their crush. Tell them to let their imagination run wild and tell you what they would do to them if they had no inhibitions.
3. Lick whipped cream off of…
Another FaceTime date idea you could suggest is asking them to lick whipped cream or chocolate sauce off a body part. Now, there's no reason to believe that they'll be extremely athletic unless they're regulars at Yoga, so be mindful of the places you suggest. The best places to suggest will be their arm, knees, and hands. 
4. Show the most flexible movement you can do
Speaking of being regular at Yoga, ask them to show you the most flexible movement they can. Many people can do pretty decent headstands or bend backward. It will be funny at first while they try to manage strange motions on camera. But by the end, you will have internal jokes to laugh at later.
5. Give a TED-Ed presentation of how bad your ex was
Make them do a TED-Ed presentation about their ex. When I was given this dare, I went the extra mile and actually prepared a slide presentation, complete with photos and screenshots I had saved. They won't tell you, but it's extremely cathartic.
6. Ask them to watch and narrate an adult video to a friend
This is one of the funniest dares over text. Ask them to call a friend and tell them they've watched something sensational. Ask them to then begin describing the actions in the video. It will be hilarious to see their friend realize that they're being narrated an erotic story about bodies humping each other. These freaky games to play with your crush will certainly be memorable for a very long time.
7. Ask them to describe The Godfather as a romantic fantasy
Or choose any movie, for that matter. It would be funnier if the movie in question featured very few erotic scenes. That will lead your crush to imagine wild instances. And it will result in you smiling every time Don Corleone says in his typical voice, "I'm gonna make him an offer he can't refuse."
8. Spank yourself in front of your roommate or family member
This is going to be hilarious if your crush agrees to do this in a public setting. All they have to do is spank themselves and record their reaction discreetly. They can make it more interesting by doing all sorts of erotic gestures and blowing passionate kisses to the audience. Who knows, this may even lead to you exploring some exciting roleplay ideas.
9. Mime sex positions to each other so they can guess
Another text game that you and your crush can play is to mimic sex positions using pillows, sewing dress forms, and, if they're into it, inflatable dolls. You get points for guessing correctly and will have to deal with funny punishments for losing. Try to Google the most unusual sex positions so that you can make the game more interesting.
Related Reading: 50 Hilarious Pranks To Do On Your Boyfriend
10. Send your most unflattering pictures to them
This could turn into a pretty romantic thing. Ask them to send a photograph of them that they think shows them at their absolute worst. Not everyone is comfortable in their skin. So you can send an unflattering picture of yourself to them. The purpose of this exercise is to see beyond the filters that we put on ourselves.
11. Tell me your most exciting dream
Another thing you can do is ask them to narrate their most exciting dream. Cliche, you may say. But I'd say old is gold. Our strangest dreams are the windows to our souls. So be prepared to listen to some crazy stuff, like them giving a passionate kiss to the blue hottie in Avatar or lording over their ex in their dreams.
12. Flirty dares over text for a movie buff — Act a scene out of Titanic
The Dreamers was not a movie for everyone, but it certainly had a lot of good ideas that you could use to break down that wall of awkwardness between you and your crush. So, make them enact a scene of your choice. Or, to make it more daring, make them guess a scene that you enact. If they lose, you can think of love punishment ideas.
Related Reading: 55 Best Ice Breaker Questions For Dating
13. Dress like a celebrity and post a picture online
Tiktok culture gave rise to the idea of celebrating one's body and fashion choices and gave ground to those who love to recreate the looks of their favorite celebrities. Ask them to do the same. Encourage them to create that much-talked-about golden blouse and sari that Gigi Hadid wore to the NMACC launch. If they're thrifty, you could suggest watching YouTube videos of Micarah Tewers, who always has some great Snapchat outfit ideas on how to turn bed sheets into couture.
14. Like a picture of your nemesis
This is something all people fear doing while trying to put an evil eye on their nemesis: ogling at their Instagram pictures and dissecting their looks. But this time, ask them to face their fears and double-tap that picture. The adrenaline rush alone will make them want to do more 'adventurous' things with you.
15. Walk the block while talking seductively to yourself
Another hilarious thing that you could ask them to do is walk around the block while they talk seductively to themselves. Ask them if they can discreetly record the reactions of the passersby for their 'solitary musings'. 
16. Send a dirty GIF to a friend  
Another flirty dare over text that you could ask them to perform is to download a dirty or extremely suggestive GIF and send it to a friend without any explanation. Ask your crush to avoid responding when their friend calls or texts them. This will make it more risque.
17. Google the naughtiest thing you can think of and send it back
This can be extremely intuitive and may give you an idea of what your crush is really like. Ask them to Google the naughtiest thing they can think of or their last search to which they masturbated, and ask them to send it to you. And that's how you make the room hot.
18. Read a section of Fifty Shades of Grey
One of the flirty dares for your crush, if they are into books, is to ask them to read a section of the good old mommy porn, Fifty Shades, or a classic Mills & Boons novel with lots of sexual tension. Not only can it be steamy, but it can also give you some idea about the kind of chemistry the two of you are likely to develop.
19. Send the link to your favorite adult video and explain why you like it so much
To make your conversations steamier with funny dares over text, you can ask your crush to look up their favorite adult video and send its link to you. Be prepared to be surprised by their secret kink.
20. Wear your bra/underwear on your head and walk in the hall for five minutes
I often dared the men I was seeing in college to do this. Ask your crush to wear their underwear on their head, make a funny face, and walk across their dorm hall for five minutes. You can be on video chat with them while they go through the countdown. 
21. Do a sexy dance to 'Baby Shark'
Or to 'Wheel On The Bus'. This dare focuses on making your crush try to imagine a seductive environment with something that everyone associates with toddlers. It is not easy to do this dare without breaking into fits of laughter, and that's what you're going to witness once your crush starts trying to perform a pole dance using an imaginary pole.
Related Reading: Is It A Date Or Are You Just Hanging Out? 17 Helpful Tips To Know
22. Add a story about "I met my soulmate"
Ask them to add a series of Instagram stories about an imaginary scenario of them meeting their soulmate. The more imaginative this story is, the better. Later, both of you can have a great time reading reactions to it from other people. Now, that could turn into a romantic thing.
23. Call your ex and tell them that you miss their dog
Or their cat, or any other pet they had. Think about the kind of reaction that would get. 
Are you still wondering how to spice up a conversation over text? There are so many ways in which you can spice up a conversation with a person instead of using a pick-up line. And the easiest way to break the ice is with 'talk flirt dare' questions. From asking about their first kiss to asking them to jump off a cliff in freezing seawater, the possibilities are endless. Though this list gives you 69 different ideas to spice things up with your crush, remember that it takes two to tango. Respect their space and don't suggest something with which you may not be comfortable yourself. Other than that, have fun!
Pet Names For Couples: Cute Couple Nicknames For Him And Her
Ask Our Expert
You must be Logged in to ask a question.