This is my Ask our ExpertThis is my Ask our Expert
Trying to find your perfect match but not sure where to start? That's where the Zoosk dating site steps in! Helping singles across the globe to find friends, partners, soulmates, and even life partners, this platform helps you scour through millions of profiles to find the best one – or so claim all the Zoosk reviews doing the rounds.
Dating sites can be a great way to start a conversation with strangers, something that all of us are wary of in real life. But the very app in the garb of which you seek comfortable conversation can turn out to be a con. Not all dating sites are reliable and user-friendly. So, what is all the hype with the Zoosk reviews? How does Zoosk work? Is it the right dating app for you? Trust this balanced review to help you make a call if you are considering joining it.
We have this comprehensive Zoosk review to get you an insight into the dating app, and one that will answer all your questions: what is Zoosk, is it really good, how does Zoosk work, is Zoosk a good dating site, how to sign up on the platform, and everything in between.
What Is Zoosk?
First things first, let's understand what it is all about, and the rest of the hows, whats, and whys will fall in place. So, what is Zoosk? It is an online dating company. How does Zoosk work and what can it do for your love life? It helps you find the right partner by personalizing your dating experience. So, no "one size fits all" policy at work here.
Zoosk dating service uses Behavioral Matchmaking technology that smartly picks your preferences based on your actions, to facilitate the best matchmaking in real-time. In a nutshell, it is an international platform for online dating that offers heaps of features to chat with people across the globe, find their matches, and forge friendships, dates, and relationships.
With 35+ million global users, 3+ million messages sent every day, and high success rates, this Zoosk dating site review is sure to get you on board. It is one of the fastest-growing dating apps that has surpassed all expectations with its smart features and AI-enabled technology.
Related Reading: How To Make Online Dating Work? 8 Tips From Expert
Signing Up
Now that you have gathered that Zoosk IS a good dating site, you are all set to jump onto the bandwagon, joining millions of users on this dating platform. But how do you sign up? Let us take you through the signup process to make it easier for you.
The signup process is hassle-free and takes less than the time you need to cook a pack of instant ramen, which is not even 5 minutes. The registration process for the dating service gets way easier and quicker if you have an existing Facebook or Google account. You can sign in to one of these accounts for the Zoosk app to pull out some basic information, and for it to auto-fill certain fields.
You will then be asked to provide some personal information such as your gender, gender preferences, birthday, email address, and zip code. There is other profile information that delves deeper into your background and interests, but they are completely optional for you to fill in. Some of them are related to your education, ethnicity, number of children, body type, religion, height, etc. Opt for uploading a profile photo (absolutely recommended on a dating site) and you are ready to rock! Hop on to the trend of Zoosk here.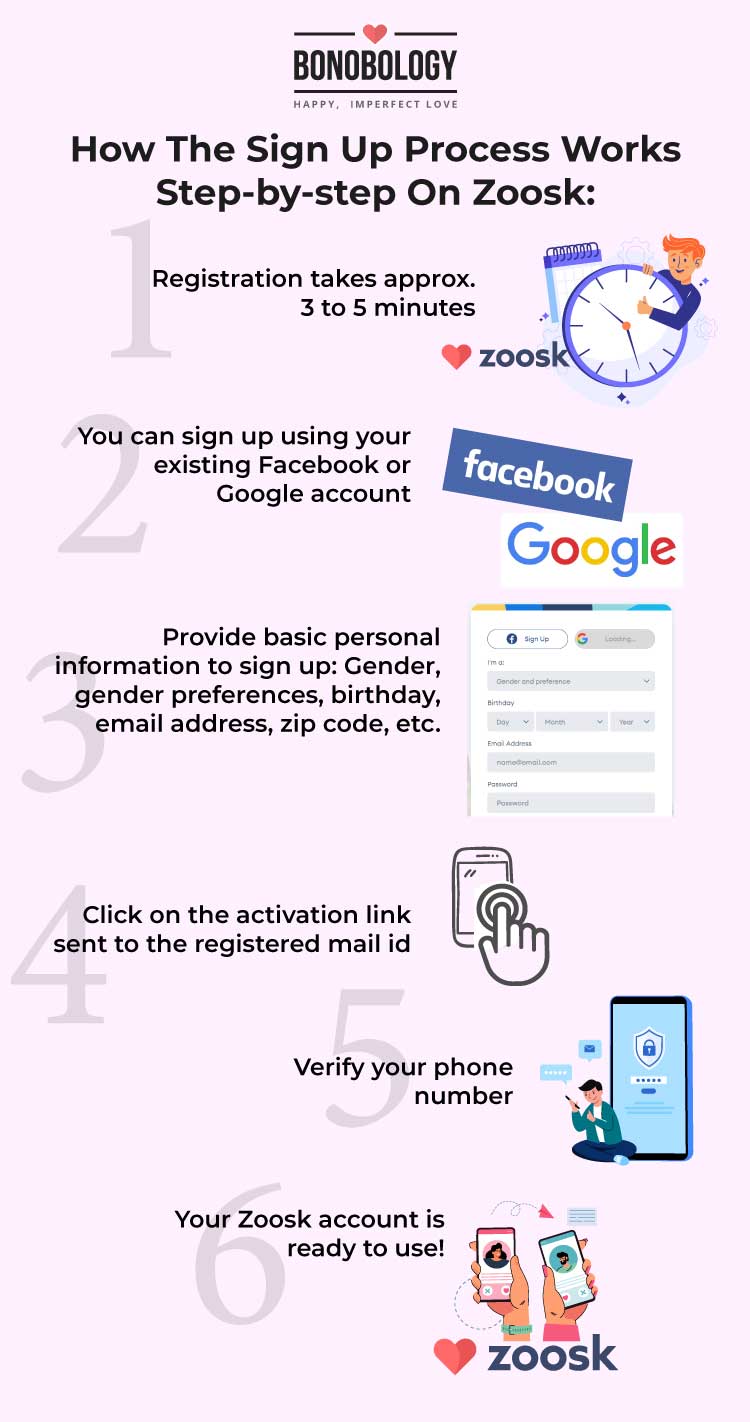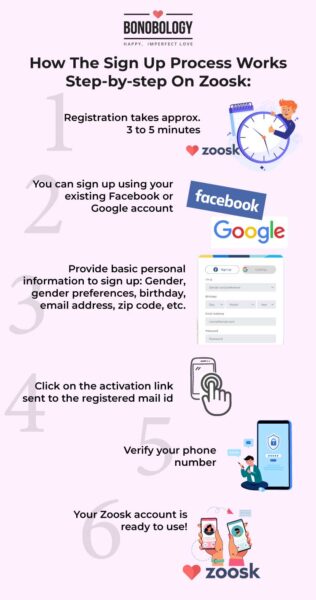 An activation link is sent to your registered email address. Click on it and your account is ready to be used. However, to get your account verified, you need to authenticate your contact number and provide a code sent on it.
Pros And Cons
Now that you've signed up on Zoosk, we shall move on to weighing its pros and cons. Unlike other reviews, we are not going to paint a rosy picture. We are here to provide a relevant and reliable Zoosk dating site review that considers not just the positives but the negatives as well. So, brace yourself as we gear up to analyze the pros and cons of the dating service.
PROS
CONS
1. Easy and quick sign-up process
2. Verified profiles
3. Zoosk app and website use the same features
4. Uses smart technology to make matchmaking easier
5. Extensive features like Carousel, and SmartPicks
6. Multiple filtering options for a refined search
7. User-friendly interface on both the Zoosk dating site and the app
8. Diverse user base with a balanced gender ratio
1. Limited free trial period
2. Free accounts give access to limited features
3. Chatting and messaging require a paid subscription
4. Abundance of fake profiles
5. Low percentage of active users, most accounts are dead and inactive
6. Expensive Zoosk coins
7. Too many ads in free accounts
8. Confusing virtual gifts, currency, and offers
Table on pros and cons of Zoosk
What do you think? Is Zoosk a good dating site for you? We are sure that the above table will help you determine that. Depending on the reviews, you can take a call before you embark on your journey to find love. To try your hand at online dating, you can visit Zoosk here.
Features Of Zoosk
All right, so Zoosk is everyone's go-to place for dating and forging relationships, but how does Zoosk work? How do you get on board? How does the dating service help you find that perfect match you are on a hunt for? Is Zoosk a good dating site for you to join? Our Zoosk reviews got you covered with all these questions and more!
Related Reading: Is Online Dating Easier For Women?
1. Messaging
Sending messages on Zoosk is restricted to users who have a paid membership. With a free account, you can only send flirty nudges and view other profiles. Moreover, the receiver cannot reply to your messages unless they are a premium user too.
2. Behavioral matchmaking
Zoosk dating service uses smart Behavioral Matchmaking technology to find your potential matches based on your account activity. Its unique algorithm works on the data collected by your actions on the platform: the profiles you view, like, message, or wink at. According to your preferences and interests, the app recommends prospective matches every day.
3. Carousel
The Carousel feature on this dating site is much like Tinder's left and right swipes. You have multiple profiles in front of you to express your interest in, by selecting "yes", "no" or "maybe" from the options. The Carousel feature on the site enables you to shortlist a good number of profiles in a shorter time. However, you can't connect to the matches from Carousel if you don't have a paid membership.
4. Manual search
Yeah, no surprises here. Just a regular manual search on the platform to find the "one" match. Browse through different filters available (there are plenty of 'em!) and refine your search to hit upon that 'jackpot' you've been looking for!
5. Super send
Send a flirty text to a group of people at once using this feature (yep, it lets you do that). Choose from a set of pre-written messages and hit Super Send without batting an eyelid. Flirting has never been this easy!
6. Boost
It does exactly what it suggests: boosts the profile. Use this paid feature to give that nudge to your profile making it more visible to other users.
7. Great dates
Again, explicitly suggests what it does: takes you on a great date on exotic locales. The only catch is that all of it is virtual. A good experience nonetheless, to do fun activities with your match.
Related Reading: Online Dating Profile Examples To Attract Men
Pricing
Okay, so we have figured out what Zoosk is. Now we get to the most important part: Its pricing. Is this dating site free or does it burn a hole in your pocket? How much does it cost to be on it? Is Zoosk worth the money they charge? And loads of other questions might be on your mind. You will find all your answers in this Zoosk dating site review.
While registering on the dating site is free, some of the features require you to get a paid subscription. What is free of charge here? Well, not much, but you can:
Register
Create your profile
View other profiles
Send emoticons
Access Carousel free of cost
A paid subscription to the Zoosk dating service gives you access to its:
Messenger service
Chat features
SmartPicks
Browsing in incognito mode
…and more. There are various subscription packages that you can opt for depending on how long you want to use the dating services. The membership pricing on this dating site is more or less the same as found on other dating sites. The monthly charges would vary as per the subscription package you buy.
One-month plan for $29.99 USD
Three-month plan for $59.99 USD ($20 USD/month)
Six-month plan for $75.99 USD ($12.50 USD/month)
Twelve-month plan for $149 USD ($12.50 USD/month)
Zoosk Coins
Apart from the membership plans, there are Zoosk coins in which a user can invest. The site-specific currency can be bought and used to buy virtual presents for your potential matches, or to give a boost to your profile. The cost of the coins is:
180 coins = $19.99 USD
480 coins = $39.99 USD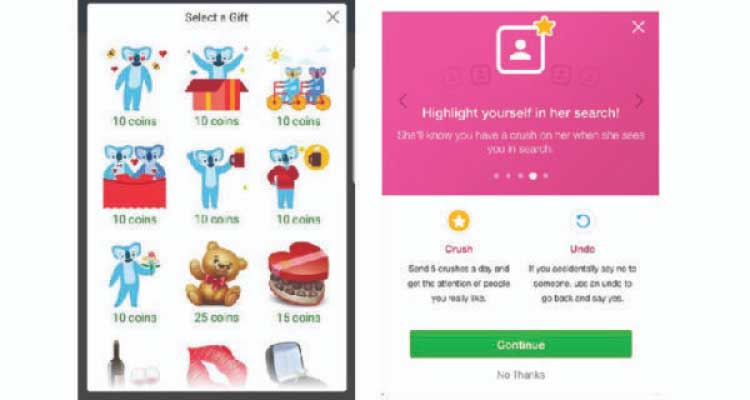 In case you are wondering, "Is Zoosk a good dating site to invest in a membership plan?", then you can buy its currency instead. It gives you limited but enough access to the other paid features.
Comparison With Other Dating Sites
Our Zoosk dating site review would be incomplete if it is not pitted against some of its rivals like eharmony and Match.com. Most of the reviews are good, but is the pricing good too? Is it good for the money it is charging? What are the other dating sites charging? Let's find out!
| | | | |
| --- | --- | --- | --- |
| Plan | Zoosk | eharmony | Match.com |
| 3-month plan | $20/month | $56.95/month | $26.65/month |
| 6-month plan | $12.50/month | $41.95/month | $23.99/month |
| 12-month plan | $12.50/month | $28.95/month | $22.65/month |
Table on price comparison
A price comparison has concluded that Zoosk dating site has a lot to offer for the price it charges as compared to the other dating sites like eharmony and Match.com. We found that eharmony costs a bomb, while Match.com is also more expensive than Zoosk.
Customer Support
The dating site offers customer support in two ways, through a contact form and through FAQs. Although we found the contact form to be a little tedious and hard to trace, it does get the job done. You can get in touch with the customer support team directly using the form.
While the dating site could do better with a live chat or call option, the promptness with which they fix complaints deserves accolades. Coming to the FAQ section, the team does a great job in providing answers to all probable questions regarding Zoosk.
Related Reading: How To Find Out If Someone Is On A Dating Site?
Our Verdict
So, the verdict is out. Is Zoosk good? The answer is yes! Zoosk dating site review concludes that it is a good dating platform for singles to find their perfect matches based on smart technology, in exchange for feasible charges. Looking at what the other dating sites have to offer for the price they charge, Zoosk is far more reasonably priced. It offers great value for the money.
FAQs
1. Is Zoosk free?
Zoosk dating service is free to join for everyone. But certain features like sending and reading messages require you to get a paid subscription. Although most Zoosk reviews will not highlight the fact, it is not compulsory to pay to join it, create your profile, view other profiles, send emoticons, and access carousels. But if you wish to reap the benefits of the Zoosk app, it is recommended to get a subscription that can help you start a conversation with people, send messages, check who likes you, and get complete access to SmartPicks.
2. Is Zoosk a good dating app? 
Zoosk claims to have millions of users globally. It allows you to chat with people from all walks of life while you search for your partner. Multiple reviews have concluded a good success rate, so yes, you can say that Zoosk is a good dating site. 
3. Are there fake profiles on Zoosk?
Zoosk observes a stringent verification process to validate the profiles on its platform. Every profile is thoroughly checked and verified, failing which the user is barred from using the dating service. However, as is with every social media site, even the Zoosk app is alleged to have fake profiles. Some of the reviews found online complain of fake profiles that try to get you off the site to scam money. Any user can report or block suspicious fake profiles and report abuse. User discretion is strictly advised. 
4. Is Zoosk just a hookup site?
No, the Zoosk dating site is not just for hookups. It has 35+ million users across the globe who are sending more than 3+ million messages every day on an average to find their perfect match. Having said that, it should also be noted that with such a wide user base, it is obvious to have people with varied interests and purposes. While some use the Zoosk dating service for casual and flirty hookups, others are here to find a soulmate and to get into a serious and committed relationship. 
13 Tips To Date Online Successfully And Find Your Ideal Partner
Ask Our Expert
You must be logged in to post a comment.