Gone are the days when being deliciously curvy also meant having to settle for the limited fashionable options available at stores. Most clothing and apparel stores usually did not keep clothes flattering to plus-size figures. So most curvy people were forced to choose a plus-size date night outfit from the limited — and often rather unflattering — options that were available to them. 
But all that is about to become old news because body positivity is not just a buzzword anymore; it is a movement. 
Models and celebrities like Lizzo have worked hard to bring plus-size fashion to the runway of the world. It is true, though, that most of the clothes worn by those celebrity figures may not be very affordable options for most of us. But take heart; not all that is fashionable is designer. 
Thankfully, most retail stores — online and offline — have caught up to the movement so you can now opt for clothes that hug your body and emphasize your delectable curves. Basically, you can now be runway glam — or, rather, date night perfect — without drilling a designer clothes-sized hole in your pocket.  
So, read on to find plus-size date night outfit ideas that will not only impress your date, but also sweep them right off their very feet at first sight.
30 Best Plus-Size Date Night Outfit Ideas To Try Out
Obviously, not every plus-size date night outfit is meant to be worn everywhere and to every date. While playful dates at the beach are all about sun hats, flowy skirts, and cool sunglasses, dinner dates at fancy restaurants may seem incomplete without scrumptiously long cocktail dresses that hug your curves just right and remind your date that the food being made at the kitchen is not the only snack on offer. 
To make things simpler for you, we have taken our list of fashionable plus-size date night outfit ideas and divided them into categories of date night outfit ideas plus-size depending on what kind of date you are planning on going on. 
So, without further ado, here are 30  date night outfit ideas plus-size to try out when you are planning on slaying your date with your drop-dead gorgeousness: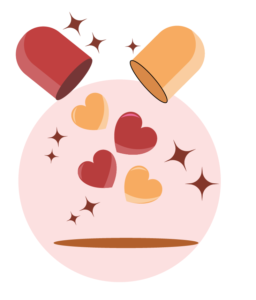 Get your dose of relationship advice from Bonobology right in your inbox
Outfits For Movie Dates For Curvy Girls
Planning on watching a movie with your partner on your next date night? Movie dates are all about comfort. You want to be able to relax in your seat while enjoying the flick with your new boo. So, you want to keep your attire as casual as possible for this one. But does that mean you dress sloppily like you are just about to chill and watch Netflix in your den? Well, if you want.
But, in case you want to be comfy while keeping your street creds intact, you need to strike that perfect balance between chic and comfy, and the plus-size date night outfits we have selected for this category will help you achieve just that:
1. Calvin Klein sleeveless jumpsuit
They say that red is the color of love. So, it is perhaps fitting that the first entry on this list of plus-size date night outfits is a deep coral red number that walks that perfect line between classy and casual. The design is made to flatter and, while the cut is somewhat simplistic, the color keeps it from feeling tame. 
The best part? This jumpsuit can easily go from being trendy office wear to something to wear to movie dates or even to the club. Just remember to accessorize smartly, with chunky earrings and gypsy-style necklaces. Don a pair of black stilettos or even comfy white Nikes and you will be ready to turn heads in minutes.
Key features:
Available in two colors: Red and blue
94% polyester, 6% spandex
Short-sleeved
Ankle length
2. Women's sexy 2 piece sets 
Soft, breathable and effortlessly sexy — need we say anything else? This 2 piece jumpsuit is what the kids these days refer to as trendy streetwear. Or athleisure. 
It combines the flexibility of a tracksuit with a design that hugs your body in all the right places, making it a great option when it comes to date night plus-size outfits. The drop shoulder style looks best when combined with a multicolored layered neckpiece.
Key features:
2 piece dress
Available in 22 colors and styles
Drop shoulder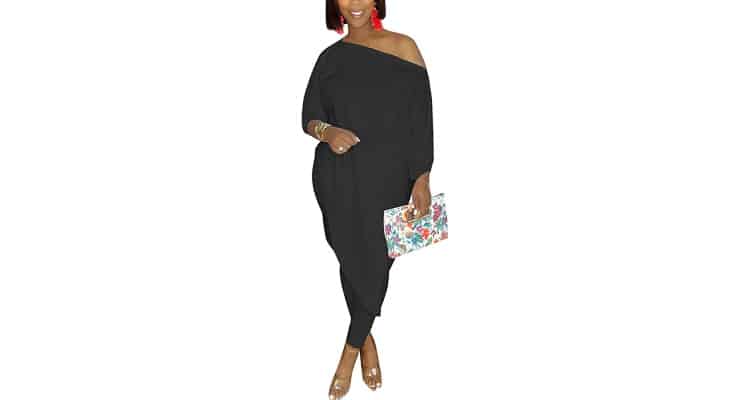 3. Adrianna Papell women's crepe and sequin jumpsuit
Yep, another jumpsuit made the list of plus-size date night outfits! And why wouldn't it? This subtly sequined piece is a whole mood and is perfect even for movie and fancy dinner dates at home. The softly shimmery number is ankle length and has a slightly loose fit so you can be comfortable while looking like a sassy boss lady. 
This one, from among all the date night plus-size outfits, is especially perfect for first dates at the movie theater since it doesn't just fit like a comfy glove, it does it while making you look like a screen goddess.
Key features:
100% polyester
Sequined jumpsuit
Black color
Ankle length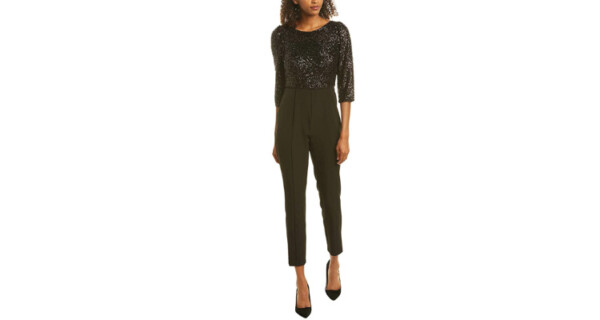 4. Calvin Klein jumpsuit with center button bodice and belt
Did someone say boss lady? Because this belted jumpsuit may be a tad simplistic but it channels the devil may care spirit of Meryl Streep. Strut down the movie hall with this number on – complete with black, ankle-length boots and a white blazer casually slung over your shoulder and your date will get a neck ache from staring at you instead of watching the movie.
Related Reading: 32 Best Gifts For Movie Lovers & Film Fans
Key features:
Polyester and spandex mix
Belted waist
Dark blue / indigo color
Buttoned chest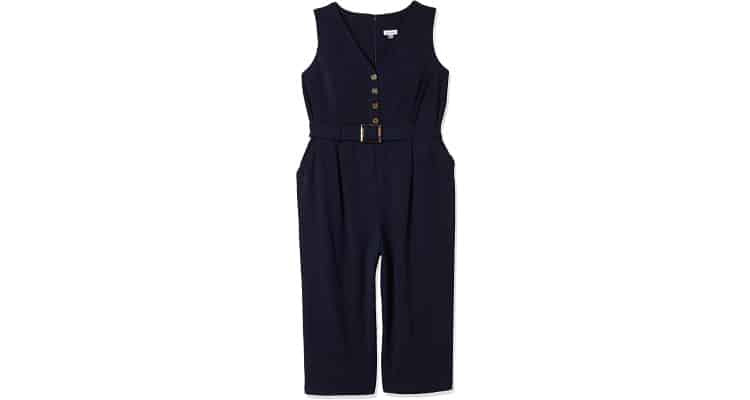 5. eVogues romper dress
Who said comfy can't be cute? Well, no one who saw this dress, that's who! Available in 4 different colors, this lacy little number is a mix of nylon and spandex, making it flexible while giving you a Cinderella shoe fit. Sassy in its design, it also screams casual, so combine this with a pair of comfy sneakers and you are more than sorted for movie night.
Key features:
Nylon and spandex mix
Available in 4 colors
Lace overlay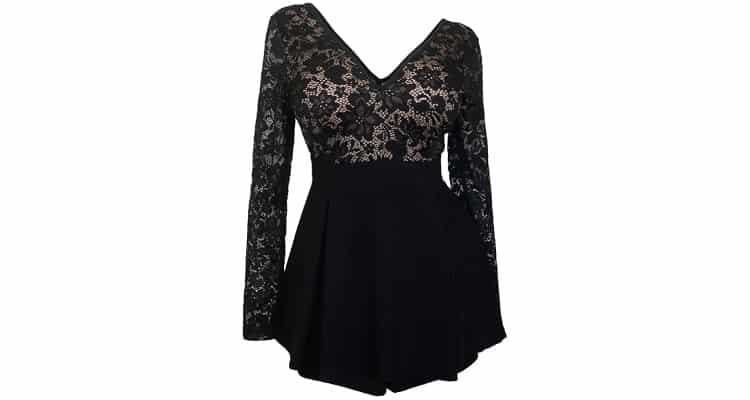 6. Nemidor women's casual midi bridesmaid dress
Going to watch a vintage classic on your next date night? Then this dress is just the thing! Even if you aren't going retro with your movie choice, this swishy, flowy, deep red number will still be hard to pass up while choosing your movie date outfit. 
With a design that lets it swish about your knees, a waist tie that ensures the perfect fit, and a deep, sensual neckline, this dress also flaunts a super-soft, stretchy fabric that hugs you in all the right places. Not a fan of the color? No worries, fashionista – available as it is in dozens of different hues.
And if movie night turns into a dance at the club, this number will still have all eyes on you as you sway the night away with your boo.
Key features:
Stretchy fabric
Plunging V neckline
Retro style
Adjustable waist tie
Available in 25 shades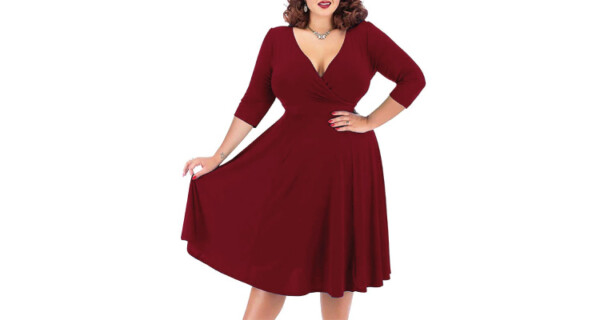 Plus-size Outfits For Restaurant Dates
There's something about endless cocktails and flowing champagne and a million fancy little appetizers that keeps drawing lovers to restaurants to be wine and dine. After all, there is no greater love than a love for good food. 
So, if you and your boo are planning to meet up with your mutual first love, i.e. a ton of lip-smacking, great food for your date, chances are you will also want to look great while at it. 
Fancy dinner date outfits, thus, should be all about scrumptious sexiness plus oodles of comfort for you to be able to sport a food baby if required. And we might just have you covered: 
7. Runwind maxi dress 
If you are feeling like modern art tonight, channel that abstract sexiness with this dress that kinda feels like a painting itself. Floor-length with strappy, sexy sleeves — this divine number says fancy yet laidback. 
The mix of polyester and spandex gives it an ultralight, breathable finish. The slightly loose fit keeps you comfy even in the hottest summers and the most crowded of restros, while the deep neckline makes sure that you don't swap sheer sexiness for comfort. And it has pockets! Need we even say anything else?
Key features:
Polyester and spandex blend
Tie closure
Floor-length
Adjustable spaghetti straps
Available in 7 colors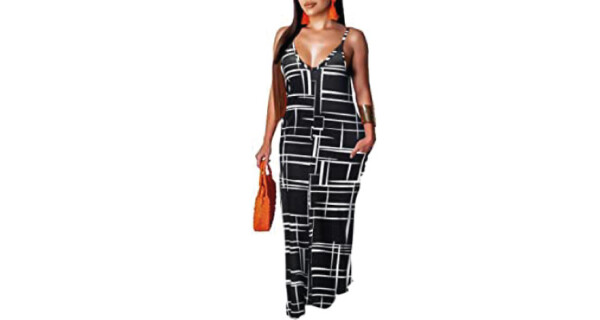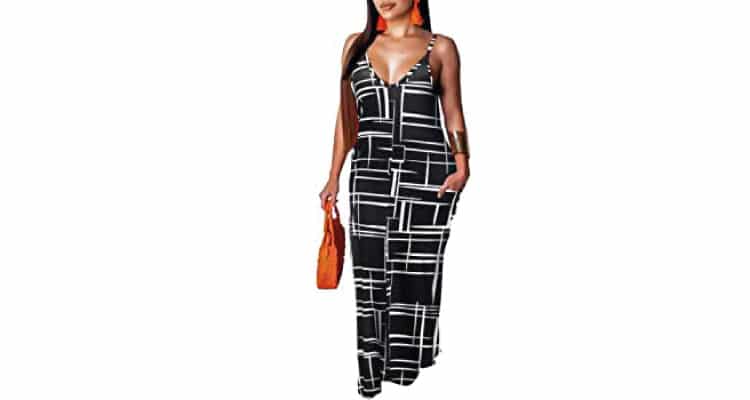 8. Verdusa bishop sleeve bodycon dress
Are we feeling extra fancy tonight? Good, because this dress just spells lavish dinners and flowing cocktails over laughter and sultry conversation. 
This bodycon piece is designed to show off your body like it should be — with a deep, devilish neckline that displays a bit of skin and a belted waist that ensures a snug fit. 
The soft polyester and spandex mix fabric has a slight stretch and that – along with the split back hemline – makes you feel comfy yet alluring. And it is available in multiple vibrant colors. Could it be any more perfect?
Key features:
Polyester and spandex mix
Plunging v neck
Lantern sleeves
Available in 17 colors
9. SOLY HUX velvet bodycon dress
Nothing, absolutely nothing says luxury like plush, decadent velvet. And this dress is nothing if not truly, sensuously, luxurious – making it the absolutely perfect outfit choice for your next Valentine's Day date. Dark wine red in color (or any other color that you choose), this strappy bodycon dress rests just above your knee and gives your body a flattering fit that looks tailor-made for you. 
The spaghetti straps are adjustable and the cowl neck design further helps accentuate your curves. Combine this delectable little number with strappy golden heels and you will be ready to paint the town wine red with your allure. 
Key features:
95% polyester, 5% spandex, velvet finish 
Spaghetti straps
Cowl neck
Available in 12 shades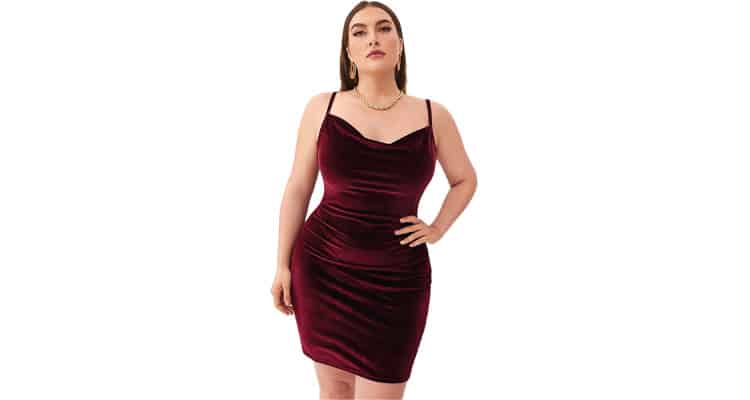 10. Plus-Size Club dresses midi dress
If a ball gown and a body con dress had a lovechild — it would probably look like this dress. Designed with an asymmetrical hem that's slit temptingly to show just enough leg, and a deep, dark V-neck that gets your date hot under his collar. The long, lush sleeves that make your arms look long and shapely counters the skin that is shown off thanks to the neckline and the slit. 
The dress is 100% breathable polyester and is available in multiple colors so you can either keep it classy by keeping it black, or flaunt your jovial side with the brighter palette of colors.
Key features:
100% polyester
Asymmetrical hem
Plunging V neckline
Available in 12 colors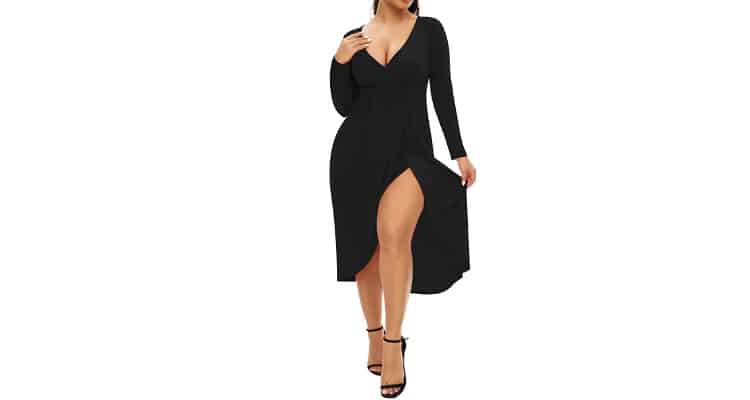 11. Romwe women's sexy mini Bardot dress
If you are looking forward to a lavish, champagne and roses dinner, perhaps nothing would suit the occasion more than this tantalizing, mini Bardot dress that boasts of soft, lush material and a sweetheart neckline. 
The long-fitted sleeves are in perfect contrast with the teasingly ruched, asymmetrical hemline. Subtly ruffled, the fitted waist shows off your curves. Cheeky yet classy, the dress comes in a lot of different colors and goes best with silver or gold high heels and a clutch to match.
Key features:
Polyester and elastane blend
Bardot dress
Asymmetrical hemline
Off shoulder, sweetheart style
Available in 11 shades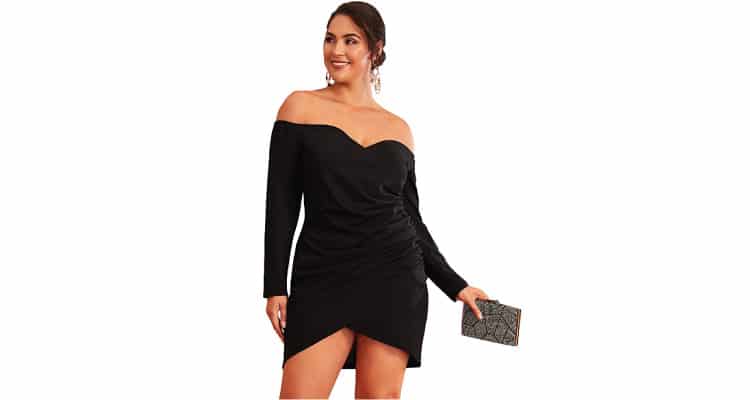 12. Dress the Population sequin sleeveless jumpsuit
Dresses are timeless. But nothing perhaps says bold and dauntless like this shimmery, sequined jumpsuit that fits like it was made for your curves. The jumpsuit boasts of a cinched waist and a glamorous V-shaped neckline that, when combined with the thin straps, shows off just the right amount of skin to leave your date hankering for more. 
The pant legs stop right above your ankle so this pairs perfectly with chic stilettos or, if you are feeling especially suave, even a pair of fancy sneakers.
Key features:
Sequined jumpsuit
Cinched waist
V-neck
Thin straps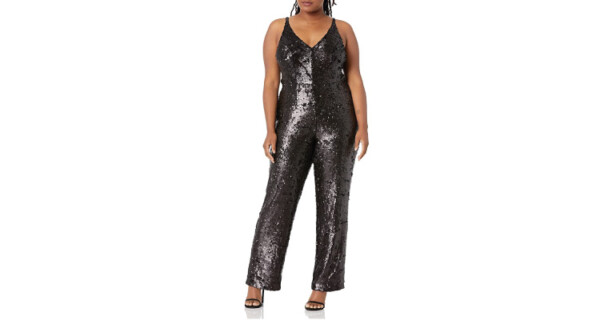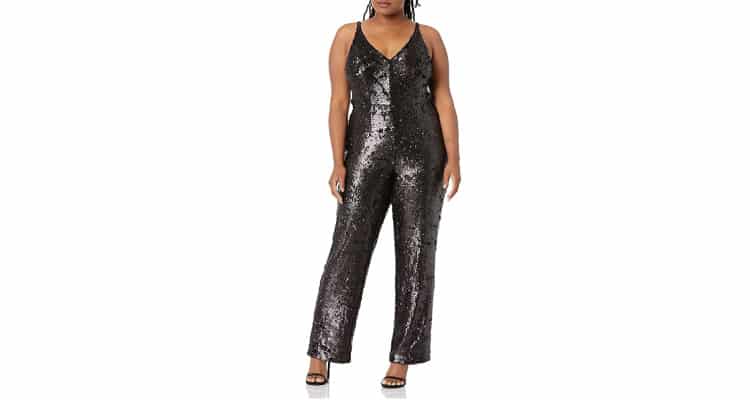 First Date Plus-size Outfits
First dates are all excitement and apprehension, breathlessness and anticipation. While not everyone may believe in love at first sight, the first impression you make on a first date is important. 
People usually like to dress to kill – as perhaps a way of telling their date "If this works out, all this will be yours" – on the first date. But while looking stunning and taking their breath away in the process is great and all, balance is still key. 
Related Reading: 10 Outfit Ideas For Women To Wear On First Date
Basically, it is important to remember to be comfortable in whatever you wear so you can actually enjoy the date without constantly fiddling with your clothes. Also, your clothes can reflect the kind of person you are. 
So, try and choose a plus-size summer date night outfit that reflects your personal style when taking it up a notch. That being said, here are a few first date outfit options you can definitely try out:
13. Floerns striped print wrap a-Line dress
Chic, comfy, and cute – this number combines the best of all worlds. Summery yet classy, the not-too-deep V-neck teasingly shows just a bit of cleavage, giving off a sexy yet innocent vibe. 
Wear this plus-size summer date night outfit with beige boots and chunky earrings and maybe let a dainty little rose-gold locket brush the space right above your cleavage and you will leave your date begging for more.
Key features:
100% polyester
Available in 8 shades
Pull-on closure
High cinched waistline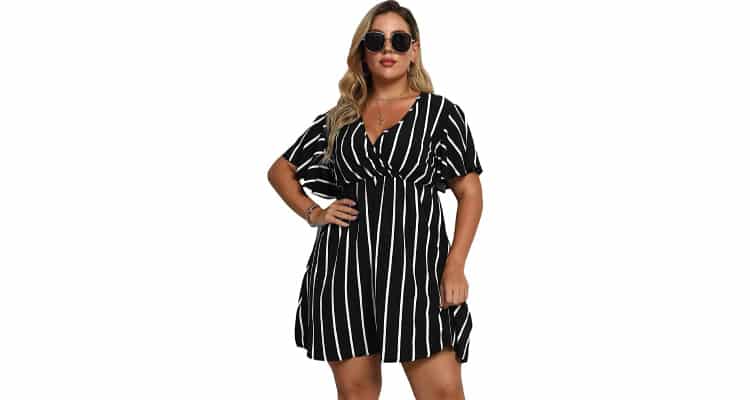 14. Women's sexy elegant long sleeve rompers with pockets
Strut, don't walk to your first date with this elegant, belted jumper that channels the "Don't mess with me" vibe to a T. Chic and professional, this makes for the perfect choice on days when you have to head to a date straight from the office. 
The plunging, V-shaped neckline keeps the number from being too businesslike. The soft, stretchy fabric of the legs swish about your ankles while the top fits all your curves like a glove. 
And it has a range of colors on offer so you can choose whichever one you want to channel your mood with ease. 
Key features:
Stretchy fabric 
Deep V-neck
Long, straight pants 
Available in 45 shades and patterns
15. Pinup Fashion cocktail party dress
Charm meets charisma in this dainty little frock that sports sheer, lacy sleeves, and a cinched belted waist that gives you a luscious hourglass look that will have your crush falling head over heels for you in minutes. 
The plunging neckline makes your neck look long and slender while the high waisted design can make your legs look like they go on for miles. 
The hem is pure, flowy chiffon so it would make for the perfect outfit choice if a night out dancing is on the cards. Soft and deliciously comfy, this dress is available in multiple shades, making it the perfect wardrobe staple no matter the occasion.
Key features:
90% nylon, 10% spandex
Lace sleeves
Chiffon hem
Available in 6 colors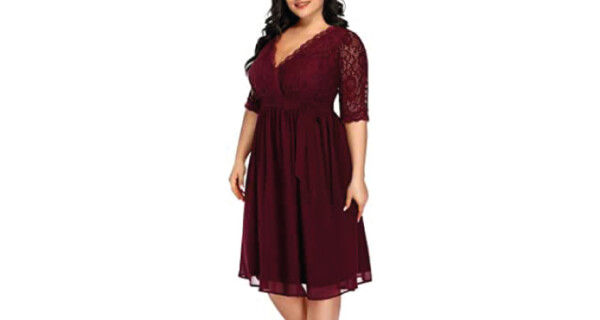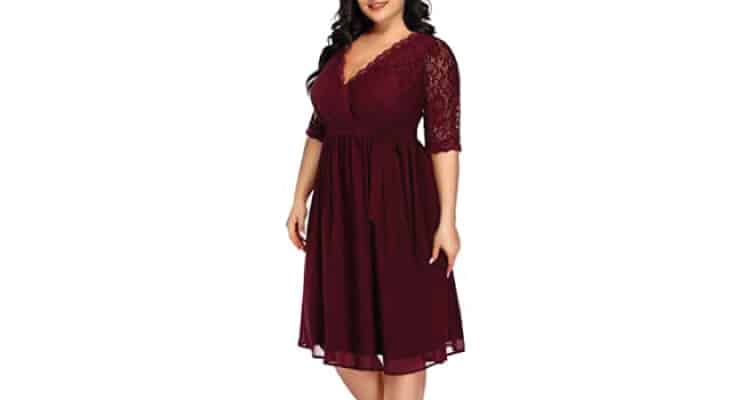 16. Calvin Klein maxi dress with faux wrap
If dainty and delicate is more up your alley when it comes to making fashion choices, this dress may just be the one for you. 
Available in two different shades, the pastel and white version channels a flowery, cottage-core aesthetic while the olive patterned one is more suited for the gypsy-hearts. 
Related Reading: 7 Reasons A Coffee Date Makes A Great First Date Idea And 5 Tips To Ace It
Made of 100% polyester, this one is suitable to wear anywhere and for any occasion so it would make the perfect addition to any wardrobe.
Key features:
100% polyester maxi dress
Available in two colors and patterns
V-neck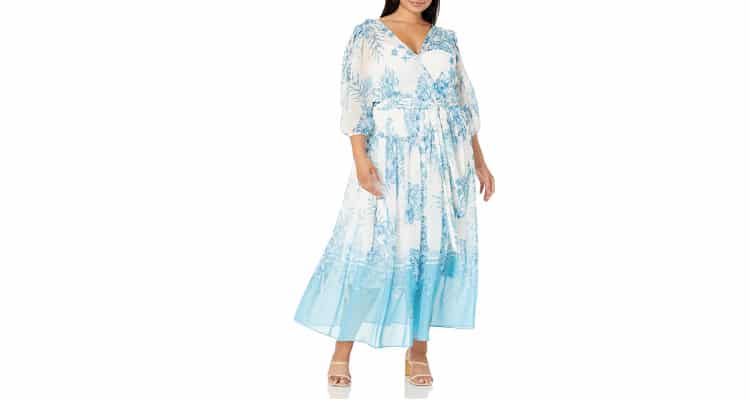 17. Cosonsen women's mini swing skater dress
If innocent, bossy, or even the pinup dressy is not your vibe, maybe this flirty little number is. Belted at the waist and with a deep, plunging V-neck, this sultry skater dress is all flirtation and the giddiness of newfound love. 
The ruffled hem flows around your thighs while the longer, lantern sleeves add contrast to the entire look. And it's available in not one, not two but 17 different shades, making sure you are spoilt for choice.
Key features:
100% Dacron
Asymmetrical hem
Tied waist
Available in 17 colors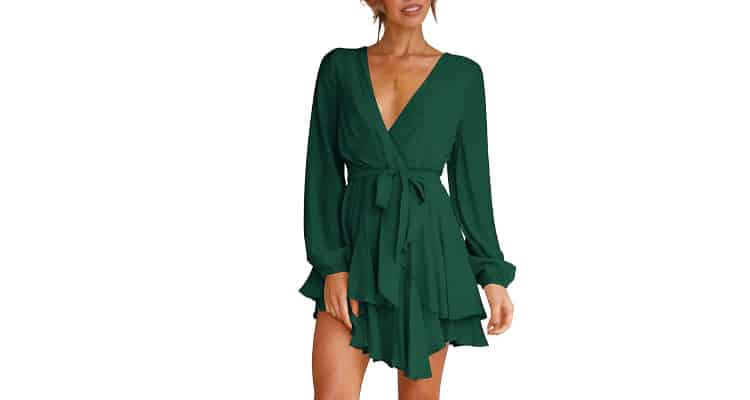 18. Romwe a-line swing short dress
Perfect for the girl-next-door aesthetic, this pinafore dress is sugar and spice and all things subtly sexy. 
Made of a mix of polyester and spandex, the fabric has some stretch so you will be comfy no matter your shape. The high-waisted design makes you look taller while the A-line shape hides any belly chub you want to hide. 
Chic and casual, this dress pairs perfectly with cute tops and sneakers and adds to the innocent and youthful appeal of the wearer.
Key features:
Polyester and spandex blend
High waisted
Available in 12 colors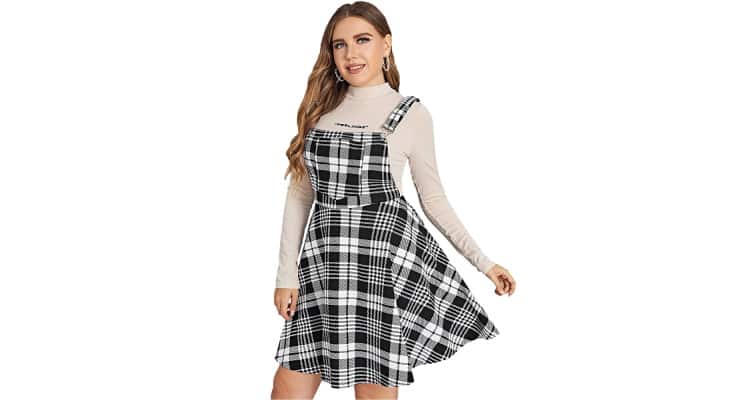 Picnics And Dates On The Beach Outfits
When the summer winds are blowing and the sun is on your skin, all you want to is pack a picnic basket full of little snacks and wines, and rush to the nearest beach or park with your boo. 
For such dates that make you shake off your worries and rush to romance your sweetheart under the bright sun, you need outfits that make you feel like a million bucks. So, for that very purpose, we've rustled up 6 outfits that will make your mood brighter and your spirit lighter for your next outdoor date with your lover:
19. Romwe women's T-shirt dress
The sun is shining and you are going out to meet your love in this flowy short sleeve dress, feeling all cute and confident. Sounds like the ideal picnic date moment? Well then, what are you waiting for? Go out and recreate that perfect moment in this tie-knot dress, now.
Related Reading: Chubby Girlfriend – 10 Reasons Why You Should Date A Chubby Girl
Catch the summer breeze in this stretchy and soft picnic dress made of 95% polyester. Choose from a wide array of colors and sizes, and voila, you've got your perfect summer look ready for the next beach picnic.
Key features:
95% polyester, 5% spandex 
Tied closure
Available in 18 shades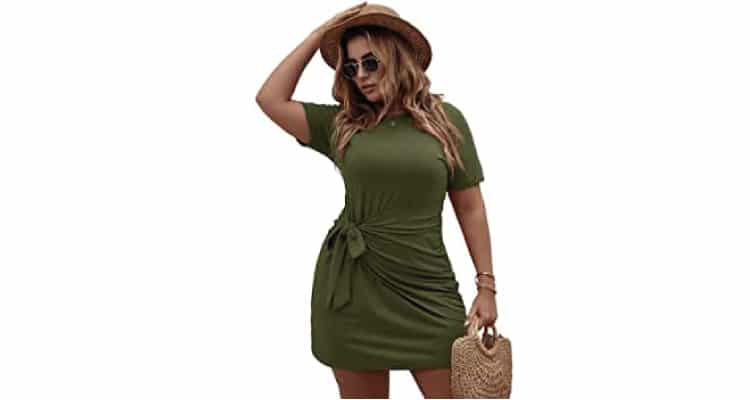 20. Romwe women's scallop hem short party dress
This summer, get your sass on and catch a few eyes with this cool, casual, off-shoulder picnic dress. With a beautiful floral hemline, it gives out a real chill beachy vibe. Its short sleeve design and off-shoulder look will never let you break into a sweat.
Pick and select from the most vibrant colors options available and get picnic date ready. With a 95% polyester finish and slightly stretchy fabric, this is the answer for when you want to get the fun on while on your next outdoor date.
Key features:
95% polyester
Off-shoulder
Scalloped hemline
Available in 20 colors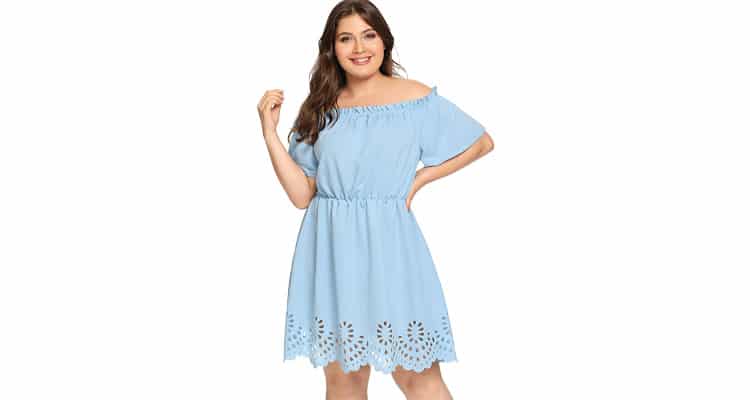 21. Tralilbee women's casual pleated swing dress with pockets
Yet another perfect find for the summer season. As picnic season gets closer, get your comfort on with this beautiful, flowery, pleated dress. One that even has pockets for all your essentials.
Pair this simple pleated, round necked, knee-length dress with a messy hair look and you are all set to turn some heads at the next pool party. Take your pick from their 12 color and print options and get ready to leave your date giddy the moment you walk in.
Key features:
95% polyester, 5% spandex
Pleated, knee-length dress
Round neckline
Available in 12 shades
22. Allegrace summer casual flowy long dress
Summers spell beaches and beaches say sun, sand, and soft, flowy, long, maxi dresses that let you bring your A-game to a beach or poolside date. The fabric is comfy, flowing naturally around your skin and letting it breathe even in the most sweltering of weathers.
Pair this casual, V-neck dress with cool flip-flops or even a pair of strappy casual heels. The 90% soft spandex finish is stretchy so you are covered if the urge to dance hits you out of the blue. And you can choose from the 17 colorful options depending on your mood and tastes.
Key features:
90% spandex
V-neck
Available in 17 different colors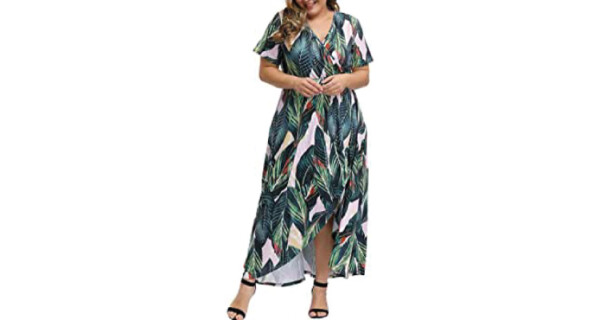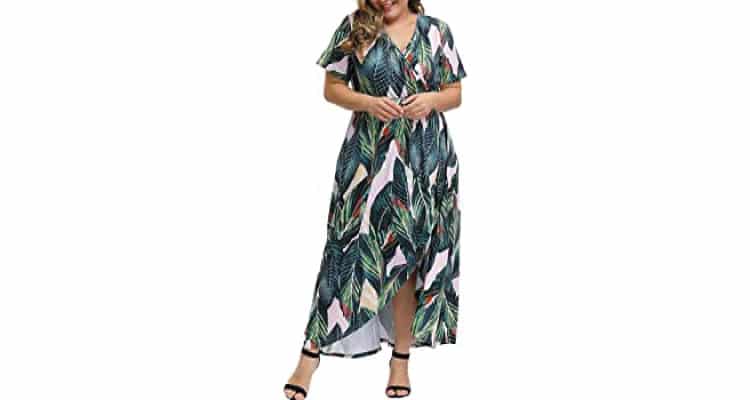 23. Floerns long A-line dress
Soft, flowy, and beautifully floral, this maxi dress is not just 100% stretchy rayon, it's also a 100% fun. This A-line dress flaunts a slit that runs up one side, letting you show off your gorgeous legs. 
The off-shoulder neckline and short sleeves make it chic casual while letting you bask in the delicious sunshine to get a golden tan going. 
Related Reading: 21 First Date Topics To Impress And Engage Your Date!
Available in 28 different colors and patterns, this outfit is the ideal addition to anyone's summer date collection.
Key features:
100% rayon
A-line dress
Off-shoulder 
Slit on one side
Available in 28 colors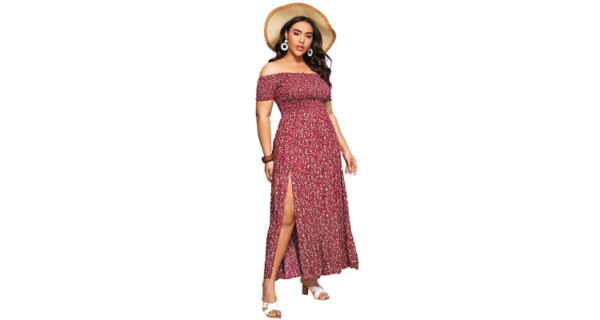 24. Floral beach sun dress
Available in shades of blue, yellow, and green – basically all the colors of a beachside summer – this maxi dress is everything you'd want out of an outdoor date outfit. 
Light and airy, it is designed to flow around as you walk down the beach or sit sipping a cuppa at your coffee date with your boo. The plunging neckline and slit waist further add to the summery elegance of the piece.
Key features:
Available in 3 shades — blue, yellow and green
Deep V-neckline
Waist slit on both sides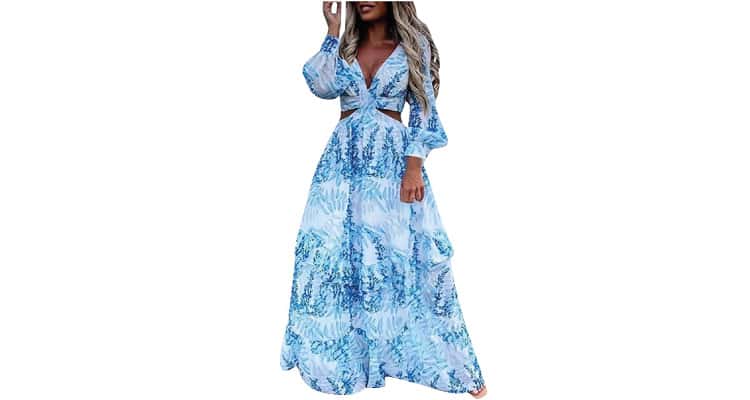 Anything Goes Dates
Not all dates are carefully planned. Sometimes, you just want to go with the flow and see where the night takes you. For such random, fun dates with your boo, it's best to dress with comfort in mind. Still, need help with plus-size date night outfit ideas that will have your date swooning over you and hurrying to make your relationship official? The outfits we've listed in this category put comfort first – but then take it up a notch or two higher with unadulterated allure:
25. Romwe velvet skater short skirt
Nothing says cute and chic than a perfectly fitted little skirt that swirls about your hips as you walk. This buttoned skater skirt is casual street wear taken up a notch with a velveteen finish and a flared hem that spells fun. 
Lusciously soft, the skirt is 100% polyester and perfect for movie dates, walks in the park, or even hours spent giggling away at a roadside cafe. 
Available in multiple colors, this plus-size first date outfit can be paired with ruffled shirts or pastel tops, cool sneakers or even cute little booties.
Key features:
100% polyester
Buttoned
Velvet finish
Available in 5 colors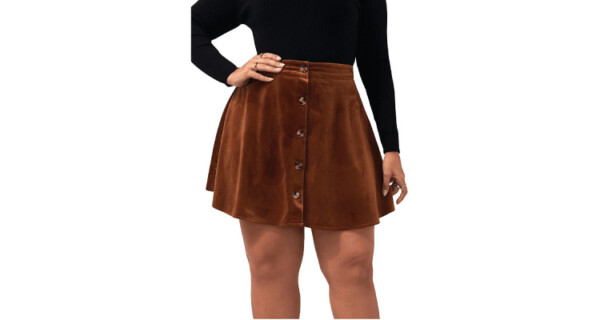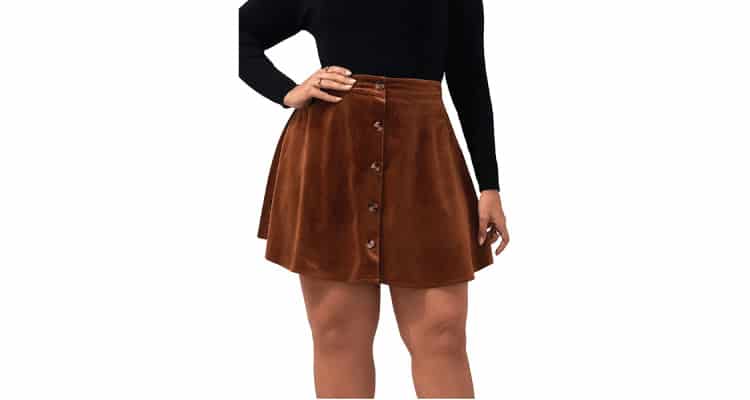 26. In'voland women's cocktail party dress
Another lush velvet piece for the win! When it comes to being temptingly sultry, this ruched bodycon dress does not kid around. As easy to wash as it is to wear, it combines sheer shimmery elegance with a plunging neckline and comfortable, long sleeves.
The wrapped, crossover-styled hem makes your legs look longer while the fine velvet finish makes it fit to wear to any place when you want to dress to impress.
Key features:
Velvet material
Crossover hem
V-neck
Ruched bodycon
Available in 8 colors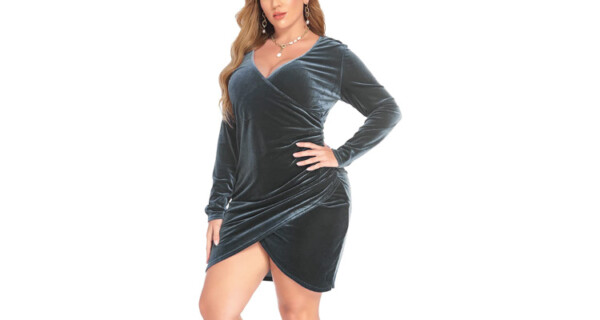 27. PU faux leather high waist skirt 
Did anyone order a badass? Because this stylishly zippered, faux leather skirt delivers it by the truckful. The skirt was made to show off your curves and is made of stretchy polyester so it's easy to move about in. 
But if leather is not your jam, it comes in blue denim too, so you have 4 other colors and designs to choose from. Combine this one with a fitted top or tee and don a pair of heeled boots and you will take your date's breath away at first sight at your next coffee date.
Key features:
Faux leather, polyester
Zippered design
Available in 4 colors and styles
28. Romwe beach party skirt
Be it a party at the beach, by the pool, or a long night of music and dancing, this maxi skirt is one of those plus-size date night dresses that is game for it all! The deliciously long slits on both sides show off a delectable amount of skin and make your legs look like they go on for miles. 
The viscose and elastane material is soft and easy to move about in, while the high-waisted design helps you tuck in that belly, making you feel sexy inside and out. 
Available in 7 different colors, this sexy plus-size first date outfit can be paired with bikini tops, T-shirts or even loose tops. A pair of high heels and dangly earrings and you'll be ready to get your party on.
Key features:
Viscose and elastane material
Available in 7 different colors
High waisted
Slit sides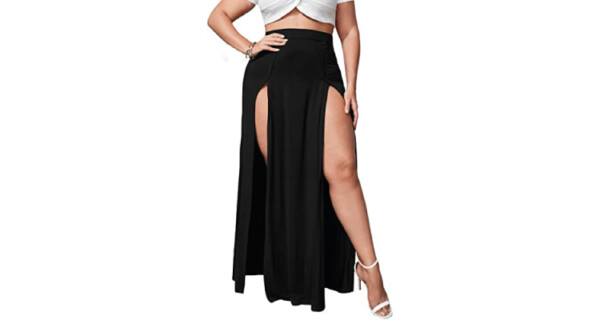 29. MIHOLL casual lace blouse
Are you having one of those days when you just can't be bothered to put on a dress and just want to put on something simple without looking any less like a queen? Well, this top got your back. 
Available in a whopping 30 different shades, the polyester and spandex mix lace sleeved number is a reminder that sometimes simple is the sexiest. The main body is knitted for some extra comfort and the entire piece is loose and chic – making it the perfect outfit choice for long distance dates. 
It is one of the perfect, plus-size date outfits for parties, cafes, and even concerts, so no matter where your date takes you, you will be good to go.
Key features:
Polyester and spandex mix 
Lace sleeves
Knitted body
Available in 30 colors
30. Chvity asymmetric short sleeve lace blouse
Another deceptively simple blouse for the win! Summery in its elegance, this blouse is pure cotton and lace goodness – with the sheer, lacy neckline showing off some delicious skin. 
The ruffled, asymmetrical hem hides any chub you want to hide and the fitted waist still shows off your curves in all their glory. 
Chic and sexy, this is one of those plus-size date outfits that you can wear anywhere – be it to movie nights or a sporty outdoor date. And it comes in 5 different colors so you can choose what fits your mood on any given day.
Key features:
Pure cotton with lace neckline
Ruffled asymmetrical hem
Available in 5 colors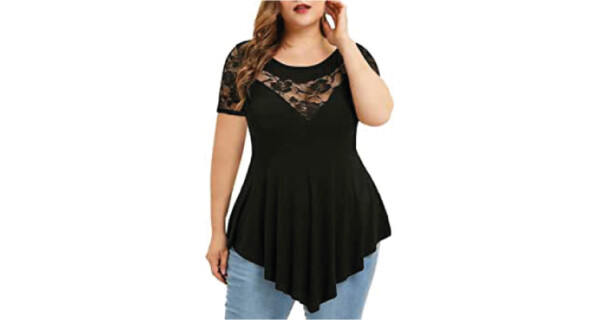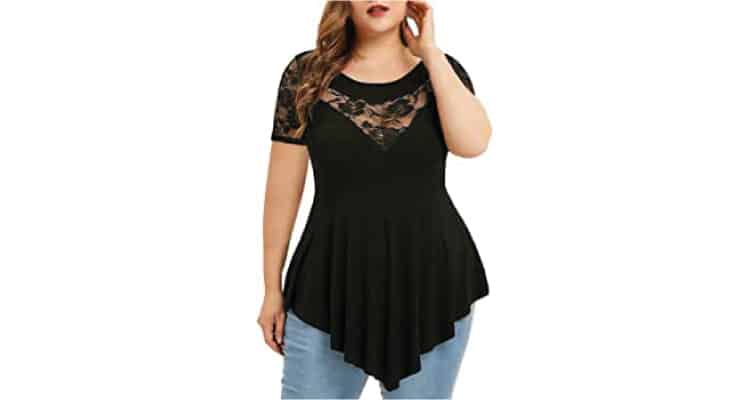 Dates are fun to go on, especially when it's with a person you've been crushing on for a while. Imagine the scenario when you walk in feeling sexy and rather divine in your outfit and your date takes one look at you and their jaw just drops. That's the dream, right? 
For curvalicious, plus-sized people, this dream often refuses to turn to a reality – especially when you don't have many options to choose from, ones that not only let you feel comfortable but also flaunt your body. 
Hopefully, the plus-size date night dresses on this list will end this dilemma and make sure you are spoilt for choice the next time you want plus-size date night outfit ideas.

FAQs
1. What colors look best on plus-size? 

Any color can look great on a plus-sized person as long as the person feels great in it and also chooses clothes that are not just comfortable, but also show off their curves.

2. What clothes look best on plus-size? 

Flowy skirts, shorter dresses and deeper necklines usually look best on a plus-sized person. But, as long as you feel great in an outfit, it doesn't matter whether they fit the bill or not. You do you. 

3. How do you flatter a plus-size figure?

Higher waists, deeper necklines, darker colors, and shorter lengths are usually suggested when choosing clothes for plus-sized figures. But it is most important to choose what feels comfortable and makes you happy. Everything else is secondary.