Few things compare to the grief that comes attached to a marriage falling apart. When the word 'divorce' is thrown into the mix, it can make things extremely disheartening for both partners. Even when divorce looks like the final nail in the coffin, some couples notice some positive signs during separation that make them believe there's something worth fighting for. 
Studies show that of the number of couples who opt for separation before divorce, 13% reconcile. "A couple I worked with is now 10 years strong after one of the partners had an affair and they filed for a separation," says lawyer Tahini Bhushan, who has seen multiple couples get back together when they notice positive signs during separation.
Signs of reconciliation after separation can tell you if your relationship has a chance of being as strong as it once was. Do the signs always translate into getting back together? Are they dramatic or subtle? Let's get into what you need to know.
13 Signs Of Reconciliation After Separation 
Divorce is one of the hardest things anyone can ever go through, especially if they were once in a healthy relationship. When couples opt for a separation before divorce, it definitely increases their chances of possibly turning things around.
A period of reflection can make you more confused than ever or it can give you the answers you were looking for. Despite how ugly things may seem, keeping hope during a separation is natural. And if you notice any positive signs of reconciliation, it's this hope that will keep you going.
But, what exactly do the signs look like? Can you reconcile after separation? What's the average length of separation before reconciliation? Read on to find out if you've been able to spot any of the points, so you know that divorce isn't the only option for you. 
1. Communication doesn't die down completely
It doesn't have to be as rampant as in the days when you couldn't live without each other. Just the occasional check in, sharing any personal achievements can be enough to suggest that there may still be a reason to stay positive during separation. The importance of communication in a relationship can not be understated.
"I noticed that when one partner achieved certain personal goals like a promotion, the only person s/he wanted to tell was the partner they've separated from. That often tells me that they just needed a break," says Tahini, talking about her experience in divorce cases where couples often reconcile after a separation. If you're looking for signs your separated husband wants you back, try to spot if he still wishes to speak to you.
2. The external pressures are negated 
Without really knowing it, a couple may have been driven to the point of separation by external factors affecting their decision-making. Once you're spending time apart from your partner and you have more energy to focus on other things, you may be able to step away from external factors. 
"I've seen that in many cases, the in-laws of both partners have too much of an influence on the relationship. They may force the partners into reconciliation, and once that fails, the extended family then takes a step back. In those situations, I've seen that many couples are very happy with each other and realize that the problems were with the expectations of the people around them, " says Tahini. 
If you think your relationship has broken free of any overwhelming expectations from a third party and that you may be able to focus on each other better, you could have a reason for keeping hope during separation. Who knew the overbearing mother-in-law could be the reason for both the separation and the reconciliation? 
Related Reading: Rebuild Your Marriage During A Separation With These 13 Tips
3. When you're able to identify the real issue
When you're angry, it's easy to convince yourself that you hate your partner and everything about them. That there's absolutely nothing about them that you like. As time passes, however, you might come to realize the problem isn't with each other, it may be just some unrealistic expectations or lack of physical intimacy. 
Tahini recalls a case where a lack of sexual intimacy was the root cause of the couple's problems. Only after talking to a sexologist did they realize what they needed to do. "When undiagnosed factors like stress or anxiety may cause rifts between the couple, talking to a medical professional can help. Since I always have a therapist on hand, a couple I worked with were able to realize that lack of physical intimacy was the root cause of their separation." 
Beating around the bush, letting anger cloud your judgment and not knowing what the real problem areas are all, add up to make a concoction for disaster. Perhaps one of the biggest signs of reconciliation after separation is when couples finally realize what's been eating away at their marriage.
4. When there is forgiveness 
A relationship may end because of infidelity or not seeing reciprocation of effort. When instead of "I can't believe you did that," your conversations sound like "How can we move past it?" there's a good chance you two have forgiven each other and are ready for a more nurturing relationship. 
If you two realize that divorce is not an appropriate reaction to whatever it is that drove you away, that's when you start to reconcile after a separation. 
5. The "remember when" conversations bring back good memories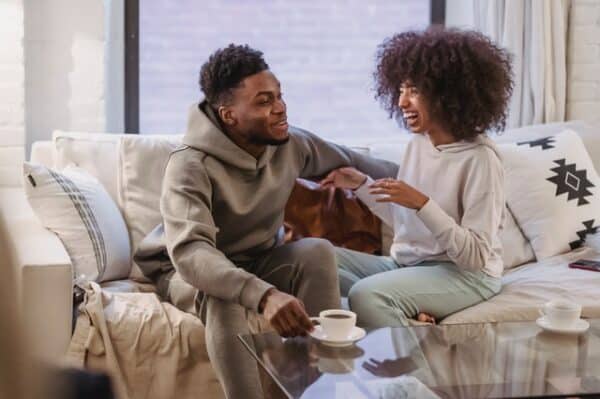 Once you two sit down to recall the good times you spent together, you might just end up talking the whole night, reminiscing about the good memories of your relationship and what made it so special. Behind the funny stories and the fond memories are intense feelings that you'll realize you yearn for. Who knows, you might even fall in love again.
Once you and your spouse try to remember the good things about each other and why you loved each other in the first place, even if it's through memories, you have plenty of reason to stay positive during separation. 
6. You still meet each other 
No, we don't mean going to the divorce lawyer, but actually opting to do things together and meet each other. Positive signs during separation from wife include her reaching out to you, so you both can go somewhere together or just meet each other. 
Once you spend time together in public and you're not fighting as much, you might be able to see the things you like about your partner. If you're still meeting each other outside of court, it's a good sign of reconciliation after separation. 
7. Career stressors are eliminated 
In many cases, couples may opt for a separation when they're unable to give attention to their marriage due to their career. Or if the life their career entails is not desirable to the other partner. That's when couples often realize love after marriage is different than before it.
"Career obligations sometimes put extra pressure on the relationship. I've seen couples where the husband is in the army and the family has to shift to remote places, which isn't okay with the wife. In cases where the man has been transferred to metro cities, it can lead to a reconciliation between the couple, " says Tahini. 
A career change, being better equipped to handle work and marriage, reducing work expectations can all play a major role in balancing work and married life.
Related Reading: 12 Tips To Successfully Save A Broken Marriage
8. Absence makes the heart grow fonder
Perhaps one of the strongest signs of reconciliation after separation is when both partners start to miss each other. If your partner calls you up or texts you out of the blue, you know you must be on their mind. When situational anger is subdued, you both might realize that it's not worth throwing away what you have because of anger. 
"In a divorce case I was handling, the couple, who despite being very angry at each other during the proceedings, started missing each other soon into the separation. When both spouses realize they're pining for each other, they understand that they just needed a break and not something as serious as a divorce, " says Tahini. 
Sooner or later, you're bound to miss your partner and they'll miss you as well. How you act on it is what will tell you if there are positive signs during separation or not. 
9. Animosity is replaced with empathy 
The blame game will become a thing of the past, lingering hostility will be shown the back door. Instead of a screaming match, you two will say things like "I understand where you're coming from." If you notice a lot of empathy and a lot more consideration than before, it's definitely a reason for keeping hope during separation. 
"Tell-tale signs of reconciliation after separation are when they're not acrimonious toward each other. If you talk to each one individually, they won't have venom for each other," says Tahini. 
10. If the separation isn't long 
If the separation shows no signs of lasting past the average 6-month mark, it's definitely a sign that things can go well. Reconciliation after a long separation is a lot rarer than the shorter separation, notes Tahini.
Separation isn't a death sentence for a marriage, the idea of separation exists to try and give individuals more time to think and reconsider their decisions of divorce. Pretty soon into it, some couples realize if the relationship is fixable and what needs to be worked on.
Related Reading: Marriage Separation Advice: 11 Wise Tips
11. If your partner still cares for you
This may also be because you don't really just stop loving someone because you're officially in separation. It takes a lot longer for the feelings and literal withdrawal symptoms to subside. But if your partner shows persistent signs that they still care for you even after a couple of months, they might be telling you they're hoping for a reconciliation. 
Watch out for things like them making excuses to see you, checking to see if you need any support in any way or if you just need someone to talk to. 
12. If your partner looks for support from you 
Inversely, they might long for support from you as well. During your marriage, you were most probably the first person your partner called when they needed support in any way, and while that's not going to change one day into the separation, if it's still the same after a while it could have promising indications. 
If your partner trusts you to support them during separation, it's a way of telling you that they trust you to be there for them if things ever get better. A good marriage is built on support, you've got to make sure you help the process of rebuilding trust and try your best not to tarnish it. 
13. You're kind to each other
Unsurprisingly, divorce/separation proceedings may feature some not-so-kind behavior from either partner toward each other. If after a while, you're both kind and caring toward each other, it could signify that your feelings aren't going anywhere. 
Reconciliation after a separation is definitely on the cards if you're both doing sweet things for each other, even if you wish to make up for any harm you may have caused in the past. 
These signs of reconciliation after separation should give you a fairly good idea of what your life may look like in a couple of months. Right now is the time for introspection and trying to figure out if your life will be better with or without your partner. Hopefully, the signs we listed out for you might give you a better idea of what is in store.
15 Subtle Yet Strong Signs Your Marriage Will End In Divorce