I grew up in a reasonably well-educated Brahmin family in Chennai. I've always been fascinated by doctors. I do not deny wanting to marry a doctor at some stage in life. In fact, when many arranged marriage proposals came to my parents, I hoped at least there were a couple of good-looking doctors. There were hardly any proposals from doctors. The ones that were there, they were not good looking.
(As told to Irewati Nag)
My marriage has everything you normally look for
I ended up marrying a CA, based in Mumbai. My husband is a class topper, one of the most successful CAs in the city. I have heard from others that he is a shrewd negotiator and extremely hard working and detail-oriented too. It makes me proud when I hear his praises from others.
I have two sons now; my husband's job requires him to travel 3-4 weeks at a stretch. So, he is gone for 3-4 weeks once in two months.
Related Reading:  How to make a long-distance relationship work?
My best friend's husband moved into town
Recently, Anuj, my best friend's husband from Chennai, relocated to Mumbai. He is a doctor. He managed to get a very senior posting in one of the best hospitals in Mumbai. Besides being a doctor, he is extremely handsome, well dressed and a smooth talker. Above all, he is a good listener.
I am extremely comfortable with him around. Aruna, my bestie, could not join him, as she heads the finance department for a leading IT company in Hyderabad. So, they keep making trips to meet each other.
Over the past few months, I have grown very fond of Anuj. The feeling is mutual. He stays in an apartment in Mumbai, I am sure he feels lonely, so he frequently comes home over weekends
Despite all my love for my husband, I must say that my attraction to Anuj is physical and personal. While Anuj doesn't hesitate to come home when my husband is there, he is even freer at my place when my husband is not there.
I enjoy the physical pleasure and the non-stop chat with Anuj when my husband is not there. Now the problem is, neither Aruna nor my husband are aware of his trips to my house which he makes when my husband is not there.
What to call this relationship?
Sometimes that guilt kills me. I am even scared to term it as an extra marital affair, which is what the world would label it as. I think it is more of being in comfort with another person other than your husband. If someone asks me, why am I hiding it, I have no answer.
I also believe that physical intimacy with Anuj is not wrong. Why does society make it such a big deal? I wish it treated it more like a natural phenomenon, the way we visit the washroom or take a bath; it is as simple as that.
The way I look at it is, both of us do not have our spouses with each other. In their presence, our world revolves around our spouses. Anuj and I do not compromise on the attention we give our spouses. I wish we could spell out what Anuj and I did to each other. How well we have grown at a personal level.
Physical fidelity is just one of the vows of marriage
Anuj tells me he understands his wife better than he did earlier. I am able to overcome my loneliness and frustration much better than I did before, hence the arguments with my husband have gone down. I can now have a healthier conversation with my husband. These days I sit and discuss his work as well, something that I hated before. I must say that my relationship with Anuj has made me calmer, more accepting of my relationship with my husband.
I must say that my relationship with Anuj has made me calmer, more accepting of my relationship with my husband.
It has led to a stronger bond with my husband. Anuj says the same of his relationship with Aruna.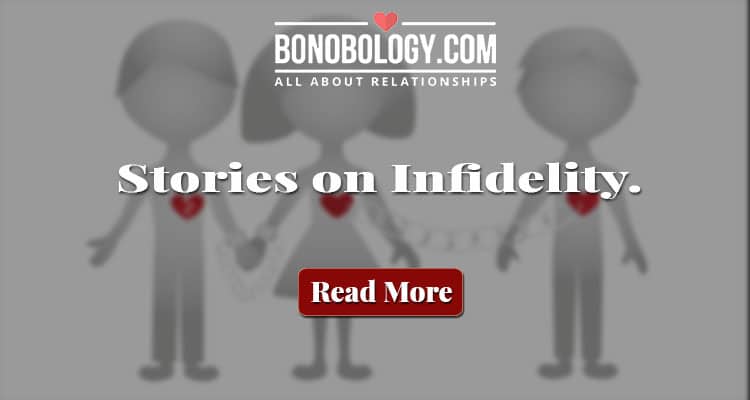 I am not advocating all of you go out there and have an affair. All I am saying is that we as a society need to remove the judgement from our minds about people who do end up having affairs outside of marriage. It is one of the promises that are made in a marriage; when spouses fail in other promises, the judgement is not so harsh. Why the moral brigade just because this aspect may involve the body?