Looking for the best dating site for introverts? Because we know the rapacious energies of all the Tinders of the world are not your speed. As an introvert, it's hard enough to put yourself out there and play with what little social energy you have. And dating apps only really work when you put yourself out there and move fast. 
If that feels like it's out of your comfort zone, it may be time to test some other, lesser-known dating apps and see what might work out for you. Some apps have made a name for themselves owing to their debauchery (not that it's a bad thing if that's what one is looking for) and others for being banal and equivalent to matrimonial sites. 
As an introvert, there's a good chance you're not looking for either of those things but rather for someone who can spend an hour discussing Broadway in a library-coffee shop. As adorable as that sounds, finding someone who would enjoy that kind of date as much as you seems like a challenge though, right?
Dating, like any other task which involves interaction with strangers, has never been easy for introverts. In the old school way, going to a club and meeting a guy or girl was all about dreadful social anxiety. Even now, the picture of online dating for introverts is not exactly a walk in the park either. You may have already searched for introvert dating sites to avoid the cheesy pick-up lines and cringe pictures rushing into your DM but with no luck.
But what if we were to tell you that there might be some online dating site for introverts that can make this whole process much easier? We're sure you must be wondering, "Is there really a dating site for introverts?" "Do you find introverts on dating sites?" Well, the answer to that is, "Yes, there is a whopping total of 8!" Buckle up!
The Top 8 Best Dating Sites For Introverts – For 2022
As someone who has just graduated college or is finally feeling ready for some kind of honest commitment, you are probably looking to turn to online dating apps. But you are still in two minds, thinking, "Is Tinder good for introverts?" Luckily, we have a fair idea of your requirements and expectations from the introvert dating sites and thus, we have accumulated a long list of options for you to make the final call.
With these 8 introvert dating sites, we are confident you'll find something that is just right for your palette! You will get an idea of where you can read some of the best bios for introverts. These top dating sites for introverts are fairly safe for young people. Still, we would like you to make smart choices and not fall into anything shady or ambiguous. So without further ado, let's look into the 8 best dating sites for introverts between the age of 21 and 22: 
Related Reading: 18 Tips To Ace Dating In College
1. Anomo – The best dating site for introverts
Your prime option when looking for dating sites for introverts, Anomo is specifically designed for the shy and reserved. If you feel like that's you, then Anomo is the place to try first. Created by James Sun, an introvert himself – all you need to do is log in, create an avatar and strike up conversations. 
This mask of an avatar helps introverts open up more easily without overthinking the whole process or feeling too conscious. As you get more comfortable, you can reveal more about yourself to your online matches without too much hesitating. Anomo makes it easier for introverts to flirt as the majority of Anomo users are teenagers or in their early 20s. So, your perfect introvert match is just a click away!
People hiding behind the mask of avatars may seem like throwing stones in the dark, but Anomo verifies all its users via Facebook
You can always choose to show your real picture instead of the cartoon face
They have funny ice-breaker games to help users get to know each other
Some bug issues and sudden crashes may bother your user experience while using this app
Available on: The App Store or Google Play 
Paid or Free: Free
2. Bumble – Ladies, you're up!
"Is there a dating site for introverts where men don't have to make all the moves?" Well, Bumble has granted your wish. Gone are the days when men had to send over a drink to a girls' table to start a conversation. Now, women walk up to whoever they like and play the game on an equal footing. The same is the case with Bumble but in a virtual dating setting.
Is Tinder good for introverts? Well, let's get out of this never-ending confusion and confirm that Bumble indeed is a better choice for shy people. American entrepreneur Whitney Wolfe Herd launched this woman-centric dating site in 2014 and it yielded an unexpected success rate, reaching 80 million matches in only a year. Bumble is the most famous because it hands over the power wheel to the ladies and lets them decide when to make the first move.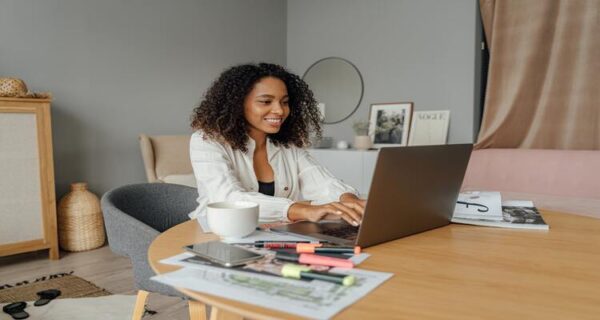 So as a shy guy, this is your go-to app! All you have to do is download the mobile application and swipe away. And the best dating sites for introverts are the ones that are free. This free app is sure to start many fun conversations where women take their pick. 
No more flooding of creepy messages in women's DMs
This app gives scope for the best bio for introverts as its only 300 characters
You can easily set up an account with some basic information, preferences, and pictures
Tag your Instagram account if you wish to reveal more about yourself
To access advanced filters like educational qualifications, you have to choose a paid plan
Available on: The App Store or Google Play 
Paid or Free: Free but with varying levels of paid services 
3. SoSyncd – Syncing personalities and one of the best free dating sites for introverts
The first dating app to connect compatible personality types – leave it to science to determine how to help find you the love of your life. Inspired by the Myers-Briggs Type Indicator test, here your personality is not only evaluated but also matched with other compatible types. Taking online dating sites for introverts to a whole new level, meaningful matches are guaranteed on this one. 
Consider this one of the best introvert dating sites for those looking for something deep or a long-term connection. Available to download on Android or iOS, this free app allows you to take a test where your personality type is revealed. Following that, the algorithm does the rest of the matching magic. 
One of the top dating sites for introverts, SoSyncd has a user-friendly interface
Quick sign up process and starts with a 5-minutes personality quiz
It is ideal for those who are looking for deep meaningful conversation and bond
SoSynced features private profiles to meet your safety and privacy requirements
Available on: The App Store or Google Play 
Paid or Free: Free but with varying levels of paid services 
4. eHarmony – Let's get serious 
A well-known and trusted dating app, eHarmony is for the hopeless romantic in you on the lookout for something final and long-lasting. Online dating sites for introverts have now carved their own spaces for being comfortable and safe to use for those who are serious about finding love but find it daunting to do so on their own. 
Using 32 different dimensions of compatibility, this app pairs people based on an understanding of their personalities. Instead of the classic swiping, the website sends you its own recommendations of who may be a good match for you. A modern matchmaking system, eHarmony is safe as well as popular but can become expensive. 
Related Reading: 15 Signs You Are In A Serious Relationship
eHarmony holds a stellar reputation as an introverts dating site ever since the year 2000
They have a balanced ratio of male and female users with detailed profile information
The special RelyID feature helps to scan through and verify members' information to zero down scammers
eHarmony has a crowd looking for long-term commitments
Available on: The App Store or Google Play 
Paid or Free: Free but with varying levels of paid services 
5. Coffee Meets Bagel – A curated match
Do you find online dating for introverts tiring – going through so many profiles with hardly a few meaningful matches? Are you done spending so much time on the dreadful swiping, swooshing, and choosing? Then leave it to free dating sites for introverts such as Coffee Meets Bagel to do the matchmaking for you. With almost no effort on your end, you can sit at home and let the app send you a curated match to you every afternoon if you are dating as an introvert.
For more expert videos please subscribe to our Youtube Channel. Click here.
Men get matches based on the algorithm and women get matches from men who have already expressed their desired interests. And if you're queer, there's no reason to feel left out. Online dating sites for introverts like this one have a special space for you. LGBTQ members also receive their own preselected potential matches. As easy as pie, such free dating sites for introverts are great when you don't want to spend too much time scavenging for a partner. 
Their algorithm finds specially curated in-depth and sensible matches for you
It has a younger crowd looking for a serious approach, so not a good place for hookups or casual dating
The app has a majority in woman's membership as CMB only sends those matches to women about which they have already shown interest
This introverts dating site certainly saves you a lot of time wasted in scanning profile bios
Available on: The AppStore or Google Play 
Paid or Free: Free but with varying levels of paid services 
6. OkCupid – The most popular among introvert dating sites 
With an algorithm that completely reveals itself, every match carries a badge with a percentage rating of things working out so you can mathematically judge your prospects. With many search options and great ease in terms of the user interface, OkCupid is the most popular introvert dating site there. So, say goodbye to all your dating anxiety!
Online dating sites for introverts are used tremendously among many age groups and people, and the options are endless! As an introvert, putting yourself out there might seem a little scary, but don't worry, OkCupid has got your back – you can select an incognito mode and make yourself invisible at times. 
Do you find introverts on dating sites often revealing their sexualities? Perhaps not! OkCupid is just the right place to connect to people with a massive filter range of 20 sexual orientations and 12 gender identities. Let's all be proud of who we are and be loud about our choices.
It has a user-friendly interface with a plethora of filters for perfect compatibility search
You get to access the basic features like finding a matching, sending, and reading messages for absolutely free
Whenever you visit a profile, OkCupid shows a percentage of success rate for that account
Endless opportunities to meet people from different walks of life with different passions and personalities
Available on: The AppStore or Google Play 
Paid or Free: Free but with varying levels of paid services 
7. Hinge – Put out your best profile
One of the best dating sites for introverts, Hinge makes you play around with your profile a LOT and really makes you engage. With a host of prompts and ideas to create your profile, it enables you to put your best self out there. Struggling with how to write a dating profile? Hinge will push you in the best possible ways.
Further, all you have to do is send likes back and forth, and if someone likes you back, well then, you can choose to start a conversation with them. With a lot of gender options, Hinge is inclusive and has room for everyone. 
Related Reading: The Top 10 Single Moms Dating Apps | Starting Afresh
Unlike Bumble, the chats and matches never expire on Hinge
And, like Instagram, you get to like pictures and prompts of other people on your discover page and be reciprocated in a similar way
If you want to see and talk to this person before letting him in on your WhatsApp or an actual date, video and voice call options are available
It offers a modern UI and a relationship-oriented space
Available on: The AppStore or Google Play 
Paid or Free: Free but with varying levels of paid services
8. Zoosk – Finding the perfect match 
Let us end this list of introvert dating sites with Zoosk. Here, you vote 'Yes' or 'No' on a person's profile and if you find a match, Zoosk tells you the good news, so you can start talking to them. With the Super Send feature, all you have to do is pick a prompt message that you can send to all other members that you're interested in to break the ice. Once they receive your message, they can write back after which you can finally reveal your complete profiles. 
Quick sign up and user-friendly app – you don't have to go through an extensive list of questions to get in
The photo verification process lowers the risk of scam accounts
You will not find any features missing on the app that is available on the website
But you have to pay for the membership to access the cool features like Super Send or Smart Pick
Available on: The AppStore or Google Play 
Paid or Free: Free but with varying levels of paid services 
See how easy it was to find the perfect dating sites for introverts? So we hope your "Is there a dating site for introverts?" concern has been addressed and you will now stop letting the dating anxiety of online encounters get you stumbled because there are really a lot of opportunities out there for you to explore! Not every app has to work for you but you'll definitely find something that will grow on you.
Having A Relationship With An Introvert? 7 Tips For Dating An Introvert
Ask Our Expert
You must be Logged in to ask a question.