It's Halloween time!!! The beginning of the holiday season. It's decidedly one of the most fun holidays on the calendar. With pumpkin carving and trick-or-treating, there's just so much about this holiday that you can enjoy.
Arguably the best part of Halloween is that you get to be whoever you want. The excitement of picking out costumes, accessories, and makeup to celebrate your favorite characters hits differently. From your favorite superhero to a cute vegetable, you can be anything. To take things to the next level, you can synchronize your look with your beau's. All you need are the right Halloween costumes for couples.
So, get your creative juices flowing and get inspired, you want to look awesome at your Halloween party, don't you? Of course, we're here to help matters with the choicest selection of the best Halloween costumes for couples.
50 Best Halloween Costumes For Couples
If you're a couple this is your chance to flaunt your relationship. Few things in the world prove that you're together – we mean together, together – like a couple's costume. Let's face it, syncing your Halloween costumes is right up there with sending out holiday cards together when it comes to relationship milestones. If you're there in your relationship, first of all, congratulations!
We know the holiday is just around the corner and you're already raking your brains over the best outfits for you and boo. To make that choice easier, we bring you a list of Halloween costumes for couples. You're bound to find your perfect costume idea here.
For all you people who aren't in a relationship, don't worry. A Halloween costume for couples isn't just for people who're dating, it's for BFFs too. There is no need to feel the pressure of finding someone just for a couple's costume. Make Halloween about bonding with your friends!
So, here are 50 Halloween costumes for couples that we think are the best:
1. Vampire couple's costume
As far as scary couple's Halloween costumes go, this one is a no-brainer. Vampires have been in trend since the Twilight series. It's also a very easy DIY Halloween costume for couples. All you need are clothes that you don't mind staining, some fake blood the recipe for which is available online, and some red lipstick. You're all set to spook.
2. IT themed costumes
I think that IT is terrifying. So, if scary is what you're going for with your costume, then this is perfect. This fits perfectly if you're thinking of a scary costume.
Take inspiration from it and make your own movie couple's costumes. Some paint and a red balloon should do the trick.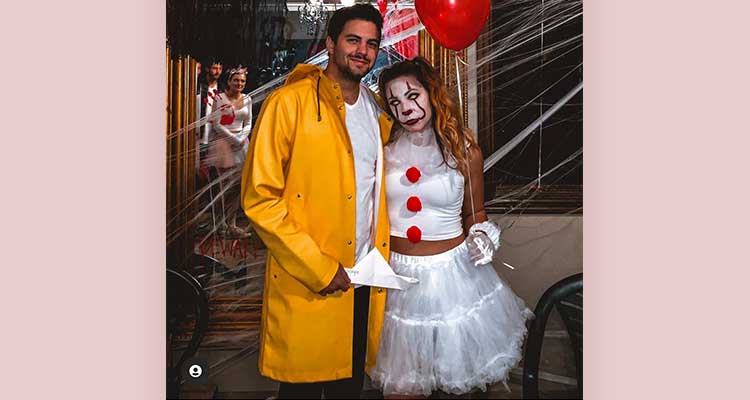 3. Skeleton couple's costumes
This one's a classic you cannot go wrong with. Besides, a skeleton costume makes for a super pocket-friendly and easy couple Halloween costume idea. You can get a skeleton suit anywhere. Otherwise, you can always find a black T-shirt and paint it.
The important part of this costume is your makeup. Look at a few online tutorials to get it right and you're set.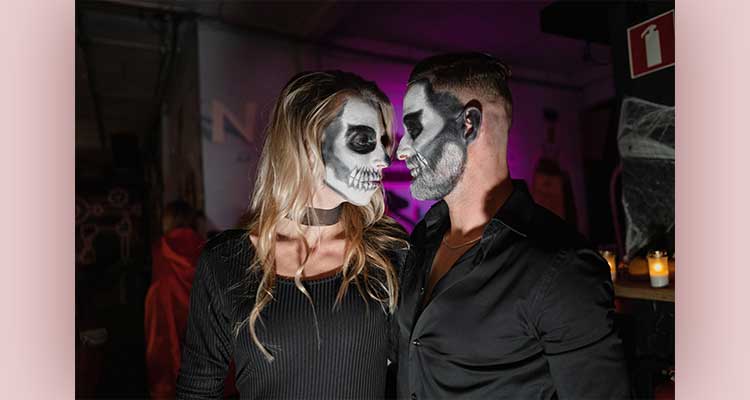 4. Zombie couple's costumes
This is another very cool scary couple's Halloween costume. It might take a little effort but with the right make-up and black clothes, this will work out perfectly. As long as you're ready to go crazy with face paint, you'll enjoy this costume.
Related Reading: 9 Activities To Rebuild Trust In A Relationship – As Recommended By A Couples Counselor
5. Suicide squad costumes
Suicide Squad has quite the fan base, and if you're one of them, let this perfect balance of horror and superhero be your inspiration for a couple's Halloween costumes.
We all thought Joker and Harlin Quinn were very cool together. So why not turn them into a Halloween couple's costume?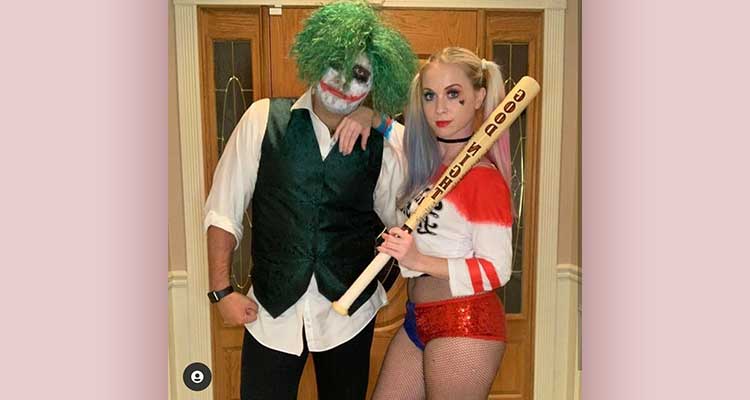 6. Day of the dead couple's costumes
Día de los Muertos – the Day of the Dead has its own panache. It is a whole new version of the old-school skeleton costumes. 
To get this costume right, you need to pay extra attention to the flowers and the make-up. But as far as the clothes you can't go wrong with black. A black shirt and black dress will work perfectly. You might even be able to recycle your prom dress.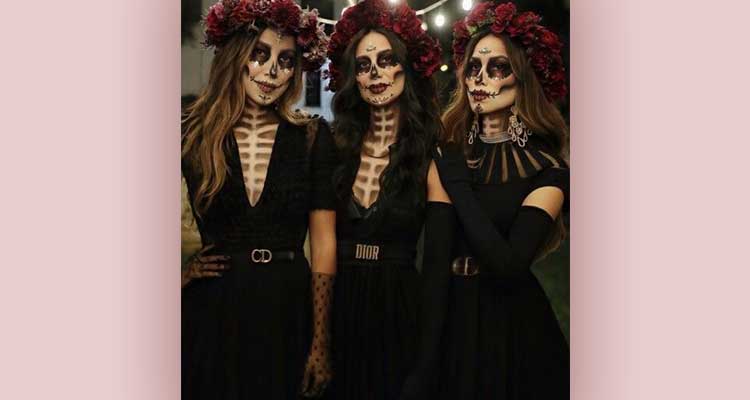 7. Gothic bride and groom Halloween couple's costumes
Ghost bride and groom is the perfect combination for a scary couple's Halloween costume. It combines the spookiness of ghosts with the romance of being a couple.
All you'll need is pale makeup and a bunch of talcum powder. Just don't forget the veil and bouquet, they'll really bring the look together.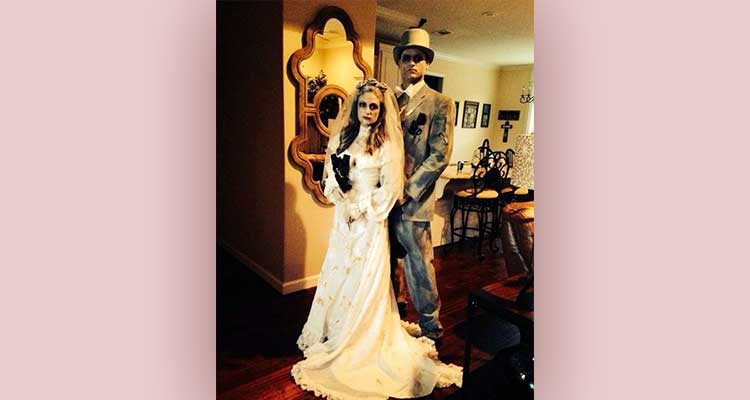 8. Frankenstein and his bride couple's costume
To up your spooky quotient, be inspired by the old classic 1935 movie, The Bride of Frankenstein. Frankenstein and his bride will be perfect to highlight your couple's status. Besides, the costume is pretty easy to put together, and add some good makeup and you're set.
9. Mummy couple's costumes
We're all familiar with our run-of-the-mill Mummy, the dead pharaoh's walking corpse. It's just as scary, no matter how many times you've seen it. This is why it's a great pick for your Halloween avatar.
Added bonus: this is also one of the easiest couples Halloween costumes. All you'll need is toilet paper or a white bedsheet. Just wrap yourself up and add some make-up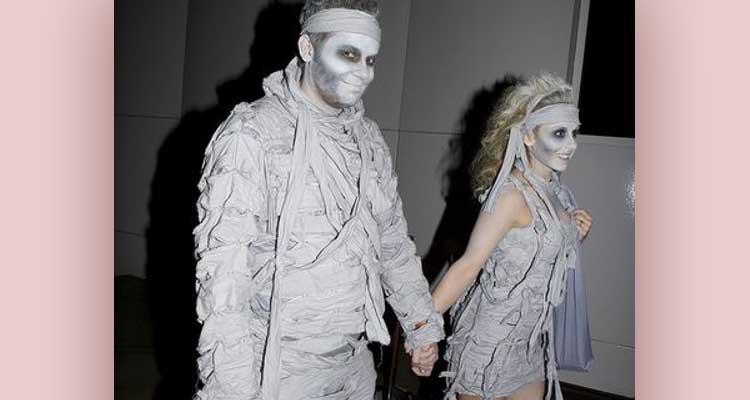 10. 'The Nightmare Before Christmas' Halloween couple's costumes
No Halloween can be complete without the mention of The Nightmare Before Christmas. After all, it has this festival as a town in the movie. Not to forget that the romance between Jack and Sally is just pure gold. So, a movie couple's costumes based on this is a complete no-brainer.
11. Scooby-Doo couple's costumes
Scooby-Doo-inspired cute couple Halloween costumes are just awesome and they never get old. Plus, there are so many combinations to choose from as well. You can go Fred and Daphne or Velma and Shaggy or even Shaggy and Scooby. The only thing you need is the right clothes and those you can get from anywhere.
12. Titanic couple's costume
Speaking of romance and its larger-than-life depiction on celluloid, Titanic remains a landmark movie that you just cannot miss out on. You can never go wrong with 'Jack and Rose' inspired couple's costume.
Just find clothes that look similar to theirs, and if you can get the 'heart of the ocean' necklace, your costumes will get the pizzazz needed to stand out in the crowd.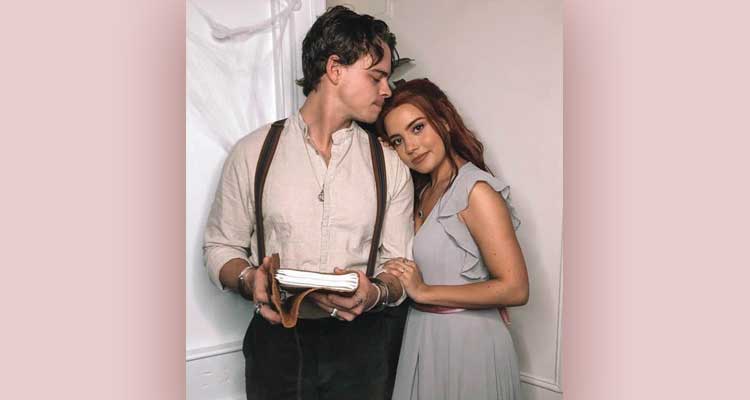 13. Harry Potter couple costumes
An all-time favorite film series deserves its movie couple's costumes. Besides, they're very simple to create. So, get your wands and robes because things are going to get magical.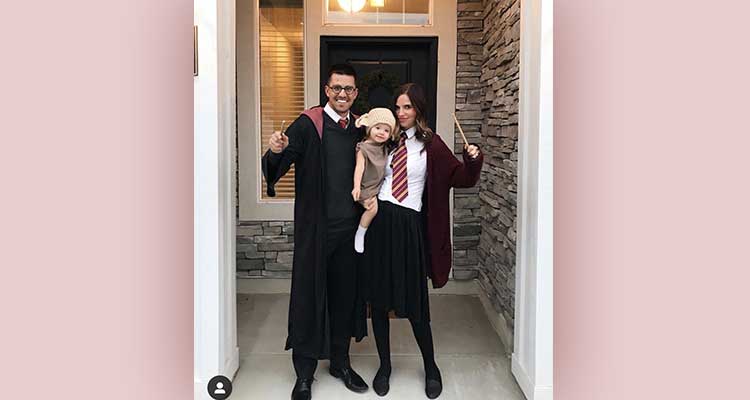 14. Alice in Wonderland Halloween costumes for couples
It's an all-time classic story that you can keep going back to costume inspiration over and over again. If you look at the new Disney movie, it's stylish as well. 
Going toward the steampunk side of things, these costumes are perfect for all you couples or BFFs looking to mix things up on Halloween.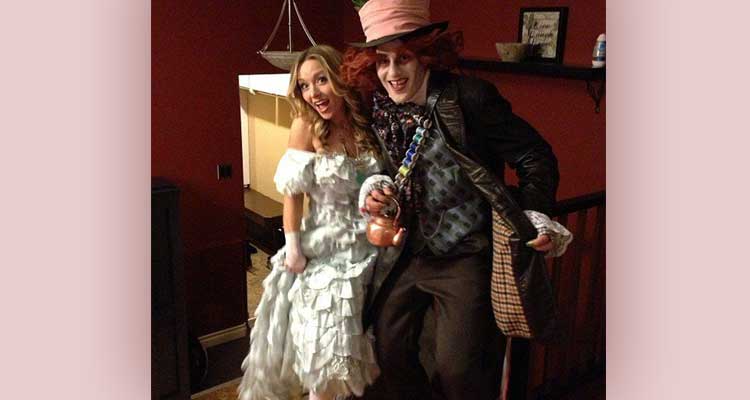 15. Friends couple's costumes
If you still enjoy watching this show, why not become Ross and Rachel or even Monica and Chandler. And if that sounds too mainstream, try Monica and Richard, Ross and Emily or Chandler and Janice (OH. My. GODDD. Eheheheheh)
They're easy couple Halloween costumes that you can assemble with the clothes that you already own.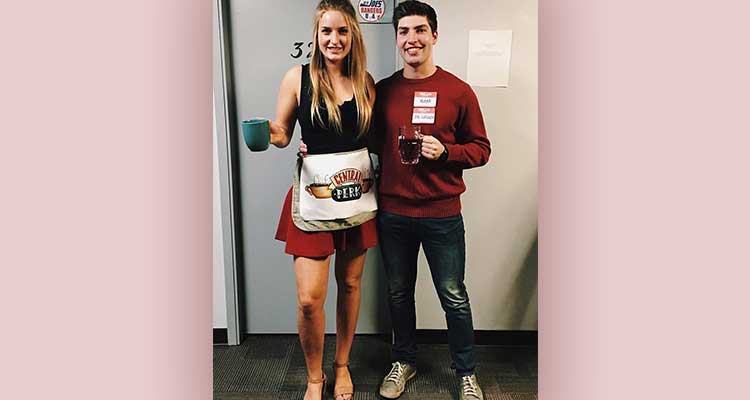 16. Stranger things Halloween couple's costume
On a day that's all about the spook, you can't forget about Stranger Things, the horror sci-fi drama that has become a sensation on Netflix. There are quite a few Halloween costumes for couples that you can make based on this show.
The easiest looks to recreate from Stranger Things are of Steve and Nancy. Just the right clothes and a bit of makeup and your costume will be ready.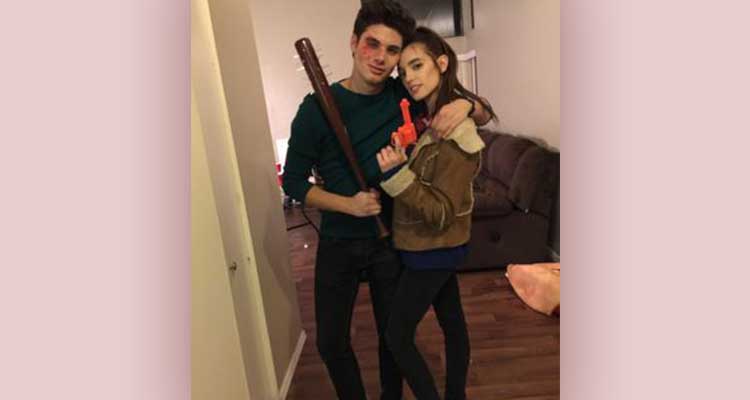 17. Fruit couple's costumes 
Fruit costumes are cute and funny at the same time. So just go to your closest costume store or you can even DIY it at home. A little paint and some balloons should do the trick. If you want more ideas you can always check out a few DIY fruit costume videos online.
18. Peter Pan and Tinkerbelle couple's costume
Everyone likes Tinkerbelle, she's just adorable. Pair her up with Peter Pan and you have an awesome couple's costume. Add a little bit of golden glitter for pixie dust and your costume will be complete.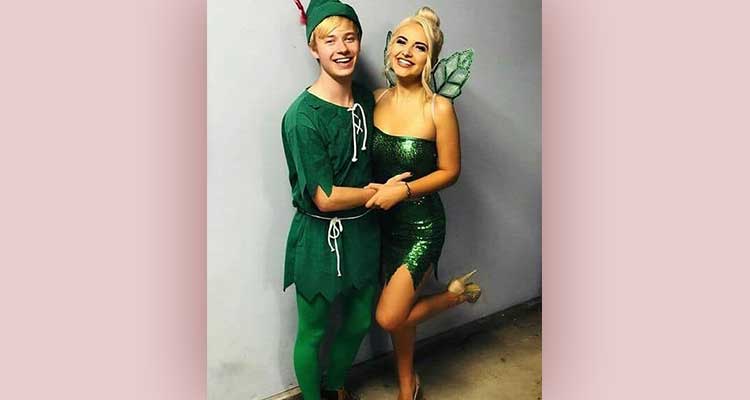 19. Lilo and Stitch couple's costumes
No one can forget Lilo and Stitch, it is simply one of the best Disney movies ever. A Halloween costume for couples inspired by it is the best way to relive this sweet childhood memory. This is also a super cool idea for friends who want to sync their costumes this Halloween.
20. Mavis and Johnny Halloween couple's costumes
Hotel Transylvania is just the perfect combination of goth and cute. Through all three of its movies, Mavis and Johnny have had our hearts. This costume isn't that complicated to create either. You just need to get the clothes, and if you're truly a fan, chances are that you'll find them in your wardrobe. If not, you can always count on that nerdy friend's wardrobe to come through.
21. Aladdin and Jasmine Halloween costumes for couples
They've been everyone's favorite Disney couple since the first Aladdin movie was released. This feeling has just increased with the creation of the live-action movie. If you're looking for cute couple Halloween costumes, then this is a bankable idea you cannot go wrong with.
22. Tangled Halloween couple's costume
Flynn and Rapunzel are just simply cute together. They have a playful vibe. Dressing up as them would be perfect for all you couples who're die-hard Disney fans. Remember that this costume won't be complete without Rapunzel's frying pan, don't forget it.
23. C3P0 and R2D2 couple costume
This might be one of the nerdiest Halloween couple's costumes but that doesn't make it any less cute. You can choose any other Star Wars couple you want but these guys are the true couple of the franchise. 
24. Monsters Inc. Halloween costumes for couples
The Sully and Mike combination has become iconic at this point, which makes it the perfect idea for cute couple Halloween costumes. If you want to change things up, you can go with Sully and Boo as well. It's up to you.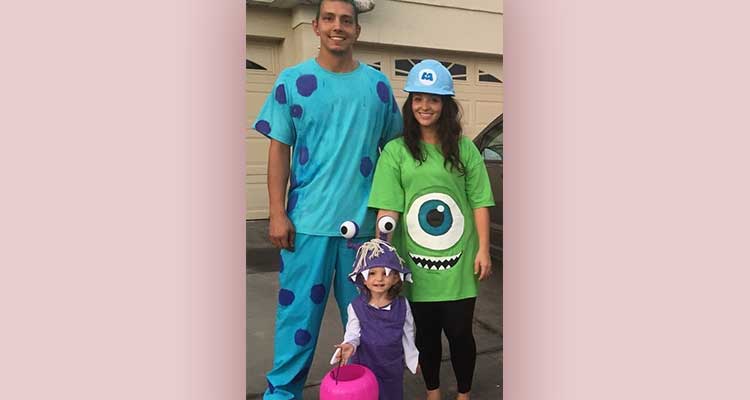 25. Incredibles inspired couple's costume
The first-ever family of superheroes is always going to have a soft spot in our hearts. Choosing to dress up as them is probably one of the best ideas for a Halloween couple's costume ever. If you're a Disney Pixar buff, then you won't find an idea better than this.
26. Pirates of the Caribbean inspired couple's costume
Who can forget Johnny Depp's quirky Jack Sparrow? He was amazing and hilarious at the same time. Going for a Pirate's of the Caribbean-themed Halloween couple's costume is all about what you do with your hair. The style that you choose will define how pirate-y you look. 
27. Smurf and Smurfette couple's costume
Well, these cute blue guys are just as popular as the Minions are. With just one girl in the entire village, the story of the Smurfs has captivated our hearts.
Going as Smurf and Smurfette is a super cute idea, just remember the blue color is very important, so you will need to use proper body paint to nail this look.
Related Reading: 10 Activities To Spice Up Things With Your Partner Today!
28. Bonnie and Clyde costume
The classic badass couple! A couple of outlaws making their way through life by doing whatever they want. If this is your thing, then this couple's costume is perfect for you. The right kind of ensemble and a bit of makeup is all you need for this costume.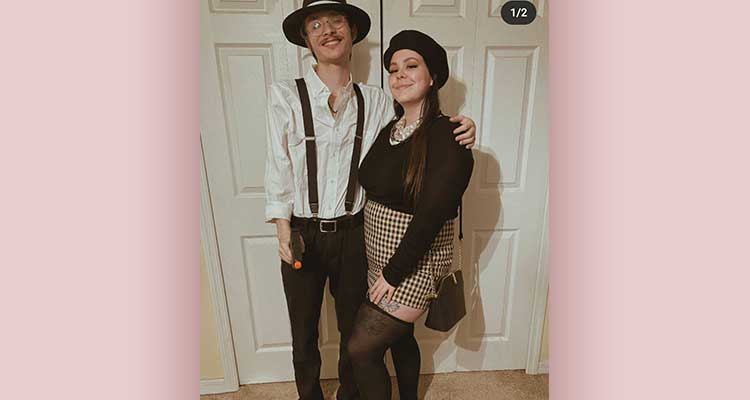 29. Doctor and nurse costume
This is a costume idea that has been around forever. The doctor and nurse combination is one that you can tweak to suit you. Some of you might want to make it sensual, while others might want to go a bit freaky and add fake blood. It's on you, so let your imagination run wild.
30. Moana couple's costume
Moana and Maui or Moana and Hei-Hei: which would be your go-to couple costume idea? Ultimately, both these ideas are a tribute to an amazing Disney movie, and just every bit as heartening as the movie itself. Remember that the devil is in the detail, so get the costume right. It might be complicated but the result will be worth it!
31. Tourist and Statue of Liberty
This is a pretty hilarious couple's costumes. Imagine walking down the street like that, with the Statue of Liberty as your date. On the other hand, you could give it a romantic spin, say, "I'm admiring the Lady of my life."
Whichever way you want to play it, remember to make the outfit right. It might take some hands-on DIYing but it will be super fun.
32. Little Red Riding Hood and the big bad wolf
They may not be a couple, but Little Red Riding Hood and the Big Bad Wolf have their own relationship dynamics. They have become somewhat of a trend when it comes to Halloween costumes.
33. Egyptian Halloween costumes for couples
We all remember Cleopatra; she has remained a beauty icon for centuries, and her cool eye makeup and hair accessories are just as aspirational today as they were back in her day.
So, channelize your inner Cleopatra and ask your partner to be the kind worth of this beauty. Dressing up as an Egyptian couple would be a pretty chic choice. Focus on the makeup, if you get that right, then the other details won't matter as much.
34. Toy Story costumes
Who doesn't like the Toys Story franchise? It's the epitome of friendship and has made us all cry as kids. Turning this blockbuster franchise into a Halloween costume for couples is simply a no-brainer.
Honestly, if you're friends who want to share a costume idea, then this will be the perfect fit for you guys. Woody and Buzz all the way. After all, what better combination is there in the world?
35. Aquaman and Mera costume
We've all seen the new Aquaman movie, the couple dynamic between Arthur and Mera is playful and yet romantic. If that's your relationship vibe, then this movie couple's costumes idea is perfect for you.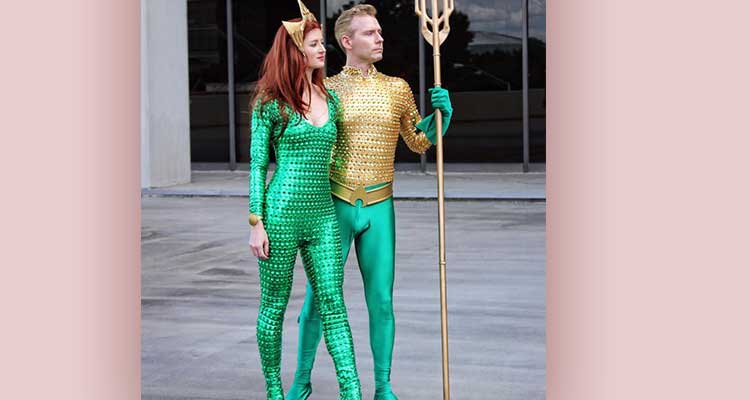 36. Superman and Wonder Woman couple's costume
Superman may have been paired with Lois Lane in the movies but he ended up with Wonder Woman once they joined the Justice League. They make the ultimate power couple, literally. 
This is the perfect Halloween costume for couples if you're DC comics fans out there. Let the fanboy and fangirl have their moment. 
37. Batman and Catwoman costumes
Just like Superman and Wonder Woman, these two are a classic couple from the DC universe. If you prefer the dark side then the Dark Knight and Catwoman are the best you'll come across. Let's not forget, this can be pretty sexy too!
Related Reading: 28 Fun Things To Do With Your Boyfriend At Home
38. Cowboys couple's costume
The mid-west theme of this couple's costume has its own vintage outlaw feel to it. It's also one of the easiest couple Halloween costumes to put together. All you'll need are flannel shirts, denim shorts and pants, and cowboy hats. Leather boots would also be a very good touch along with maybe a whip.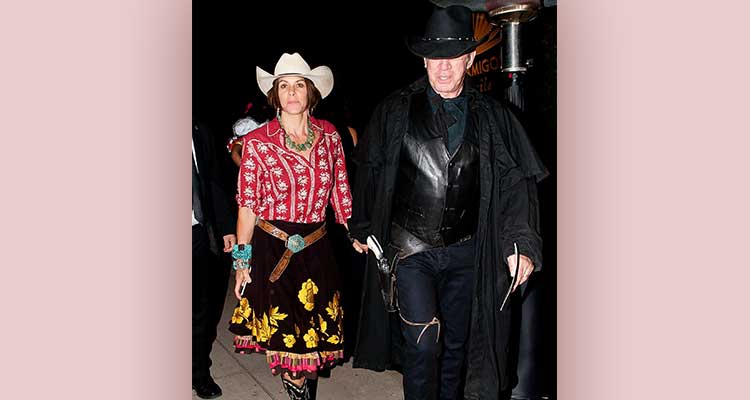 39. Sumo Wrestlers couple costume
Everyone likes those chubby fighters, they're scary while still being cute. One thing's for sure: if you do decide to dress up as Sumo wrestlers, you'll take the cake for one of the most hilarious couple's costumes ever.
40. Princess Peach and Mario couple costume
For all of you who're into vintage video games, you know that Mario and Princess Peach have had a long-standing relationship. The princess is held prisoner and Mario is her knight in shining armor. 
It is a very cute relationship; and if you see your relationship like that, then you should totally go for this couple's costume idea.
41. Game of Thrones-themed couple's costume
Game of Thrones is the ultimate dramatic saga of our time. Be it the series or the books by R.R. Martin, the story has found resonance with millions across the world. If you're part of the GOT fan club, now is your chance to live it.
From Jon Snow and Ygritte to Khaleesi and Khal Drogo, Tyrion and Sansa to Jon Snow and Daenerys, and even Cersei and Jamie, there are just so many different shades of couple relationships you can channelize here.
42. 'Tinder match' hilarious couple's costumes
As far as DIY Halloween costumes for couples go, this one makes the top of the list. All you'll have to do is create Tinder profile frames out of cardboard boxes. Show the two of you to be matched, et voila, your costume is complete.
It's innovative and it is the best way to show off your relationship. Just walk beside each other during Halloween and you guys will be the show stoppers. Halloween costumes for couples don't get more out-of-the-box than this.
Related Reading: Crazy Things Couples Do When No One Is Watching
43. Soda and Popcorn couple's costume
What is a better combination than soda and popcorn? It is the go-to food combo for any and all plans, be it a movie night or plain Netflix and chilling. It works with all kinds of vibes. 
So, if you feel like you're the kind of couple who can be as good as soda and popcorn together, then this cute couple's costume idea is perfect for you.
44. Low battery and No Wi-Fi couple's costume
Well, this is a terrifying combination. The ultimate fears of a millennial person: low battery and no Wi-Fi. Since Halloween is the spookiest day of the year, it's only fitting that these terrifying thoughts get their rightful place. 
This is also a super easy DIY costume, the only things you'll need are black T-shirts, paint, and spooky makeup.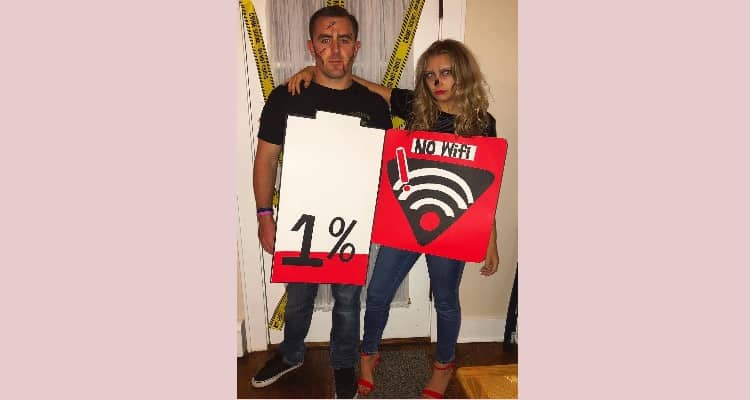 45. Netflix and Chill couple's costume
So, that brings us to Netflix and Chill, the perfect date-night combination. Just sitting and binge-watching a series together has a way of bringing two people closer. So, if you as a couple enjoy it, why not be it for Halloween? 
All you'll have to do is twin your clothes and paint your black t-shirts with 'Netflix' and 'Chill' and you're done. You can add some spooky makeup as well. It's your call, you don't really need it though.
46. Popeye and Olive Oil couple costumes
Now there's a relationship that demands to be recognized. If you know who Popeye is, then you know how hard he fought to win Olive Oil from Brutus. What better way is there to dress up and show what your relationship means to you than as this iconic couple?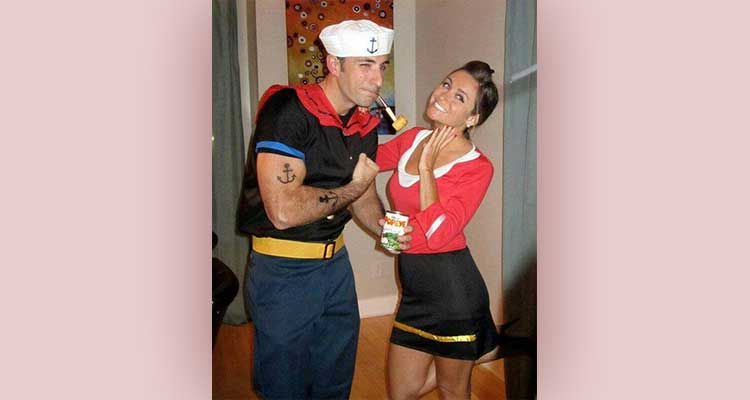 47. 'Victim of his bad jokes' couple costumes
This is among the coolest DIY Halloween costumes for couples. Create a sign that says 'My bad jokes' and whoever out of the two of you cracks bad jokes gets to wear it. Now, dress up in clothes that you don't mind getting dirty and splatter fake blood all over your outfits. 
Be sure to put more blood on the victim's clothes than the killer. All that's left now is to apply some makeup, and you're set.
48. Filter and no filter couple's costume
This is a trendy new costume idea. We all know the Instagram filters and their magical powers; this costume lets you show it perfectly. If you want a hilarious couple's costume, then this is the best one you're going to find. It's also an easy-to-assemble-at-home costume.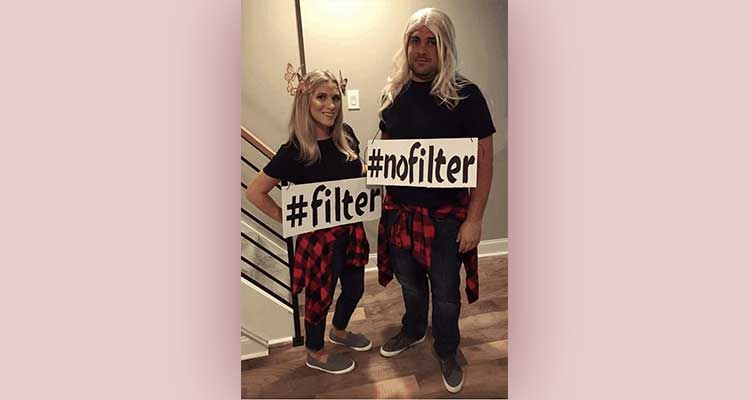 49. Big Bang Theory couple's costumes
Now here's a TV show that revolves around finding love in a crazy universe. Sheldon and Amy are the OTP of almost all the people who have watched the show. Choosing them as your couple's costume would be a very cute idea.
If you decide you share your costume with your friend, you can always go as Leonard and Sheldon or Howard and Raj. And if you're friends with another couple, then Sheldon and Amy with Leonard and Penny is the way to go. Duh!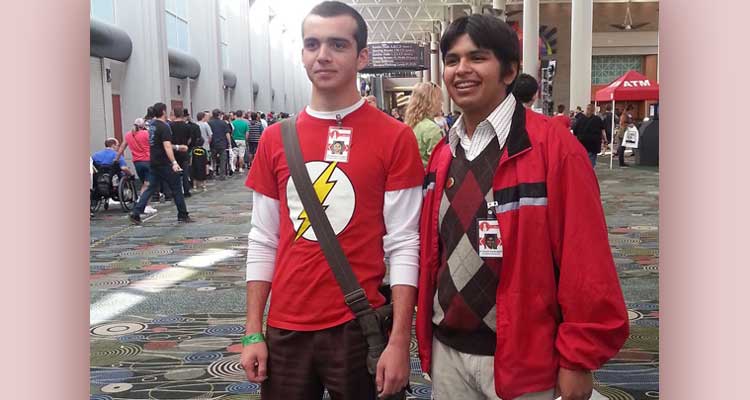 50. Ghostbusters costume idea
Come on you've got to admit the Ghostbusters uniform is simply iconic. You can't help but envy the people who got to wear it. Well now's your chance to wear it too.
This Halloween, dress up as the Ghostbusters team and get a feel of what it's like to save the world. The best part is that the team has three people, so even if you're a group instead of a couple, it'll still work!
That covers our list of the 50 of the best Halloween costumes for couples. Hopefully, we've given you enough to decide what you and your significant other would like to go as. Just remember the costume is for the both of you so be sure to choose something that you're both comfortable with. Good luck and hope you have a SPOOKY Halloween!
Emotional Intelligence In Relationships: Make Love Last Forever