Spending time together is the whole point of a relationship. Coffee dates, romantic dinners, movie dates all have their unique charm, and yet there comes a time in the relationship when these lose their novelty. Things get comfortable and all you want to do is stay in and spend time in a comfortable place.
The frequency of those fancy dates reduces over time. You don't need to buy him expensive gifts every now and then to make an impression. No pressure of dressing up and all – just purely spending a blissful time together. So, now you are home alone with your boyfriend on a Sunday. You are wondering what fun things to do with your boyfriend at home? Maybe one of these 28 things will work for you!
28 Fun Things To Do With Your Boyfriend At Home
Spending time at home with your boyfriend is pretty ideal for anyone shy or introverted. It can also be a pretty good change of pace for any couple who goes out regularly. Without a social surrounding, you can get a lot closer to your significant other. 
You might have an impression that to come up with a big romantic gesture, you need to arrange a grand date night. Come on, that cannot be true. There are hundreds of romantic things to do with your boyfriend at home. How about you cook his favorite meal? You can also book a couples massage on a lazy Sunday. Maybe draw a romantic bubble bath to spice things up a bit.
It doesn't have to be an orchestrated thing either. We all know how COVID has just forced us to stay indoors. So, irrespective of whether or not you're outgoing, you'd find yourself looking for fun things to do with your boyfriend at home during quarantine. Even if you're just looking for things to do with your boyfriend when bored we can help.  All right so let's get into it with these 28 fun things to do with your boyfriend at home:
1. Outdoor picnic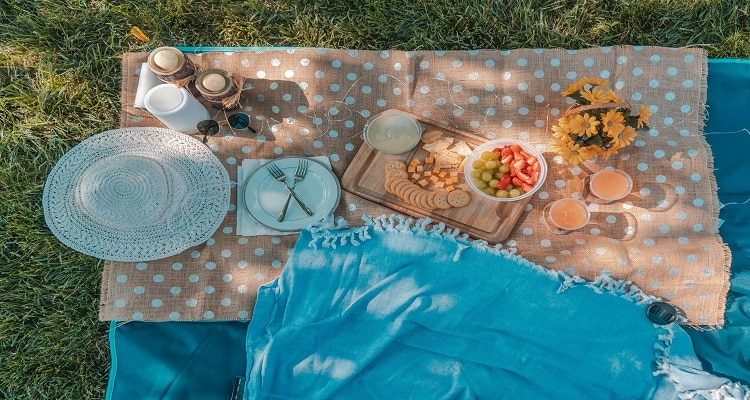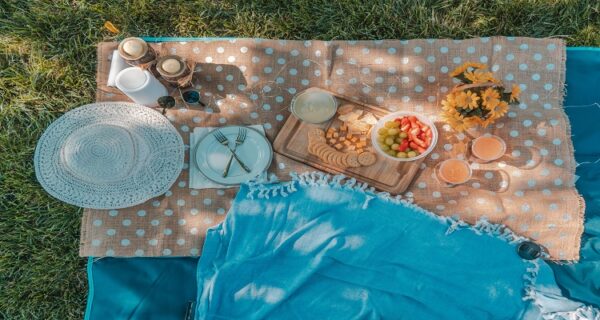 If your home has a front or back yard, this is one of the most fun things to do with your boyfriend at home. All you have to do is get a blanket and take some snacks and just chill out on your lawn. You got yourself a delightful picnic on a bright summer day.
Bring scrabble or your favorite board game. You can also make mimosas. And now you know what to do with your boyfriend when bored at home. The entire experience will be even better if you decide to have an outdoor dinner instead. A nice romantic dinner outdoors under the stars could be the most romantic thing you'll ever experience.
2. Camp out with homemade s'mores
Can't decide what to do on a Saturday night at home with your boyfriend? Just imagine, it's a cold, chilly night and you've just finished your romantic candlelight dinner. You guys decide to set up a bonfire in the backyard and cuddle together enjoying the warmth of the fire. The only thing missing is s'mores.
You just can't skip this step; no bonfire is complete without s'mores. I feel this might even be the perfect way to spend New Year's Eve with your boyfriend. Even if you don't have a backyard, you can always make s'mores in your home. You can use your fireplace or even the stove. 
3. Romantic dinner date
This one is pretty much a given. Just because you're staying inside doesn't mean that you can't still keep the romance alive. The idea that staying at home all the time makes the relationship go "stale" is completely wrong. The romance only dies if you let it.
If you do feel like the relationship is losing its edge, then a nice romantic dinner can be just what the doctor ordered. Dinner at home can be very special because it is the most intimate date you can have. Since it's just you and your significant other, you can get as cozy and mushy as you like without worrying about what the grumpy man at the next table or the server at the counter thinks. 
When you're trying to organize a romantic dinner at home, it's a good idea to throw some scented candles and mood music into the mix. You can also choose to have a picnic-style dinner on the floor, either in your house or the front yard. Or you can go with the simple dining table style as well. Choose some tasty food and just enjoy each other's company. Oh, and don't forget to dress up, it is a date after all.
Related Reading: First Date Nerves – 12 Tips To Help You Ace It
4. Dance party
Dancing close to your SO is the whole allure of going to clubs and parties. Why not do the same at home with your boyfriend? It might end up being one of the most fun things to do with your boyfriend at home alone where you won't have to worry about what anyone else thinks.
Put on your favorite playlist and just have a dance-off. You go old school and "Bust a move" or you can slow dance to a nice song like Perfect. Things can be fun or romantic or both. It's up to you.
Imagine it's been drizzling since the morning. Even the weather is in your favor. Dim the lights and pour two glasses of wine. Put on some soothing jazz music and tap your foot in rhythm with your boyfriend at home on a rainy day date. It will be romantic as hell.
5. Game night, old-school style
If you're stuck indoors with your boyfriend, then board games are one of the best things for couples to do at home when bored. I think that it's a pretty good idea for an at-home date night as well. My cousin Jenna and her husband play board games with very high stakes. The deal is that the loser has to wash the dishes. She always wins.
Board games can be super fun, and as a couple, you can always up the stakes by adding a little stripping to the mix. The point is that board games are the ideal way to spend time together. The competitive spirit has a way of spicing the night up.
6. Video game night
Just in case you are running out of things for couples to do at home when bored, a video game challenge comes to rescue your night. While old-school board games are super fun, video games are just a whole different level of AWESOME. If you're a gamer or you're dating a gamer you probably already know this. There are so many different games to choose from. You can always go with a round of FIFA or something simpler like Asphalt Legends 9.
For couples who enjoy a bit of character play, World of Warcraft, Overcooked, Until Dawn, and Minecraft are some of the great choices. If you're in the mood for something more engaging, then go with Wii Sports or even Just Dance! Add a bet and some trash talk, sprinkle in some harmless teasing and you can totally make an evening out of it.
7. Netflix and chill
You know what, there's no point in wasting a whole evening scrolling your phone on the couch and literally doing nothing. If you need ideas for what to do on a Saturday night at home with your boyfriend, we suggest watching some good old shows.
Netflix binge-watching is the best thing to do together at home. When asked about her idea of a perfect date night at home, Mansi Parekh (20) a student and artist says "I would love to spend time talking for hours under the sky, and a cozy binge-watch." We couldn't agree more. Nothing beats binge-watching a show that you enjoy with the one person you like the most in the entire world.
These days there is so much content that you can binge-watch. There are the classics like Friends, How I Met Your Mother and The Big Bang Theory. Then, there are modern-day shows like Stranger Things and Suits. Not to mention the fascinating anime universe. At the end of the day, all that matters is that you watch something that you both enjoy watching because the conversations that follow will be just as fun as watching the series itself.
8. Themed movie night
Binge-watching a series is one thing but a movie marathon is on a whole other level. There are so many different movies that couples can watch together. Besides every fanboy/girl out there knows the significance of dedicating an entire evening to watching a movie franchise. Just think about how many different franchises are available.
There's Marvel, Star Wars, and Star Trek – all of which enjoy a cult following. Then, there are your trilogies like The Matrix and The Lord of the Rings, and let's not forget the Harry Potter series. If you want something a bit spicier, there's 50 Shades of Grey. If you're into horror movies, you can even watch the Conjuring series and now even the IT movie has a sequel.
Then, there are Fast and Furious and Mission Impossible movie franchises. If you can't agree on any movie you can always go with a classic rom-com movie like What Happens in Vegas. The bottom line is that a themed movie night can be pretty special as far as fun things to do with your boyfriend at home go.
Related Reading: 3 Ways To Improve Your Close Relationships
9. Cook something new together
It's said that cooking for your significant other is the most romantic thing you can do for them. We say cooking a dish with them is even more romantic. You can also try your hand at baking together if cooking feels too complicated. It's an ordinary WFH office day and you are home alone with your boyfriend wondering how to break this monotony. Perhaps a keen attempt of getting him out of the couch and exploring things outside the digital display.
Try to involve him in this couples' cooking session and he would positively end up loving it. Choose something the both of you will enjoy eating, look up the recipe, and just get started. Even if the entire thing ends in disaster and you just end up ordering pizza, you would still have spent hours together having fun. That memory itself will be worth the effort.
10. Build a fort
If you're thinking about fun things to do with your boyfriend, then nothing beats building a fort. Before you dismiss it as being too childish, hear us out. Creating a comfy fort with pillows and bedsheets will be fun in its own right, as you get to channel your inner child and rake up the nostalgia of those carefree days.
Once you add some fairy lights to mix, you'll have for yourself a nook so snug that you wouldn't want to leave. And just imagine watching a movie in that cute little fort you've built. It is beyond any doubt one of the best things you can do with your boyfriend at home on a rainy day.
Think about it. You are listening to the soft pitter-patter of rain on the leaves and the window panes while cuddling under a cozy blanket. As it gets dark outside, light a few more candles. Crack a bottle of wine. It will simply be magical!
11. Shower or soak? Your choice
After a long day of work, if you decide to stay in and are looking for a fun thing to do with your boyfriend at home, you simply can't go wrong with a bubble bath. Just put on some mood music, add a few scented candles and draw a bath. Have a nice long soak with your boyfriend and all your stress will be gone before you know it. Even if you don't have a bathtub, a warm shower will be just as fun. It could even be better than a bath (if you know what I mean…).
Related Reading: 20 Questions To Ask Your Partner To Build Emotional Intimacy
12. Start a garden at home
So, one Sunday morning you are sitting together after breakfast, trying to figure out what to do with your boyfriend when bored at home. And voila! Here's an amazingly productive idea worth every bit of your time and energy. Starting a garden is a super fun thing to do with your boyfriend at home. Just watching the seeds grow gradually can fill you up with a huge sense of satisfaction.
You can start an herb garden or grow your own vegetables depending on how much space you have. Honestly, though, you can grow anything you want as long as you do it with your significant other. Trust me, it will start with a few little plants and before you know it, you'd have a balcony full of flowers smiling at you. Plants can be that addictive. And this hobby will keep you busy for a while every day, strengthening your bond as a couple.
13. New home project
If you're stuck indoors due to COVID-related lockdowns or travel restrictions and want ideas on fun things to do with your boyfriend at home during quarantine, starting a home project is a pretty good idea. You're indoors anyway might as well take the opportunity and class up your house.
There are some pretty cool one-day project ideas online like creating a coffee station in your kitchen or classing up your coat rack or even texture painting your wall. A nice hands-on day is always fun, so try it out.
14. Create a playlist together
Every couple should have a playlist that has songs that they enjoy listening to together. It's very useful. Music is something that you can bond over and it's perfect to set the mood for any number of things. In fact, we recommend that couples should have quite a few playlists – for different moods and situations. A romantic playlist for dinners and other occasions.
A fun one for when you go on drives or just want to dance around with your partner. There should also be a workout playlist too if you're both fitness enthusiasts. However many playlists you choose to create, an 'indoor day' is a good time to get started. It can be a really cute bonding moment. You can choose songs and even discuss why you like them. Give it a try.
15. Read together
We all saw the Beauty and the Beast live-action movie. The scene where Belle and the Best just sit and read during dinner. Wasn't that just so cute? Reading together can be a very cute and fun thing to do with your boyfriend at home. If you've been watching movies and are bored of them or you're just not the type of couple that's into movie binging then, reading together is just as romantic.
If you want a recommendation there are actually quite a few books that couples should read together. It may not appeal to everyone. But as a bookish, introverted girl, a reading marathon is one of the most romantic things to do with your boyfriend at home. Just check with him once if he is also as much into fiction as you are.
16. Exercise or do yoga together
This one is perfect for our ideal health freak couple. If you're one, you don't need us telling you that this is a fun way to spend time together at home. But for all you people who aren't as fanatical, trust us, this is one of those fun things for couples to do at home. 
Now exercising doesn't mean that you go and do deadlifts, especially if you are not regular. Just stick to basics like crunches or sit-ups. We recommend yoga and meditation for beginners because it's a lot more calming and de-stressing. There are a few yoga poses that will help your sex life, you can always try those out.
17. Redesign your house
It's been over a year since COVID entered our lives, which means the monotony of looking at the same curtain, wall paint, and décor items is getting to most of us since we're home now more than ever. And that is a pretty good reason to redesign your home. So, let's turn it into one of those fun things for couples to do at home.
Redesigning a house is not easy, especially if you're both living in it. It takes quite a bit of planning where you need to discuss the ideas that you each have and then come to a common ground. It will take a few days, and then, comes the actual execution of your plan. Given that this is a long-drawn-out couple's activity, it's perfect for when you're stuck in a home quarantine situation with your boyfriend.
18. Organize the house
I gather that you are looking for things for couples to do at home when bored. Maybe it's time you finally organize the bookshelf and shuffle the furniture to give your home a new look. Now, this is an entire day's job, or maybe even more if it's long overdue. But when you're not going anywhere anytime soon what's the harm?
So, get started. You've procrastinated organizing your house enough. I know it can be pretty boring but with good music and an awesome and loveable partner to help you, this can turn into one of the fun things to do with your boyfriend at home.
Related Reading: Decorating Tips For Couples Moving In Together
19. Have a karaoke night
Still not sure what fun things to do with your boyfriend at home at night? Well, how about a cool karaoke night. It can be the perfect way to spend time after a nice candlelight dinner. What's better than bonding over the fact that neither of you can sing? Besides, it will be such a cute romantic gesture if one of you chooses to sing a sweet romantic song. But you can always swing the other way and go for a nice duet. That could heat things up.
Just bring that bathroom singer in you out on the stage and rock the evening with your sweetheart. You don't need any fancy pieces of equipment to have a successful karaoke night at home. Play some tunes on the speaker and sing along. You can also invite another couple over and plan a perfect double date.
20. Solve jigsaw and crossword puzzles
For all you nerds out there who are still looking for an ideal indoor time spending idea, how about crossword or jigsaw puzzles? Oh, who are we kidding, puzzles are fun no matter what type of person you are. Once you get into it, there's no way you'd give up until that last jigsaw piece falls into place.
Pick something complex and you'd be so engrossed that you won't even know when hours flew by. If you're in a competitive mood, you can always race with some pretty cool stakes, otherwise doing these together will help your teamwork. Don't judge it before trying it.
21. Learn a new form of dance
If you're stuck indoors for the evening with nothing to do, then you can go daredevil and try to learn something new together. And what better than to learn than a couple's dance form. Among the different things to do with your boyfriend when bored, learning a new dance online can be pretty exciting. Besides dancing is a talent that you can show off and a couple's dance is the type of thing that can put you on the map at the next party that you throw. Why not try it out?
22. Do something artistic and creative
At home with your boyfriend and got nothing to do? It may be time to get your creative juices flowing and try your hand at something creative like painting. There are also a lot of cute DIY crafts that you can make from the stuff that you can find in your house.
Doing these kinds of activities can have a very positive effect on your relationship. It can increase your communication and coordination. Besides, getting your hands dirty is always fun. Even if you don't make anything too fancy, you'll still have spent some quality time together.
23. Make a wish list or future plan
If you've been together for a while now, this can be a good chance to discuss your relationship. You can get on the same page when it comes to the future of your relationship. Besides, it doesn't have to be a serious discussion. We don't want you to get into a "where is this relationship going?" fight while trying out a couples' activity.
You can keep it casual and yet have a reality check if your partner's life goals align with yours. It can be a fun thing to do with your boyfriend at home as well. You can plan all the trips that you want to take together once the pandemic is over. Make a bucket list of things that you want to do together, for all you know you might just be able to tick a few things off it while you're stuck indoors.
Related Reading: 7 Ways To Get The Romance Back After Having A Baby
24. Wine tasting with different cheeses
Are you both wine connoisseurs who're missing going out to wineries? Well, then, having a wine tasting session could be a fun thing to do with your boyfriend at home. These days with online shopping advancements you can order quality bottles very easily.
In fact, most wineries have premium bottles delivered to your doorstep. All you need now are the different cheeses. Again you can order online. That's all it takes. Just a few clicks on the phone and you'll both be able to indulge in the passion for wine that you both enjoy at your home. So, what's holding you back?
25. Look through and organize your photos 
A cluttered photo gallery with too many identical pictures is something that each of us faces these days. We click so many photos regularly that we don't even have time to sift through them and delete the bad ones. Creating a photo album is out of the question.
Well, now that you're stuck spending the better part of your day in the house with nothing much to do, why not go through your photos? Don't do it alone. Turn it into a cute fun thing to do with your boyfriend at home to make him happy and feel loved. It will be super romantic going through all the photos and reliving the memories.
26. Pillow fight
Nothing beats a good old-fashioned pillow fight. We've all had our share of them as kids but how many of us get time to do this sort of thing as grownups? It sounds like a completely crazy thing to do as a couple but just because you haven't done something like this doesn't mean that it isn't still SUPER FUN.
It's one of the most fun things to do with your boyfriend at home at night. One of these days right after dinner, just go for it. Grab a pillow and just hit your boyfriend with it. He just won't be able to resist. The playfulness is just simply contagious so let it spread. Act like complete children and ENJOY yourselves.
27. Relax with massages
Now, this one is an extremely intimate and fun thing to do with your boyfriend at home at night. These are some pretty stressful times and nothing beats stress like a relaxing massage from one's partner. Right before you decide to turn in for the night, give each other massages. You can always add some nice relaxing music and scented candles. After you're done, you'll both feel relaxed and closer to each other than ever before.
28. FaceTime friends and family
If you're still looking for fun things to do with your boyfriend at home alone, then FaceTime your family and friends. It can be refreshing to catch up with your loved ones, even if virtually. If you've been together for a while and are ready to tell your family, then there's no time like the present. The video call will actually limit the awkwardness, just saying. And if you're an official couple, then you can take this opportunity to connect with each other's families.
Get to know the parents better and even give them the opportunity of getting comfortable with your relationship. As for your friends, talking to them is always fun. In fact, if any of your friends are a couple, then you can even plan a virtual double date for double the fun.
This brings us to the end of our list of 28 fun things to do with your boyfriend at home. Whenever you are stuck on what to do on a Saturday night at home with your boyfriend, take a look at our suggestions and you will have the best evening together. We seriously admire all you couples out there who are trying to make your relationship work during this trying time. Just hang in there. If you can make it through this, you can make it through anything. Keep the romance alive and we hope these ideas will help you guys out. All the best!
Ask Our Expert
You must be Logged in to ask a question.