heart touching dialogues Bollywood movies
Bollywood movies have been the Holy Grail of romance for generations in India. The idea of undying love, of love transcending all barriers and defying all odds, took root in our minds thanks to the larger than life love stories we saw on the silver screen. When you need the right words to express your emotion, what better source of inspiration than heart touching dialogues from Bollywood movies.
15 Heart Touching Dialogues From Bollywood Movies
From Mughal-e-Azam to Kabhie Kabhie, Hum Dil Chuke Sanam to Bajirao Mastani, Rockstar to Tamasha, every generation of cine-goers has formed its first impression of what it is like to be in love based on a reel life epic love story.
We turn to some of these classics for the most heart touching dialogues from Bollywood movies that you use to profess your true feelings to your partner or a potential love interest:
Related Reading: 10 Bollywood Age Gap Movies That Show Love Transcends All Bounds
1. Of pain and heartbreak
Sunil Shetty as the obsessive, heart-broken lover perfectly summed up the longing and pain of losing the love of your life. Moving on isn't always easy. Even with all the luxuries in the world, the absence of that one person can make your life hollow.
2. The best among unrequited love dialogues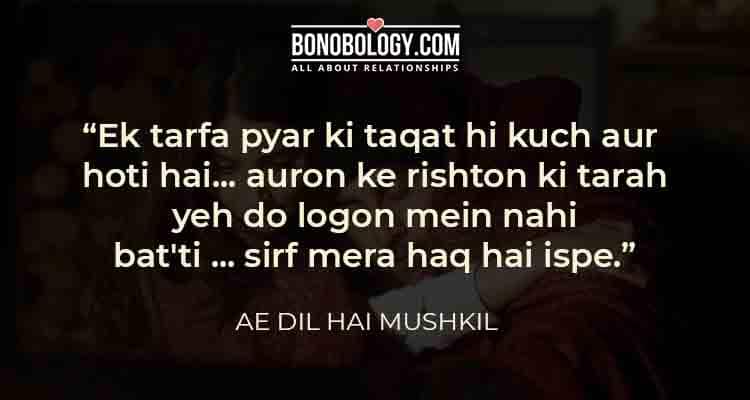 Unrequited love can be the most painful thing to endure. It takes the right perspective to tide over this wave of agony. Hands down one of the most heart touching dialogues from Bollywood movies.
3. One-sided love isn't easy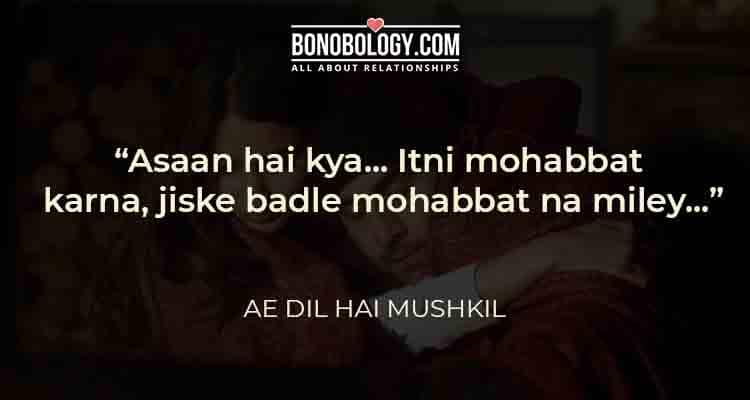 Unless you have loved someone so much that they become the be-all and end-all of your life, you cannot relate to that pain of one-sided love that threatens to make your heart explode.
4. Love isn't just about emotions but also timing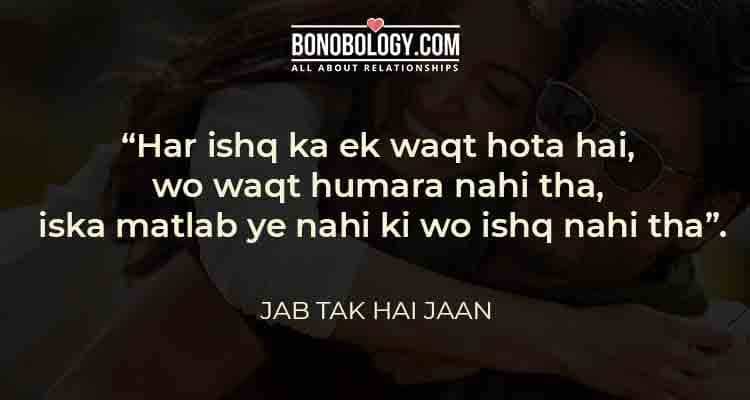 Haven't we all been there? With the right person at the wrong time, missing our chance, and then, spending sleepless nights thinking of the one who got away.
5. Words from a broken heart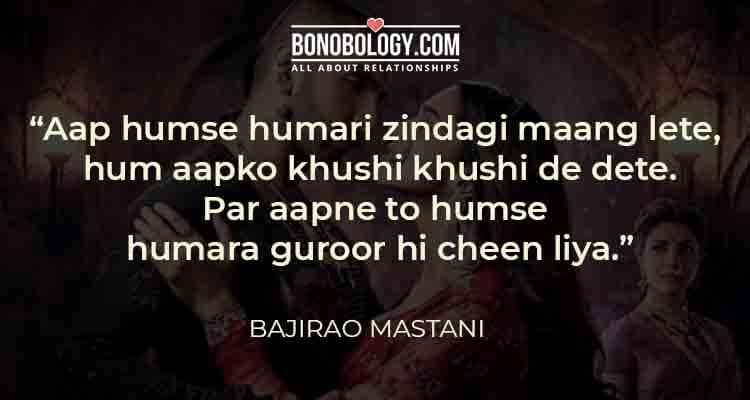 When the love of your life finds someone else, all you're left with is a broken heart and an undying agony.
Related Reading: 5 Bollywood Movies Which Show Love In An Arranged Marriage
6. A timeless classic
Of course, nothing makes one more sad than seeing the love of one's life in tears. We feel ya, Kaka!
7. An eternal love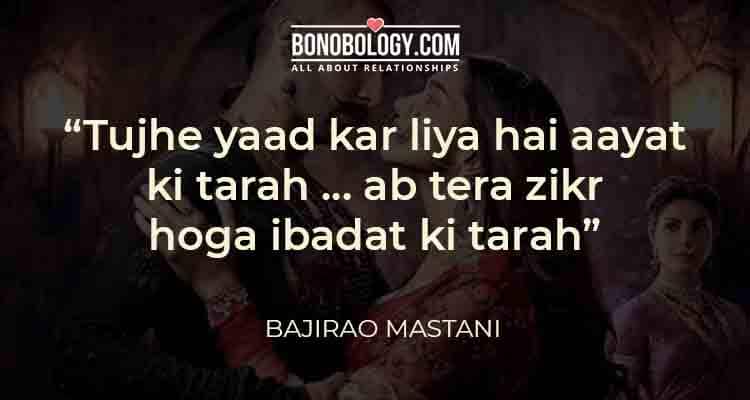 A love so passionate that it completes you and destroys you. That's exactly what the bond between Bajirao and Masatani was all about. This is one of those love dialogues that perfectly sums up their story.
8. The all-consuming grief
Loss of a love you didn't even get to live can turn a person into an emotional mess. Vicky Kaushal as Deepak Chaudhary, a young boy nursing a broken heart, portrays this complex emotion perfectly. This definitely makes the cut for heart touching dialogues from Bollywood movies.
9. Love is also surrender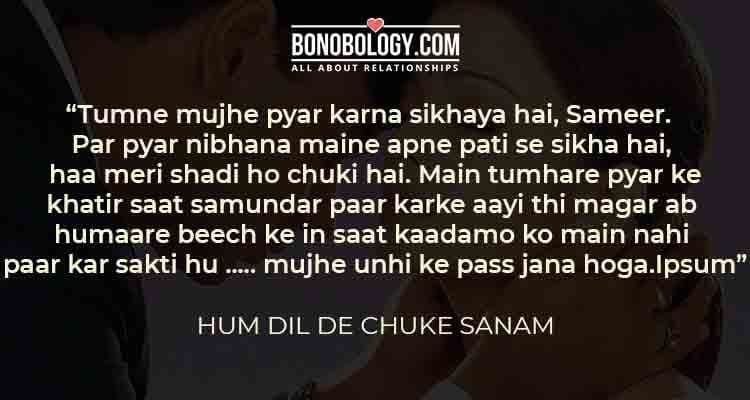 Perseverance and unconditional love can be rewarding in unique ways if you just hang in there. Of course, not everyone is as lucky as Vanraj from Hum Dil De Chuke Sanam.
Related Reading: 5 Unique Questions We Are Dying to Ask Bollywood Couples
10. An emotional whirlwind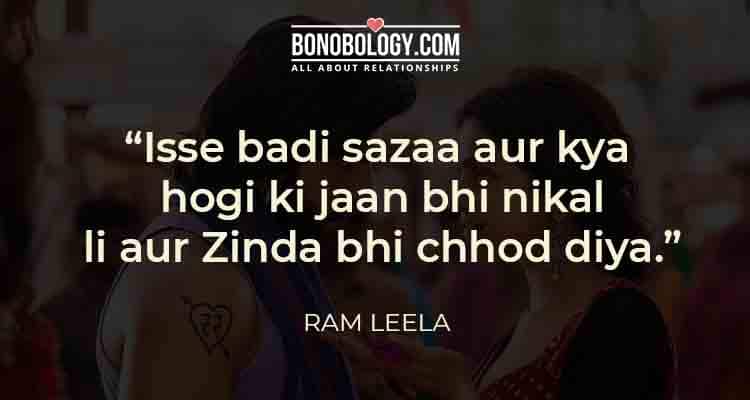 A love so compelling and unattainable it knocks the wind out of you.
11. The sad reality of a love unfulfilled
Not every love story get its happily ever after. That's just the sad reality of human relationships. When that happens, a broken heart and sense of longing can sweep your over.
12. The universe conspires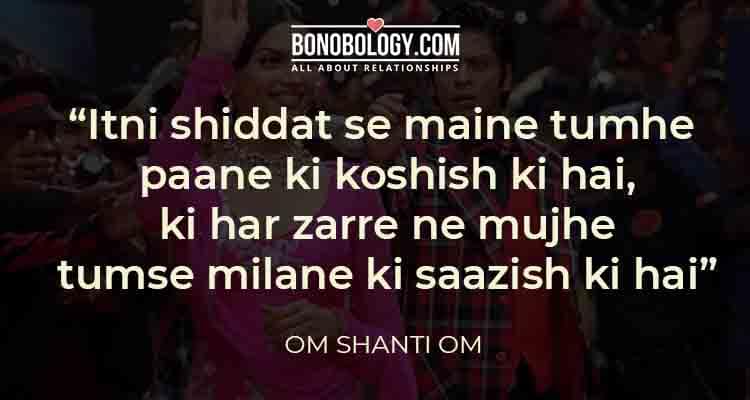 With this one love dialogue, the king of romance made an entire generation believe in a higher power conspiring in favor of people in love. Yes, it's a timeless classic that never feels dated or out of style. If you're looking for emotional dialogues for girlfriend or boyfriend, you can't go wrong with this one.
13. An emotional expression
Have you felt like you've known and loved someone long before they came into your life? Then, tell them so with this emotional expression of love.
14. A promise to meet again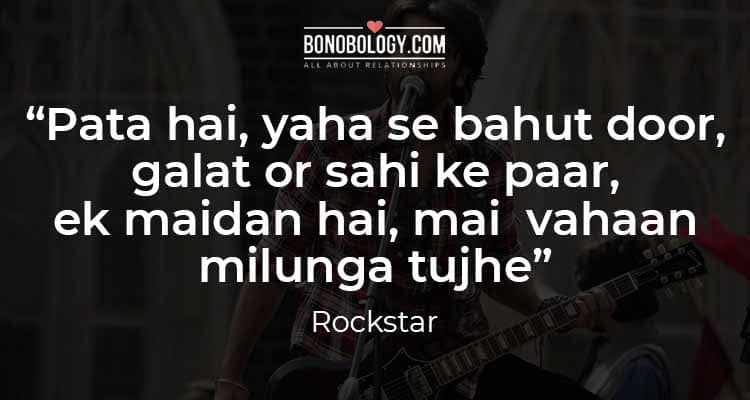 When a love story doesn't see its logical end in this lifetime, it the promise to meet again that holds you together.
15. One of the most iconic love dialogues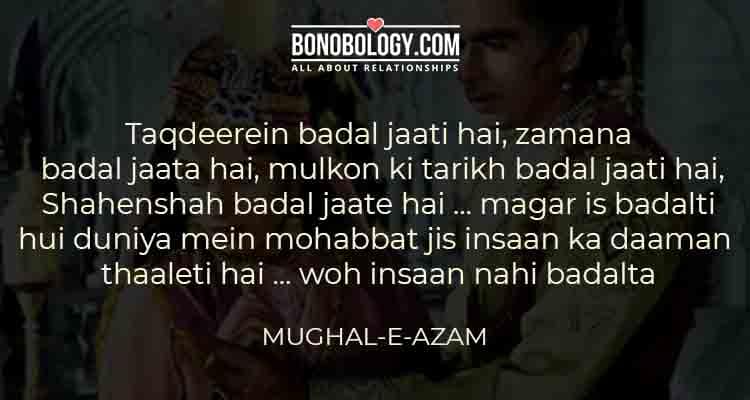 One of the most iconic love dialogues summing up passion and intensity, from one of the most legendary love stories of all time.
The next time you find yourself struggling to find the right words, use these dialogues for your girlfriend or boyfriend and watch their heart melt!
Lost Virginity At The Age Of 15 And Much More…Shocking Sex Confessions Of Bollywood Celebs!