In today's busy world, it is hard to find partners via the conventional route. So, when you have millions of options right at your fingertips, like members of Christian Cafe, why limit yourself to your nearby surroundings? If you're not sure about this dating platform, we are here to review and clarify its important aspects so you can use it with ease.
There are many dating websites that target a certain demographic. Christianity is one of the world's major religions, and because Christians are present all over the world in large numbers, it makes sense that there would be dating sites centering on this faith. One of those is Christian Cafe, and in this article, we're going to have an in-depth look at the website and give you detailed ChristianCafe com reviews. We're going to show you how the signup process works, the average user quality, the different features it offers, the pricing, and a lot more.
What Is Christian Cafe?
Christian Cafe is an online dating website that's exclusively for members of one faith, i.e. Christianity. It's made to help Christian singles find new partners and friends. Started in 1999, it has grown from a little enterprise to a large business over two decades. 2 million people have joined the website so far, out of which around 50% are Americans. As per the site data, approximately 25,000 couples who met through the website have married each other. No matter what your religious affiliation in Christianity, it helps you find a match. 
The ChristianCafe.com singles list is diverse and comprehensive, which increases your chances of finding someone who fulfills all your expectations. The platform is particularly for those who are looking for serious relationships in their lives. As this is a website operated by and for Christians, anything that goes against the guidelines is removed and blocked.
Related Reading: The Ultimate Funny Online Dating Questions
How To Sign Up On Christian Cafe
In this section, we're going to show you how to create a profile on ChristianCafe.com in simple steps. You can start the sign up process by clicking on the 'free trial' button. This will take you to a page where you have to fill in your basic details, which will be used for verification and matching purposes. Follow the steps given below to become a member of this platform:
The signup process is fairly straightforward. To become a member, you have to first provide a few mandatory personal details such as your date of birth, email, username, gender, and location. No numbers or special characters are allowed while selecting a username
Once you're registered, you'll be asked for additional details such as your marital status, faith, appearance, children, employment, and lifestyle. These questions help you get more relevant matches and a smoother experience on the platform
After the details in the last step are submitted, you're taken to the next step where you have to upload your picture and fill out another set of questions. This step is optional but for those who're serious about finding relevant matches, it's recommended that these questions are answered properly
Finally, the platform would provide you with your username and password that you can use to log in later
Pros And Cons Of Christian Cafe
This is probably the most important section of this article, and the one you were likely waiting for. We've listed the upsides and downsides of the platform through which you can decide whether the website suits your priorities and circumstances. These features have been collected both by our subjective experience and various ChristianCafe com reviews.
| | |
| --- | --- |
| Pros | Cons |
| The platform is owned by Christians | The short-term membership prices are expensive |
| There is almost an equal number of male and female members | The site design is a little outdated |
| The 10-day free trial allows you to access most of the premium features | The number of members is significantly lower than the larger Christian dating websites |
| Real-life contact details can be shared | Some charity scam profiles are present, but the platform immediately blocks them on reporting |
| Simple and advanced filter options for getting quick, relevant matches | A few filters like eye color and birthdays are unnecessary |
Quality Of Matches And Success Rate
The quality of matches is directly proportional to the amount of information you're willing to share about yourself. For every profile, there are three types of information that are used to sort profiles and provide matches.
The first set of information is the compulsory one, the 'vitals'. This includes all the essential information points, such as one's location, birthday, and their activity status. The next set of information is the 'profile' that includes data on one's employment, lifestyle, economic status, and more. And the last information set has the answers written by a member to the optional questions by the site. They further describe their personality and preferences.
Related Reading: Zoosk Reviews: A Balanced Analysis Of The Popular Dating App
There are some interesting features that improve your prospects of finding the right match. For example, it shows the percentage of compatibility you have with another user. Using the different data points, the platform also provides the option of matching you with the most relevant profiles via the 'QuickMatch' feature.
With over 25,000 happily married couples that used ChristianCafe.com, the chances of finding your own love story are quite high. AJ, a user of this space, said, "You can see if you're compatible before you even go on a first date. It's an easy and exciting way to meet someone."
Features
The site has a simple design and features that are few in number but quite useful. The primary features of the platform are: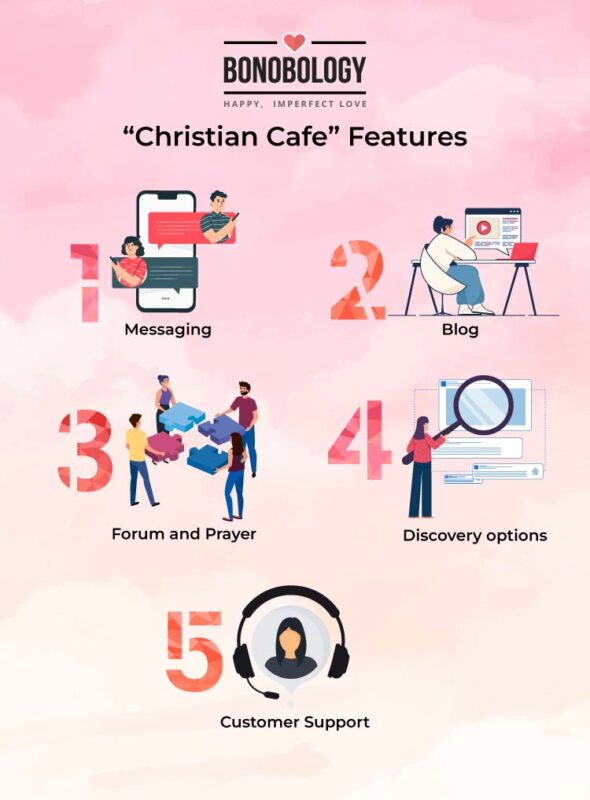 1. Messaging
While you can't share your contact details during the trial period, it's possible to do so once you're a paid member. The messaging feature works like a mailing system rather than the more prevalent chatting systems of today. While this can be a little off-putting for those who prefer instant messaging, it brings its own charm with it. The messaging feature comes with the facility of read receipts through which you can know if the receiver has read your messages or not. You can also send winks to the members you're interested in.
Related Reading: 10 Best Black Dating Apps And Sites To Use
2. Blog
The platform has its own blog where it publishes articles on Christianity as well as dating. It's a great resource, especially for new members who might not know how to proceed. It can also provide topics for conversations and debates, and lead to meaningful connections. One site user from Washington said, "ChristianCafe.com is a great site – I like the atmosphere of it!"
3. Forum and Prayer
Forum is a platform for the members to engage and discuss a variety of topics including, but not limited to, dating and Christianity. The Prayer feature gives all the members an option to post a prayer that they wish for the other members of the community to read as well. These features bring in a sense of community while also ensuring that conversations and connections occur at a deeper level.
4. Discovery options
There are a variety of filters and processes in place that help you find potential matches that are compatible with you and have similar value systems. The optional profile fields help you understand a person better while also presenting yourself comprehensively and honestly. There are also plenty of options to discover new profiles that match your preferences and personality.
5. Customer support
The platform offers multiple channels for your queries. However, it doesn't have any phone number which means resolutions can take a while. However, you can contact them through their social media handles where they're fairly active. The customer support is friendly and makes sure that your issues are duly resolved.
Pricing
The website offers only one type of membership which is available in four different packages depending on the length of the membership.
| | |
| --- | --- |
| Package | Price |
| 2-week membership | $29.97 |
| 1-month membership | $34.97 |
| 3-month membership | $49.95 (comes to $16.65 per month) |
| 6-month membership | $79.95 (comes to $13.325 per month) |
| 12-month membership | $109.95 (comes to $9.1625 per month) |
Christian Cafe Alternatives
While Christian Cafe is small in comparison to the big dating app businesses, it still has one of the largest user bases when it comes to dating platforms built solely for and by Christians. 
1. eharmony
While eharmony has a much larger user base compared to Christian Cafe, but the latter has a decidedly specific focus on Christians unlike eharmony.
2. Christian Mingle
Christian Cafe has fewer members than Christian Mingle. However, the former is exclusively owned by Christians, a detail that can be important for a lot of members. It's like one of the platform users says, "One of the most encouraging things about it is that the owners seem to have deliberately chosen to make their own Christian faith a part of how they have positioned the site."
3. Match.com
Christian Cafe has a smaller user base than Match.com. However, it's not easy to find compatible Christian partners via Match.com, especially when compared to the former.
Related Reading: 55 Best Ice Breaker Questions For Dating
Our Verdict
Often, people who are seeking partners through popular dating platforms such as Tinder wonder whether their match will share their beliefs or not. To avoid all the awkwardness and screening questions, a platform like ChristianCafe.com is a great option. The platform offers a free trial for the first 10 days, where you can enjoy most of the premium features. This ensures that someone unsure about the platform can use it without having to pay at first.
It provides several features, such as QuickMatch, that help you find relevant matches in no time. There are many success stories from the platform, so that's another positive. The gender ratio is very good as well and the large community the platform has built over the years is commendable. The forums and the blog help the members navigate different issues with relative ease.
However, on the downside, the interface has an outdated look, which might put off some users. The short-term membership fee might be a bit heavy on your wallet though that can be avoided if you go for the long-term plans. Also, a lot of its competitors have a larger user base, which can make the process of searching for partners on ChristianCafe.com a bit longer.
In the end, it largely depends on what you're looking for. If you wish for a platform that is run by Christians, and are looking for Christian values with a strong and reliable community, this is the perfect place to be!
Final Score: 8.5/10
FAQs
1. How good is Christian Cafe?
It has been around for over two decades now and it still has an engaging and active community for a reason. The forums and specific details help you find potential partners who share your beliefs and value systems, and are compatible with your personality. The free trial offers most of the premium benefits, which mean you can explore potential matches at no extra cost.
2. Is there an app for Christian Cafe?
Yes, the Christian Cafe app is available for both Android and iOS users. However, it has relatively few features as compared to its website version.
3. Does Christian Cafe have fake profiles?
While the platform works actively to remove fake profiles, you might still come across some. But it's fairly easy to report them, following which they're removed from the platform quickly. "While watching a program about Tinder scammers, I thanked God for my husband who I met through ChristianCafe.com", one platform user wrote.