Have you just come out of the closet and are now ready to show the world your true self? You owe it to yourself to live your authentic life. Are you wondering if you need to revamp your style? Then this list of lesbian outfit ideas is the perfect read for you. With all the varied emotions you must be feeling, don't have to go through the stress of finding the right clothes that will represent your sexuality with pride. Even though you fought hard against society to be who you are, you don't have to struggle to find the perfect lesbian pride outfits.
It's only in recent times that the L word is being used more freely and out in the open. Lesbian fashion is still less talked about. One of my absolute favorites when it comes to lesbian outfit ideas is Ruby Rose. Her Instagram account is full of drool-worthy lesbian clothing ideas.
Trendy Lesbian Outfit Ideas – Fashion Style Guide
Listed below are some cool lesbian inspired outfits that aren't just limited to lesbians. I can wear them, you can wear them, even men can wear them. Clothes don't have to go through the stringent rules of being labeled and gendered into categories and columns. 
1. Faux leather jacket in black
If you want to indirectly signal another lesbian that you are available, then it becomes quite essential that your personality speaks through your outfits. And looking femme and butch at the same time will help you score that hot lady you have been eyeing. Black jackets are one of the all time women fashion trends. This is one of the best lesbian stud outfit ideas – it's also one of the most popular. Pair this black leather jacket with a black fabric lace choker and you are all set to turn heads at the party.
Lightweight, high quality faux leather 
100% polyurethane (shell) and 100% polyester (lining)
Windproof; will keep you warm in winter, fall and spring
2. Casual long sleeves denim jacket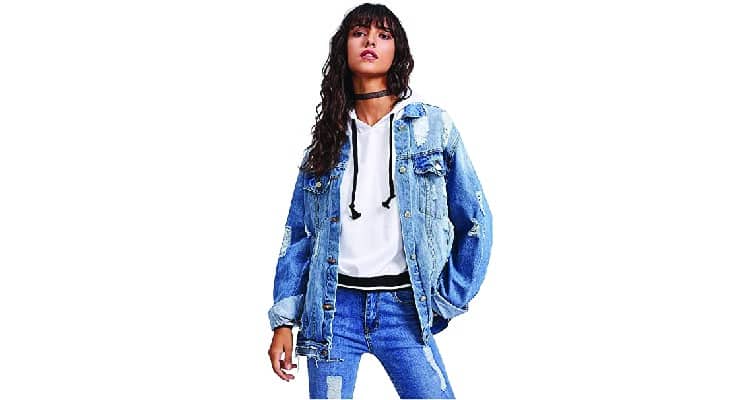 If leather is too butch and wild for you, then you can always go for denim jackets. Denim jackets are common but they are also fashionable and aren't gender-specific. Denim on denim is also one of the lesbian outfit ideas you can try and flaunt. You can wear a T-shirt or hoodie inside to give it a more casual look while keeping the denim jacket unbuttoned. Pair this with black nail paints and sunglasses and there you have it – a Kendall Jenner approved look.
Button closure, fabric has no stretch
Long sleeve, solid color, turndown collar
Fit for everyday dressing, for women
3. Casual tracksuit to pair with sports bra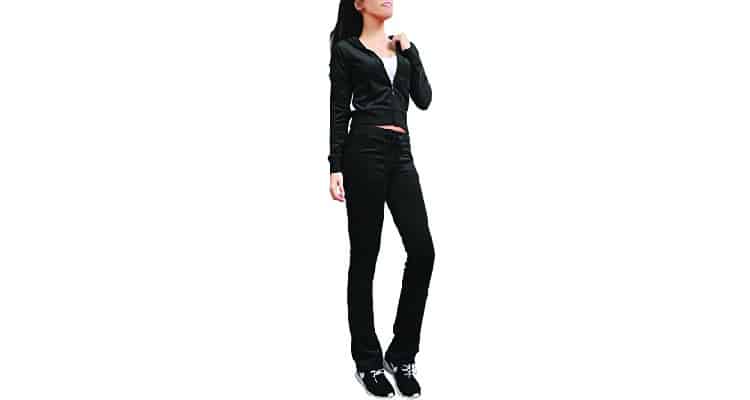 This is one of the comfiest lebian outfit ideas out there – baggy, athletic clothing is always comfortable and never out of fashion. You can style this tracksuit with a white sports bra to up the oomph factor. Sporty clothing is great because it brings out boyish energy while the sports bra will add a flirty and femme touch to your outfit as well. Match your outfit with shoes and some unique accessories and you'll be turning heads wherever you go. 
And if you want to use it during any casual or physical activity in any weather condition, it's great for that too. In fact, it's perfect to wear outdoors in the colder weather seasons, it's the ideal go-to active outfit for daily activities and casual wear
Matching two piece outfit in velvet fabric material
Breathable, lightweight, and stretchy making it very comfortable
Soft, moisture wicking, and light enough for layering for extra warmth
4. Button down poplin shirt
Do you think that lesbians look extra hot in menswear? There is something undeniably attractive about women breaking the barriers, and defying gender norms and rules. This is one of the best lesbian stud outfit ideas for a casual outing on a Sunday. These are also great outfit ideas for spring. You can tuck it in with a belt if that's the look you want to go for. A button-up shirt makes your body look broader and less curvy and that's why this particular lesbian outfit idea is so popular.
Close-but-comfortable fit; great for  easy movement
Soft, durable, tumbled poplin for a lived-in feel right away
Single button cuff
5. Black pantyhose fishnet stockings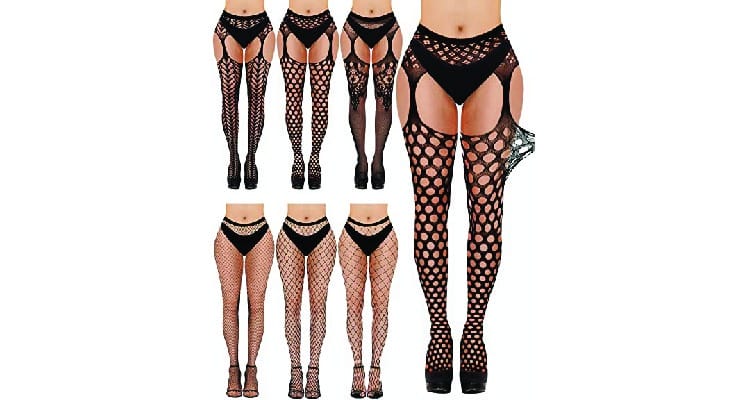 Thigh-high fishnet stockings are sultry and super sexy. This particular pack comes in 6 pairs. These suspender garter stockings really flatter your legs and they're one of the best lesbian outfit ideas to channel your sapphic desires. You can wear it however you want. This one is for the woman who likes to spice it up. If it's a casual outing, then match it with a sweatshirt. If it's a party you are going to, then wear a little black dress and finish the look with some silver rings.
Made of nylon material 
Reliable, sturdy, breathes well, can be worn for a long time
Black in color, makes legs look thinner
Related Reading: 10 Reasons I Am Proud To Be A Curvy Girl
6. Chunky ankle heel boots with lace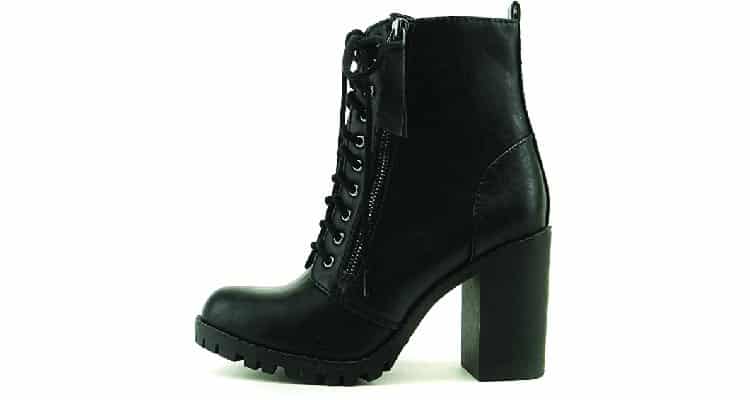 You can pair these faux leather, chunky heel boots with fishnet stockings and look like the ultimate femme fatale. They give out a mixed vibe of being macho and cute at the same time. Wear a sweater dress to match with the boots and you'll see why this look is one of the best lesbian pride outfit ideas – it's not just sexy, but unique, bold and daring.
Platform measures approximately .50″
Boot opening around the shaft measures approximately 7″
Full lace-up with functional side zipper for easy in and out
7. Septum ring with zircon stones
If you want to look a little edgier than usual, then septum rings are the way to go. These are great lesbian stud outfit ideas. You can even get clip-on rings to avoid the pain and commitment of getting your septum pierced. This particular nose ring has zircon stones on it which makes it look extremely elegant. 
316L stainless steel
Nickel and lead free
Easy-to-wear, clicker septum
8. Rainbow crop top T-shirt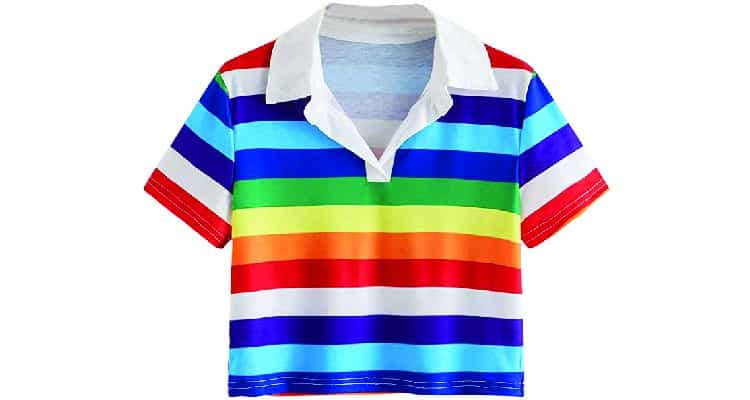 Lesbian inspired outfits are always fun to play with because of the hybridizing of masculine dynamics with feminine elements. This short sleeve crop top will match well with a white shirt and voila – you have one of the perfect lesbian pride outfit ideas. This tomboy outfit will pair well with plain white sneakers. The bottom can be styled according to your convenience. You can wear black shorts to show off your beautiful legs. 
Features collar, half placket, button front, solid color and short sleeve crop top
Fabric is breathable and comfortable with some stretch
Suitable for summer, sport, casual wear, daily wear
Hand wash in cold water and hang dry
9. Black pant suit with white shirt
Try these 3 piece suits on your big day or to your best friend's wedding. It is important to "be you" on your wedding day. It's completely okay to ditch the white gown and opt for a classy black suit and walk down the aisle. If you haven't written your vows yet, then it's time you find out how to write wedding vows. You can match your outfit with black shoes and a necklace. Flaunt classy lesbian wedding outfit ideas like this one and celebrate your body and sexuality.
Made of durable, ultra-comfy and 4-way stretch ponte fabric
Features notched lapel, one-button in front and front flap besom pockets
67% rayon, 28% nylon, 5% elastane
Machine wash cold with like colors, lay flat to dry or line dry
10. Open front tuxedo in black
Gigi Hadid, the runway queen, is known to carry off androgenous outfits with extreme finesse. This tuxedo is one of the best lesbian wedding outfit ideas ever! If you want to increase the hotness quotient, then ditch the inner. Just wear this tuxedo and accessorize with two or three necklaces. This lesbian outfit idea is both classy and sexy. This is one of the best plus-size date night outfits.
Polyester lining attached inside
Fabric is light, soft and comfortable 
Great with pants, be different and pair with skirt
Perfect professional events 
11. Rainbow color graphic T-shirt
Graphic T-shirts are common lesbian summer outfit ideas. You can't wear a leather jacket or a denim jacket in summer, so this graphic T-shirt is the perfect lesbian outfit idea for when temperatures are soaring. In fact, pair them with a short denim skirt or shorts to raise the temperature even further! Alternatively, wear them with an airy pair of cotton pants for comfort. To elevate this look, wear knee-high socks and boots. This T-shirt has PROUD printed in rainbow colors. You'll have the ladies lining up in no time!
Created in honor of LGBTQ pride
Short sleeves and contemporary styling for a slimmer fit
Ribbed and set-in crew neck collar
Soft, loose, comfy for everyday wear
Related Reading: Transgender Dating And The Taboo Around It
12. Flowy off-shoulder mini dress
When the temperature rises, this lesbian summer outfit ideas will help you cool off. Your legs will be free from jeans or pants. These maxi dresses are perfect for all kinds of occasions. You can wear this for brunch or if you have a dinner date with your girlfriend. Just slip on one item of clothing and you are good to go. If you want to make this look more elegant, then wear a simple pendant and a pair of heels – there you go, elegance and style at the snap of your fingers.
Square neck and puffed short sleeves
A-line dress just short of knee length
Has 2 side pockets and comes in fully secure lining
13. Printed dungarees in grey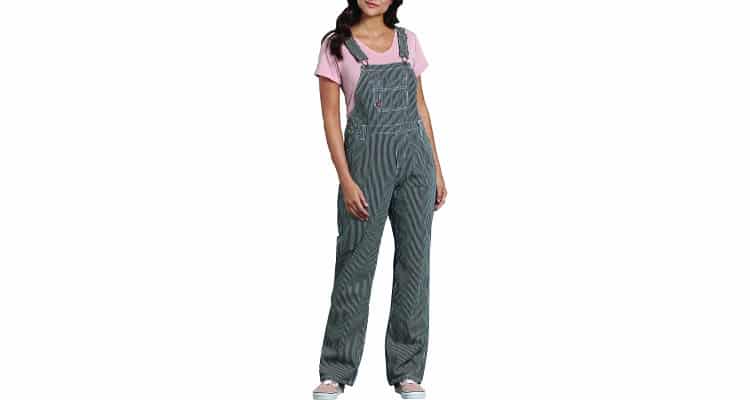 Dungarees have been around for many decades now and they are the best lesbian outfit ideas for spring. These are comfortable, breathable and roomy dungarees which you can pair with a black T-shirt to make it look more gothic and punk. And if you want to achieve some seriously gay fashion, then undo a strap of the dungaree. This is one of the easiest lesbian outfit ideas which you can pair with some gothic black wristbands.
Made of a 100% cotton denim, comfortable and breathable
Generous, roomy fit around thigh area and straight leg that fits over boots
Designed for hard work; equipped for comfort and convenience with a roomy bib pocket 
14. High waisted black and red plaid pleated skirt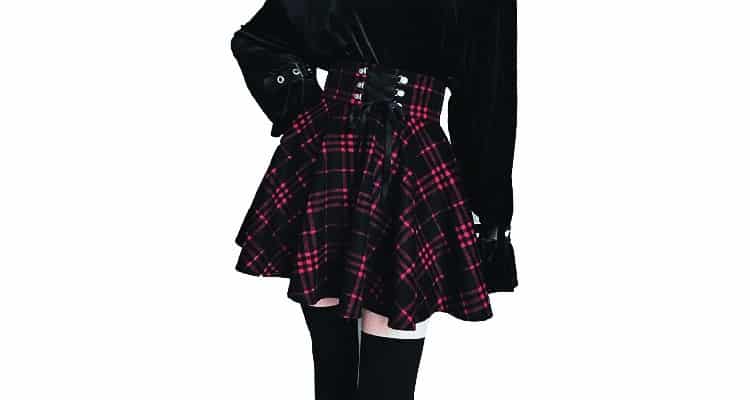 It's time we start validating lesbian inspired outfits. This particular lesbian clothing idea combines both chic and gothic vibes and are great outfit ideas for spring. This style reflects comfort and warmth. This casual skirt has a wide waist band in black and red plaid pattern. Its flare design is great for girls who love to show off their gothic style without overdoing it.
But if you want to go overboard, then apply some black eyeliner and lipstick, and you'll be ready for lesbian pride march. If you are dressing up for a first date, then consider this beautiful skirt.
Polyester blend
Comfortable to wear
Wide waistband and flare design
Short length with leather belt zipper pocket lattice
15. Distressed denim ankle length jeans
Jeans are never not trendy. Wear a graphic T-shirt on top to complete the look if you're searching for casual lesbian outfit ideas. These high waist and ripped distressed jeans will be the perfect outfit ideas for spring. Pair it with ankle boots and a leather jacket for an androgenous look. 
15% Polyester
Fabric has no stretch
Is tapered, has side pockets with button fly 
This list of lesbian outfit ideas have something for every kind of lesbian. If you are more into the gothic look, then there is an outfit for you. If you want something butch, there's an outfit that will suit your likes as well. If you are someone who loves to represent your sexuality through your clothes, then just go nuts and do it. As long as you are happy, nobody can stop you from being yourself.