June, the month of love, is around the corner in all its glory and splendor, when all the lines are blurred and inhibitions are shed in support of love in all its varied hues. And, what better (and fun) way to extend your support to LGBT than throw a grand Pride party? With marches, gatherings, and celebrations taking over during Pride month, you can show your support for the cause of equality by taking a cue from these amazing pride decorations for your next rainbow pride party.
Mark your calendars and send out the invites, for the coolest pride decorations ideas are coming your way to make your Pride party the talk of the town! These pride decor ideas can add the perfect dash of zing to your event by painting the venue in vibrant colors. Blast some groovy tracks and you have a rocking Rainbow Pride party in the offing.
Pride Decorations – LGBT Pride Party Decor Ideas
No matter how crazy your party is, it is the decor that paints the town red, er, rainbow! The vivid rainbow colors in pride decor demonstrate your support for the cause, displaying it in its full magnificence. But how do you make sure that everyone enjoys your party even as you try to strike a balance between entertainment and the social cause? Let us tell you. The secret is our all-inclusive (pun intended) list of the best Pride month decorations available online.
Read on to find out how you can jazz up your Pride party, and take pride in your hospitality while you are at it. Go on a shopping spree with our list and gear up for an amazing bash where love is celebrated unanimously.
1. Rainbow colored brick wall backdrop
No party is fun without a good photo backdrop against which you can click countless pictures. Pose with your friends, your significant other or your family against this rainbow-colored brick wall backdrop that adds a burst of colors, not just to the venue, but to your pictures as well. Use this perfect pride decor in any corner of the party to add that dash of pizzazz. This one is a conversation starter for sure.
Econ vinyl backdrop in rainbow hues
Tear-proof, light in weight, and collapsible
Digitally printed to give a high-resolution effect
Can be easily set up using a clamp, tape, or nails
Product dimensions: 7ft x 5ft (82" x 60")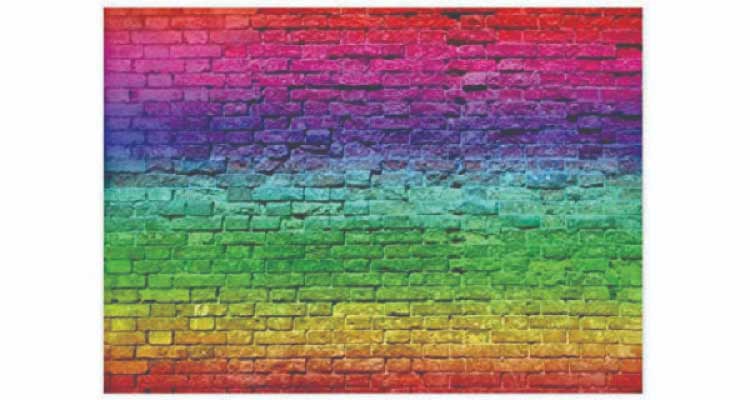 2. LGBT Pride string flag
What are gay pride decorations without a fluttering string of flags! Be it a terrace party or a house party, this string of pride flags is great for decking up the venue. Show off your solidarity with LGBT with these strings of flags soaring high in the sky. They make for one of the best pride decor items that are reasonably priced too.
Made of 100% polyester
Double-layered strings that don't break easily
Printed with UV resistant dye, these flags are best for outdoor parties
Product dimensions: 33ft long string
Flag dimensions: 8" x 5.5"
3. Rainbow Pride-themed windsock
Make your events special with windsocks in vibrant shades. This set of windsocks is what you need to stock up on for your Pride month decorations and celebrations. Celebrate love with all its symbols with these rainbow-hued windsocks that come in 4 different patterns. Your friends will surely notice and admire the fine details with which you've decorated the place.
A set of 4 rainbow column windsocks in 4 different patterns
Made of premium quality polyester fabric
Comes with a plastic hoop for hanging 
Includes swivel clips
Product dimensions: 40" in length
4. Rainbow party invites
Sending out themed invites to your friends and family is something you cannot afford to miss out on. Your entire stash of LGBT decorations 'must' include stylish invites that strike a chord with your favorite people. This set of rainbow invites, smacking (pun intended, wink!) of rainbow tints, will make sure your friends are dancing to the tunes of Where the Party At
Set of 20 fill-in invites with envelopes
Postcard style, non-folding cards
Perfect for rainbow themed parties
Crafted out of heavy-weight matte finish cardstock
Product dimensions: 4" x 6"
Related Reading: Athlete Dutee Chand Is Breaking The Glass Ceiling For LGBTQ Women Of India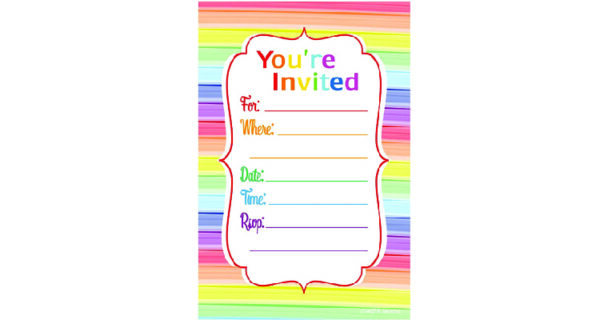 5. Beautiful rainbow floral wreath
This pretty wreath of rainbow-hued artificial hydrangeas is sure to make for a sight to behold. Retain the enchanting aura of nature in your party with these flowers brought to life in vibrant colors. Use it to deck your party, carry it along to make a statement in your local Pride rallies, or give it a permanent place on your front door – it is a versatile thing of beauty that can be a joy forever.
Wall mount, hydrangea wreath crafted out of the finest quality of silk
Eco-friendly, odor-free, and non-toxic material 
A mix of lush green leaves and flowers lend it a life-like appearance 
Product dimensions: 18"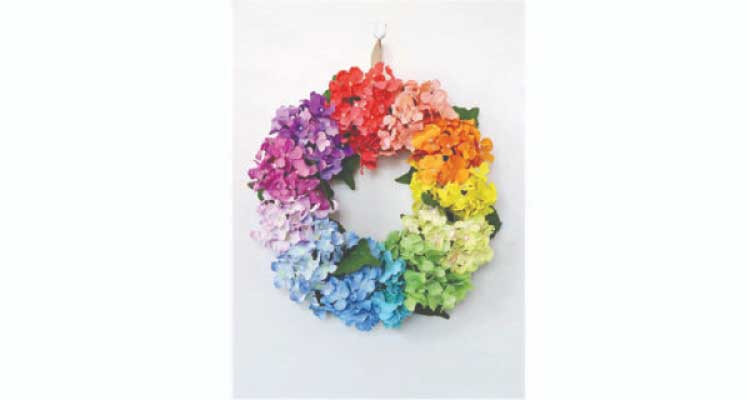 6. Rainbow party supplies
Pride parties mean revelry and fun. Don't let the post-party clean-up dampen your spirits. Opt for hassle-free paper cutlery that can be disposed of easily. But this doesn't mean you need to settle with boring and plain paper cutlery. Display your unanimity with love that transcends all borders with colorful gay pride party decorations such as these.
Party bundle of 72 pieces, including paper plates, napkins, and cups sufficient for 24 guests
Die-cut rainbow arches make for unique shaped plates
Gold foil accent along the edges 
Made of high-quality and sturdy material
Product dimensions: For napkins: 6.5" x 4" folded, for plates: 10" x 5.7", for cups: 10" x 5.7"
Related Reading: The Yin And Yang Of The Sexuality Spectrum
7. Wooden rainbow ornaments
Just as decking the halls with boughs of holly is imperative, so is using such striking wooden ornaments as pride decorations. Display these pride love signs in all their splendor by hanging them profusely throughout the party venue. These easy-to-hang pieces are sure to sprinkle love, and who knows, you might stumble upon a potential love interest at the party.
A set of 28 pieces of LGBT Pride wooden love signs in 7 different styles
Signs are furnished with ropes to make for convenient hanging
Eye-catching designs in high-quality prints
Made of strong and durable wood with smoothed edges
Can be used in multiple ways: As a brooch, as a bag accessory, or even as a hair accessory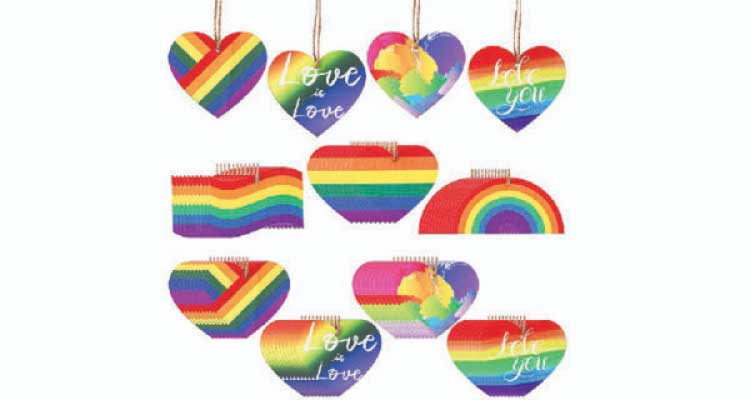 8. Witty photo booth props
A crazy Pride party needs equally crazy photo booth props. What's a party without some tomfoolery at the photo booths? Have a blast with your friends holding these witty, funny, and hilarious props while you pose, preen and go click-click. Expect to make some great memories with these catchy pride decorations ideas.
Set of 24 pieces of props in 8 different styles
Includes 24 wooden sticks for assembling
Reusable props made out of high-quality wood and cardstock
Versatile props that can also be used as wall decor 
Related Reading: Top 30 Couple Poses For Unique Pictures And Selfies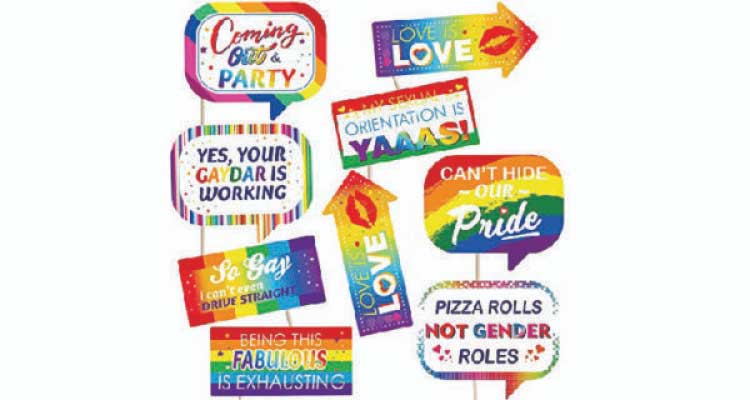 9. Pride temporary tattoos
Get inked temporarily to make your mark at the party. Any pride decor would be incomplete without people getting to flaunt their colorful sides both literally and figuratively. Get gorgeous for the cause of love while playing around with these temporary tattoos. Wear your creative hat and use these tattoos in unique ways to leave an indelible stamp on the people around you.
Pack of 16 tattoos, 2 each of 8 different designs
Printed on 2" x 2" cardstock with high-quality ink
Skin-friendly tattoos that last for 5 to 7 days 
Hassle-free tattoos that can be easily applied using little water
10. Pride decorations banner
One common sight at every pride party, march or gathering is a banner that clearly sends the message across: Love always wins. Say it out loud with colorful gay pride decorations at your party like this banner. Be proud of your own identity and show it off with your head and banner held high. If this is not the perfect idea for party decor, then we don't know what is.
Made of durable polyester
Bright colored, attractive banner with the slogan: "Love always wins"
Includes 4 brass grommets and a roll of rope
Water-proof, light-weight, UV fade resistant banner
Product dimension: 120″ x 20″ 
11. Heart stickers for pride decorations
Wear your heart on your sleeves quite literally with these cute heart stickers in rainbow stripes. These stickers can be used in many ways depending on your purpose. Use it on your party invites, souvenirs, party favors, water bottles, your phone, or do up a corner using them – the possibilities are endless. Let your creative juices flow to impress your party guests while making a statement with your pride party decorations.
Roll of heart-shaped stickers in rainbow colors
Product dimensions: 3.19" x 2.91" x 2.01" 
Item weight: 1.76 ounces
Sticker dimensions: 1.5" x 1.5" 
12. Rainbow pride flag set
Nothing denotes support, unity, and acceptance of the LGBT community more powerfully than its signature rainbow flag. The multicolor flag swaying in the wind is an emblem of how love conquers all, and how diverse identities can also stand in unison. Make sure you have scores of rainbow flags fluttering at the party venue. Not only do they add attractive colors to the pride decor, but show your support for your cause, too.
Pack of 70 flags
Includes the flags of the rainbow: Bisexual, transgender, pansexual, lesbian, non-binary, and asexual
Product dimensions: Flag size 5.5" wide, 8.2" long, stick size 11.8" 
Made of long-lasting polyester material
13. Pride party decorations set
Our comprehensive list of pride decoration ideas might leave you spoilt for choice. In case you find yourself in a dilemma regarding which of these decoration ideas are the best, you can settle with an entire set instead! No need to hunt for individual decor items, order in this party set right away to save you time, effort, and money.
Decor set includes 1 large Pride flag (5 X 3 ft), 2 pieces of 40″ long Rainbow windsocks, 1 piece of 23 ft long Pride banner, and 10 pieces of small LGBT flags
Windsocks come with swivel clips and plastic hoops to facilitate easy setup
The Pride flag is made of durable and fade-resistant material
Complete set of decor items to deck up your entire party venue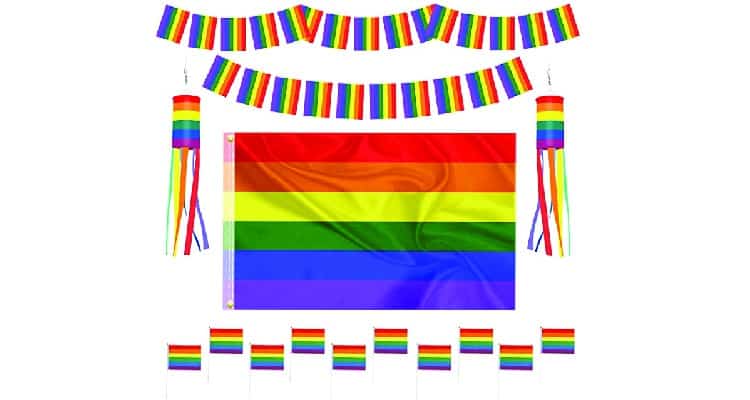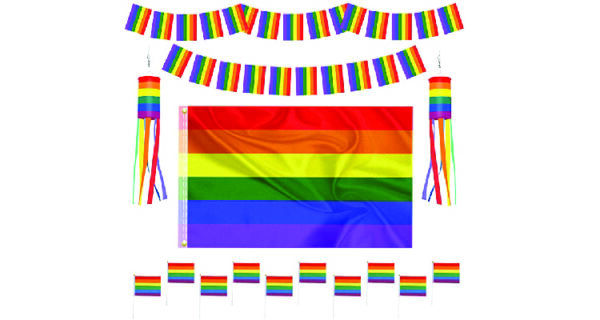 14. Burlap banner for pride decorations
Celebrate love and party hard with some unique Pride month decorations like this one – a jute burlap banner with rainbow hearts that makes for an attractive decoration. Hang it above your fireplace when indoors, or let it dance overhead at the selfie corner outdoors. It is the perfect addition to your Pride party that will make your friends admire your event planning skills.
Reusable banner made of 100% natural jute burlap
String length: 5.56ft
Flag dimensions: 5.1" x 7.1" 
Adjustable gap between the flags
Pre-strung flags make for easy setup
15. Pride mason jars
Let your gay pride decorations be such that people turn their heads in awe and wonder at how beautifully you have used seemingly humble items such as these mason jars and turned them into stunning decor pieces. Use these hand-painted mason jars as a centerpiece. Serve your guests beverages in them. Or treat your friends to desserts-in-a-jar. You can use these eye-catching mason jars in multiple ways and make them a conversation starter at your party.
Set of 3 mason jars
Includes 1 regular mouth quart-sized ball mason jar, and 2 regular mouth pint-sized ball mason jars
Hand painted with love, and for love
Painted only on the outside
Related Reading: 7 Signs Your Husband Is Gay, And 5 Ways YOU Can Help Him Come Out
16. Rainbow tablecloth
Host a party that people will remember and cherish forever. Make a mark, not just with your hospitality but also with your choice of gay pride party decorations. For a pride-themed party, show off the colors of the rainbow proudly to varnish everything with the glitter of love and unity. What an excellent idea is this rainbow-colored tablecloth that goes well with the message and theme of the party.
Set of 4 tablecloths in rainbow colors
Made from the finest quality of plastic material 
Fight off against food stains and spills
Reusable and durable tablecloths
Product dimensions: 54″ x 108″
17. Pride bunting flags
You can never have enough rainbow colors at a pride party; rainbows are a treat to the eyes! Go over the top, both literally and figuratively, with your love for rainbows by putting up this beauty of a bunting. The fan-flags look like real rainbows in their vibrant shades and perfect arches. Deck up your porch, garden, or lawn with these decor items, invite a few friends over, order some food and drinks, and you have a ravishing party to enjoy.
Pleated fan flag in rainbow colors
Made of fade-resistant premium-quality polyester 
Double-line stitching makes for a long-lasting and durable banner
Rust-proof metal grommets
Comes with rope for hanging easily 
Product dimensions: 1.5ft x 3ft
18. Front-door wall signs
Usher your friends home with a warm welcome through these porch banners. Set the right mood for your Pride party with LGBT decorations that send out clear messages such as this banner that says: "Love wins". Your guests will be amazed to see how beautiful and creative your pride decoration ideas are, as your party exudes festive vibes right from the doorstep.
1 set of front porch banners
Pre-strung banners that are hassle-free
Made of durable polyester oxford fabric
Product dimensions: 12" x 71"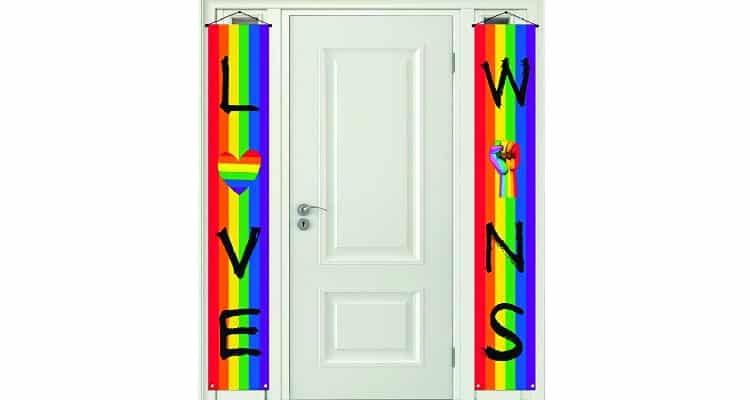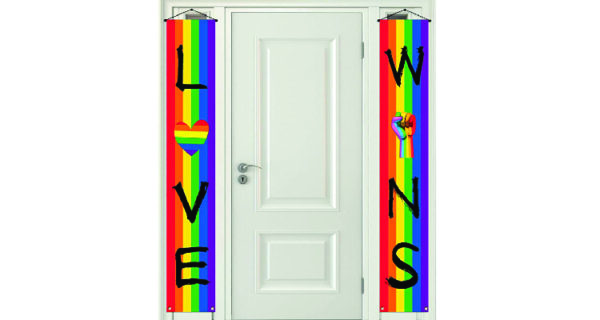 19. Pride ceramic plaques
Pride month decorations are always fun and vibrant. Throw in an element of quirk and surprise with these ceramic plaques at your Pride party and see them give a stunning makeover to the place. Use them at the party venue, no matter if it is indoors or outdoors, adorn your house walls, put them on your mantel, let them be the center of attraction at the photo booth, give them away as souvenirs, or display them as the centerpiece!
Set of 2 plaques reading: "Love is love" and "Straight outta the closet"
Made of high-quality porcelain
Equipped with hook and easel, and can be hanged or placed on a table
Product dimensions: 17 x 17 cm
Related Reading: What You Need To Know About Coming Out Of the Closet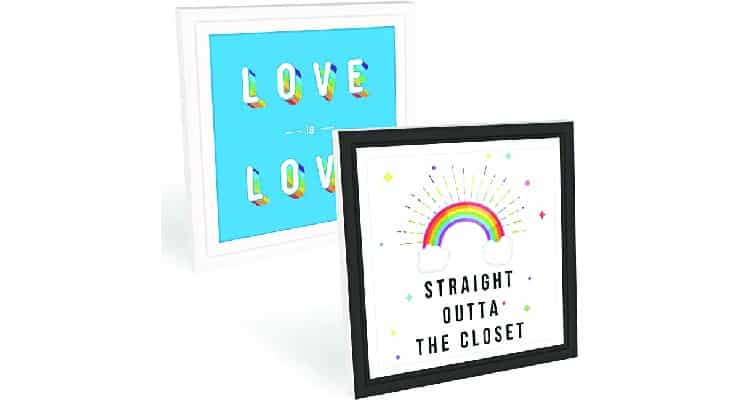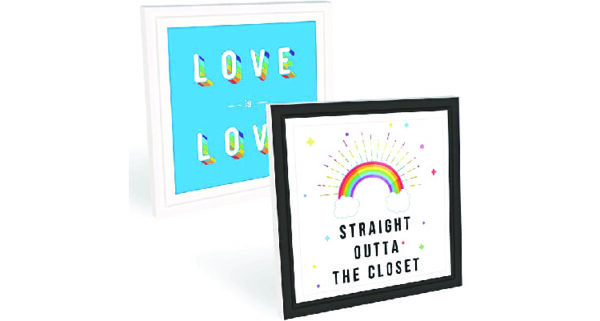 20. Rainbow foil fringe curtain
Set up the perfect photo booth for your guests with this fringe curtain in colors of the rainbow. Gay pride party decorations are all about going overboard with rainbow colors. So why not have it in all your pictures as well? Make this fringe curtain the backdrop of your photo booth and go silly with your poses! 
Set of 2 foil fringe curtains, each measuring 3.3ft x 6.6ft
Shimmering fringe curtain in vibrant colors
Strong double-sided adhesive tape that holds the curtain in place
Ready to use, hang it straight out of the box
You can show your unflinching support for the LGBT community at your Pride party through the decor. With pride decor as marvelous as these, your party is sure to be a hit. Choose from the best LGBT decorations and order your favorite right away to get the party going!
FAQs
1. What is a symbol of Pride?
The rainbow flag is a universal symbol of Pride. The LGBTQ community swears by it as it denotes unity, support and solidarity with them. The colors of the rainbow are associated with the diversity in the LGBTQ community. 
2. How do you throw a Pride party at home?
Throwing a Pride party at home is quite easy and hassle-free. There are numerous pride decorations available (as can be seen on our list) which you can order and set up. Simply invite your friends over after you've finalized the date and menu, and you are ready to bask in the revelry!
3. What do the LGBT colors stand for?
The colors of the rainbow symbolize different meaningful things such as Hot pink denotes sex, red is for life, orange is for healing, yellow for sunlight, green stands for nature, turquoise refers to art, indigo is for harmony, and violet denotes spirit.
Ask Our Expert
You must be Logged in to ask a question.