One of the best things I did for myself in 2022 (and arguably, ever) was dive deep into books that have LGBTQIA+ people as central characters. I've compiled a list of these LGBTQ books to share with you today. Most of these are feel-good, and no queer character dies!
I understand that the term 'LGBTQ books' is a bit like saying 'gay marriage' instead of just 'marriage.' But the cishet-dominated institutions of literature and academics (and marriage) have been deliberately exclusionary toward queer and trans people. Hence the term LGBTQ books. It's not just a much-needed refocusing on those who are invisibilized but also provides an aware, sensitive, expansive, and truthful version of the way the world 'actually' is.
The Importance Of Reading LGBTQIA+ Books
A study suggests, "When students read books where they see characters like themselves who are valued in the world, they feel a sense of belonging." True story. Here are some other benefits of reading LGBT books:
Self-discovery: Many people realize they are queer when they read or watch characters they can relate to, it helps them validate their own life
Healing: Safe, loving queer stories, true events, and personal narratives hug those parts of you that are forever healing from past traumas, self-doubt, and the daily effects of queerphobia
Strength: Seeing a glimpse of your whole life, your politics, values, joys, desire, sexual identity, capacity for self-love, romantic moments, and struggles reflected in so many books makes you feel stronger and hopeful, in my personal experience
Queer rights: There are worlds inside some of these LGBTQ fiction books where our rights are a norm, lending force to the modern fight for equality. Belief in a safe future helps you attract love into your life too
Voice of queer authors: You know all those jokes about how men (dreadfully) write female characters? It's the same with LGBTQ books written by cishet folks
You feel safe: When you pick up good LGBTQ books like the ones ahead, you won't have to constantly be afraid of or seethe at the writer's ignorance/queerphobia
You feel valued: This is because you see that the queer characters have agency over their lives, that their rights are not a matter of debate, that they love freely, and that their families and communities love them
Trans-friendly: In the best LGBTQ books, trans people will never be subjected to transphobic misconceptions that are passed off as entertainment
Allyship: If you're an ally, you need to read LGBTQ books to be more inclusive in your daily language, thought, and decisions. Consume media that doesn't call the inclusion of ONE queer character progress, but shows diversity at its most authentic
Acceptance: Sensitive representation of queerness leads to better mental health and teaches you how to love yourself
Did you know that 4 in 10 books banned in 2022 were LGBTQ+-related? "Attempts to remove LGBTQ books from libraries across the US rose almost a fifth last year, with children's books featuring LGBTQ characters making up 80% of the most challenged books," according to The Guardian in 2020. Even the New York Public Library has joined the modern fight against the growing nationwide trend of book banning and celebrates Pride month every year.
30 LGBTQ Books You Should Read To Be A Better Ally
You'll see a lot of young adult LGBT books on this list, a genre that feels like a homecoming of sorts for those of us who missed out on an authentic adolescence. These authors have contributed to the gay liberation movement by writing books that bring LGBTQIA+ people into the mainstream. Here they are:
1. Juliet Takes a Breath
Author: Gabby Rivera (she/her)
Genre: Fiction, Bildungsroman
An LGBTQ book for adults and teens, the story is based on a true event from the author's life when she interned for a white feminist writer.
I love the intersectionality of feminism in this novel. For me, it was a rare read in which almost every character is queer (heaven!), there's casual representation for polyamory relationships (I could cry with joy), it's sex and body positive, and the most prominent and politically aware characters are people of color
It created a main character who is fat, queer, beautiful, and empowered (without making their fatness their central trait)
The book cleverly calls out white feminism and stands up against any gay liberation movement that is based in bioessentialism
It shows us how important safe spaces are for queer people of color, where they can breathe, explore, and love themselves
2. The House in the Cerulean Sea
Author: TJ Klune (he/him)
Genre: Fantasy, Supernatural fiction
One of the best LGBTQ books that I've read, it has elements of magic and children and a running theme of a warm chosen family
A gay man meets another and a beautiful queer romance between the two leads unfolds
Everything about their world makes you feel like you're being hugged tightly. Their home feels like your own
It's a story that tells us the importance of seeing beyond your fear of the unknown and that we must stand up against bigotry in this changing world
An LGBTQ book for teens as well as adults, this is a wholesome story with memorable and loving characters.
Related Reading: 10 Ways The Queerphobia Is Coming From Inside The House
3. Pet
Author: Akwaeke Emezi (they/them)
Genre: Young Adult LGBT book, Fantasy
Welcome to Lucille, a new world born of revolution.
It's a changed world with socio-economic equality, anti-racism, accessibility, wholesome polyamorous family structures, and LGBTQIA+ rights
There's no evil, no police brutality, no monsters, and a reformative justice system that encourages rehabilitation and a ban on firearms
Lucille seems perfect. Except in the prologue, we are reminded of the phrase "the banality of evil". It means that the worst things can happen in the blandest of places. And they do
We follow Jam, a young, black, trans, teenage girl whose transness is as matter-of-fact as the fact that she happens to be selectively mute. She grapples with some big questions about who are 'monsters', if we can recognize them in our own life, where they hide, and how Lucille allows them to thrive along with abusive relationships
4. Bitter
Author: Akwaeke Emezi (they/them)
Genre: YA, Fantasy
With queer characters at its center (and a hijabi queer character as well), this LGBTQ book for teenagers and adults serves as a prequel to the perfect world of Pet.
The story is a launchpad of revolution and an homage to fierce activism that demands sacrifice
The world is a mess and Bitter, a teenage bisexual girl must decide how to use her artistic skills to change the world quite literally
The narrative exemplifies the power of justified anger, and recognizes youth and continued protest as the bringers of change
It teaches you that you can maintain hope and gentle connections through conflicts
Pet and Bitter make great LGBTQ books for teens as well as adults.
Related Reading: Am I Bisexual? 18 Signs Of Female Bisexuality To Know If You're A Bi Girl 
5. Trans Like Me: Conversations For All of Us
Author: CN Lester (they/them)
Genre: Nonfiction, Biographical, Autobiographical
I've been recommending this book to everyone since I read it. It has insightful and direct personal stories of trans people as well as important scientific research on gender.
A 2018 report states that it is a must-read for educators, policymakers, and college administrators invested in improving the retention rates for students with marginalized identities. The report indicates that 24% of trans students suffer physical, sexual, and emotional harassment and that as many as 16% of those end up leaving college before graduation. Lester takes the reader on a journey through trans history and culture, showing how much of what we know about trans histories and people is a product of media and pop culture narratives written by cis-gendered people. All of this makes coming out of the 'closet' for trans people even harder.
6. The Priory of the Orange Tree
Author: Samantha Shannon (she/her)
Genre: High fantasy
I found the book an interesting read on how the truth is different from belief, but it's unfortunately our individual belief systems that create faiths, rules, and cultural barriers. The affection and sexual intimacy between the queer couple, Ead and Sabran, is beautifully portrayed, something that only LGBT writers are capable of. It's one of the most engaging fantasy-filled LGBTQ history books with sorcery and witchcraft, religious and personal history of conflicts, and a search for immortality. There are also majestic dragons, dangerous journeys, court intrigues, and a quest of a few individuals to unite the world.
7. The Tea Dragon Trilogy
Author/Illustrator: Kay O'Neill (they/them)
Genre: Fantasy, Graphic novel
These three books, The Tea Dragon Society, The Tea Dragon Festival, and The Tea Dragon Tapestry are around 100 pages each, but it took me longer to finish them anyway. Because the illustrations are stunning. They transported me to Kay's world of gentle magic and community, folklore and queerness, colorful landscapes, and tea dragons. Disabled characters, characters of color, queer characters – it's an inclusive mix that never tries to make its diversity a central point. It just is. Every book, even with its adventures, is a light, tender-paced read.
Related Reading: Queerplatonic Relationship – What Is It And 15 Signs You Are In One
8. Prince and the Dressmaker
Author/illustrator: Jen Wang (she/her)
Genre: Fairy Tale, Graphic novel
This feel-good book does a great job of bending gender roles and norms without actually labeling anyone as a gay man or woman. It's open to interpretation. And my interpretation is that the two main characters are certainly, out-of-the-question queer. A prince, who loves to glam up in feminine attire, and a dressmaker who loves to experiment with her creativity on the only-too-willing prince. These platonic soulmates make a great team and portray an even better friendship throughout the book.
9. Most Ardently
Author: Susan Mesler-Evans (she/her)
Genre: Fiction, Romance
It's one of the most light-hearted young adult LGBT books on this list. It gave me the joy of being able to reimagine one of my favorite literary characters, Elizabeth Bennet from Pride and Prejudice, as the bisexual Elisa. She's in a hate-love dynamic with the new and improved, young woman version of the awkward Darcy.
I loved the contemporary retelling and the renewed political lens
The importance of financial independence is shown through the economic pressures and lives of the Mexican-American Benitez family, versus the luxury of Darcy's world
The solidarity among the siblings is lovely to read
The tenderness and loyalty between the two sisters, Julieta and Elisa, retain the original Jane-Lizzy equation
The frictional flirtatiousness between the two queer leads after their chance meeting continues charmingly throughout the book
One of the sisters is a trans girl, a fact that is as commonplace and lovely as the fact that I love this book, most ardently
10. One Last Stop
Author: Casey McQuiston (any pronouns)
Genre: Romance, Fiction
This is among the most memorable books I've ever read and one of the best LGBTQ romance books on this list.
You'll fall in love with the chosen family and queer friendships these wonderfully quirky characters create for themselves in New York City, with a (un)healthy dose of trauma dumping
Casey McQuiston is brilliant in portraying grounded personal stories of an inclusive and diverse bunch of friends – bisexual, gay, drag queen, trans person, lesbian, and people of color
The sexual tension and intimate scenes between the two girls, August and Jane, are elegantly and passionately crafted and will make you reconsider your sexuality if you're a straight woman
A story of love, hope, home, and roots – words that queer people don't take for granted
The book is also a nod to the fact that we, the queers, wouldn't be leading the same life without our queer ancestors. We're forever grateful to the activists from the LGBTQ community who fought and died for us
Related Reading: 17 Signs Of True Love From A Woman
11. Red, White and Royal Blue
Author: Casey McQuiston (any pronouns)
Genre: Romance, Fiction
I didn't think Casey McQuiston, the New York Times bestselling author, could surpass expectations after One Last Stop. I was so happy to be wrong. It has been made into a fantastic movie in 2023, and it's already one of my top favorite LGBT movies.
Funny, witty, warm, political, highly charged, and hella romantic, the two main characters of this LGBTQ book fall hopelessly in love no matter how forbidden their love is
While One Last Stop makes you forget that homophobia exists, this book brings it to the center of global attention … and solidarity
Also, the book has a female US president, which is nice to see at least in a fictional world. I can't wait to read the author's latest book, I Kissed Shara Wheeler
12. A Strange and Stubborn Endurance
Author: Foz Meadows (any pronouns)
Genre: Historical fantasy, Queer romance
This was the first time I read a story that focuses so beautifully on a man's sexual abuse trauma and intimacy issues, the impacted self-worth, and the systemic support he deserves (and gets) through it all
Apart from that, a painfully slow romance brews between the two leads, husbands Velasin and Caethari. These two are strong, smart, and sensitive men. It's sweet, it's hot, and it makes you want to scream at them to make a move already
This slow burn of queer love is deliberate and the author keeps us busy with political intrigues. We witness mysterious assassinations and murder attempts that the couple must get to the bottom of
It's important to note that this is a world where LGBT rights are a given. So you see an active and prevalent inclusion of queer, genderqueer, nonbinary, and trans characters, which made my heart swell with pride
Related Reading: Male Domestic Violence: Men Can Be Victims Too
13. Lie With Me
Author: Philippe Besson (he/him)
Genre: Fiction, Romance
Class divides, prohibited love, and sexual exploration, this coming-of-age story is an excellent commentary on internalized homophobia and how it affects a person's well-being throughout their life. Giovanni's Room is another moving story that I've been told has a few similar themes
In Lie With Me, a boy falls in love with another and grows up to accept and love his queerness while the other drifts away, separated by tradition, family values and responsibilities, and shame instilled by a bigoted society
The book also gently covers the AIDS crisis that largely affected the gay community due to the negligence and homophobia of the US government. A trigger warning for this book: death of a gay character
14. Fingersmith
Author: Sarah Waters (she/her)
Genre: Crime fiction, Historical fiction, Queer love
An engrossing story that inspired the movie The Handmaiden. Page after page of tragedy unfolds for two women trapped and manipulated by circumstances of not their making. Their love story does have a happy ending, but it's just a spoonful of sugar after almost 500 pages of "Wait, is she going to die?" and "Will this young woman ever have her own agency!".
Their love for each other is remarkably pure despite the fact they've never seen a healthy relationship. You can see why they are home to one another, something that often symbolizes queer love.
15. The Body is Not an Apology
Author: Sonya Renee Taylor (she/we)
Genre: Non-fiction
Sonya taught me through an intersectional and queer lens that self-love is a political tool of revolution. Sonya melts away your bias through her own unapologetic existence and personal narratives. She says many "laws are modern-day examples of how our governments build body-based oppression into everyday lives, codifying inequity and injustice for all types of bodies. From LGBTQIA bodies to fat bodies, to women's bodies, we live under systems that force us to judge, devalue, and discriminate against the bodies of others."
Related Reading: 7 Signs Self-Hatred Is Ruining Your Relationship
16. The Natural Mother of the Child
Author: Krys Belc (he/him)
Genre: Biographical
This powerful memoir has raw, collage-like memories of pain and euphoria, and unflinching honesty and cultural criticism.
Krys, a transmasculine and nonbinary author, takes us through his experience of being a gestational parent to one of his children and his struggles with the pervasive word 'motherhood'
He documents this journey and how giving birth made him come face to face with societal expectations, bias, and gender norms
He talks about the problems faced after having a baby, and how he came to a deeper understanding of his gender
This book serves as an important commentary on trans and enby personhood and parenthood
17. The Order of the Pure Moon Reflected in Water
Author: Zen Cho (she/her)
Genre: Historical fantasy
This Lambda Literary Award finalist portrays a chosen family of outlaws. The bandits in this story are funny and endearing and unlearn their sexism during their journey through a forest. The world created by the author is beautifully open about the fluidity of sexual identity. It's a tender short novel with historical allure, adventure, and action. There are also endless signs of chemistry and a budding romance between two strong and determined queer characters.
18. The Island of Missing Trees
Author: Eli Shafaq (she/her)
Genre: Magical realism, Historical, Romance
The book struck me with its overarching presence of two gay men and their inspiring love for each other that drives the plot deeper and forward.
The main story is about the political division of an island, of immigrant lives, of mementos of love lost and found, of grief and roots, and of the search for truth and closure in history and bones
In this magical book, a fig tree watches over a family and it's through the voice of the tree, we uncover secrets and pieces of tragedy otherwise lost to the surface
Beautiful, creative, imaginative, forceful, and tender, the book compels you to face the reality of intergenerational trauma and how it keeps cycling on unless addressed and healed
Related Reading: 21 LGBTQ Flags And Their Meanings – Know What They Stand For
19. Girl Meets Boy
Author: Ali Smith (she/her)
Genre: Fairy Tale, Fiction
"It was always the stories that needed the telling that gave us the rope we could cross any river with." – A quote from this short novel. It has a poetic, warm, funny, lyrical, radically political, and a conversational tone. The themes extend from childhood memories to consumerism and marriage equality. It reminds us that Ovid, in the Metamorphoses tale of Iphis and Ianthe, didn't need to change Iphis into a boy to be loved by Ianthe. That we can tell stories the way we want, and change the world one story at a time.
20. Gender Identity, Autism and Sexuality
Authors: Eva A. Mendes and Meredith R. Maroney (she/her for both)
Genre: Non-fiction, Autobiographical
An excerpt from the book: "There seems to be enough evidence to indicate that autistic individuals tend to be more divergent in their gender identity and sexual identity/orientation than their non-autistic counterparts." This is because neurodivergents are used to questioning societal norms and gender roles. While reading this book, the intersectionality of autism, gender, and sexuality in the personal history of the interviewees made me feel like I belong inside the pages with them.
"Connecting with others in a bar setting may not fit for autistic LGBTQ people, particularly when considering the sensory overload that an autistic person may experience." – I felt this in my bones. How do we make gay spaces more inclusive for disabled, autistic, and other neurodivergent people? A great book for queers, allies, schools, and parents of queer and autistic kids.
21. This is How You Lose the Time War
Authors: Amal El-Mohtar (she/her) and Max Gladstone (he/him)
Genre: Science fiction, Fantasy, Romance, Time travel fiction
If you want to read romance, this tale is your best friend. It's an epistolary novel that haunts you with a love story that spans space and timelines. In the middle of war, rival agents, Red and Blue, who have never met but only correspond through letters, can either continue to be the warriors that they've been trained to be – or cross the enemy line and choose each other. Their expression of love through art, nature, and poetry makes for some of the most memorable scenes written by the authors.
Related Reading: Recognizing Soulmate Energy – 15 Signs To Watch Out For
22. She Who Became the Sun
Author: Shelley Parker-Chan (they/she)
Genre: Historical fiction, Fantasy, LGBTQ history book
Set in the 14th century, the story follows the life of Zhu, a person assigned female at birth, who adopts their brother's identity in order to survive in a patriarchal world that favors men.
Zhu comes to terms with their gender and sexual identity and romantic orientation, as well as their burning desire to take over the world
What follows is an ambitious and larger-than-life tale of complex characters, military strategies, political power plays and battles, inter-dynasty rivalries, and spectacular victories and defeats
Zhu's rival General Ouyang, who also happens to be queer, is the highlight of the book and has a powerful story arc
Zhu falls in love with a female character, Ma, and this queer romance and tenderness is what balances the surrounding violence for me
Next up are children's books. A study states that "accurate and inclusive portrayals of LGBTQ individuals in picture books serve as positive role models with whom LGBTQ children can connect with, letting them know they are not alone, and provides them with a broader understanding of themselves and others. Students can see that having a single-parent family or having two moms is a normative thing and not to be made fun of."
I would firmly state that the next four children's stories must be categorized under LGBTQ books for adults as well, since none of us really read inclusive stories as kids. Here's to a late self-discovery.
Related Reading: 18 Types Of Sexualities And Their Meanings
23. Julián is a Mermaid
Author and Illustrator: Jessica Love (she/her)
It's one of the best LGBTQ+ books that I've read. So well-conceptualized, it talks about gender exploration through a child, Julián, their self-acceptance, and stunning art that features a pride walk (Coney Island Mermaid Pride Parade in New York). Whenever I come back to this book, my two moments of overwhelm are seeing drag queens in a children's book and seeing Abuela celebrating her grandchild in a changing world.
24. When Aidan Became a Brother
Author: Kyle Lukoff (he/him)
Illustrator: Kaylani Juanita (she/they)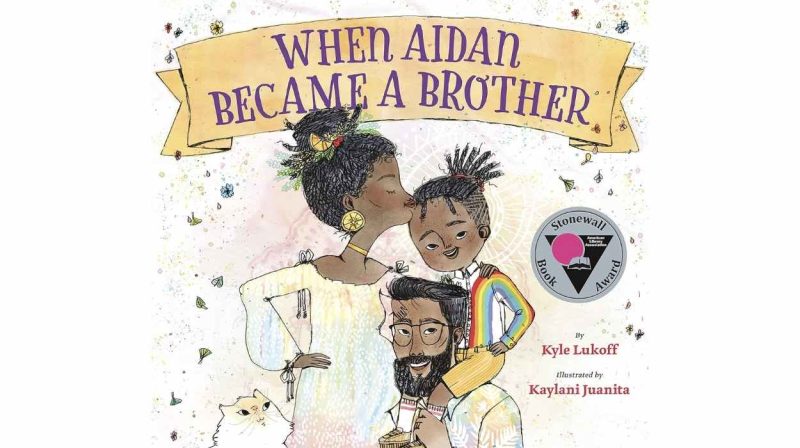 One of the best children's books I've ever read! Aidan is a trans boy whose parents love him exactly as he is. When he receives news that he'll soon be a brother, he sets out to be the best brother that he can be.
25. Mama and Mommy and Me in the Middle
Author: Nina LaCour (she/her)
Illustrator: Kaylani Juanita (she/they)
A little girl misses one of her mothers as the latter goes away on a week-long work trip. This, for her, becomes the most significant event and she doesn't quite know how to fit into the new routine where she can't sit between her two mothers. A heartfelt LGBTQ fiction book and a cute love story book for gay couples, with beautiful art by Kaylani Juanita who also illustrated When Aidan Became a Brother.
26. And Tango Makes Three
Authors: Justin Richardson and Peter Parnell (he/him for both)
Illustrator: Henry Cole (he/him)
The iconic true story is written by a married couple. It is about two male penguins, Roy and Silo, from New York's Central Park Zoo. They incubated an egg for more than a month and gave birth to a chick who was named Tango. This real-life story created a huge impact in the world, kickstarted conversations (thank you, Roy and Silo), was created into this children's book and a play, and many zoos adopted this strategy for their same-sex penguins.
Related Reading: I Am Gay, Married And I Seek Equality – Why Gay Marriage Should Be Legal
The next few on the list are the books (not for younger kids) that I haven't read yet, but I'm eagerly waiting to.
27. Hijab Butch Blues
Author: Lamya H. (she/they)
Genre: Biography, Autobiography
Lamya, the 14-year-old-queer character in the book says, "My God transcends gender." A coming-of-age story about a queer hijabi person's life that lays bare how the Quran and queerness are compatible. In the same vein, I would also like to pick one of the LGBTQ+ books by Adiba Jaigirdar (she/her). She's a queer Muslim writer who tells the life story of queer people of color in love. We need more such LGBTQ romance books that couples can read together!
28. Detransition, Baby
Author: Torrey Peters (she/her)
Genre: Domestic fiction
I've only read a few pages and already know I'll love this story. The author is the first openly transgender person ever nominated for the UK's prestigious Women's Prize for Fiction. New Yorker says, "Peters is refreshingly uninterested in persuading the public of the bravery and nobility of trans people, and lets them be as dysfunctional as anyone else."
29. The Prophets
Author: Robert Jones, Jr.
Genre: Historical fiction
This is a story about a forbidden union and a taboo relationship between two enslaved young men on a Deep South plantation. Like Giovanni's Room by James Baldwin, The Prophets might soon be considered one of the staple books in the gay liberation movement.
30. The Stonewall Reader
Edited by Jason Baumann of New York Public Library, and foreword by Edmund White
Genre: Non-fiction anthology
From the New York Public Library's archives, The Stonewall Reader is a collection of firsthand accounts, diaries, periodic literature, and articles from LGBTQ magazines and newspapers that documented both the years leading up to and the years following the Stonewall Riots, which is considered the most significant event in the gay liberation movement.
Key Pointers
LGBTQIA+ books are more important than ever to affirm the diverse identities of kids and teenagers across school systems and adults who have gone through discrimination at the hands of law and families
Feel-good queer books written by queer writers help you feel at home, lend to your self-discovery, and strengthen your resolve to fight for equality
Scroll through the article for LGBT books written by queer, nonbinary, and trans people with an intersectional lens. These will help you become a better ally to the community
In the end, let me add a bonus book to this list. Less is a 2017 satirical comedy novel by Andrew Sean Greer that won the Pulitzer Prize for Fiction. Have you read it? Tell us in the comments! As you can understand by now, when a queer person reads good LGBTQ books, it feels like they're home. And maybe by reading these from an early age, queerphobia could become a manageable disease too.
11 Things You Need To Know For A Successful Aromantic Relationship 
Ask Our Expert
You must be Logged in to ask a question.