There are many fish in the sea of online dating. But there are also catfish (if you know what we mean). And creepy fish. And bigoted fish, they're the worst. You're expected to 'just keep swimming' like Nemo to find someone who's a good fit. We know that finding inclusive and safe seas is no piece of cake. To help you fish for a compatible match, we've curated this list of the ten best lesbian dating apps of 2022. We want you to find an app that resonates with your dating style and personality. 
There are numerous dating platforms for the LGBTQ+ community and mainstream apps have also become more inclusive in the past decade, emphasizing representation. But it's important to choose these virtual arenas with care – an evaluation of the pros and cons of each app is essential to exercise cyber safety.
Our list strives to paint a holistic picture that will help you make an informed decision. And no, we haven't included Tinder or Bumble or Hinge in our catalog. The aim is to introduce you to niche sites that cater to queer women. Happy reading, off you go!
Best Lesbian Dating Apps To Chat And Find Love
Welcome to this assortment of lesbian dating apps. We say assortment because no two are the same. This list features platforms that are unique in their own right – they cater to all tastes and approaches and most of them were developed by members of the LGBTQ+ community themselves. Some of them cater to the full spectrum of sexualities while others are reserved for lesbians only. Either way, our top ten deserve your attention for the time being.  
There are three questions you should ask before settling on any app: 1) Is this app compatible with my dating style? (For instance, you don't go on Tinder if you're looking to marry.) 2) Will I be comfortable with this app's format? (Some are centered on texting, others on video messaging.) 3) What is the candidate pool like in this app? (Mainstream apps are a wild jungle.) And voila! Answering these three will lead you to the best dating app for lesbians!
1. Her
If you're a queer woman who's been exploring online dating, you've probably come across Her – one of the biggest and best lesbian dating apps out there. With a user base of 8 million people, Her is an excellent platform to date or make friends. Since it is reserved for LGBTQ+ folks only, you won't have to sift through hundreds of heterosexual profiles to find a match. Moreover, the app gives you updates on sponsored events happening in your area – you can do some super-fun socializing in the inclusive community.
The app also keeps you up-to-date on LGBTQ+ news and content, so it has a few elements of social media too. Her places a lot of emphasis on creating a safe space for its users. They have a zero-tolerance policy for disrespectful or abusive behavior and are quick to address complaints and grievances. You can go through their community guidelines to get a good picture of what we're saying. One of the best features is the mandatory face photo every individual has to upload – no one's getting scammed or catfished online. 
And finally, like most platforms, Her has a free and a premium version. The premium option has bonus features but you can do without them. All in all, Her is a wonderful virtual space for queer women from different walks of life. Gender-nonconformity has never been more embraced and celebrated than it is here. No wonder Her ranks highest in the list of free lesbian dating apps.
2. PinkCupid  
Cupid Media never disappoints with its dating platforms. There are more than thirty networks in place and we're going to talk about PinkCupid, a lesbian online dating service that's winning hearts in the queer community. The membership base is very wide and spans several countries (you might just end up in a long-distance relationship). Most queer dating sites cater to all orientations and sexualities but this one is crafted for lesbian dating only. (And don't take any pressure, you don't have to strictly date, building friendships is always an option.)
Launched in 2006, PinkCupid is not new to the game. In fact, the reason behind the high user base is their credibility in the market. It is a very trusted site and you need only look at their testimonials section to confirm so. This will also liven your spirits and encourage you to not give up on online dating just yet. Seriously, their success stories are heart-warming to read. You can sign up for free but you'll have to pay a membership fee to communicate with your match regularly. Naturally, this is something lots of users complain about.
There is an app version available on Playstore for Android. The interface of the app is quite good and their notifications are also instant. In a nutshell, PinkCupid is a good app to meet lesbians online. Like all apps, there are certain drawbacks to it – but as long as the merits outweigh the demerits, it's all good, right?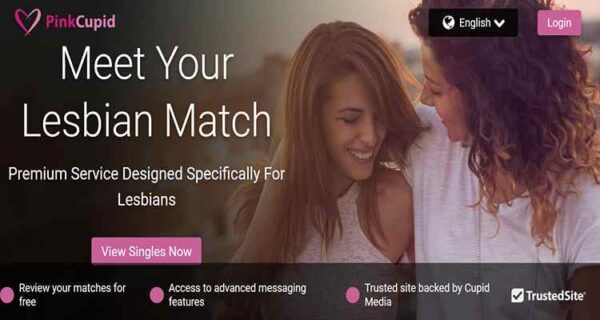 Related Reading: Top 12 Best LGBTQ Dating Apps- UPDATED LIST 2022
3. Which is the best dating app for lesbians? Lex 
You can't talk about the best lesbian dating apps without including Lex (short for Lexicon) in the list. Most apps focus on 'show and tell' simultaneously. You have to have the most aesthetic photos and be a smart talker too. First impressions are based on a sexy selfie and most people don't make it past the attractiveness round. This creates a lot of pressure for users who don't like clicking pictures or uploading them for the world to see. Lex recognizes this 'photo-pressure' and discards it, focusing on just 'tell.' 
A text-centered app, Lex is available for both Android and iOS. It is inspired by a women-run erotica magazine from the 80s and was initially called 'Personals'. The profiles are characterized by short posts written by the users (much like ads), describing what they're looking for. Lex guarantees a safe space for its members and is owned and operated by individuals who identify as queer. It was created for non-binary people and is completely free – yes, you read that right. 
A few users claim that the candidate pool is limited and that people tend to switch apps after a while because of technical glitches. Nonetheless, Lex remains a good place to interact with queer women and venture into the world of lesbian dating, especially if you've just come out of the closet. It has come a long way ahead – from an Instagram account in 2017 to a fast-growing unique app in 2022 – and we think its journey will only get better. Free lesbian dating apps like this one are rare to come by.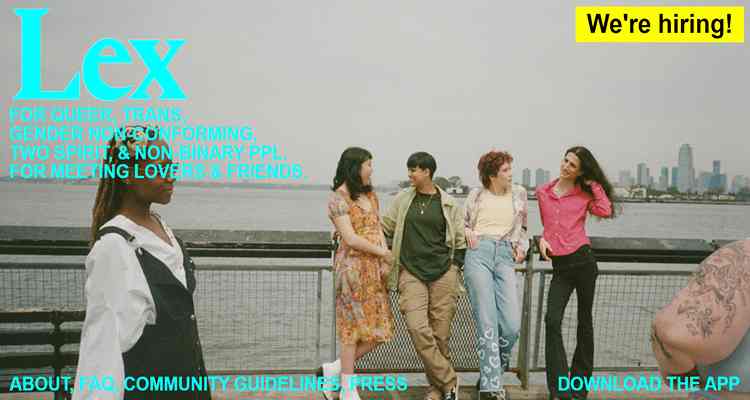 4. #Open 
Hashtag Open (or #open, if you will), is not a niche lesbian chat app. Rather, it is a platform for 'ethically non-monogamous' people who're looking for… well, anything and everything. You can identify in any way you like and state what you're expecting from your match: a no-strings-attached relationship, a friends-with-benefits, a simple friendship, or something completely different. Here's what's more, you can date solo or as a couple – #open is sex-positive and encouraging of dating in all forms. 
And hey, the app offers more than dating features. You've got social media, community events, and a blog; all of them working toward making the world a more welcoming place. They also focus on privacy and safety, adhering strictly to the extensive community guidelines. You'll find yourself enjoying #open because of its emphasis on being judgment-free and progressive. Even if you don't end up finding your soulmate, you'll definitely find your tribe. 
It's quite impressive how the app recognizes that not everyone is built for monogamy. If a couple wants to get adventurous to spice things up in the bedroom, they have every right to do so. If an individual is a polyamorist, no one should comment on their choices. There is more than one way of doing things and that's what #open advocates. Do you see why we've included it in our list of best lesbian dating apps? It's worth a shot for sure and is available on Android and iOS.
5. Fem
Where are all the TikTokers, influencers, and Instagram-reel lovers? Here's a lesbian chat app that's designed just for you. Who knew we'd live in a world where video dating platforms would take over? Fem has video profiles (because we can one-up photos now!) which are visible according to your location. We mean, it's totally okay if you want to stick to pictures only but then why not try another app instead? Fem's strong suit is videos and you should use them to your advantage.
Besides this unique format, Fem has many group chats which are a great way to meet lesbians in the area or otherwise. Besides, you always have the option of texting one-on-one to see how compatible you are. You can look for members irrespective of which country they're in; this browsing is free of charge but actually texting the person isn't. Just like PinkCupid, you have to pay a fee to communicate with your match. Despite being a decent lesbian online dating platform, Fem has a few limitations.
There have been complaints of cishet men making their way past the screening process and texting women to meet. There are far too many creepy men on dating apps. Other users reported facing technical glitches while verifying their profile or opening the chat section. Fem is working toward resolving these problems but they are an annoyance for sure. Something which counterbalances these cons is the response rate experienced by singles. It appears that Fem doesn't have a large number of dormant profiles and the existing users are active. So, yay or nay? You tell us in the comments section below.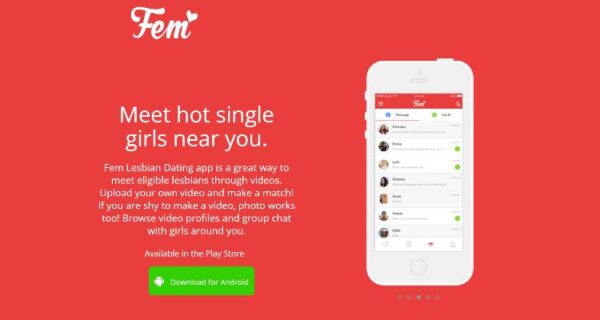 6. Lesly
If Tinder were a lesbian chat app, it would be Lesly. Get ready to know the ins and outs of one of the best lesbian dating apps of 2022. Lesly is an exclusive app for lesbian, bisexual, and queer women looking to date or hook up. It has a left-swipe/right-swipe system to find matches; you can set filters to customize your search. This classic interface is appealing to users who want a straightforward structure on their apps. 
A great plus point of Lesly is the absence of fake/fraud profiles or bots. You won't have to worry about the dangers of online dating here. Their staff works hard and subjects every profile to a vigorous check. You'll always match with real people (can't believe that's the criteria these days), not estranged royalty asking for your money. Like other lesbian dating apps, Lesly doubles as a social media network too. So, if you've just moved to a new city and are looking to make friends, this app is a good place to begin. For anyone who's starting out at college this year, Lesly can be a BFF because its users have to be 17+ only. 
It has free and premium versions with no great difference between the two. Users state that the premium one is worth the money because of the extra features you get access to. And it isn't that pricey either – ten dollars a month seems like a reasonable amount when you're looking for love. Developed in Canada and adored in several countries, Lesly is all you expect and more!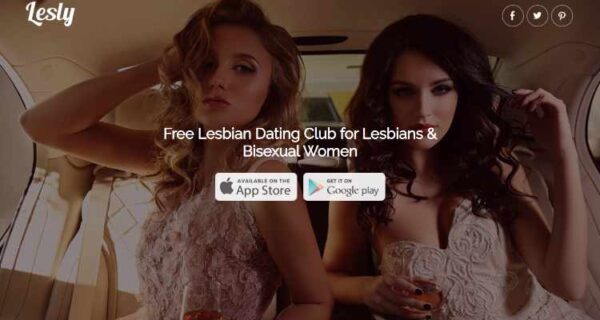 Related Reading: 15 Things That Attract A Woman To Another Woman
7. Zoe 
3.9 million users are very impressive for a lesbian online dating app. Zoe is fairly commonplace with its format – a swipe system, customizable search filters, verified profiles, and a premium membership option. But keeping things sweet and simple is really working for this lesbian chat app; it's made its way to this list comprising dating giants, hasn't it? Zoe is relatively young on the internet (estd. 2018) and the general public hasn't yet made its way to it. If you want your dating platform uncrowded, this is a good option to consider. 
Moreover, Zoe's free membership is legit. Bigger apps (*coughs*) lure users in with a free sign-up or match and then bring up the premium plan when it comes to texting. But Zoe lets you access its core features free of cost and you can make do without the premium plans which start as low as $9.99. The ratings on Google Play Store and App Store are truly fabulous with several people reporting a wonderful experience. We sure think it's worth your time and energy.
Most users on Zoe are looking for a proper relationship, not casual hookups. It gives off a very Bumble vibe with its design and user base. All things considered, Zoe is certainly one of the best lesbian dating apps (and it self-proclaims the same on its website). You can go on the Instagram page (@zoegirlsapp) to get a feel of what it's about.
8. Taimi – Best lesbian dating apps 
Again, Taimi isn't strictly a lesbian chat app because it's open to anyone who's gender non-conforming. But it is a safe space for queer women to interact with one another. Taimi's social network is VASTTTT and you'll thoroughly enjoy features like posting stories, live streams, and influencing. As per their 2021 statistics, Taimi has over 10 million registered users across 138 countries. When we said vast, we meant vast. 
What makes Taimi one of the best lesbian dating apps is its emphasis on representation. People feel well represented and have the freedom to express themselves amidst their community. However, some of their coolest features (like rainbow likes and rollbacks) are available for paid members only. So, your experience will be better if you opt for a premium plan. But you can't put a price on love so just go ahead and pay – Taimi is a nice place to meet lesbians for a casual or serious set-up.
The sign-up time is efficient, the users fantastic, and the cost affordable (some plans start from $6.00!) The app is available for Android as well as iOS; its modern presentation will definitely win you over. Taimi also runs its own blog on the website and boy is it phenomenal. They cover everything from celebrities to health and social issues. Keep an eye out for their events section too – a world of fun awaits.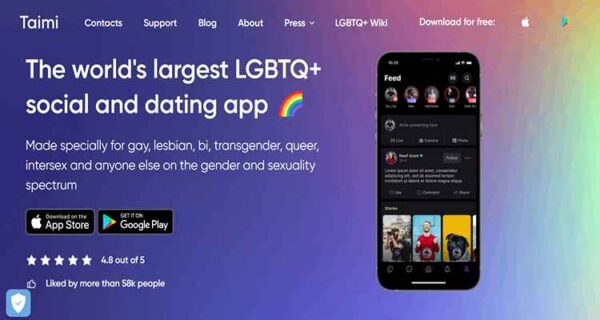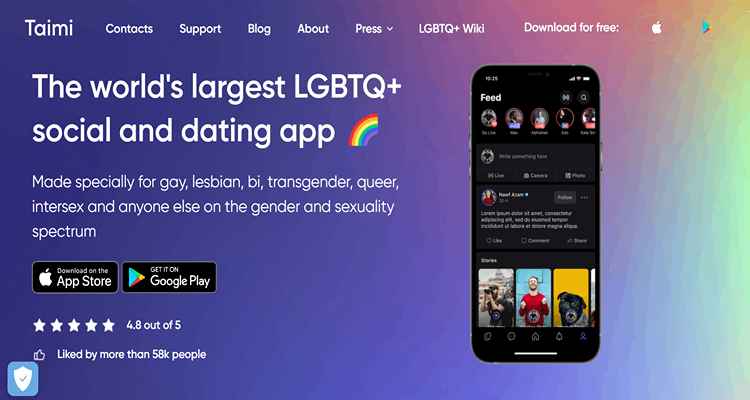 9. Feeld
Maybe you're a sexually adventurous person. Maybe you and your partner are looking to have some fun. Or maybe you're just curious. Feeld is your go-to in any of these situations – it is sex-positive, inclusive, and private to the T. You can create a single or couple account and start exploring 'dating beyond the norm'. You see, Feeld was initially created for people seeking threesomes to spice things up but it later morphed into a more inclusive platform. It now allows you to choose from 20+ identities and sexualities, ensuring you feel represented. 
Reading the blog on Feeld will help you comprehend the ideology behind it. The app strives to normalize sexual desire by proffering couples the opportunity to date together. You can create group chats and match with people after liking them. Feeld is technically a free app but the Majestic Membership has better features like incognito mode, a dark theme, private photos, and filter by desire. It is available in a bunch of countries; the barriers to desire are being lifted from Albania to Zimbabwe!
Feeld is very firm on its community guidelines and they're genuinely spot-on. However, a continuing drawback is the glitches experienced by users. They have to log in each time they access the app, which is inconvenient, to say the least. There have also been problems with messaging. But you can always use the platform to connect with women who are like-minded and see where it goes.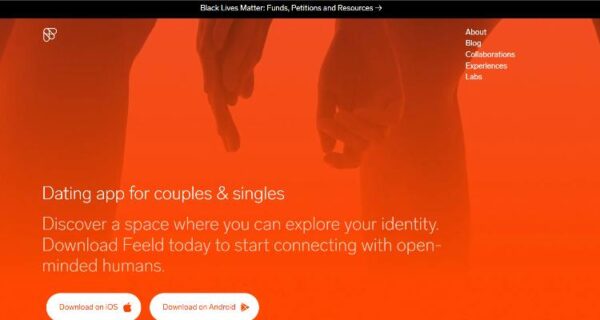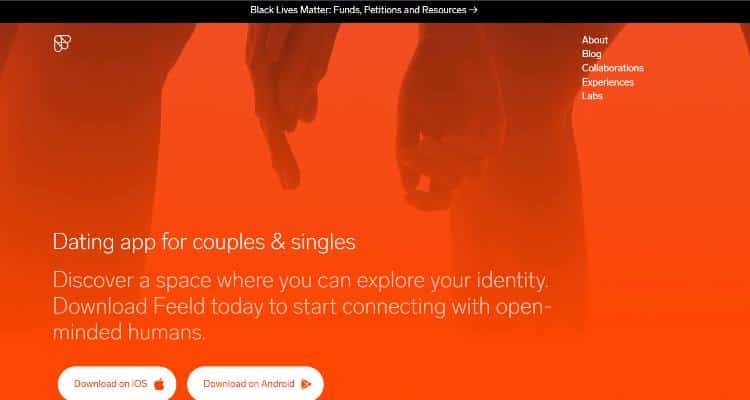 10. Lesbian Personals
Our showstopper is not one of the best lesbian dating apps… It is the best lesbian online dating site! Don't let the absence of an app turn you away – this niche website specializes in matching queer women worldwide. This platform is heavily inclined toward casual arrangements and hook-ups so don't go in expecting a long-term relationship. There are plenty of filters available to customize your search and look for women nearby. All you need to sign up is a verified email address. 
Since the site allows graphic content, don't be shocked to find pornographic photos. It really is a kink lovers' dream – live cams, sexting, hotlists, and much more. There's a premium membership here as well that provides good additional features. Lesbian Personals is available in multiple locations and you can sign up as a couple or by yourself. If you want to explore the wild side of your sexuality, this site is made for you.
So, what did you think of our collection of best lesbian dating apps? (No, we aren't just asking for formality's sake – tell us in the comments below. Seriously.) We hope you found something that resonates with the kind of person you are. Good luck on your dating journey – break a leg out there!
FAQs
11 Alternative Dating Sites – Mainstream Is Not For Everybody
Top 10 International Dating Sites To Find Love Around The World