It might seem we are living in a liberal, woke and politically correct world but some aspects of life still shock conservative and religious sections of society – homosexuality, arguably, being the biggest shocker for many! Coming out of the closet is not easy even in developed countries like the USA where decades-long LGBTQ movements have succeeded in removing the stigma that used to surround homosexuality to a large extent.
Gay prides, National Coming Out Day celebrations and regular conversations around issues of alternate sexuality might be commonplace today. Even then, for a community member, it is a big deal to start coming out of the closet.
Belonging to a sexual minority, he or she has to not just come to terms with his or her orientation first but also think about the repercussions on the family, society, profession and the rest.
The reason is being gay or lesbian or a bi-sexual, even now, can be a cause for discomfort (if out not outright derision) for several people. It doesn't matter what the law says, the cultural mores and societal norms are far bigger challenges.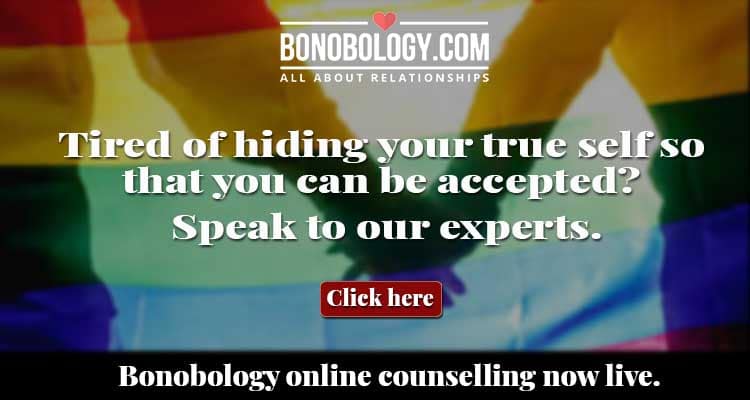 What Does Coming Out Of The Closet Mean?
In English, the term 'hiding in the closet' or 'skeleton in the closet' often refers to a situation where a person has some embarrassing or dangerous secrets to hide. But over the years, the coming out meaning has gained a different connotation.
It has been tweaked to be incorporated in the narrative of an LGBTQ person who wants to reveal his or her sexuality or gender identity to the world. According to an essay in TIME Magazine, the term was initially used to denote gay people revealing their secret, not to the world at large but other gays.
Related Reading: I'm bisexual and my best friend is my lover
It took inspiration from the sub-culture of elite girls being introduced to society or eligible bachelors when they reached marriageable age. During World War 2, elite gay men did the same at drag balls.
Over the decades, the whole term became more personal to indicate that an LGBTQ individual was ready to talk about his or her orientation to whosoever he or she chose to. Thus, the term 'coming out of the closet' became more colloquial and common usage.
9 Things To Know About Coming Out Of The Closet
"Coming out of the closet is a lifelong experience. It's not something that you do once," says popular YouTuber and Vlogger David Levitz who often uses his life experience to dish out coming out advice to queer people who face such dilemmas.
Indeed, even if you have gotten over the experience of coming out to parents, you might have to go through the same rigmarole at high school, in college, among your heterosexual friends, or at the workplace. Don't get stressed about it though.
It need not be (and is not) a big deal. That said, these are individual experiences, and the coming out story of one gay person can be very different from the other. Once you do it, it can be a liberating experience. So here is all that you need to know about accepting your sexuality and coming out of the closet:
1. Come out when you are ready
In the various stages of coming out of the closet, this is the first, most basic and most important rule. You should think about taking this step only when you are ready. First, you have to accept yourself and then prepare to make others accept you.
For many LGBTQ members, it can be a quite traumatic experience when they realize their sexuality. There can be doubts, fears and challenges. That's when you need proper counseling, peer group support and authentic, credible information.
Related Reading: I Realised She Was a Polyamorous Lesbian But I Loved Her
Once you are comfortable with yourself, make a plan about who you would want to reveal it to first. This entirely depends on your situation. For a lot of people there need not be a grand 'plan'. Your 'coming out of the closet' episode can be in a casual conversation too, especially if you know the recipient of the information are liberal and empathetic.
2. There is no time limit to coming out of the closet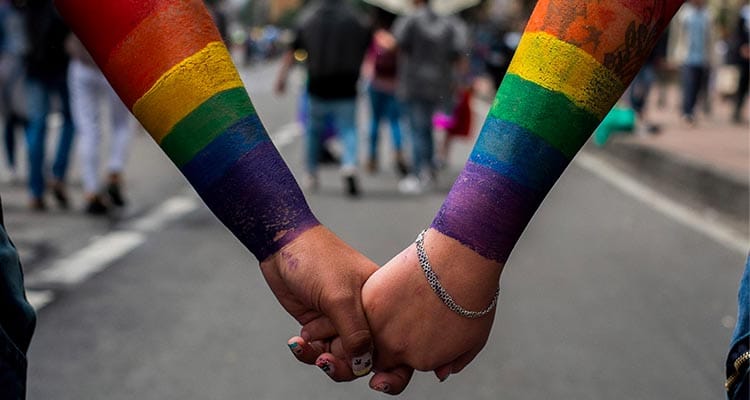 Even if you have accepted yourself as a queer person, do not be under the pressure to reveal everything in a big dramatic manner. "Sometimes, you might be comfortable with your sexuality but not others," says Levitz.
"If you don't want to face the hassle of having to face varied reactions, do not try coming out of the closet all at once. But if you get a good feeling about the reactions of those around you, then don't think too long. Just do it," he says. As we said, not everyone can be an activist for a cause.
Accepting your gender identity is one of the key stages of coming out of the closet. Focus on that first and the rest will fall into place on its own.
3. Make sure you have a safety net
Just because you do not want to make a big deal about coming out of the closet doesn't mean you don't take care of yourself and your needs, especially the financial requirements. So say, if you are in college and still dependent on your family for fees, consider the repercussions.
If you are unsure of their attitudes towards homosexuality and fear that they may react angrily, perhaps it would be wiser to postpone the 'talk' for a few years. Sure, it sucks as you do not want to lead a double life. But it's best to do so.
This also applies to those who go to conservative schools where there is a chance of getting bullied. There might also be pressure from your LGBTQ peer group to be open about it. Do not give in to pressure from anyone. Consider your situation, be safe financially and emotionally, and then do what you need to do.
Related Reading: How To Build A Healthy Gay Relationship
4. Coming out to parents
Susan Cottrell, TedX speaker has this suggestion for one of the biggest fears that LGBTQ people face – how to come out of the closet to your parents. "Hope for the best and prepare for the worst". Susan, who has helped several parents and children deal with this situation says it's best to have a plan.
Being prepared helps if things go wrong while having that difficult conversation with your parents. "Have someone with you or someone on call. Pack a bag with things you would need in case you were suddenly displaced – your devices, papers, etc," she says. "Give your family time to accept it."
They would process this information as per the idea of right and wrong ingrained into them by their culture and church.
"Stay calm even if they are not, and be ready to answer basic questions. But tell them you love them and need them." This might help in calming them down a bit if they tend to go hyper.
5. Find your support system
This does not need any elaboration. If you find yourself being confused about your sexual identity and how to handle it, first and foremost find a good support group. There are hundreds of organizations working for the welfare and support of the LGBTQ community around the world.
A simple internet search will throw up names in your state. Seek the help of your high school or college counselor if need be. They will help you understand the intricacies of the issue, the psychological and physiological aspects of it, and what to consider when coming out of the closet.
Most people from the LGBTQ community fear isolation the most. Being part of a support group helps you break the cycle of loneliness and confusion. They can even guide you when you are thinking of coming out to parents and other family members. You will also meet like-minded people who will help you get in touch with your real self.
Related Reading: 7 Bollywood Movies That Have Sensitively Portrayed The LGBT Community
6. Using social media to come out
This is often a dilemma – should you use social media to come out? Ideally, no. Sometimes, the use of social media may give you strength when you decide to share your story with the world. An emotional FB post or a dramatic Twitter statement will definitely attract eyeballs but it can also have extreme reactions.
Given the more positive narrative towards LGBTQ issues, chances are that you will win a lot of support among people, which might give you the courage to talk to your family in case your biggest concern is how to come out of the closet to your parents.
However, it might impact another person – friend or family – negatively as well. He or she would have appreciated it if you told him in person. While your emotions matter the most, do remember that you will need to factor in the feelings of the person you are revealing a very deep part of yourself to.
7. Coming out to your employer
If you are coming out of the closet when you have started working professionally, it can have implications for your work life too. Initially, you might feel out of place, especially if your straight colleagues can't stop talking about wives, girlfriends, and the usual 'man to man' or 'woman to woman' talk.
But once you decide to reveal your orientation, it won't take long for your office to know. First, find out if there is protection for you as an employee when you are coming out of the closet. Be friends with people who are likely to be empathetic and non-prejudiced.
This may help you in garnering support when the truth is eventually outed. It may or may not stop the gossip but that will entirely depend on the culture of your workplace and the nature of the profession. Creative or highly tech-savvy, modern workplaces are generally more LGBTQ-friendly than traditional institutions.
Related Reading: Tale Of A Bisexual Woman
8. Confessing to your spouse
There are a lot of people who end up doing something they should not – get married and hide the fact that they are gay. It can happen in extremely conservative Christian families that frown upon homosexuality and the individual does not have the courage to go against the norms.
But after years of living the double life, when you are coming out of the closet to your partner, you must handle the situation very delicately. Don't lose focus of the sensitivity of the marital relationship.
It won't be easy for certain and there is no telling how your husband or wife might react.
Some spouses may agree to continue remaining in the marriage for the children or to maintain a façade in society. But things won't be the same. It's best to seek the help of a counselor or doctor before you make such a confession as your spouse would need help to process it too.
9. Be informed about your rights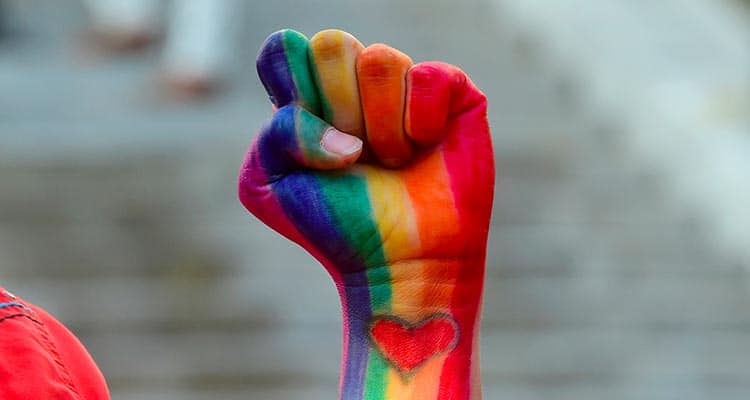 The gay rights movement isn't quite over yet. Perhaps you are one of the lucky members of the LGBTQ community who does not need to hide his or her orientation or hasn't faced too many troubles because of their sexuality. Or perhaps, it might be the opposite case.
Either way, you should be informed about all your rights as a sexual minority. While the law may be friendly, society or the church may not be. You do not deserve to be discriminated against. Hence, be abreast of all that is happening around the world in this scenario.
When you are aware of your rights, coming out of the closet is much easier as there is less likely to be any harassment from any quarter.
You will be legally and financially protected from any trouble that you may face from potentially homophobic people. Information gives you confidence.
What To Do When Coming Out Goes Wrong?
Despite all the tips given above, the truth is that coming out of the closet is a very individual experience. There is no right way or right time to do it. And there might be every possibility of things going wrong. Your family, parents, friends or workplace might not have the reaction you hoped for.
It is for this reason that you must have a tribe of your own. Sometimes a support group becomes the family you never had. Focus on yourself, on becoming independent and self-aware. It might not completely take away the problems or the dilemmas but at least you will be better equipped to handle them.
His crush chose someone else, and he discovered new sexuality