polyamorous dating
What is polyamorous dating? Are there polyamorous dating sites for couples? Is polyamory the future of dating? These are all questions a couple can have in 2022. The internet will make you believe that everyone is into ethical non-monogamous dating. For the sake of simplicity, we'll refer to it as enm dating in some parts of this article.

The truth is a little different than what the internet projects it as. It is true that more and more couples are comfortable with the idea of loving multiple partners. Research suggests that about 5% of the population in the United States is polyamorous. This rise in trend in polyamory has resulted in a rise in polyamorous dating apps. It's the 21st century, we have an app for everything from food to conventional dating, so why not poly dating?
What Is Polyamorous Dating?
There is no specific way to define a polyamorous relationship because there are several facets to it and each polyamorous relationship is unique. For context, young adults are known to prefer solo polyamory but adults in their mid-30s incline towards hierarchical and non-hierarchical polyamory.
But a simple way to define a polyamorous relationship is when a couple is open to having a romantic relationship with more than one person at a time. The word 'polyamory' is a blend of the Greek word 'poly' meaning many and 'amory', the Latin word for love. Not to be confused with an open relationship, which is only sexually non-monogamous. In poly dating, there is full disclosure and the veil of secrecy is lifted.
A quick note on polyamory lingo before you consider signing up on any polyamorous dating sites: A throuple is not a couple who invite a third for a threesome, and it's not three friends who love to platonically hang out together. A throuple has the same level of commitment and sexual interest that you expect from conventional couples.
A polyamorous relationship has rules too. But just like a monogamous relationship, it's up to the couple to make their own rules and define the boundaries of their shared connection.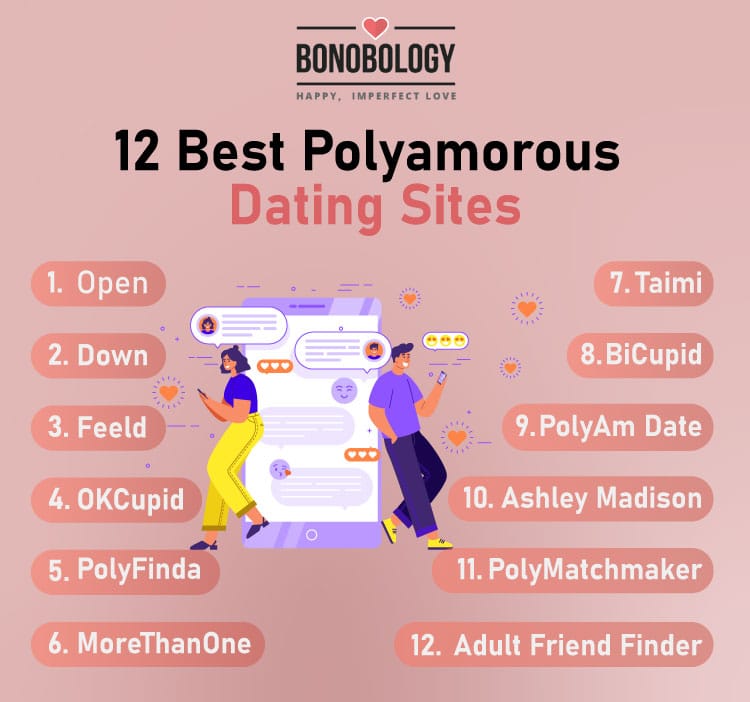 12 Best Polyamorous Dating Sites (Updated For 2022)
The dating app usage has surged in the last few years and same is true for polyamorous couples. A lot of people are now wanting to get into enm dating. So, here is a list of polyamorous dating sites for you. We know that choosing the right partner is a big deal and it's certainly not easy. But with the help of some of the best quality dating apps and their screening filters, we're hoping you find the right ones for you.
Open
Down
MoreThanOne
PolyFinda
OKCupid
Feeld
Ashley Madison 
Taimi
PolyMatchmaker
Adult Friend Finder
PolyAm Date
BiCupid
Related Reading: Polyamorous Relationship Story: Conversations With A Polyamorist
1. #Open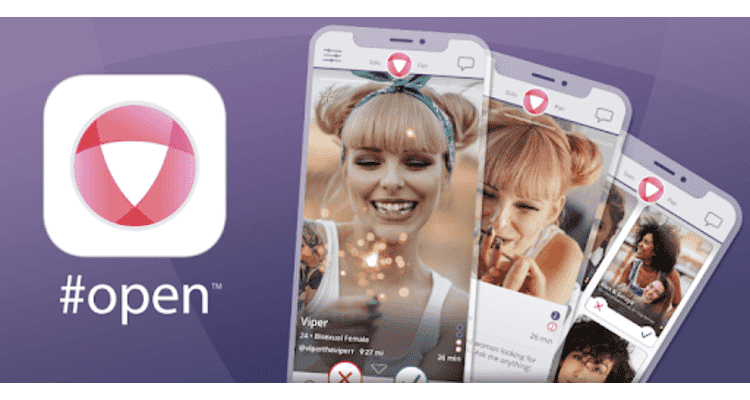 The number one spot for polyamorous dating sites has to be handed to #Open. This all-inclusive platform's primary mission is to accept people from all genders and orientations of life. The community is known to have users that are, as the name suggests, open to expressing their unique self.
At the time of writing this, the Open relationship dating app has more than 170,000 profiles to match with. Once you sign up on their app, you will be asked to select a few preferences. Let the app algorithm know you and your partner are open to polyamorous dating lifestyle and you're good to go. And if you're a solo person looking for hotwife dating, it doesn't get better than this.
Updated tools have labels,so you can identify yourself with the label that suits you
A unique method to share your preferences by using hashtags of #yes, #no and #maybe
The platform has a confirmed partner account that lets you chat together 
You can switch between solo and partner profiles seamlessly
The app developers are committed to user privacy and are transparent about how they handle your data
2. Down
We present to you one of the fastest growing poly dating apps, Down. Yes, it's a newbie when you compare it to the older polyamorous dating sites but don't let that bother you. With over 10 million users, there is someone here for everyone. It is the most honest dating app for open-minded singles to connect, express themselves freely, and find what they really want.
Which is why this is the perfect app for you to start polyamory dating on. This app was designed to facilitate both dating and hookups. Similar to most dating apps, you can swipe on those you're interested in and chat with your matches. And most importantly, you don't swipe left or right on this platform, you swipe up if you want to date them and swipe (read: go) down on them for a hookup. Creative, isn't it?
The platform has photo verification to keep fake profiles away
Swipe up on someone to mark them as "Date" or swipe down for "Hookup"
Break ice with unique games like "photo challenge" and "would you rather" challenge
Features Snap Match – a random chat matchmaking system to find a virtual human connection internationally
The Down VIP subscription shows you who swiped down on you 😉
3. MoreThanOne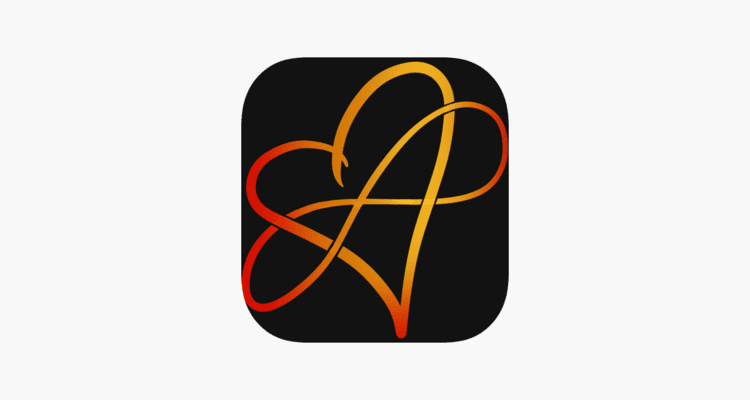 The name of the platform is a dead giveaway, isn't it? If you've tried other polyamorous dating sites, then you know how important it is to know what you're getting into. The platform claims that every relationship created on this site is completely consensual between like-minded people and hence, far away from affair dating. 
The application is developed and designed to cater to people who are trying enm dating online for the first time.  For this reason, the developers thought it would be best to maintain some anonymity on the platform. Therefore, making it perfect for couples not open to likes and messages from everyone, handing you the control of who can see your profile.
All members from the LGBTQ+ community are welcome on this platform 
Completely free to use with no advertisements and an optional subscription plan starting at $9.99
The platform supports private profiles too for an extra layer of security
No need to sign up with or add your social media to the platform
Link profiles with your partner to spark more interest
Related Reading: The Common Reasons Why Polyamory Doesn't Work
4. PolyFinda
Aren't you tried of society judging polyamorous people and those interested in open relationships? Well so were the people at PolyFinda. Consequently, this app initially started as a small group of polyamorous folks meeting at the bar. Over time, they saw the need to build a platform where all forms of ethical non-monogamy are welcome. 
After some coding and designing, PolyFinda was launched in 2016. Thus making it another great addition to the list of polyamarous dating sites. This poly dating app is a place where you can chat and flirt without needing to defend polyamory or risk abuse for being different.
A community that is more than an app, they host events where you can meet people in person
An option to chat without matching first
If you're concerned about spam, there's an option to receive messages only from those you've liked
Based on a credit system to avoid spam, use those credits to initiate a message to someone
Receive 200 bonus credits when you sign-up and they recharge daily with an option to pay for more
5. OkCupid
We've all heard about this app, it's one of the best dating apps out there. If you're wondering why it's included in this list of polyamorous dating sites, then let us clear this out for you. Sometime in 2016, OkCupid decided to add a non-monogamous option on their platform.
If you've not had a lot of good luck with dedicated polyamorous dating sites, take a shot at the conventional one. Make sure you select your preference to "non-monogamous" and let the questions-driven algorithm bring you the best match for you.
Link your profile with your partner, a feature tailor-made for polyamorous people
The richest app, in terms of diversity, even with the free version
Poly dating friendly, even for LGBTQ+ community as they offer 13 gender identities, 22 sexual orientations to select from
A large user base due to its popularity and reach, giving you the chance to match quicker and with more people
OKCupid's reliable compatibility ratings are really helpful in helping you understand a potential date before you even meet them
6. Feeld
Similar to other apps we've listed out, Feeld was developed for polyamory dating couples. Formerly called 3nder, Feeld claims to be "a sex-positive space for humans looking to explore dating beyond the norm", and we'd say that's true. Once you sign up, you can link your account to your partner's, upload photos of yourself, and specify any preferences you have.
The built-in app filters allow you to tailor the experience you're looking for on polyamorous dating sites. Only want to see couples? Cool. You'd like to see only women in poly dating? Great. The community is all-inclusive, where users have 20+ gender and sexual identities to choose from.
Over 2 million members worldwide 
Safe to use with verified and paired profiles 
Consent-driven design to foster a positive community 
No ads, even on the free version
Group chats are supported on the platform
7. Ashley Madison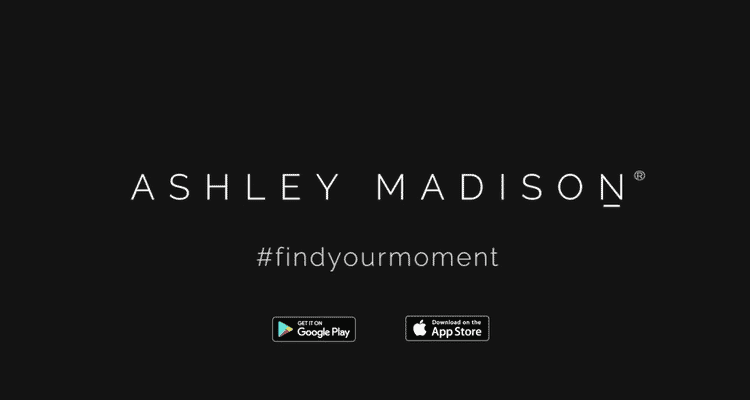 There is much to be said about this app. Regarded as one of the most notorious and controversial polyamorous dating sites, this platform is perfect for any individual who wants more than conventional dating. In all honesty, the press does promote this as an app for extramarital affairs, but there is more to it. If you and your partner are looking for other people to date, you'll find a lot of users who are like-minded.
If you have spent some time looking into polygamy dating sites, then you already know about the imbalance in the male to female ratio. Ashley Madison fixes that by offering the site for free to women, allowing them to retain the largest user base. There is a credit system that requires men to pay for texting, the standard charge is 5 credits per message.
Extremely discreet, from billing to payment methods
Users can opt for anonymous profiles to maintain privacy
An active female user base compared to its competitors 
A guarantee package gives you a refund if the site didn't work out for you within three months
All the features are free to use for women
Related Reading: 8 Reasons Why Women Have Extramarital Affairs
8. Taimi
Another star of the all-inclusive polyamorous dating sites is Taimi. In fact, some people even claim this to be one of the best poly dating apps for the LGBTQ+ community. It is true that LGBTQ+ couples have a hard time trying to find partners for poly dating. This app is meant to change that, with a blend of social media and a dating app, all in one place.
Signing up on Taimi is simple. After you have downloaded the app, you will be prompted to login or sign up. The sign-up page prompts you to enter some basic information or log in with Facebook. Then, you have to fill in some dating preference and sexual prefernces and upload a photo. Your search for gay polyamorous dating sites free to use ends here.
A unique platform with elements like "stories" from social media sites to make it more engaging
Rated to be the safest gay polyamory dating sites for the LGBTQ+ community
The most underrated feature is the "swipe undo" so, no more accidental swipes
Live stream functionality like other social media apps
Large, open minded and attractive-looking user base
9. PolyMatchmaker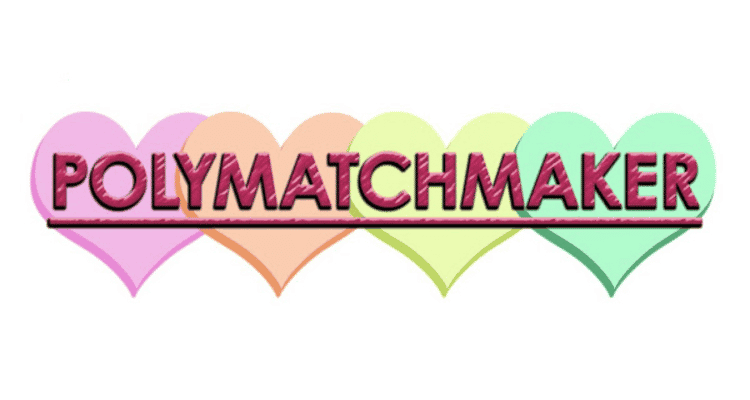 The team's mission at PolyMatchMaker is to help couples find others who believe in ethical non-monogamy, open relationships, open sexuality, trust, happiness, and especially, polyamory. This platform has been around for over a decade, so it is safe to say that they know what works on polyamorous dating sites and what doesn't.
More than 80000+ members worldwide and an increasing user base
Standard members can reply only once to each received mail
Search members by your area, location and geology radius
Ability to hide members from search 
Block contacts to limit unnecessary access
10. Adult Friend Finder
Even before you consider signing up for Adult Friend Finder, we want you to know that this app has a lot of sex on it. Seriously, most users on this app are looking for hookups. Which is interesting because the website does have a section for couples and the platform is trying their best to be one of the polyamorous dating sites. 
We found that the app has a lot of couples looking for threesomes and swinging. If that is something that interests you and something you're looking for, then it basically doesn't get any better than Adult Friend Finder. All things considered, if you want a genuine poly partner for a long-term relationship, you should skip this one.
The platform serves well if you're looking for action in the bedroom
Alternative lifestyles, polyamory are welcome on the platform 
Millions of users worldwide, increasing the chance of finding a match of your liking
After moderating the built-in filters, the app has a lot of potential even to find long-term partners 
Related Reading: Unicorn Dating – Best Dating Sites And Apps For Unicorns And Couples
11. PolyAm Date
Another new addition to the polyamorous dating sites is PolyAm Date. The idea for PolyAm Date originally started from reading all the frustration expressed on various online groups about how poorly dating sites handled enm dating. Keeping that in mind when they started to design the app, the team decided to place some roadblocks to avoid having people from the non-poly community.
Ability to link several partners on the profile
Showcase your polyamory style with tags
Extensive resources to learn more about polyamory
Ability to show if dating as a couple or interested in dating couples
Prevent unverified users from liking or messaging you and avoid fake accounts reaching out to you
12. BiCupid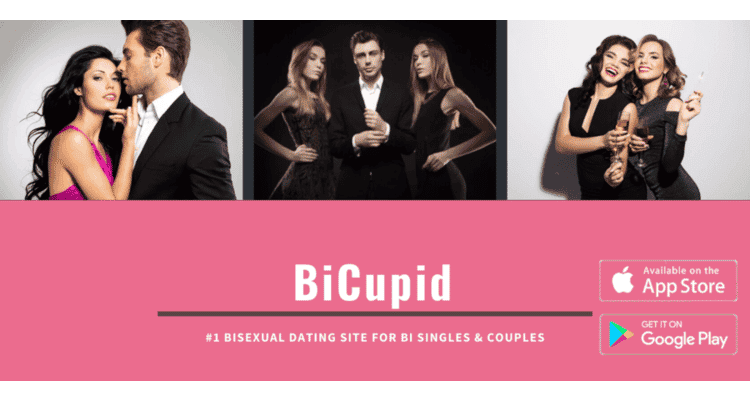 We present to you one of the best polyamorous dating sites for the LGBTQ+ community. Just as the name suggests, they cater to bisexual singles and couples. Thanks to their large user base, finding quality matches will not be an issue. With niche dating sites, you never really know what to expect but you will be pleased to see the users on the profile.
The sign-up process is simple and takes about 5 minutes. There are two sign-up options available, one is through Facebook or you can sign up manually, which is slower than the former.
A growing user base of 1.3 million people
Let's Meet feature tells you about a mutual match and is available in the free trial as well
Reverse matching is an algorithm that the site uses to search for matches for you using matches that are looking for the same thing you are
Great mix of guys and girls looking for serious and non-serious relationships
Price Comparison Of Polyamrous Dating Sites
While you're on the search for poly dating couples, it's important to also be aware of the prices each app charges. It's recommended that you go for the longer subscription options as they're invariably going to save you money on a monthly average. We have listed the price comparisons of the different polyamorous dating apps for you to decide which platform you want to go with.
| | | | | |
| --- | --- | --- | --- | --- |
| Polyamorous Dating Sites | 1 month | 3 months | 6 months | 12 months |
| Open | 9.99 USD | N/A | N/A | N/A |
| Down | 22.99 USD | 29.99 USD | N/A | 95.99 USD |
| MoreThanOne | 9.99 USD | N/A | N/A | N/A |
| PolyFinda | 9.99USD | N/A | N/A | N/A |
| OKCupid – Basic | 24.99 USD | 16.66 USD / month | 12.49 USD / month | N/A |
| OKCupid – Premium | 34.99 USD | 17.49 USD / month | 23.33 USD / month | N/A |
| Feeld Subscription | 15.99 USD | 31.99 USD | N/A | N/A |
| Feeld Majestic Membership | 14.99 USD | 29.99 USD | N/A | 91.99 USD |
| Ashley Madison – Credits | 49.00 USD / 100 credits | 149.00 USD / 500 credits | 249.00 USD / 1000 credits | N/A |
| Taimi | 41.99 USD | 53.99 USD | N/A | 71.99 USD |
| PolyMatchmaker | 12.99 USD | N/A | N/A | N/A |
| Adult Friend Finder | 39.95 USD | 80.85 USD | N/A | 239.40 USD |
| PolyAm Date | 9.99 USD | 26.99 USD | 47.99 USD | N/A |
| BiCupid | 29.95 USD | 19.95 USD | 15.95 USD | N/A |
We hope this article has been useful to you and has helped you understand how different polyamorous dating sites stack up against each other. While selecting, just remember your priorities and preferences and pick the one that is most compatible with them. We're sure you'll find a winner.
FAQs
1. Is there a website for polyamory?
Yes there are multiple websites for polyamory to help you find the right partner for you, especially if you are seeking a long-term relationship as a polyamorous couple. Some websites go beyond being a dating platform and even have in-person community meet ups to create a sense of belonging.
2. How do I find a polyamorous couple?
There are several ways to find a polyamorous couple. One way is to find polyamorous groups in person, either through mutuals or at bars and clubs. If you use this approach, it is advisable to let people know you and your partner are into poly dating to get the word around. Another way, and the most common one, is to sign up on polyamorous dating apps.
3. What is unicorn polyamory?
Unicorn polyamory is when a third person joins a couple in their relationship for partnership, either for emotional or sexual reasons. The rules for unicorn polyamory are most often set by the couple, based on what they are comfortable with.
4. What is solo polyamory?
In solo polyamory, an individual has multiple sexual and romantic relationships with other people. The difference between solo and couple polyamory is just that in the former, there's a single individual getting involved with multiple partners seeking intimacy.