Best Dating Sites for Married People
On the face of it 'dating sites for married people' sounds like a misnomer. Why would anyone want to go to a dating site if one is married? After all, isn't marriage the holy grail of commitment? Isn't the mere idea of married dating sites or let's call it cheating sites, an affront to the institution of marriage?
Well, yes and no. The existential realities and challenges of modern lifestyles are that more people who are married and supposedly committed are looking to date than even those who are single and forever ready to mingle. Of course, not many people have the guts to act on their basic instincts or desires, but the fact is there are plenty of men and women who are married but looking to have some fun, connection and pleasure on the side.
The result: special dating sites for married people to live out their fantasies and indulge in no-holds-barred affairs. The reasons and justifications for this alleged infidelity could be one of many – from boredom in their own relationships to the need for some change to spice up a dull marriage. There are also plenty of couples in open marriages who really don't believe monogamy is the best policy.
In some cases, even relationship counselors admit that a casual affair, while you are married, might actually lead to strengthening your existing relationship! Either way, affair sites have been around for a while now, filling a gap in the relationship market that everyone knew existed, but never quite acknowledged.
8 Best Dating And Affair Sites For Married People
The plethora of married dating sites primarily looking to satisfy married couples' dating desires give a different spin to relationships altogether. These hookup sites for married individuals often offer secretive ways to connect with others who may be looking for exactly the same thing. The premise is that men and women are essentially non-monogamous creatures and the occasional third person in the twosome never harmed anyone provided everyone played by the rules of the game. To each his own, we guess!
On another note, there are those who are trapped in a loveless marriage that they, for whatever reason, can't walk out of. Affair sites or dating sites for married people may actually offer them an avenue to meet like-minded, non-judgmental individuals with whom they can vibe intellectually, emotionally or physically. Here are some dating sites for married people that can offer disgruntled married couples new avenues of pleasure and relationships.
Related Reading: The Anatomy Of An Affair
Touted as the first discreet dating site made by women, Gleeden.com is primarily targeted at married women looking for something extra in their love life. The site is completely free for women and there is a credit-based system for men who would be evaluated by women.
Gleeden tries to provide a more open-minded definition of love, marriage and relationships, and their entire site is to help members – whether married or in a relationship – indulge in an extramarital affair and meet with people who have the same needs and expectations. Security is strict on the site which promises to keep all amorous or non-amorous alliances discreet.
From relationship advice to beauty hacks, this married dating site has a lot to offer its members though their basic promise is to get you a lover in your area or miles away from your hometown, while you are on a trip. Thus, as far as free dating sites for married women go, this one takes the cake, the bakery and the cherry on top!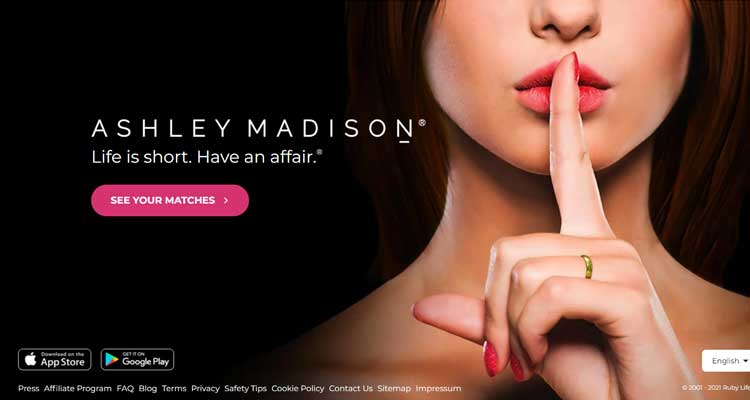 The story of one of the most popular dating sites for married people, Ashley Madison is super interesting. Set up in Canada, the name was derived from two regular North American names. This online dating service for married or committed individuals was spotlighted when hackers released user data.
A controversy erupted following which the company rebranded itself, changed its tagline and continued the service. Later, after more reshuffles, it went back to its original name, tagline and services for consenting adults.
All people need to do is sign up, pay up and meet members and connect with them. As far as cheating sites go, Ashley Madison has no qualms in admitting that it sees no problems in adultery and is only interested in connecting people who are attached yet seek a connection with someone else. From desperate housewives to traveling married men, this dating site for married people boasts over 60 million members.
This affair site does not hide its intentions. It positions itself as the world's largest cheating site and keeps it simple for its members. Its objective is to help lonely, committed souls find friendship, online affairs and cheating spouses.
As a married dating site, members can flirt, see photos and videos, and indulge in chats. What's more, it even offers married dating advice to novices who don't have a clue how to go about conducting an affair while still in a committed relationship. It also offers instant messaging between strangers to keep it as casual as it gets.
Related Reading: How My Secret Crush On Another Man Made Our Marriage Stronger
The security on the site appears to be low so if someone who is married but looking for an affair hopes to have some harmless fun, this might not be the right platform unless he or she has no fear of getting caught. Also, the site does not take any responsibility for the profile of its members.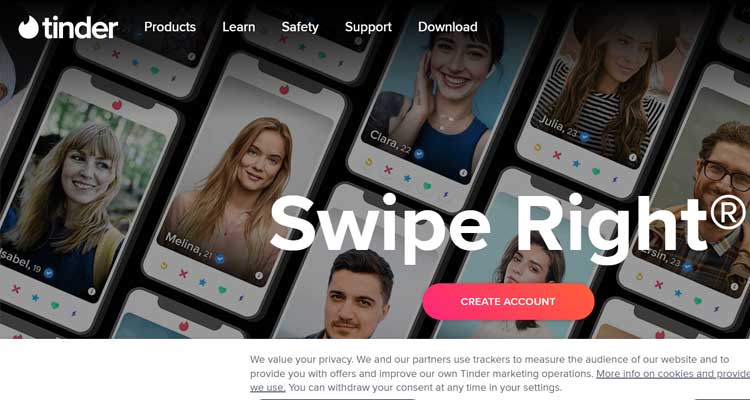 We understand. Tinder is the go-to site for bored singles, isn't it? But the most popular dating app in the world, often referred to as the "hookup app" is equally popular as a married dating site or app too. It essentially proclaims it offers a gateway to relationships and even marriage for a tech-savvy generation, but who's to stop bored married men and women from creating an account and swiping right!
Tinder does not differentiate between married and the unmarried, and it is not uncommon to find many married people on Tinder. Some openly admit to their relationship status and make their intentions clear – that they are in it for fun. Others cleverly hide their marital identity and try to use a fake identity or clever lines to attract attention.
It's next to impossible to be discreet on Tinder since half the world is on it so if it's a clandestine affair site that you are looking for, this is probably not the best one for you. Either way, the risk is yours to take – who you meet and how you carry on the conversation is entirely up to you. There are many, sweet, love and friendship stories that have developed on Tinder too, so it's worth a try.
The tagline of this hookup site for married and unmarried people is rather direct and simple – rediscovering the thrill of new romance and passionate sex. Opening an account is super easy – just the username, what you are seeking, and email id – and you enter a world of no-strings-attached relationships. A perfect dating site for married people indeed!
Additionally, the website's features are not too complicated and it also guarantees a fair amount of secrecy as well. Of course, no dating site for married people is completely safe or secure, but for those who are a bit adventurous with their love lives and are willing to take a chance, No Strings Attached might be a good option.
It is almost similar to Ashely Madison in terms of features and ease of use, but the former is definitely more popular. The quality of users on this site is not bad and the premium membership that offers more features is not as expensive as some of the other affair sites out there.
Marital Affair is among the popular married couples dating sites that originated in the UK. Billed as a discreet online community for married people as well as singles looking to inject passion and excitement in their lives with non-committal relationships, Marital Affair provides a safe online destination to meet others with the same intentions.
One of the premier free dating sites for the married, Marital Affair can be accessed on the desktop, tablet and mobile. You can send and receive messages until you find the right person you wish to engage with to enjoy a hot rendezvous. You can simply sign up to be able to view all the matches present on the site.
Related Reading: Confession Of A Married Woman In Love With A Younger Man
What's more, there is a customer support team to assist you in case you are stuck or need help. Some of its key features are 'Encounters', a feature for active members who can swipe left or right to let someone know you are interested in them and chat up immediately. Another interesting feature is titled 'Members Diaries', which allows you to note fantasies and experiences and share them with other members. Sexciting? You bet!
Victoria Milan, a European married couples dating site, invites depressed but attached men and women seeking confidential affairs. From a friendly web flirt to a one-night stand to a passionate affair, its members are promised everything so it is hugely popular as a hookup site for married people.
What works for Victoria Milan is that, unlike other sites, it is created specifically for people who are committed or married so there is no need to hide or lie about your relationship status. Everyone on the site is looking for the same thing – an affair.
Safety is given a lot of importance and interestingly, Victoria Milan takes pride in not having any fake profiles. The security comes from the fact that profiles are anonymous (though real) and users are encouraged to get acquainted with interesting members before taking it to the next level. So if it's a slow burn but discreet relationship you are looking for, this cheating site ticks all boxes.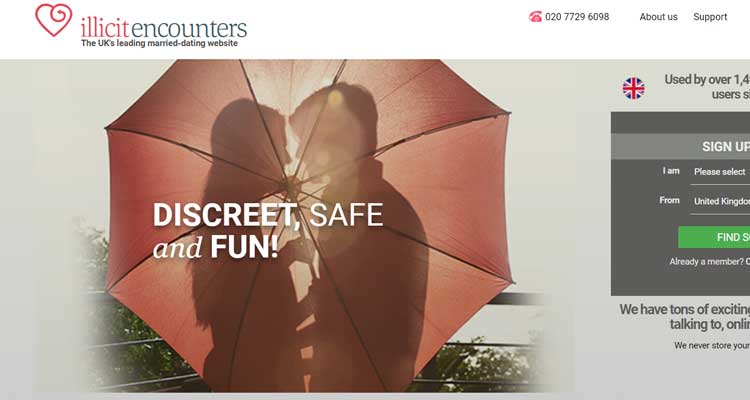 Another European website for those who are married but looking for fun. As the name suggests, it's a proper dating site for married people and it's been featured in The Times, BBC, Guardian and The Sun. All those who log in and create an account here have one thing in common – they are looking to spice up their romantic lives outside of their current relationship.
The world may term it 'illicit', but an encounter through the site could be anything – from a coffee date to a chat to a full-blown affair. Illicit Encounters is merely the medium that offers a non-judgmental space for members to conduct affairs of the heart.
Safety features include password protection on photographs and protecting personal data and contact information to protect identities. With over a million members in the UK alone, you can rest assured that no one feels lonely out there when you sign up for some discreet affair.
Dating sites for married people, as a concept, is always a polarizing idea, but the fact is that a considerable percentage of users on traditional dating sites and apps are married or committed, and prefer to hide their real relationship status. Cheating sites and affair sites claim to do away with the hypocrisy and provide consenting adults a judgment-free platform to meet and connect with others who think like them. While each has its pros and cons, what matters most is safety and consent – know what you are signing up for before you sign into one!
FAQs
1. Is there a Tinder for the married?
There is no Tinder for married people though there are a lot of people on Tinder who are married and do not hide it in their bio either. Tinder does not prohibit married people from starting an account. 
2. Which free dating site is best for serious relationships?
Gleeden.com, Victoria Milan, and Ashely Madison are popular the world over as free dating sites for married people. However, for serious relationships – be it among married or unmarried people – Bumble is hugely popular. 
3. What websites do cheaters use?
Gleeden.com, Victoria Milan, Ashley Madison, Illicit Encounters, and Heated Affairs are some of the more common websites used by adulterers who want to connect with like-minded people.